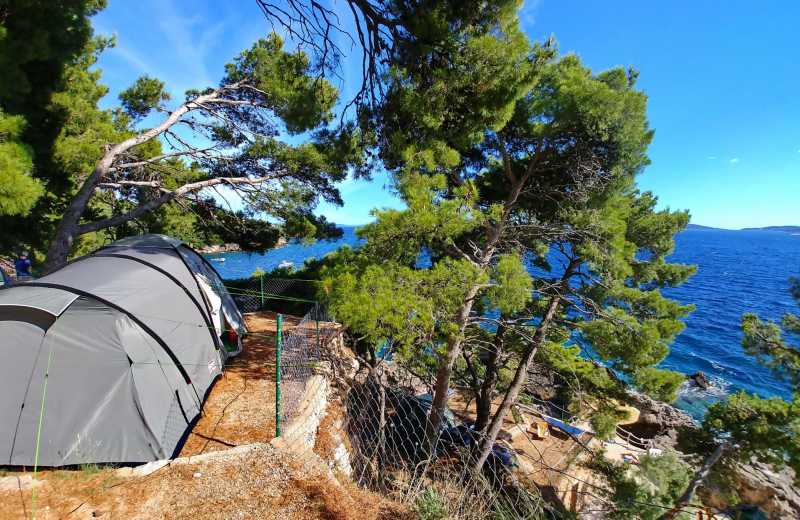 Information
Basic information
Camping Ponta is located on Peljesac peninsula, about 4km before you enter town Orebic, in place called Mokalo. It is an area where three smaller campsites are operating and sharing a nice pebbled beach. Campsite Ponta has been part of the Croatian OK Mini campsites due to its well tidiness and services.
Campsite accepts the Avtokampi.si Camping Card, which will make the camping more affordable. The discount is listed at the price list of the campsite, and you can order free camping card HERE
Camp Ponta is arranged in terraces, so most of the pitches are perfect to set a tent. Pitches are of different sizes, so it is good to know the dimensions of the tent when booking. Some parcels at the beginning of the campsite are also intended for vans. Pitches are well shaded by pine trees, most pitches have access to electricity connection.Guest can park their cars on arranged parking lot.
Camping Ponta is offering some apartments for 2 - 5 people for rental.
In the upper part of the Ponta camp, a smaller outdoor swimming pool was arranged. The beach in the camp itself is a combination of rocky and concreted, and 50m from the camp is also a pebbled/sandy beach shared within the neighboring camps.
There is a fully renovated sanitary facility available to guests. The camp will be enjoyed by those who love the vicinity of the sea and the beautiful beaches. Water sports and fishing enthusiasts will also get their own way.

The campsite has free internet access and a large barbecue area where the fished fish and other seafood are prepared.

Shop is 2 km away from the campsite, and every morning bread and cakes are brought directly to the campsite. There is a restaurant and a bar on the beach.

Features and equipment
Type of the campsite
Pitch features
Non-parcelled camping plots

Pitches with electricity and water

Pitches with electricity, water and waste water connections
Location
Equipment
Chemical toilet discharge

Children sanitary facilities

Heated sanitary facilities
Offer
Sport
Swimming pool/wellness
Swimming pool with heated water
Dogs
Rental option
Camping pricelist (in EUR) for year 2023
Pricelist for rental of accommodation for year 2023
Price for
1.7. - 31.8.
1.5. - 30.6.
1.9. - 30.9.
Apartment for 2 + 2 persons
110
85
Apartment for 4 + 1 persons
85
65
Apartment for 3 + 2 persons
75
55
Contact
GPS: 42.976664,17.224776
Address: Mokalo b.b., 20250 Orebić - Pelješac, Hrvaška
Reception:

+385 20 713 104
Rating and reviews
Reviews:
Published on day from alokmic343

Category

Tent

Company

Alone

One of the most beautiful camps I have ever been in​​

Published on day from adezman708

Category

Camper

Company

In couple

Mali kamp z lepimi pogledi,v terasah,ki se spuščajo proti morju.Kamp je urejen,sanitarije čiste,lastnik prijazen,in tudi cenovno je zelo ugoden.Kamp priporočam! Aleš​​

Published on day from Jurc89

Category

Tent

Company

In couple

Pravkar zakljucujema dopust v tem cudovitem kampu. Nad vsem sma navdusena. Lastnik kampa zelo prijazen. Vse zelo cisto, sanitarije vedno ciste, vedno topla voda, zelo lepo urejene. Parcele zelo velike. Bila sma v avgustu ko je bil kamp poln, z lahkoto bi natlacili dosti vec sotorov pa smo po vecini imeli vsi sotore na eni, ter garnituro in vse ostalo na drugi parceli kjer bi lahko bil majnsi sotor. Na voljo je zar, hladilniki, pralni stroj, gumenjak,.. restavracija ki sicer spada pod sosednji kamp, vendar se vse drzi skupaj, je cudovita. Plaza lepo urejena, na plazi je tudi prostor kjer lahko pustis supe, kanuje,blazine in pa sladka voda za spiranje vsega. Blizu je tudi plaza mokalo. Iz parcele sma imela cudovit razgled, bilo je zelo mirno. Vsako jutro se ored kamp pripelje putujoca pekarna... sami plusi. Tudu cena je zelo ugodna. Za avtodome in prikolice je tezji dostop ter parcele so na vrhu, malo dlje od vode. Za sotoriste pa je kamp popoln. ​​

Published on day from anonymous

Category

Other

Company

In couple

Zelo navdušena! Prijazen lastnik kampa, osebje, vedno čisto (wcji). Imajo tudi prostor za žar z vsemi pripomočki. Plaža urejena in čista. Primerno tudi za kužke.​​

Published on day from anonymous

Category

Tent

Company

Family with teenager

Nam je Ponta raj na zemlji: ravno prav velik, super senčne parcele, najlepši beach bar na plaži (sicer od naslednjega kampa, ampak je tu), prijazen lastnik in zaposleni. Jasno da naslednje leto spet gremo.​​

Published on day from anonymous

Category

Other

Company

In couple

odličan kamp sa bazenom. sanitarije jako uredne. pogled na more prekrasan. ljubimci dobrodošli. vlasnici ljubazni. jedino nedostaje dućan (najbliži dućan je udaljen 3,5 km).​​

Published on day from anonymous

Category

Tent

Company

Family with teenager

Published on day from anonymous

Category

Other

Company

In couple

Odlicen kamp, prijazno osebje, edinstvena izkusnja. Septembra je naravnost idilicno, saj je zaradi majhnega stevila turistov zagotovljen mir v kampu in na plazi, poleg tega pa so nekatere parcele tako locene od ostalih, da je miren spanec zagotovljen. Ce te bucanje valov ne vznemirja, seveda. Se se bova vrnila!​​

Published on day from anonymous

Category

Tent

Company

In couple

Krasen in miren kamp. Osebje zelo prijazno in dostopno. Sanitarije vedno čiste. Plaža čista a majhna. Razen nekaj glasnih in vsiljivih Poljakov na plaži je to idealen kamp za odklop.​​