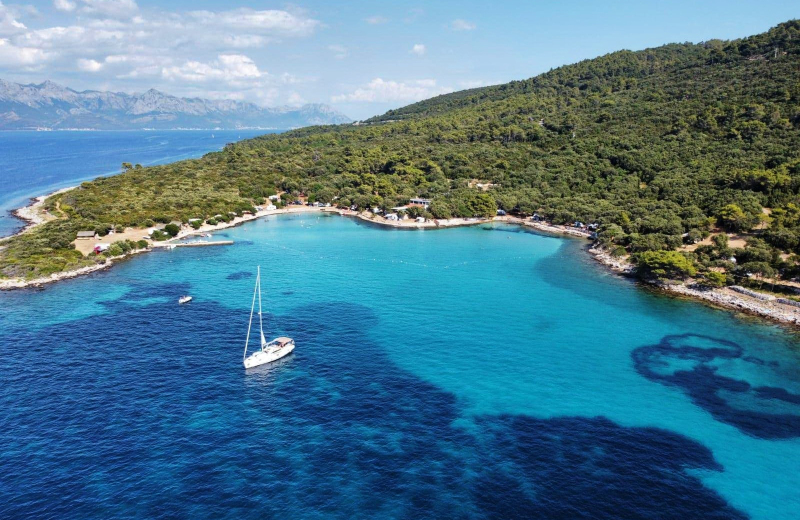 Information
Basic information
Camping Mlaska is located in the ideal bay of Mlaska, 4km west from the city Sučuraj, which is also the port for the ferry on the rout Drvenik – Surčuraj.
Campsite is partially renovated and has its sandy and rocky beach. Its part is separately arranged for nudists.

Camp has good shadow, especially for the naturist part of the camp. It also has 20 wooden bungalows for 4 to 6 persons.
They have one sanitary block, which is divided on two parts, depending on the part of the camp you select. It has been renovated and mostly tidy.

In camp you can also rent equipment for various water sports, in the evening we recommend you short event to Sučuraj, where you will surely find the entertainment at your choice.

Information about Ferry connections and its prices to the island Hvar

Features and equipment
Type of the campsite
Pitch features
Non-parcelled camping plots

Pitches with electricity and water

Pitches with electricity, water and waste water connections
Location
Equipment
Chemical toilet discharge

Children sanitary facilities

Heated sanitary facilities
Offer
Sport
Swimming pool/wellness
Swimming pool with heated water
Dogs
Rental option
Camping pricelist (in EUR) for year 2023
Price for
15.5. - 1.10.
1.1. - 15.5.
1.10. - 31.12.
Person
​​8
​​6
Children 3 - 12 yrs.
​​6
​​4
Tent - small
​​9
​​7
Tent - big
​​7
​​5
Car
​​8,50
​​6,50
Motorcycle
​​7
​​6
Caravan
​​14
​​12
Camper
​​20
​​16,50
Van
​​14
​​12
Dog
​​5
​​4
Boat trailer
​​6
​​6
Electricity
​​5
​​5
Washing machine
​​6
​​6
Tourist tax
​​1,10
​​1,10
PDF - Pricelist for year 2023 (19KB)
Camping Mlaska offers a 4% discount for stays of 7 - 14 nights.

Pricelist for rental of accommodation for year 2023
Price for
15.5. - 1.10.
1.1. - 15.5.
1.10. - 31.12.
Bungalow for 3 persons
60
50
Bungalow for 4 persons
70
60
Addit. person
10
10
Tourist tax
​​1,10
​​1,10
Contact
GPS: 43.137500,17.142780
Address: Sučuraj b.b., 21469 Sučuraj - Hvar, Hrvaška
Reception:

+385 98 425 661

Reservation:

+385 98 424 765
Rating and reviews
Reviews:
Published on day from anonymous

Category

Tent

Company

Family with small children

Published on day from anonymous

Category

Camper

Company

Family with small children

Zerlo zanemarjene sanitarije in predel za pomivanje posode.​​

Published on day from anonymous

Category

Camper

Company

Family with small children

Sam kamp je na odlični lokaciji, če bi bil urejen, bi bil pravi biser a na žalost je zelo zanemarjen. Po parcelah kar nek gradbeni material, vsaj v gozdičku, ob morju je bilo ok. Wc-ji obup, prostor za pomivanje posode je bil zanemarjen, tudi ne funkcionalen a predvsem zanemarjen. Tuši totalno zastareli, z nekaterih pip je voda konstantno odtekala, snažilke praktično nisem videla. Čez dan ladje vozijo kopalce na plažo, kar plažo zelo napolni, kot tudi dodatno obremeni wc-je, ki so nato še dolgo po tem zanemarjeni. ​​

Published on day from anonymous

Category

Camper

Company

In couple

Priporočam! Krasni sočni zahodi, čisto morje, mir:)
​​

Published on day from anonymous

Category

Camper

Company

Family with teenager

Published on day from RomanB

Category

Tent

Company

In couple

S punco sva camp obiskala letos v sezoni, na blef in ostala 9 dni. Ker rezervacij ne sprejemajo imajo vedno nekaj parcel praznih. Kakor sva opazovala je veliko gostov prisotno po dva dni, nato pa odidejo. Tako najdeš sončne parcele in pa še kakšno bolj v senci.
Plaža je lepa. Vsak dan čistijo naneslo morsko travo. Sence skoraj ni. Morda, če so prve parcele prazne, se da ulešti pod kakšno drevo ampak v najinem primeru tega ni bilo. Na plaži je tudi brezplačni tuš, kar je zame ključno. Voda je plitva, ki se potem nekoliko poglobi in spet naprej pride samo do kolenc. Kasneje pa se vse do konca ograjenega dela hitro poglobi. Se pravi je prostora za norenje z otroci veliko tudi v vodi. Zmotile so naju pa predvsem male barke ki vozijo ljudi v zaliv. V enem momentu jih je bilo zasidranih 7 ali 8, kar pomeni norijo na plaži in v vodi. Škoda tako mirnega zaliva...
Sanitarije so načeloma ok, bi bile potrebne veliko vzdrževanja ampak so čiste. Voda jim pušča praktično na vsakem spoju cevi. Del za pranje posode je zelo čudno ogromno korito, kjer bo umazanijo od sosednjega pomivalca naplavljalo v vašo posodo. Problem puščanja vode je tudi tu, kar v vročih dneh pomeni, da je okoli korit ogrmno (ampak res ogromno) čebel in os, kdor se jih boji, bo rešen pranja posode. Kdor se rad tušira z vročo vodo, bo tu razočaran. Vodo ogrevajo le solarno in je tako v višku sonca le malo bolj mlačna. Ob 23h je že precej ledena ampak nama to ni bil nek probmel, se da hitro navadit.
Sama trgovina je v redu, odprta od 8 do 12 in 16 do 20. Nima nekaj veliko ampak za vsako kilo kruha, mleko ali kakšen toaletni pripomoček, se ti ni treba voziti v mesto. Restavracija je prijetana, s teraso s pogledom na celotni zaliv.
Kar se športa tiče je v morju še vedno napeta mreža za odbojko, sprehajalnih poti pa bolj ni. Tudi če greš po plaži ob kampu, se pot po nekaj deset metrih konča, ostane ti edino glavna cesta in pot proti Sućuraju. Tam je več možnosti sprehajanja. Otroci v kampu lahko mirno norijo po dolgem in po čez. Saj je od glavne ceste precej odmaknjen, prometa pa v samem kampu res ni veliko. V kampu tudi izposojajo moped, štirikolesnik, čoln, ipd.
Na splošno sva bila zelo zadovoljna. Najine želje so potešili parcela s senco vsaj za šotor, elektrika na parceli, mivka na plaži in v vodi in tuš na plaži, so najine najbolj važne zahteve, ki pa jih je kamp Mlaska povsem izpolnil. Sem se bova še vračala.​​

Published on day from anonymous

Category

Other

Company

Family with small children

Traja, preden se nekaj zmeniš z vodstvom kampa​​

Published on day from anonymous

Category

Tent

Company

Family with teenager

Soliden kamp, vreden svoje cene​​

Published on day from canonlms

Category

Tent

Company

Family with small children

Lamp IMA izjemno lepo plažo, tako zelo, da turistične ladje z obale vozijo turiste na to plazo. Mi smo bili v fkk delu.
Ko prispe s do recepcije, imaš vtis, kot da si se vrnil v kampe kot so bili pred 30leti. Celoten kamp i.a staro infrastrukturo, ampak vse funkcionira. Nimajo za polniti plina. Market je resnično mikro, dela dopoldne in popoldne po 4 ure. Kupis lahko najosnovnejši stvari. Nič svežega mesa in tudi zelo malo sadja, morda eno ali dve vrsti. Restavracija je zelo fajn. Nimajo školjk, imajo pa dobre juhe in ribe. Pizz tudi ni, je pa sladoled na kepice. Sanitarije so bolj tako. Za posodo prat je namenjen prostor, ki ni ravno funkcionalne. Tusi so tisti iz stene, čeprav pri ženskah je bil tudi en tuš normalen. Tople vode ni skoraj nikoli, je večinoma mlacna do hladna, redko tudi topla. Parcele se najde zelo lepe. Ko je bil dež, je najhuje to, da se tla pod sotorm zmocijo in nastane blato. Po nalivu se je kar nekaj šotorov moralo prestaviti. Senca ni borova. Veliko je komarjev, ampak za preživeti. Plaza je res sanjska. Mivka je na fkk delu dopoldne, popoldne jo prekrije plima. V vodi je na obeh straneh tudi mreža za odbojko. Dobro na tej plaži je to, da je kmalu globoka voda, ampak se vedno Mivka spodaj, kot bi plačal v kakšnem morju iz tropov. Sanjsko!!!! Teren ni povsod dostopen z avtom, zato nekateri puščajo avtezunaj. Smetnjaki so po celem kampu in jih praznino dvakrat dnevno in ti ni treba smeti nositi daleč. Prav tako že zjutraj ščitijo naplavljeno travo s plaže. Teren ima dosti drevja, tako SA se lepo da izkoristiti za obešanjem raznoraznih reci.vode na parcelo se ne da dobiti, elektrika je. Mi smo zelo uživali, je prijetno, mirno, domače in kar se mi je zdelo najpomembnejše, vse je na dosegu roke. Mestece je oddaljeno 10min z avtom. Ima markete, bankomat, pošto, lepa igrala, restavracije. Do Jelse je ura vožnje. Se malo naprej je Stari Grad, kjer se da ob delavnikih dopoldne napolniti plin. Tam je tudi velik suoermarket. Kamp zelo priporocamo.​​