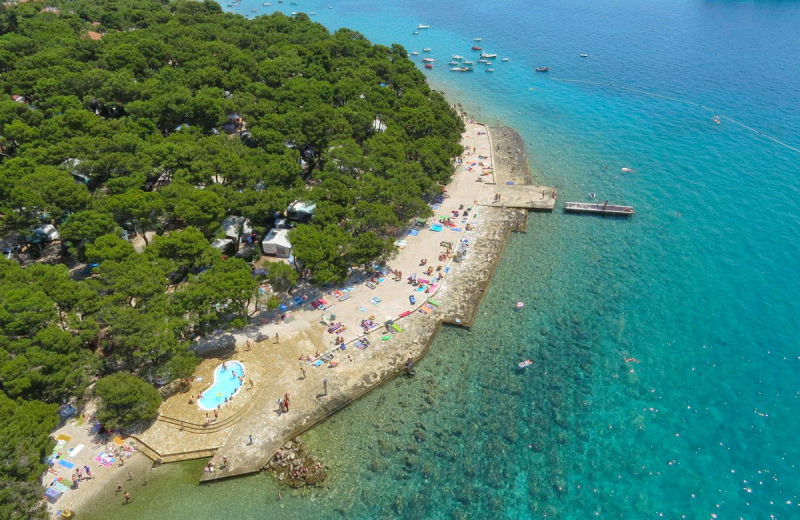 Best camp Adria 2017

3. place
Information
Basic information
Camping Kozarica - Pakostane is located in high pine woods on the western side of the city Pakostane, approximately 5km southern from city Biograd. To the city centre you can take a nice 10 minutes walk along the seafront promenade. Campsite is proud with its nice location, as you can in the neighbourhood find two national parks, Kornati (the islands) and waterfalls of the Krka river and two national reservats Lake Vransko (ornithological reserve) and Telascica.

Campsite accepts the Avtokampi Camping Card, which will make camping holidays more affordable. The discount is listed at the price list of the campsite - order for free and get camping card by email.
Campsite Kozarica offers arranged camping pitches, renting mobile homes, caravans and apartments. There are more than 450 shady pitches with electricity, part of the pitches by the sea also have water and drainage and 130 non-parceled camping places
There are two sanitary building, larger one is set in central part of the camp and recently renovated. Sanitary facilities are adjusted to kids and handicapped, they as well provide family bathrooms. Laundry is arranges, as well as camper supply station and dog showers.
Showers have been added on the beach in last years, together with smaller swimming pool for children ( 6x4 m) and children's playground with large wooden ship. Modern mobile homes settlement was built on the left side of the camp, some new pitched have been additionally arranged.
There is massage centre on the beach and improved animation programe with mini kids club. Kozarica as well hosts innovative mobile wellness - mobile home with two saunas.
Beach in campsite Kozarica is stoned with smaller pebbled bays and children's playground. Part of the beach is arranged under the pine wood trees that provided great shelter in hot summer. Showers and smaller children's playground are arranged on the beach. Along the bar is well arranged children's playground, while larger socializing hall is arranged in larger building in central part of the camp. Shop is renovated, camp has neatly arranged horticulture, with smaller botanic garden.
Places with barbecues are arranged, sport lovers can play football, volleyball, basketball, table tennis and possibility to rent a bike.

Features and equipment
Type of the campsite
Pitch features
Non-parcelled camping plots

Pitches with electricity and water

Pitches with electricity, water and waste water connections
Location
Equipment
Chemical toilet discharge

Children sanitary facilities

Heated sanitary facilities
Offer
Sport
Swimming pool/wellness
Swimming pool with heated water
Dogs
Rental option
Camping pricelist (in EUR) for year 2023
Avtokampi camping card
2023 - 21 € for 2 persons and a dog on a pitch with electricity in period 8.4. - 15.6. & 10.9. - 31.10.
Price for
15.7. - 15.8.
1.7. - 14.7.
16.8. - 23.8.
15.6. - 30.6.
24.8. - 31.8.
1.6. - 14.6.
1.9. - 14.9.
8.4. - 31.5.
15.9. - 31.10.
Person
​​12,90
​​11,90
​​8​,90
​​7,50
​​6,50
Children 3 - 12 yrs.
​​7,50*
​​7*
​​6,50*
​​5,50*
​​gratis
Pitch by the sea (electricity, water, sewer)
​​47
​​43
​​32
​​26
​​17
Pitch (electricity, water, sewer)
​​40
​​37
​​28
​​24
​​15
Pitch with electricity 90-100 m2
​​36
​​33
​​25
​​20
​​13
Pitch with electricity 70-90 m2
​​25
​​23
​​18
​​15
​​10
Non-parceled camping unit + elect.
​​18
​​16
​​13
​​11
​​7
Motorcycle + tent
​​15
​​12
​​9
​​8
​​6
Addit. car / tent
​​7
​​6
​​5
​​4
​​3
Dog
​​8
​​7
​​6
​​4,50
​​4
Boat trailer
​​7
​​6
​​5
​​4
​​3
Private bathroom
​​14
​​11
​​10
​​9
​​9
Refrigerator
​​6
​​5
​​4
​​3,50
​​3
Check-in
​​1,30
​​1,30
​​1,30
​​1,30
​​1,30
Tourist tax
​​1,10
​​1,10
​​1,10
​​1,10
​​1,10
Reservation of the pitch
​​40
​​40
​​40
​​40
​​40
PDF - Pricelist for year 2023 (22KB)
* Third child camping free of charge.
Reservation of the plot with electricity costs 40 eur and is not deducted from the final account; the reservation of the plot with electricity and water costs 50% of the total value and is deducted from the final account.
Discounts on the price of persons - staying more than 15 days gives you 3%

Pricelist for rental of accommodation for year 2023
Pricelist for yearly rental (in EUR) for year 2023
| Price for | 1.5. - 30.9. |
| --- | --- |
| Yearly pitch rental with electricity | ​​3.400 / 4.500 |
| Winter lodging of the caravan | 300 |
| Tourist tax | 1,30 |
PDF - Pricelist for year 2023 (17KB)
The higher price of the flat rate in the Kozarica camp applies to the plots in zone B, and the lower one in zone C.

The annual lease of the plot is valid for 15 persons (children under 12 are not counted),, but at the same time, 4 adults and 2 children can be registered on the plot. In case of payment up to 31.1. you are granted a 3% discount.

Contact
GPS: 43.910129,15.498500
Address: Brune Bušića 43, 23211 Pakoštane, Hrvaška
Reception:

+385 23 381 070
Mobile Homes
Mobile homes description
Renting mobile homes in Campsite Kozarica - Superior mobile homes Adria xLine (36m2) for the most demanding guests, which can sleep 4 + 1 persons. These are modern mobile homes with excellent equipment and a nice outdoor terrace, located near the sea, and guests also have a pool near the houses. They are equipped with two bedrooms, two bathrooms and a spacious living room with kitchen.

Other mobile homes are located in the central part of the camp and are better shaded. Models of mobile homes Lux (32m2) and Family (24m2) provide a comfortable stay for 4 + 2 persons and are equipped with two bedrooms, bathroom, living room with extra beds and kitchen. There are also two smaller models of mobile homes (18m2) for 2 adults and 2 children and Couple (12m2) for 2 persons, which are also equipped with their own bathroom and mini kitchen.

All mobile homes at the Kozarica campsite are air-conditioned, equipped with satellite TV and internet, and dogs are allowed at an extra charge.
Mobile homes information
Number of persons in mobile homes
Mobile homes for 2 - 3 persons

Mobile homes for 4 - 6 persons

Mobile homes for 6+ persons
Mobile homes
Dogs allowed in mobile homes

Mobile homes for handicapped

Mobile homes with 3 bedrooms
Pricelist for mobile homes (in EUR) for year 2023
Rating and reviews
Reviews:
Published on day from kralesa

Category

Tent

Company

With friends

Res majhne parcele, vendar lepo urejene. Glede sanitarij- nikoli umazani a nikoli cisti... res povrsinsko ciscenje enkrat na dan. Ostalo super, lega zraven mesta. Pogresali smo kaksne priveze za supe, da ga ne rabis vsak dan nosit do parcele. Cenovno ugoden kamp a ti rezervacije ne vstejejo v ceno bivanja. Leta 2023 WIFI placljiv​​

Published on day from Tina.Vindiš443

Category

Camper

Company

With friends

Velik, urejen kamp z veliko sence. Plaza v kampu je urejena in sencna. V recepciji je moznost izposoje koles. V kampu je dobro zalozena trgovina in restavracija (cene so ok, pice niso okusne). V blizini kamp je vse kar potrebujes. Minus pa je pomanjkanje korit za pomivanje posode in so zato obcasno dolge vrste. V kampu smo nasli samo en smetnjak. Nimajo locevanja odpadkov, pri pomivanju posode nimas kam odloziti ostankov hrane.​​

Published on day from ancelj.gal939

Category

Tent

Company

In couple

Plusi:
Zelo miren, urejen in prijeten kamp. Dobro založen market, prijazni zaposleni.

Minusi:
Umazani wc-ji, voda iz pipe teče tri sekunde, zato je treba non stop pritiskati gumb... Hitro zmanjka tople vode, oziroma ta samo kaplja ven...​​

Published on day from anonymous

Category

Mobile home

Company

Family with small children

Kamp je zelo lep in udoben. Šibka točka so smeti (plaža) in igrišča.​​

Published on day from anonymous

Category

Caravan

Company

In couple

V mesecu juliju in juniju sanitariji niso bili ustrezno čiščeni. V avgustu ok​​

Published on day from anonymous

Category

Caravan

Company

Family with teenager

Že več let se vračamo v ta kamp, ampak nikoli niso bile sanitarije tako zanemarjene kot letos... prejšnja leta le bilo zmeraj čisto, zdaj pa starejše čistilke sicer garajo, medtem ko mlajše niti ne!​​

Published on day from anonymous

Category

Mobile home

Company

Family with small children

V kampu načeloma vse v redu,doker ne prideš do vode. Na večini plaže, ki je sicer lepo urejena so v vodi ostre skale, kamni, ježki.. Večina ljudi lahko dostopa v vodo le v 2-3 malih zalivčkih, kjer je nasut pesek. Če bi uporabili le 2 dni bager s crusherjem ob obalo, bi bil vodni del plaže na sicer prijetni plaži precej bolj človeški..
.. nevem, mogoče komu paše divji dostop do vode, ampak v kombinaciji z betonsko urejeno plažo pomoje takih ni veliko.. 200m levo na javni plaži so očitno to naredili pred desetletji..​​

Published on day from anonymous

Category

Mobile home

Company

Family with small children

Manjkajo koši za smeti, previsoka cena za to kar ponujajo. Prioriteta so jim gosti v luksuznih mobilnih hišicah.​​