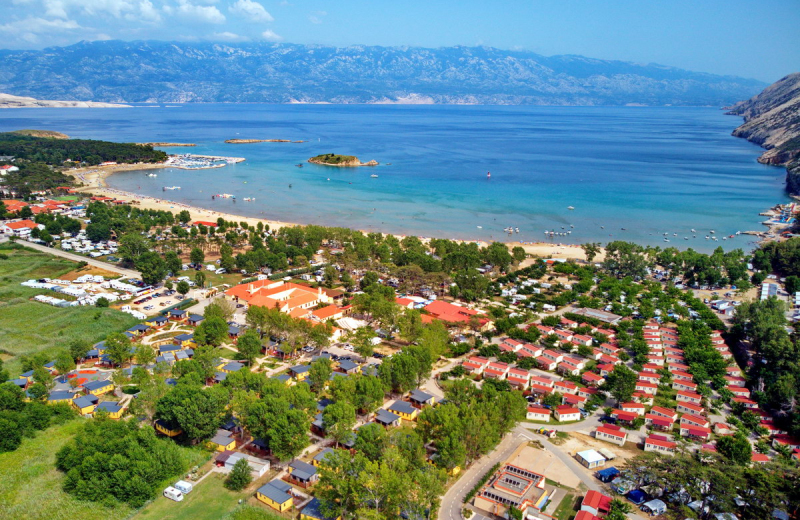 Information
Basic information
Camping San Marino is located in Lopar on the island of Rab and is only 2 km from the ferry port where the ferry from the island of Krk arrives. The camp is famous for its beautiful beach called Paradise Beach and can accommodate up to 3.500 people.
Campsite accepts the Avtokampi Camping Card, which will make the camping more affordable. The discount is listed at the price list of the campsite - order for free and get camping card by email.

In the San Marino Camp, families with young children are most likely to be caught, who can enjoy freely on the beach where the entrance to the water is very laid. They allow camping on arranged camping pitches, on the part of the camp that is not divided into pitches and rental of different types of mobile homes.

Campsite arranged a new settlement of mobile homes Lopar Garden Village and improved children's animation.
In the San Marino Camp, all pitches have an electricity connection, more than 200 pitches as well water, and some sewage. Part of the camp in the vicinity of the reception is still not divided into camping pitches. The left part of the camsite has a better shade than the right, where trees have been truncated for safety in recent years. There is also a wellness center with saunas, massages, a fitness room and a beauty salon in the camp.

Camping San Marino has 6 sanitary facilities, which also have toilets for disabled people, children's bathrooms, chemical wc and also dog showers. Camper supply station is arranged.

In camping San Marino you will find a shop, restaurant, a café, a bakery, a fruit and vegetable shop, children's playgrounds and an animation center. There are slides on the sandy beach, they can rent boats, scooters and pedal boats, and part of the beach is also intended for dogs.

Within the campsite there is also a sports center with 4 tennis courts, minigolf playground, table tennis, bowling, football, basketball and beach volleyball. Every day they organize animation and aerobics, and the possibility of renting bicycles.

The ferry from the island of Krk, where the port of Valbiska is located, ferry to the island of Rab, and the ferry runs an hour and 20 minutes. The second ferry line to the island of Rab drives from the village of Stinica, where the journey takes only 15 minutes.

Information about Ferry Connections and its Prices to the Island Rab

Features and equipment
Type of the campsite
Pitch features
Non-parcelled camping plots

Pitches with electricity and water

Pitches with electricity, water and waste water connections
Location
Equipment
Chemical toilet discharge

Children sanitary facilities

Heated sanitary facilities
Offer
Sport
Swimming pool/wellness
Swimming pool with heated water
Dogs
Rental option
Camping pricelist (in EUR) for year 2023
Avtokampi camping card
2023 - € 19 for 2 persons and a dog on the non-parcelling part of the campsite with electricity between 12.5. - 6.6. & 6.9. - 2.10. or 7,5 % discount for camping (persons + pitch) on all types of pitches (exception is the non-parcelling part) between 6.4. - 29.6. & 20.8. - 2.10. and 5 % discount between 30.6. - 19.8.
Price for
7.7. - 19.8.
30.6. - 6.7.
16.6. - 15.6.
20.8. - 26.8.
25.5. - 15.6.
27.8. - 2.9.
17.5. - 25.5.
3.9. - 9.9.
5.5. - 16.5.
10.9. - 16.9.
14.4. - 4.5.
17.9. - 30.9.
Person
9,70
9,70
9
8,60
6,40
6,40
5,20
Children under 5
3,10
3,10
2,90
2,70
2,40
2,40
​​gratis
Children 5 - 12 yrs.
5,30
5,30
5
​​4,80
​​3,90
​​3,90
​​2,30
Pitch by the sea (electricity, water)
61 / 64*
49
44
39
35
27
21
Pitch (electricity, water)
52
40
37
33
29
24
18
Pitch with electricity
44
34
31
28
25
19
15
Non-parceled camping unit + elect.
41
31
29
25
22
19
14
Dog
​​6,20
​​6,20
​​6,20
​​6,20
​​6,20
​​6,20
​​6,20
Tourist tax
​​1,30
​​1,30
​​1,30
​​1,30
​​1,30
​​1,30
​​1,30
PDF - Pricelist for year 2023 (20KB)
* more expensive plitche are closer to the sea

Pricelist for yearly rental (in EUR) for year 2023
| Price for | 1.5. - 30.9. |
| --- | --- |
| Yearly pitch rental with electricity | ​​3.740 - 3.770 |
| Yearly pitch rental with electricity, water | ​​3.890 - 4.290 |
| Tourist tax | ​​1,30 |
PDF - Pricelist for year 2023 (16KB)
The flat rate is valid for 4 people. For companies, the flat rate is higher by about 200 - 300 euros.

Contact
GPS: 44.823524,14.737101
Address: Lopar 488, 51281 Lopar - Rab, Hrvaška
Reception:

+385 51 775 133

Reservation:

+ 385 52 465 010
Mobile Homes
Mobile homes description
Mobile home rent in the campsite San Marino Lopari on the island of Rab - mobile homes are located on the right side of the camp and are from 150 to 250 meters from the sea and the sandy beach.

The newest are mobile homes Lopar Garden Village - mobile homes can host up to 4 + 2 persons (35m2) and larger for 6 + 2 persons (40m2).

The camp San Marino offers also mobile homes Superior (30m2 - 4 + 2 persons) and Superior Family (34m2 - 6 + 2 persons).

All mobile homes are air-conditioned, equipped with two bathrooms, two or three bedrooms, a living room with a kitchen and a large terrace. Dogs are allowed in mobile homes in camping San Marino (with suppplement payment).

You can also rent agency mobile homes and caravans at Gebetsroither

Room rentals and suite - Residence San Marino, which includes 18 modernly decorated double and triple rooms and 1 suite for four people that provides highest comfort.

Mobile homes information
Number of persons in mobile homes
Mobile homes for 4 - 6 persons

Mobile homes for 6+ persons

Mobile homes for 2 - 3 persons
Mobile homes
Dogs allowed in mobile homes

Mobile homes with 3 bedrooms

Mobile homes for handicapped
Pricelist for mobile homes (in EUR) for year 2023
The rental prices for mobile homes in the San Marino are available in the online reservation system.


Rating and reviews
Reviews:
Published on day from Gasper1

Category

Caravan

Company

Family with small children

Lep kamp, me je pa zmotilo to, da naj bi bil kamp prijazen do lastnikov psov, pa nimajo niti plaže za pse, niti prostora, kjer naj bi psi opravljali svoje male in velike potrebe, zato to opravljajo zjutraj in zvečer kar na plaži! (Nehigienično, glede na to, da je na plaži ogromno majhnih otrok, in se tvega kakšna resna okužba!) Upam, da to uredijo čimprej.
Sanitarije so čiste, čistilke pomivajo od jutra do večera.
Ponoči po 23h je mir.
Wifi "vleče" povsod, je pa velikokrat preobremenjen, zato boste morali imeti srečo, da boste lahko brskali po spletu.
V kampu je tudi trgovina, dokaj dobro založena, za večje nakupe smo se pa raje odpravili v večjo trgovino cca 1km izven kampa.
Plaža je peščena in sončna (sence ni), odlična za majhne otroke in igro. Možen je tudi najem senčnikov in ležalnikov.
​​

Published on day from niki_m

Category

Mobile home

Company

Family with teenager

Veliki kamp s dobrom ponudom: restauracije, sportskih terena, zabave za najmlađe i straije. Kućica je bila srednje kvalitete, parking je jako nagužvan, no osoblje se trudi pronaći rješenje. Smješten uz predivnu pješčanu plažu​​

Published on day from urska1980

Category

Tent

Company

Family with small children

Sam kamp je super, wc čisti, plaža mivka, za male in velike otroke raj... na recepciji pa ena mlada dama, ki je bila neprijazna že ob osmi uri zjutraj... po novem imajo namreč pravilo rezervacije tudi za neparcelirani del... če nimaš rezervacije te osorno ogovarjajo, počakati smo morali do 13 ure, da zapolnijo prvo tiste, ki so rezervirali, pa čeprav je bilo prostora ogromno in ga je tekom našega dopusta vsak dan dovolj... posledično ogromno slabe volje iz obeh strani, tako da ta kamp ne priporočam več, dokler ne bodo ali naredili cel kamp v parcele ali pa uvedli neparcelirane parcele brez rezervacij, saj ne moreš rezervirati kar nekaj... na spletu tudi nikjer ni napisano, da potrebuješ rezervacijo...​​

Published on day from adria82

Category

Caravan

Company

Family with small children

V kampu smo že leta in leta. Sicer nikoli niso bili pretirano prijazni na recepciji v primerjavi z drugimi kampi ampak se človek navadi. Lansko leto je bila pa katastrofa. Po prihodu in ko smo že našli prosor za postavitev prikolice, nam na recepciji rečejo, da je potrebno neparceliran del rezervirati. torej rezerviraš nek del, ki ni točno določen. Poskusila pojasniti, da smo našli prosto mesto, da ni zasedeno in da smo prišli pozno popoldne, da vsaj gremo v kamp, d anismo zunaj pred vrati, so bili zelo grobi in vztrajni, da naj pokličem na rezervacije in rezerviram predhodno, nato me bodo spustili v kamp. Seveda služba za rezervacije ni delala. So mi pa jasno povedali, da so gostje iz Nemčije rezervirali in da čakajo na njih. V kampu nikjer ni bilo označeno, da je kaj rezervirano, saj nepraceliranega dela niti ne moreš označit.
V glavnem mislim, da se morajo še veliko naučiti o delu z gosti in komunikaciji. ​​

Published on day from anonymous

Category

Tent

Company

Family with small children

Kamp je sicer super lege, smo se vrnili po nekaj premora. Pa moram reči, da so se kar poslabšali. Plaža se bo s fiksnimi dežniki čisto uničla enostavno jih je preveč, slabo skrbijo za kanalizacijo, ki je ob deževju udarila ven. Prvič se nam je zgodilo, da so rekli moji, da prostora ni, čeprav ga je bilo dovolj. Za šotor ponavadi ne rezerviramo. Ko sem šel na recepcijo jaz pa smo se lahko prijavili... Kamping kartic je rekla, da ne sprejemajo več. 674€ za 12 nočitev ni več ravno ugodno za šotor. Wi-fi ne dela več kot nekaj metrov od recepcije.
Prostora za šotore počasi ne bo več, če bo še kaj tam ko ni dreves ali pa v mivki, kjer z avtom nimaš kaj iskati. Ogromen del kampa zasedajo mobilne hiške. Do nemško govorečih so neprimerljivo bolj prijazni. ​​

Published on day from Piltti

Category

Caravan

Company

Family with small children

Lega
Pozicija kampa je super. Na pravoj pješčanoj plaži je, što je rijetkost u Hrvatskoj. Premužićeva staza kreće odmah pored kampa (stražnji izlaz) i ide do vrha Kamenjak. Lijepa staza.
Trgovina u kampu je ok opremljena i nešto skuplja. Ja sam više volio otići u nabavku u veće trgovine (Super Konzum u Loparu i Plodine u Mundanije)
Pored kampa je luna park i nešto ugostiteljskih objekata. Cijene su malo veće od očekivanih. Nedostaje gradić ili selo sa starinskim štihom.
Na samom poluotoku Loparu postoji dosta pješčanih plaža koje su manje posjećene, ali do njih se treba ići autom i pješke.

Sanitarije
Sanitarije su čiste i uredne, na uređenju se radi od jutra do mraka. Dječji dio su moji klinci (7 godina) s veseljem koristili.

Animacija
Marko dječji klub je jako dobar. Svaki dan je dva puta plus dječji disko. Sve vrlo dobro organizirano.
Animacija za odrasle je također dobra i vrlo dobro posjećena. Dva puta dnevno je neka vrsta vježbi/plesa

Internet
Internet nije radio 25 metara od recepcije niti u vremenu kad ga nitko ne koristi. Čista katastrofa.

Parcele
Parcela ima vrlo raznovrsnih. Jako veliki dio je na pijesku. Dio ima super sjenu, a dio nema ništa. Ne parcelirani dio je isto OK. Uglavnom, ako ne želite parcelu na pijesku, trebat će te se potrudi da je nađete. Ima i puno rezerviranih parcela

Sportski objekti
Nema baš sportskih objekata. Odbojka na plaži je OK. Objekti koji su pored kampa koriste i domaći ljudi, pa je teško uhvatiti termin

Restoran
Restoran izgleda vrlo korektno. Naručili smo pizzu kad smo došli (Junij) i bila je OK. Nakon 01.07. pizza se smanjila i više nije bila ok za tu cijenu. Više nismo koristili restoran u kampu.

Cjelokupni dojam
Cjelokupni dojam je jako dobar. Pješčana plaža s većinom kristalnim morem. Istina, tamo gdje kopaju po plaži osjeti se lagani miris. To se većinom odnosi na dio uvale gdje je hotel.
Djelatnici kampa vrlo ljubazni. Animacija je super. Mi smo bili 20 dana obiteljski s dvoje male djece i svi smo jako zadovoljni.
Kamp je u svakom slučaju za preporučiti neovisno koliko netko želi dugo boraviti.
Grad Rab obavezno posjetiti, lijep je.

Isprika što je komentar na hrvatskom. Slovenski jezik razumijem, ali ne mogu pisati na njemu.
​​

Published on day from anonymous

Category

Caravan

Company

Family with small children

Kamp je privlačen za družine z majhnimi otroki predvsem na račun plaže, ki je za igro res izjemna. Parcele so korektne, sami smo bili nameščeni v delu parcel velikosti L, ki imajo elektriko, vodo, odtok. Potrebno je poudariti, da je tam potrebna rezervacija, tudi leto naprej za najbolj zaželene termine.

Kljub temu, da so parcele dokaj blizu, so bili sosedje v tem delu super. Večinoma nemške narodnosti. Žal, a velika je razlika med njimi in nekaterimi kampisti katere od slovanskih narodnosti.

Še ena stvar, ki je zelo opazna je razlika med kampisti in tisimi, ki najamejo mobilne hiške. Le te so/želijo biti premium/nadstandardne, a velikokrat ljudje, ki jih najamejo tega ne izkazujejo. Razlika se kaže tako na plaži kot na primer na otroških igralih. Že na prvi stik veš kdo spada kam. Malo me skrbi, da bodo z hiškami celotno izkušnjo kempov pokvarili. Vem, da pa je to dosto bolj dobičkonosno.

Kljub temu, kamp primerne kakovosti za svojo ceno, sanitatrije so bile urejene, vedno topla voda, odnos osebja pa super (zelo spremenjen odkar so pod Valamar vodstvom). ​​

Published on day from anonymous

Category

Tent

Company

Alone

Izredno razočaran nad kampom. Pridem z namenom, da bi eno noč prespal in si kamp ogledal, saj smo nameravali poleti tam z družino preživeti letni dopust. Vendar hoče na recepciji, da plačam dve nočitve, kljub temu, da sem prišel samo za eno noč. Imajo pravilo, da je minimalno število nočitev dve. Razočaran sem se obrnil in šel drugam. Tudi letni dopust bomo preživeli raje drugje. Sicer pa kolikor sem lahko videl, da kamp nima sence, kar bi poleti znalo biti hudičevo naporno.​​

Published on day from anonymous

Category

Tent

Company

In couple

Največja slabost kampa je, da ni sence... poleg tega se je tudi nam zgodilo, da smo imeli preglasne sosede s preglasno glasbo...Prav tako pri tuših ni vedno toplo vode...kamp je soliden in primeren za tiste, ki ne potrebujejo miru in jih ne moti gneča.​​

Published on day from anonymous

Category

Other

Company

Family with small children

Vsako leto se niža kakovost ponudbe kampa: umazane sanitarije, neurejene meje med parcelami, glasna glasba dplgo v noč of okoliških prireditev... in zaradi umazane vode se v mivki zaredijo ene male živalice ki grizejo got nore....​​