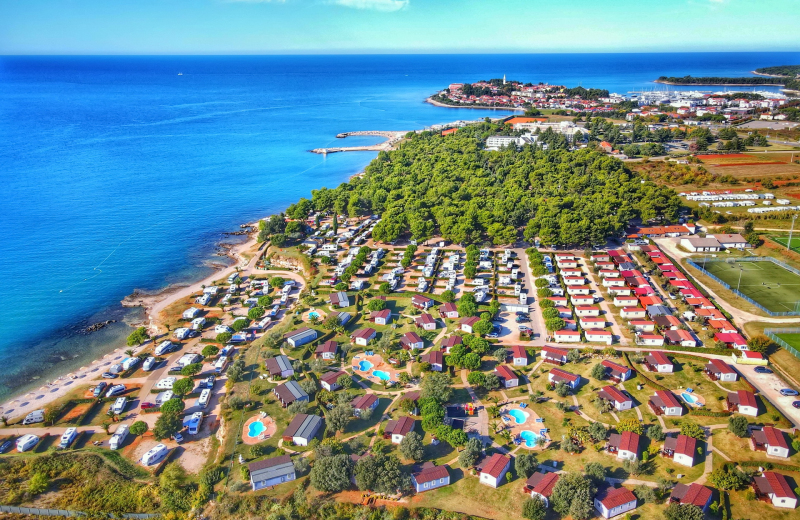 Best camp Adria 2021

3. place
Information
Basic information
Aminess Sirena Camping - Novigrad is located nearby the hotel Aminess Laguna and Maestral in city Novigrad (10min walk from its city centre). Campsite is one of the best in region.
Campsite accepts the Avtokampi Camping Card, which will make the camping more affordable. The discount is listed at the price list of the campsite - order for free and get camping card by email.
NEW - Bella Vista Mega Luxury pitch of 200 m2 for large motohomes and caravans - on the pitch electricity, water, drain, umbrella and barbecue.

Camping Aminess Sirena can host up to 1800 people at once and offers arranged camping pitches and modern mobile homes. Central part of the camping is arranged in thick shade of pine trees and divided into pitches. Pitches in terraces are arranged on a sandy grounds and have access to electricity. There are some pitches on the sunny part of the camping. The most beautiful pitches are located by the sea, while the ones on the upper terraces are offering great view across the sea and complete bay. This pitches have access to electricity, water and sewage system.

All sanitary facilities in Aminess Sirena camping have been modernized, another mobile sanitary station was added as well as reception renovated. Additionally they have supply station for campers and place for showering your dogs. Free wireless internet is reachable for all camping guests. Common place with grill is set for camping guests.

Beach in camp Aminess is mostly stoned with one smaller pebbled part. On the beach you will find showers, bar, sunbeds for rental. Smaller part of the beach is reserved for campers who come with dogs. Close by (200m away) is newly arranged swimming place Punto Mare with larger and children's swimming pool with sea water, bar, animation centre and pebbled beach. Inner swimming pool with spa facilities (sauna, massages, fitnes) is in hotel Maestral (special price for Aminess Sirena camping guests).

In camp you can will find smaller shop, newspaper stand, beach bar and restaurant. The closest shop is 500m away, but in the city centre you will surely find anything you need (two larger shopping malls). In tourist complex Aminess Sirena you can find sports centre, ensuring great fun while playing tennis, volleyball, table tennis and mini golf, close by is also football court. It is possible to rent a bike. Camp is with the city centre of Novigrad connected with tourist train. In the high season camp ensures animation for adults (aerobics, morning recreation, cycling trips) as well as for children (mini club, course of Croatian language, etc), who will without doubt enjoy on any of the two neatly arranged children's playgrounds. Not far from the camp is well-known aqua park Istralandia with various pools and slides.

Features and equipment
Type of the campsite
Pitch features
Pitches with electricity and water

Pitches with electricity, water and waste water connections

Non-parcelled camping plots
Location
Equipment
Chemical toilet discharge

Children sanitary facilities

Heated sanitary facilities
Offer
Sport
Swimming pool/wellness
Swimming pool with heated water
Dogs
Rental option
Camping pricelist (in EUR) for year 2023
Pricelist for yearly rental (in EUR) for year 2023
| Price for | 31.3. - 4.11. |
| --- | --- |
| Yearly pitch rental with electricity | ​​3.700 |
| Check-in | ​​1,50 |
| Tourist tax | ​​0,85 - 1,15 |
PDF - Pricelist for year 2023 (16KB)
The price of the flat-rate in the campsite Aminess Sirena includes 5 adults (children aged 10 or over are considered as adults), plot, caravan, car and electricity. In addition, you can pay extra for max.7 people on a flat rate.

Mobile Homes
Mobile homes description
Rental of mobile homes in campsite Aminess Sirena in Novigrad - mobile homes are set on the left part of the campsite. It is possible to rent classic, a bit smaller mobile homes (24 m2) and newer, modern ones that are arranged in settlement of mobile homes with swimming pools.
Premium and Prestige mobile homes are 32 m2 large and are large enough to host 4 adults and 2 kids. The largest mobile homes Bella Vista (40 m2) are set in the first row with great view across the sea. They all have air-conditioning, kitchen, two bathrooms (unless Classic), two bedrooms and terrace.
All mobile homes have air-conditioning, satellite TV and free internet.
Dogs are allowed only in mobile homes Classis.

Mobile homes in the Camping Amines Sirena Novigrad:
Mobile homes Classic - 24m², two bedrooms - one with double bed, living room with kitchen, bathroom, terrace, Sat TV, air conditioning, wifi
Mobile homes Premium - 32m2, two bedrooms - one with double bed, living room with kitchen, two bathrooms, terrace, air conditioning, Sat TV, wifi, microwave, swimming pools near houses
Mobile homes Bella Vista - 40m2, two bedrooms - one with double bed, large living room with kitchen, two bathrooms, large terrace, swimming pool just in front of the house, air conditioning, Sat TV, wifi, dishwasher, microwave.

Mobile homes information
Number of persons in mobile homes
Mobile homes for 4 - 6 persons

Mobile homes for 2 - 3 persons

Mobile homes for 6+ persons
Mobile homes
Dogs allowed in mobile homes

Mobile homes for handicapped

Mobile homes with 3 bedrooms
Pricelist for mobile homes (in EUR) for year 2023
Rating and reviews
Best camp Adria
2021: 3. place in category Croatia - Istria - Larger campsites
Reviews:
Published on day from MojcaMatko

Category

Tent

Company

Family with teenager

Kamp Sirena obiskujemo že vrsto let. Naša izkušnja je bila vedno pozitivna, če izvzamemo letošnji dopust 2023. Odnos osebja na recepciji obupen. Dobili smo ključe predala hladilnika, ki je grozno zaudarjal. Ugotovili smo, da so bile v drugem predalu ribe, 3 tedne čez rok. To smo recepciji javili 4x vendar kljub opozorilom ukrepanja ni bilo. Sanitarije so bile prejšnja leta vedno čiste. Letos pa lahko rečem, da se niti enkrat nisem stuširala v očiščeni tuš kabini. Zaradi pomanjkljive čistoče se na robovih že nabira plesen in vodni kamen.
Naj izpostavim, da je bila ocena kampa Sirena pred leti na avtokampi.si krepko čez 8, ta pa je v zadnjih letih upadla na 7. To kaže na veliko spremembo mnenj in izkušenj gostov.​​

Published on day from anonymous

Category

Caravan with yearly rental

Company

Family with teenager

Sanitarije dobro očiščene, tuš kabine slabše, previsoka cena pavšala, ni večje trgovine v kampu, ni pekarne v kampu, slab internet, športni objekti dobro urejeni, blizu centra mesta. ​​

Published on day from drencek

Category

Camper

Company

In couple

Kam je sicer urejen, wc-ji lepi, osebje prijazno. Parcele neravne in večina v senci. Nenormalno veliko lastnikov s psi, ki jih imamo po dva , ki lajajo drug na drugega in lulajo po celem kampu.
Kamp zanimiv izven sezone, ker je dobra lokacija za kolesarje in bližina mesta Novigrad.​​

Published on day from Jpodles

Category

Camper

Company

Family with small children

Bivali 5 dni z avtodomom (van). Prostora je bilo veliko in sence dovolj. Kamp urejen in čist, primeren za družine z majhnimi otroki. Naša dvoletnica se je zabavala pod drevesi, na plaži in na igralih. Imajo pekarno, trgovina pa je v mestu Novigrad. Dobro je imeti kolo. V mestu je tudi tržnica, kjer lahko dobiš sveže ribe. Osebje prijazno, ni pa ravno poceni. Cena je slaba stran tega kampa. ​​

Published on day from IGOR1979

Category

Caravan

Company

Family with small children

Kamp urejen, miren in vreden obiska. Parcele urejene, velike in v senci. Sanitarije konstantno čistijo, razkužila povsod na dosegu roke. Plaže urejene in lepe. Edina pomanjkljivost je ta, da ni trgovine v kampu. Vse ostalo je super. Osebje zelo prijazno. Vredno obiska.​​

Published on day from anonymous

Category

Mobile home

Company

With friends

Največji minus kampa, da ni ene majhne trgovinice v kampu, ampak moraš ven iz kampa (mi smo imeli cca. 10 min hoje), do najbližje trgovine. Cene v lokalih čistro predrage.​​

Published on day from anonymous

Category

Caravan

Company

Family with small children

Urejen kamp, žal smo dobili parcelo na soncu, ker je bila rezervirana parcela premajhna za prikolico--oziroma nedostopna s prikolico. Sanitarije nove, a žal ne tako čiste, odtoki v tusih zamašeni in tako se voda odteka ven iz tuš kabin. Animacije za otroke super, igrala tudi. Manjka jim še kakšen bazen, sploh glede na ceno. Prednost je bližina mesta Novigrad in pešpot ob obali. Pogrešali smo trgovino v kampu. Pozitivno je tudi to, da so mobilne hiške ločene od kampa in niso v prvi vrsti kot v večini kampov. ​​

Published on day from anonymous

Category

Caravan

Company

Other

Najslabše je urejena plaža, saj so polomljena držala za lažji dostop, potkaa pa je polna alg, zato drsi.​​