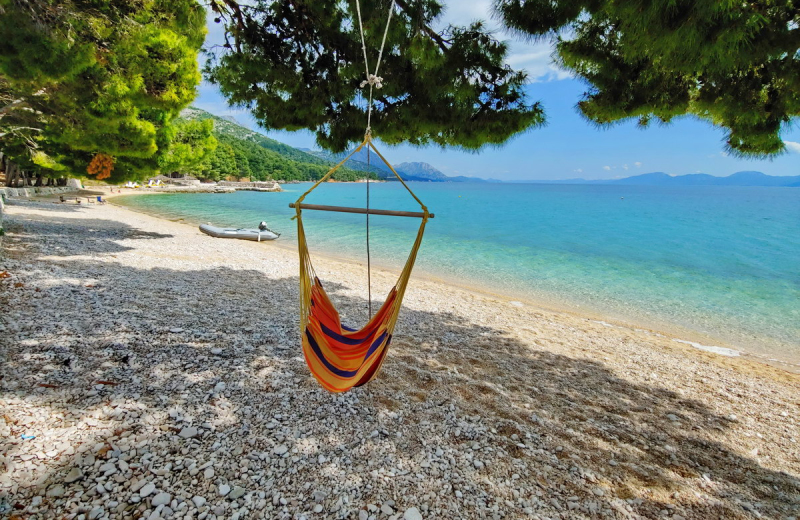 Information
Basic information
Camping Dole is located in Zivogosce on the southern part of the Makarska Riviera, 5 km north of Drvenik and 25 km south of Makarska. In the campsite Dole you can camp on arranged pitches and rental of mobile homes located near the sea as well as wooden bungalows.

Campsite Dole offers great shade on the pitches, especially on the upper part of the camp. Some pitches are set close to the sea and are more sunny. In first rows mobile homes were set, so only few camping pitches on the right side can be found just by the sea.

Sanitary building is a bit older and would need a renovation, but camp management is giving its best to keep it clean. Camper supply station is arranged.

In hotel complex Zivogosce beach you will find sport centre offering various water sports, rental of bikes, boats and water scooters. Close by is diving centre. Internet in camp is accessible, but needs to be additionally charged.

Surroundings offers various options for daily trips, such as trip to Makarska, daily boat trip to islands Hvar, Brac or Korcula, hiking on cycling. Trips to Mostar, Međugorje and Dubrovnik are popular as well.
Features and equipment
Type of the campsite
Pitch features
Non-parcelled camping plots

Pitches with electricity and water

Pitches with electricity, water and waste water connections
Location
Equipment
Chemical toilet discharge

Children sanitary facilities

Heated sanitary facilities
Offer
Sport
Swimming pool/wellness
Swimming pool with heated water
Dogs
Rental option
Camping pricelist (in EUR) for year 2023
Price for
8.7. - 25.8.
1.7. - 7.7.
26.8. - 1.9.
27.5. - 30.6.
2.9. - 15.9.
27.4. - 26.5.
16.9. - 8.10.
Person
7,30
7,30
5
​​3,80
Children 5 - 12 yrs.
4,30
4,30
2,80
2,30
Pitch by the sea (electricity, water)
​​55,70
44,50
28,50
23
Non-parceled camping unit + elect.
37,50
33,30
22,90
17,40
Tent pitch + motorcycle + electricity
27,50
22
18,50
11,80
Dog
​​5,60
​​5,60
​​5,60
​​5,60
Boat trailer
​​6,70
​​6,70
​​6,70
​​6,70
Addit. car / tent
5,30
5,30
5,305,30
​​3,60
Tourist tax
​​1,40
​​1,40
​​1,40
​​1,40
Check-in
​​1,50
​​1,50
​​1,50
​​1,50
Contact
GPS: 43.171186,17.196696
Address: Živogošče b.b., 21329 Živogošče - Blato, Hrvaška
Reception:

+385 21 628 749
Mobile Homes
Mobile homes description
Rental of mobile homes in the campsite Dole Zigovosce - in the immediate vicinity of the beach, mobile homes in the campsite Dole were set up for more agencies.

Agency Adria Holidays offers rental of modern mobile homes in the first rows by the sea on the left side of the campsite. Small mobile homes for 4 + 2 persons (24m2) and larger with three bedrooms for 6 + 2 persons (34m2) are available.

Agency Gebetsroither offers rental of mobile homes for 4 + 2 persons (24m2), which are equipped with two bedrooms. Mobile homes are located on the right side of the campsite. Dogs are also allowed.
Mobile homes information
Number of persons in mobile homes
Mobile homes for 4 - 6 persons

Mobile homes for 6+ persons

Mobile homes for 2 - 3 persons
Mobile homes
Dogs allowed in mobile homes

Mobile homes with 3 bedrooms

Mobile homes for handicapped
Pricelist for mobile homes (in EUR) for year 2022
For the rental price of a mobile home in the camping Dole, it is best to check the agency rental rates at
Adria Holidays and Gebetsroither.

.

Rating and reviews
Reviews:
Published on day from anonymous

Category

Camper

Company

Family with teenager

Miren kamp s senčnimi parcelami, blizu plaže (brez stopnic), veliko sence na plaži skozi cel dan, plaža lepa, morje čisto. Sanitarije v kampu zastarele, osebje se trudi čistiti za gosti (precej packov med njimi, prav tako med lastniki psov). Mala trgovina, založena z osnovnimi živili (sladoleda/piva ni zmanjkalo), mala pekarna (po kruh je treba v zgodnjih jutranjih urah). Za nezahtevne goste, ki so povezani z naravo. ​​

Published on day from anonymous

Category

Tent

Company

Family with small children

Sem nezahteven gost, vendar me je kamp glede cene-kakovosti razočaral. Sanitarij porazne, polomljena polička v tuših, ki ni bila popravljena v 13 dneh dopusta. Voda iz moškega tuša je zalivala tla v ženskem. Čistilci se res trudijo samo glede na obrabljenost sanitarij to žal ni dovolj. Po tleh polno živalskih iztrebkov v kampu (ni kriv kamp) ampak nevzgojeni gostje. Psi se prosto sprehajajo in kakajo po kampu. Mobilne hiške prva vrsta ob morju? Sanitarije zastarele, umivalniki za perilo umazani po več dni, kante za smeti samo za mešane odpadke? Nezaložena trgovina, sladoled so v 13 dneh bivanja imeli 4x. Bili smo prvič, zadnjič in nikoli več.​​

Published on day from anonymous

Category

Caravan

Company

Family with small children

Kamp za zelo nezahtevne goste. Plaža zelo lepa, morje čisto, mir v kampu, dogajanja ni, sladoleda v trgovini je zmanjkalo že drugi dan in ga do konca našega dopustovanje (12 dni) ni bilo. Otroci so bili razočarani, animacije za njih ni. Sanitarije so nujno potrebne obnove, so pa vsaj čiste. Čistilke so res pridne, vsaj glede na svinjarijo, ki jo puščajo gostje v koritih za pomivanje posode. Mi smo bili prvič in mislim, da se ne bomo več vrnili. ​​

Published on day from subjectx

Category

Camper

Company

Family with small children

Vrnili smo se po dveh letih zaradi plusov, minusov niso uredili.

Plusi:
- veliko sence, tako na parcelah kot na plazi
- "zasebna" plaza kampa oz. plaza, kjer ni drugih ljudi kot gostov kampa
- blizina kraja Blato z restavracijami in sladoledom
- precej čist kamp
- wc papir/papirnate brisačke vedno na voljo
- miren kamp zaradi precej mirnih čehov in poljakov, ni slovenskih pavšalistov ali Italijanov
- pogled na Biokovo iz vode zmaga
- čista voda in plaža

Minusi:
- stari sanitarni objekti
- bližina magistrale je za vzhodni del kampa lahko malo hrupna
- cena, nekje 20% predrago za to kar ponujajo
- slabše zalozena trgovinica

Kar se tiče komentarjev glede cistoce in vzdrzevanosti: zelo zelo tezko je vzdrzevati cistoco, ce je folk svinja: ce folk za sabo ne uporabi scetke ko se userje, ne more tam osebni strezaj stati pred wcjem in to narediti namesto njega. V 12 dneho ko smo bili tam so dvakrat ukradli ročko za tuširanje, folk en zapira vode za sabo, brisačke meče kar v umivalnik ipd.
Namesto da se zgrazate, kako je svinjsko se raje postavite pred sanitarije in opozorite pacone, da naj uredijo za seboj..

Na novo je urejno tudi otroško igrišče z tremi igrali, kamp pa ni kriv, da so igrala v vodi in vodni športi malo na dražji strani..

Pojdite malo naprej v Črno goro in Albanijo, mi smo se precej hitro vrnili, predvsem zaradi plaže in sence..​​

Published on day from lukasio

Category

Tent

Company

Family with small children

Plaža lepa. Vse ostalo je pa porazno. Sanitarije iz leta 60, prenovljene tako da so prebarvali ploščice. Vedno umazane. Trgovina ni za omembe vredna, še sladoleda ni. Aktivnosti v kempu ni. Na kratko, popolnoma razočaran. V svojih 20 letih kampiranja še nisem bil v slabšem kempu. ​​

Published on day from zzzz

Category

Tent

Company

Family with small children

Z družino smo dopustovali v kampu v mobilni hišici v drugi vrsti od morja. Super zadeva. Plaža zakon. Morje čisto. Napihljiva igrala ok. Minus kampa gre le mini trgovini. Recepcijo kot osebje bi morali obnovit oziroma pomladit. Drugače pa super teden dopusta. Priporočam.​​

Published on day from Petrusa32

Category

Other

Company

Other

V juliju smo 14 dni preživeli v tem kampu, v najeti prikolici (2 odrasla in 2 otroka). Po tem, ko sem že rezervirala prikolico, sem tukaj preblala mnenja in se pošteno ustrašila, kakšen dopust nas čaka, saj so ocene kampa tukaj zelo slabe. Ko smo prišli tja, smo bili nad vsem pozitivno presenečeni. Plaža....TOP, sanitarije...OK, res so starejšega tipa, vendar so se snežilke zelo trudile vzdrževati čistočo, kolikor se je to pač dalo. Vedno je bil na voljo WC papir, v tuših VSEH 14 DNI TOPLA VODA (kar je meni osebno zelo pomembno). Na tuš pa sem v 14 dneh čakala samo enkrat cca 10min. Skratka, nikjer nisem opazila tako kastrofalnih razmer, kot so bile omenjene tukaj. Trgovina v kampu je majhna, res precej dražja kot običajno, vendar za nujne stvari povsem OK. Za večje zaloge hrane je potrebno v Makarsko. Lahko rečem, da smo preživeli super dopust in če bo možnost, se bomo še vrnili. ​​

Published on day from anonymous

Category

Other

Company

Family with small children

Plus: obala, morje in borovci. Dovolj sence na plaží in kamp parcelah. Vedno topla voda v sanitarijah. Razgled
Minus: sanitarije, prostor za pomivanje posode in perila, in določeno osebje kampa (možakar z brado (na recepciji) zelo neprijazen)
Sanitarni prostori zelo zdelani, kar nas ne bi motilo, če ne bi bili tudi zelo umazani. Čistilke sicer prijzane, vendar zelo neefektivne WC-je začele "čistiti" (menjava papirja, pa s krpo malo sem in tja ali pa še to ne) ob največji jutranji gneči. Betonska pomivalna korita zelo umazana in pogosto zamašena. Po dveh dneh zamašenih odtokov smo prosili čistilko, naj le nekoga pošljejo, da uredi zadevo. Tretji dan so odtoke odmašili, vendar je bilo naslednji dan enako...V tuših komaj kam obesiš brisačo in odložiš šampon. Očitno tudi el. napeljava ne štima čisto, ker te vsake toliko med tuširanjem strese.
Kamp so nagnetlii z mobilnimi hiškami, za kamperje pa kot da jim ni mar.
Na kratko: kamp z veliko potenciala, vendar z malo interesa s strani vzdrževalcev oz. vodstva. Cena kar visoka glede na ponudbo. (morje & plaža sta itak neprecenjliva...)​​