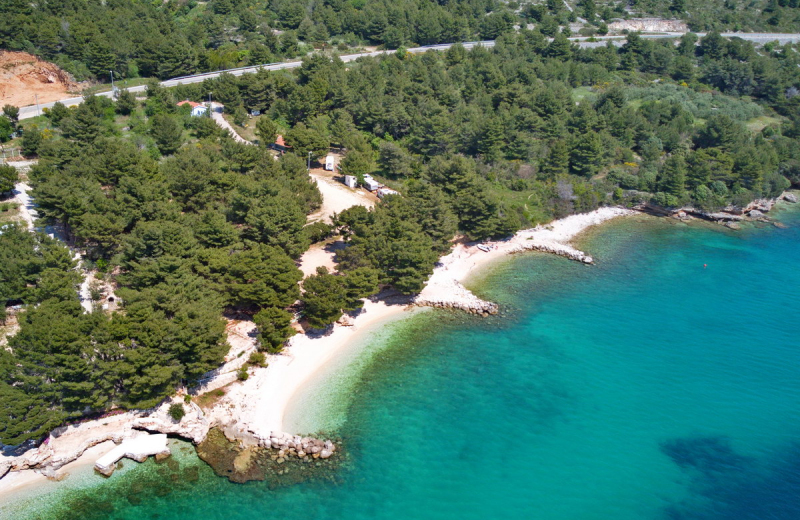 Official category: 1 from 5 stars
Camping Ciste
Address: Donja Vala, 21333 Drvenik, Hrvaška

Season: -
Compared price: 2 people + pitch with electricity - between 30 - 40 €
Discounts:
Information
Basic information
Camping Ciste is private camp opened since 2003, located along the Mediterranean main road, 22km southern from town Makarska and 5km before town Drvenik.

Beach in camp is 300m long and is partly stoned and partly pebbled. It is great for families as you will be able to find some shadow there. They arranged access for disabled persons and showers with cold water on the beach. Lovers of peace and privacy will surely be able to find smaller private bay.

Camp has about 80 pitches arranged in terraces and connected to electricity; vegetation around the camp is successfully decreasing the noise from the road. Sanitary block is modern, clean and accessible for disabled as well. Supply station for campers is arranged.

Closest shop is about 1km away, which is perfect for cycling. Every day fresh bread is brought to the camp, several times during the week also fresh vegetable is sold.

In camp you will find also a restaurant, where they love to prepare a fish dinner for all gusts camping guest.
Features and equipment
Type of the campsite
Pitch features
Non-parcelled camping plots

Pitches with electricity and water

Pitches with electricity, water and waste water connections
Location
Equipment
Chemical toilet discharge

Children sanitary facilities

Heated sanitary facilities
Offer
Sport
Swimming pool/wellness
Swimming pool with heated water
Dogs
Rental option
Camping pricelist (in EUR) for year 2023
Price for
1.7. - 31.8.
1.6. - 30.6.
1.9. - 1.10.
1.5. - 31.5.
2.10. - 31.10.
Person
8
7
5
Children 3 - 12 yrs.
4
3,50
2,50
Tent - small
6 - 7
4,50 - 6
3,50 - 5
Tent - big
8,50 - 9,50
7 - 8
6 - 7
Car
6
5
3
Motorcycle
5
4
3
Van
7
6
5
Camper / Caravan
7 - 15,50
6 - 13,50
5 - 11
Boat trailer
5,50
4
3
Dog
5
4
3
Electricity
7
7
7
Tourist tax
​​1,10
​​1,10
​​1,10
Minimum stay
​​2 (+10%)
​​2 (+10%)
​​2 (+10%)
PDF - Pricelist for year 2023 (19KB)
The price for a tent, motorhome and caravan depends on the size.
10% discount for stay min. 10 nights.

Contact
GPS: 43.167751,17.208551
Address: Donja Vala, 21333 Drvenik, Hrvaška
Reception:

+385 21 679 906

Reservation:

+385 98 197 89 45
Rating and reviews
Reviews:
Published on day from KatkaValka

Category

Tent

Company

In couple

Published on day from gregorpavunc703

Category

Tent

Company

In couple

Bistvo kampiranja je po mojem mnenju senca pod borovci, prijetna prodnata plaža, umirjena energija v kampu in hladno pivo v lokalu/restavraciji. Kamp Čiste pa poleg tega ponuja še bližnjo FKK plažo, dostavo kruha, prodajo sadja/zelenjave in večerjo v dnevnih izmenah (meso ali ribe - slednje so sveže ujete, vendar cenovno kar precej zasoljene ).

Sanitarije so v redu, vendar bi bile potrebne sprotnih popravil (puščanje pipe, menjava kotlička). Drugače pa so lastniki zelo marljivi.

Vse skupaj pa je bila ena čista uživancija, ki je bila obenem tudi zelo poceni.
Hvala za super dopust!​​

Published on day from monaco

Category

Camper

Company

Family with small children

Prijeten zelo miren kamp ob prodnati plaži, primerni za male otroke. Prijazno osebje, čiste sanitarije. Zvečer po kampu pobirajo naročila za kruh, osnovne stvari se da dobiti tudi v bifeju/restavraciji z zmernimi cenami in ok hrano.

Kamp odlično ponuja svoje bistvo kampiranja; morje, senco borovcev in mir. ​​

Published on day from anonymous

Category

Other

Company

Family with teenager

Lep kamp, sanitarije bi lahko bile bolj čiste. Najbolj so me motile čehinje katere se nage sončijo in kopajo v zalivu 100m naprej.
Parcele so za velike šotorje premajhne. Gazda deli kruh kr z roko. Receptorka brez modrčka in globokim dekoltejem. Še pridemo zaradi dekolteja.​​

Published on day from anonymous

Category

Other

Company

Family with small children

Prisli v kamp pozno popoldan ,se namestili in vecer preziveli v baru ki je v kampu ,sef kampa je zelo prijazen in odsli spat nakar nas sredi noci zbudi ropot klime sosednjega avtodoma ki je trajal vse do jutra.Zjutraj sefici, lastniku in lastniku avtodoma potozimo da nismo nic spali zaradi hrupa klime nakar sefica znori na nas da kaj naj si mislimo da oni imajo kamp ze nevem koliko casa in da kaj se bunim in bla,bla.
Takoj se odjavimo in gremo v sosedni kamp Boban ,sefica gre do avtodoma in naglas govori da je resila z nami da kar naj vsi upalijo klime nakar jo tudi ti ljudje zapustijo nasledni dan
​​

Published on day from anonymous

Category

Tent

Company

In couple

Published on day from anonymous

Category

Other

Company

Family with small children

Prijeten kamp, morda edini v Makarski rivieri, s super plažo kjer ni prevelike gneče. V kampu je super senca na kar nekaj parcelah, tudi na plaži.
Lastniki so prijazni, dvakrat smo naročili ribe, ki so bile super (samo kar drage).
Pogrešali smo boljšo povezavo do najbližje trgovine, ker je potrebno iti del poti po prometni jadranski magistrali.
Parcelo smo imeli tik ob meji k sosednjemu kampu (Male čiste), kjer so bile pogoste žurke, ki jih niso utišali tudi po polnoči. Tam imajo lastniki tudi zelo glasnega psa, ki laja na vsakogar, ki pride v kamp.
Morda se čez kakšno leto ponovno vrnemo...​​

Published on day from malar200

Category

Camper

Company

Other

Prijazni lastniki, ki so nama postregli s pijačo, ko sva prispela. Naslednji dan nama je lastnik spekel sveže ulovljene ribe v domače oljčnem olju in družili smo se še pozno v noč. Zelo priporočam sploh izven sezone, ko ni več tako polno. Midva sva bila tam 2 noči, saj sva potovala naprej. Še se oglasiva!​​