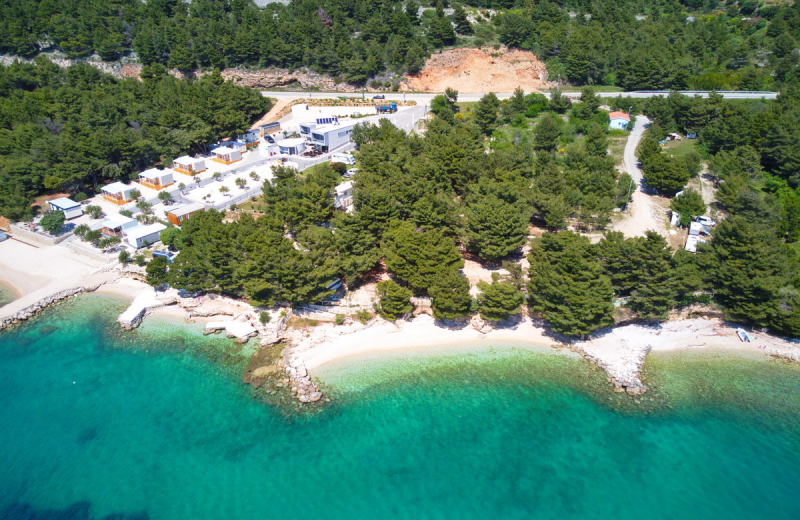 Official category: 1 from 5 stars
Camping Male ciste
Address: Donja Vala, 21333 Drvenik, Hrvaška

Season: -
Compared price: 2 people + pitch with electricity - between 30 - 40 €
Discounts:
Open year round
By the sea
Information
Basic information
Campiste Male Ciste is located along main road between Split and Dubrovnik, around 22km southern from Makarska. It is opened all year long and perfect getaway especially for campers looking for clear sea, tranquility and beautiful beach.

It is smaller camp with 20 arranged pitches and great beach, which is mostly stoned, partly pebbled. As pitches are arranged in terraces, majority offers great view across the sea. Camp is partly shaded with pine trees.

Caravans can be rented in camping Male Ciste. Youngest campers will enjoy children's playground.

Sanitary facilities in camp are basic, but tidy.

Closest shop is 500m away in camping Dole that is reachable with nice walk along seafront promenade. Each morning fresh bread and various bakery products are delivered in camp. Few times a week also vegetables are delivered and sold in camp.

Camp has bar for easy morning coffees and refreshing evening cocktails.

Features and equipment
Type of the campsite
Pitch features
Non-parcelled camping plots

Pitches with electricity and water

Pitches with electricity, water and waste water connections
Location
Equipment
Chemical toilet discharge

Children sanitary facilities

Heated sanitary facilities
Offer
Sport
Swimming pool/wellness
Swimming pool with heated water
Dogs
Rental option
Contact
GPS: 43.168401,17.207802
Address: Donja Vala, 21333 Drvenik, Hrvaška
Reception:

+385 91 731 90 90
Rating and reviews
Reviews:
Published on day from anonymous

Category

Camper

Company

Family with teenager

Odličen majhen kamp za tiste, ki si hočejo "nafilat"batarije. Lastnika prijazna, ustrežljiva. Cena kampa zelo sprejemljiva. Sanitarije lepe, čiste, topla voda čez cel dan. Morje lep, čist osvežilen. Trgovine v kampu ni, lahko pa pri recepciji naročiš kruh, pecivo, rogljičke... vsak drugi dan v kamp pripelje zelenjavo in sadje. Trgovina je v sosednjem kampu 10 min hoje (precej zasoljen) ali v sosednji vasi 20 min hoje, lahko se odpeljete v Drvenik 5min vožnje. Skratka nam je bil kamp všeč.????????????​​

Published on day from Zivkovicz

Category

Camper

Company

In couple

Nama je bil kamp všeč. Lastnika sta nas prijazno sprejela in nam našla parceli , da smo lahko bili s prijatelji na sosednjih parcelah.
Kamp je lepo urejen in čist in tudi cena je primerna za ta del sezone.
Edini minus je , da v bližini ni poštene trgovine.​​

Published on day from anonymous

Category

Caravan

Company

Family with small children

Neverjetno nesramen lastnik. Po prihodu s prikolico nas je med nameščanjem "vrgel s kampa", ker smo po njegovem mnenju predolgo "parkirali" prikolico.
Z otrokom in psom smo na 37 °C bili primorani iskati drug kamp.
Odsvetujem obisk tega kampa. O podobnih izkušnjah pišejo tudi na tujih spletnih straneh. Npr. Tripadvisor. ​​

Published on day from Nitrox

Category

Camper

Company

Family with small children

Najprej pohvale, ker je kamp simpatičen. Lega super, sanitarije lepe.
Ostalo je pa močno odvisno dneva. Lasnika sta precej posebna. Štejeta minute in kolikokrat se kdo na dan tušira. Cenika ni. Kak dan znata biti zelo neprijetna tudi nesramna. Za kaj več si poglejte komentarje tujih gostov na google earth. Večina ima enake izkušnje v tem kampu. Najbolj primeren je za pare, lahko tudi starejše, ki so mirni in neopazni. Pogosto je veliko Poljskih gostov, ki so dokaj glasni in neobzirni. Lastnik je omenil, da jih poskuša ločiti med sabo in je tako bolje.... Cenovno niti ni tako poceni. Mi zatorej rajši drugam....​​

Published on day from anonymous

Category

Tent

Company

Family with teenager

Prvič smo bili v tem kampu in smo se imeli odlično!​​

Published on day from anonymous

Category

Tent

Company

Family with teenager

Kamp je primeren za vse, ki si želijo predvsem mirno preživeti dopust. Veliko sence, lepa in čista plaža, majhen kamp, kjer se vsi poznajo, a se en drugemu ne vsiljujejo. Ni pavšalistov in mobilnih hišic. Lastnika vedno na voljo in zelo prijazna do gostov, ki se znajo obnašati. Sanitarni blok je majhen, a zadošča, poleg tega je vedno zelo čisto. Prihajamo že več let, julija ali avgusta.​​

Published on day from anonymous

Category

Other

Company

In couple

Dober kamp, čiste sanitarije, lepa plaža (levi sosedje imajo sicer lepšo). Cesta je dokaj blizu, če se kakemu motoristu sredi noči nori po ovinkih zna malo težiti. V trgovino se je treba zapeljati, kruh in pecivo se naroči pri recepciji. Lastnika dokaj OK, cenik je skrbno čuvana tajna, računa na koncu nismo dobili.​​

Published on day from anonymous

Category

Tent

Company

Family with teenager

V kamp prihajamo cetrto leto zapored, tokrat kar dva tedna kasneje, kot obicajno, torej v visku sezone. Kljub polni zasedenosti so sanitarije ciste in stevilcno zadostne. Vrsta je obcasno le pri tusih. Kamp za vse, ki na dopustu potrebujete mir in druzinsko vzdusje brez animacij.​​