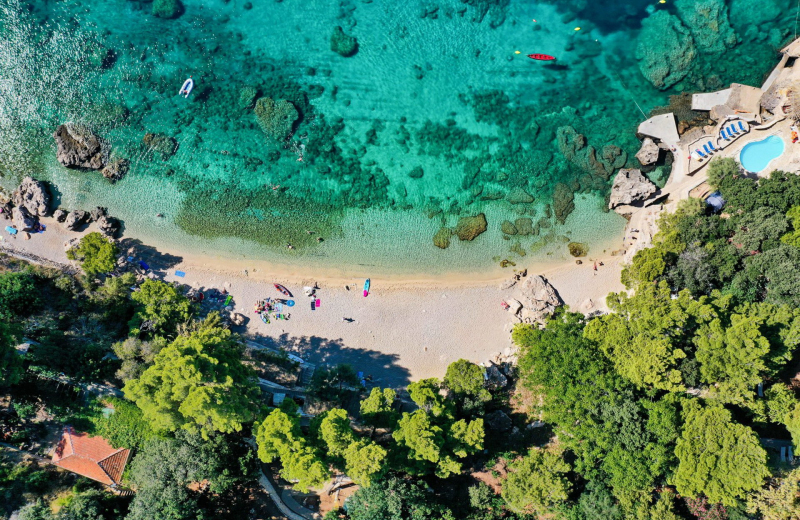 Information
Basic information
Camping Vala - Peljesac is located approx. 4 km outside Orebic, in Mokalo on the Peljesac peninsula. Under its vineyards lies Camp Vala, which offers a beautiful view of the island of Korcula. The beach is pebbly or sandy, and there is a beach bar.
Thanks to its excellent facilities, Camping Vala is one of the OK Mini Croatian campsites.
From June to October, guests can enjoy a small outdoor swimming pool in the upper part of the campsite, as well as new pitches, especially suitable for motorhomes.
Most of the pitches in the campsite are arranged in terraces, which have excellent shade. A few pitches are also available for larger family tents and, at the very beginning of the camping site, a few pitches are also available for motorhome and caravan owners. The pitches can be connected to electricity.
There are two sanitary facilities and they are very well maintained. There are also fridges, a washing machine, a dog shower and a chemical toilet.
The campsite also offers apartments for 2-4 people.

The path to the beach is a bit steeper, but the beach is a real surprise - a nice pebble and partly sandy bay with plenty of space. There is also a beach bar where food is also served (pizzas, risottos, pasta, salads), and there is also a restaurant on the beach in the campsite next door. There is also Wi-Fi internet access for the campsite's guests.
There is a larger shop at the start of Orebic, and bread and pastries are delivered to the campsite every morning.

The Peljesac Channel is well known for its frequent maestral and is therefore ideal for windsurfing enthusiasts, but the best locations are a few kilometres further on in Kućište and Vignaj.There is a diving centre in the neighbouring camp.

Features and equipment
Type of the campsite
Pitch features
Non-parcelled camping plots

Pitches with electricity and water

Pitches with electricity, water and waste water connections
Location
Equipment
Chemical toilet discharge

Children sanitary facilities

Heated sanitary facilities
Offer
Sport
Swimming pool/wellness
Swimming pool with heated water
Dogs
Rental option
Camping pricelist (in EUR) for year 2023
Price for
1.7. - 1.9.
1.4. - 30.6.
2.9. - 31.10.
Person
​​8,20
​​6,10
Children 2 - 12 yrs.
​​4,10
​​3,40
Tent
​​7,50
​​6,10
Car
​​5
​​3,70
Motorcycle
​​3,70
​​2,70
Caravan
​​8,20
​​6,80
Camper
​​13,70
​​11
Dog
​​3,70
​​2,70
Electricity
​​5
​​5
Refrigerator
​​3,70
​​3
Tourist tax
​​1,10
​​0,70
Contact
GPS: 42.976700,17.226203
Address: Mokalo b.b., 20250 Orebić - Pelješac, Hrvaška
Reception:

+385 20 713 446

Reservation:

+385 98 165 38 22
Rating and reviews
Reviews:
Published on day from komarmilos239

Category

Tent

Company

In couple

Naj opisem kamp v enem stavku... lastnik Mario odlicen in pripravljen vedno pomagati, kolektiv lokala ki je ob plazi so prijazni nasmejani ter njihova postrezba in hrana je odlicna. Sanitarji vedno cisti in urejeni, parcele so senčne, vsak dan v kamp pripeljejo svez kruh in pecivo..... hvala Kamp Vala... se vidimo naslednje leto... hvala ​​

Published on day from anonymous

Category

Tent

Company

In couple

Super manjši kamp s prelepo plažo in barom. Prijazni lastniki, urejene sanitarije in lepe parcele. Zagotovo še prideva! ​​

Published on day from anonymous

Category

Tent

Company

Family with small children

Super kamp. Še boljši lastnik in zaposleni. Bilo je nepozabno. Rita pa naj čistilka ???? . Gostje kampa čudoviti, sproščeni in družabni.Mario hvala za pomoč na cesti. Ko spet pridemo dobiš bremze za prikolico ????????
"črnogorci"​​

Published on day from anonymous

Category

Tent

Company

Family with teenager

Parcele so terasaste (ravne) in v zgornjem delu senčne (nekaj večjih borovcev in oljke) in velike. Spodaj (pod recepcijo), ko se prične spust k plaži, so ravno tako senčne a precej bolj majhne in ozke (primerne za manjše šotore).
Zaradi profila obale je kamp precej višje kot plaža, sama pot pa ima precejšnji naklon.
V času našega bivanja je bilo v kampu zares veliko komarjev in mravelj (ter podivjanih Poljakov).

Kamp ima dva sanitarna bloka, ki dokaj dobro pokrivata parcele. Ko je kamp poln, se večkrat naredi vrsta za tuš (ženski in moški) / pomivanje in je potrebno čakati.
Sanitarije redno in temeljito čisti ena čistilka (ki cel dan čisti in pospravlja, zvečer pa streže lastnike na njihovi terasi).

Plaža je lepa (dokaj čista), senca je zjutraj (čez celo plažo) in pozno popoldne. Čez dan je sence bolj malo (na skrajnih koncih zaliva). Ker je plaža relativno obljudena, je za pse zelo malo prostora (sploh če niso socializirani).

V baru strežejo pijače, sladoled (Ledo quattro) in hitro pripravljene (zmrznjene) pizze ipd.

Za avtomobil računajo enako, če ga imaš na parceli ali na parkirišču.
Avto lahko pustite tudi ob magistralni cesti, vendar boste tako v enem tednu naredili več tisoč višinskih metrov :)

Lastniki čolnov boste morali svojo gumico splaviti v katerem izmed sosednjih zalivov in se potem pripeljati na eno izmed boj v zalivčku pod kampom.

Za ljubiteljske potapljače je v neposredni bližini potopljen čoln oz. ladja.

Pravil obnašanja oz. hišnega reda nimajo. Tako, da reševanje vseh ekscesnih situacij prepuščajo gostom. Vedno pa lahko zbudite lastnika...
Oznake za ženske sanitarije so nevidne tako da se v njih redno zadržujejo osebki moškega spola, ki ne pogrešajo pisoarja in jih ne moti, da se po ženskih sanitarijah sprehajajo ženske. Na opozorilo o tem je gospa mama dejala, da je označeno...ni pa ji prišlo na pamet, da bi na to opozorila goste.

Nikjer ni naznanila, da plačilo s kreditno kartico ni mogoče. Zato imejte pripravljene HRK. Veliko njih.

Lastniki niso nič kaj preveč prijazni ali gostoljubni, ker se ukvarjajo s tem, da ti za 1l vina poberejo 5 hrk več, kot je dejanska cena. To in njihova komunikacija, kaže na to, da smo jim gosti pravzaprav odveč, ne pa tudi naš denar.​​

Published on day from anonymous

Category

Tent

Company

Family with small children

Lep, urejen in zelo miren kamp. Ob prihodu kamp prenatrpan. Tudi nam so kljub zgodnji rezervaciji dodelili zelo majhno "parcelo". Na eni terasi smo se stiskali trije veliki šotori, predvsem zaradi otrok in vsaj malo zasebnosti, bi potrebovali nekaj več prostora. ​​

Published on day from natasaban

Category

Tent

Company

Family with teenager

Na zagotovljeno, od aprila letos rezervirano parcelo za dva večja šotora, smo na dan prihoda doživeli, kar smo najmanj pričakovali. Na naše veliko in s strani lastnika, g. Maria, manjše "presenečenje" smo dobili eno parcelo in še to za manjši šotor. G. Mario nas je sicer lepo povabil, naj potrpimo dva dni, češ, saj bo šlo! Pa ni šlo! Devet odraslih in dva manjša otroka v en manjši šotor? G. Mario, precenili ste se in še ušteli v štetju oseb. Opoldne smo se torej odpravili na "lov" za prostor pod vročim soncem. Prečesali ducat campov, ki pa brez rezervacije niso mogli pomagati in na koncu našli skoraj sosednji camp. Za isto ceno, lepšo in predvsem večjo porcelo, ki je bila bližje morju, smo se zadovoljni nasmehnili dejstvu, da nam je s svojo neprofesionalnostjo, še manj človečnostjo, g. Mario omogočil lepše počitnice. V lepšem campu!!!
Nataša​​

Published on day from Majchy88

Category

Other

Company

In couple

Ravno sva se vrnila iz 16dnevnega kampiranja v kampu Vala.
Bil je eden najlepših dopustov kar sva jih preživela. Mario je odličen lastnik, ki je vedno pripravljen pomagati ne glede na težavo. Na recepciji sta zelo prijazni dekleti. Kamp neverjetno lepo urejen, sanitarije vedno čiste, čistilka je celo pometa dovoze do parcel.Parcele so dovolj velike in nudijo veliko sence. Glede na to da sva bila v top sezoni je bil kamp poln, po 22uri je bila neverjetna tišina. Lokalček ob plaži nudi super senco in odlično hrano. Prav tako pa so cene tudi zelo ugodne. Najlepše pa je ko zagledaš to res izjemno lepo plažo 😍 kljub temu da je bila zelo polna saj jo obiskujejo tudi ljudje iz sosednjih kampov se je našla senca. Ampak vseeno priporočam marelo. Vse skupaj je na vrhunskem nivoju. Vredno obiska, midva se zagotovo vračava. ​​

Published on day from anonymous

Category

Other

Company

Family with small children

Odlicen manjsi kamp, ravno po nasem okusu. Zelo lepo urejen. Odlicne sencne parcele in zelo prijazni lastniki. Mario je super gostitelj in vedno na voljo gostom.
Idealna lokacija za druzine. Nasa fanta, letos 9 in 5, sta imela vedno dovolj druzbe. Iz kampa se v zaliv s plazo spustis po strmi, a kratki potki, ki pa je lepo sencna in super za vsakodnevno rekreacijo! :) Prodnata plaza je zelo lepa, dovolj velika in idilicna. Lep razgled proti Korculi.
Zelo zabavno je plavanje ali veslanje do bliznje potopljene ladje, ki strli iz morja in kjer je snorklanje sploh posebno dozivetje.
V zalivu je beach bar in konoba, v obeh dober izbor hrane in prigrizkov. Vecji Konzum je le 2 km stran.
Tu smo bili letos ze tretjic in se bomo sli. Tu je odlicno izhodisce za raziskovanje Peljesca in Korcule z avtom ali colnom.
Priorocamo, definitivno! :)

​​