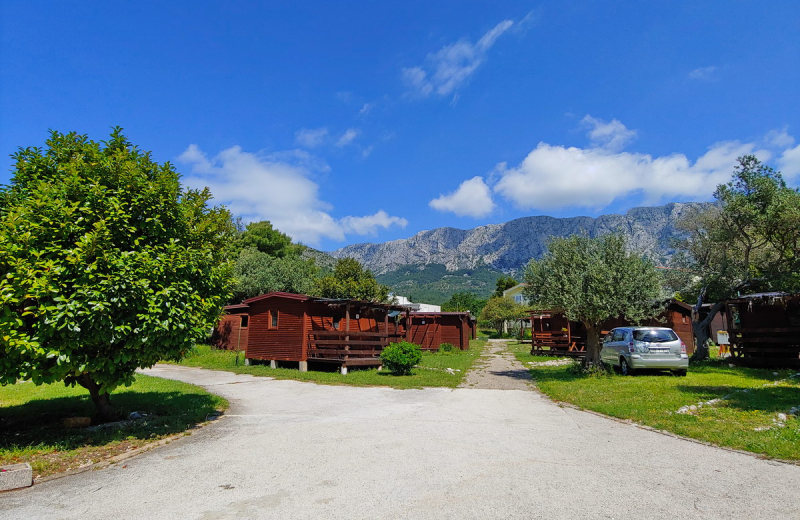 Information
Basic information
Camp Dalmacija is located in town Zaostrog in southern part of Dalmatia, 4km souther from town Drvenik and 30km southern of town Makarska.

Pitches in camp are located by the sea an are well shaded. Beach in camp is pebbled and very appropriate for small children.

Camp has a restaurant and shop. Sanitary facilities include toilets, showers, places for doing your laundry and cleaning the dishes.

Camp offers also already set and furnished tents (6 of them), 13 caravans and option of sleeping in one of 18 bungalows for 4 to 6 persons. Also 54 private rooms in 6 buildings are available, for two, three or four persons.

Caravans for rent are spacious enough for up to 4 persons and include canopy, equipped kitchen and all other needed things for comfortable stay.

Rented tent is big enough for up to 6 persons. Grounds are covered by wooden platform, it has two sleeping rooms and kitchen with gas cooking plate, refrigerator and all belonging kitchen equipment.
Features and equipment
Type of the campsite
Pitch features
Non-parcelled camping plots

Pitches with electricity and water

Pitches with electricity, water and waste water connections
Location
Equipment
Chemical toilet discharge

Children sanitary facilities

Heated sanitary facilities
Offer
Sport
Swimming pool/wellness
Swimming pool with heated water
Dogs
Rental option
Contact
GPS: 43.138930,17.282403
Address: Obala hrvatskih domoljuba 38, 21334 Zaostrog, Hrvaška
Reception:

+385 (0) 21 629 100
Rating and reviews
Reviews:
Published on day from anonymous

Category

Tent

Company

Family with small children

Bivali smo v lesenih bungalovih.Tu smo preživeli 2 dni, za kolikor smo plačali za akontacijo.Bungalovi so v slabem stanju, kljub temu, da naj bi bili na novo postavljeni šele leta 2013. Vse je razmajano,čistoča slaba, klima naj bi delovala, vendar ne hladi. Le nekaj bungalovov v senci, ostali v delni senci oljk in na soncu. Za apartmaje ne vem v kakšnem stanju so. Del za šotoriste in prikolice večinoma v senci, zelo zaseden že konec junija.
Čisto zraven tega kampa je hostel, kamor hodijo mladinske kolonije, tako da miru zvečer ni, saj imajo tam razne dogodke, mladinski disco.
Ponujajo tudi polpenzion, ki pa je katastrofa! V Sloveniji bi inšpekcija obrat zaprla še isti dan. Krožniki, pribor umazan, če imaš srečo, da ga sploh dobiš. Imajo 160 gostov na polpenzionu, njihova zmogljivost pa polovična ali še manj... Hrane pri zajtrku praktično zmanjka v 5 minutah, za večerjo je juha in solata samopostrežna, ki ju prav tako zmanjka v nekaj minutah. Za večerjo označiš kaj bi jedel že ob prihodu - na razpolago sta 2 menija. Seveda tega ne dobiš, ker ti preprosto povejo, da jim je tega zmanjkalo. Kaj takega še nisem doživela in upam, da tudi ne bom.
Objekt imajo v najemu Čehi, tudi večina njihovih gostov je Čehov. Vodja osebja se je danes pri zajtrku na glas sporekel z odgovornim manegerjem za prehrano in izpostavil dejstvo, da brez hrane enostavno ne morejo delati.
Plaža je sicer samo čez lokalno cesto, ki pa je, tako kot je že zapisano v komentarjih, tudi v predsezoni že kar prometna. Na praznik, ki je bil na nedeljo (25.6.) na plaži izredna gneča, veliko enodnevnih kopalcev z Bosne. Mi se zagotovo ne vrnemo.

​​

Published on day from Frenky

Category

Other

Company

Family with small children

Krasen kamp za izven sezone.
V sezoni prepolne plaže dnevnih kopalcev. Za avgust skoraj potrebne rezervacije parcele, kar je drago in delno neprikladno, ker se moraš potem prilagajati dnevu rezerviranega prihoda.
V letu 2014 ni bilo težav najt proste parcele. V 2015 je bla to misija nemogoče.
Nam je kamp krasen. Plaža čudovita. Na vse strani dolge kolesarske poti ob morju. Tud za vozičkat zelo lepo. Vse top!​​

Published on day from Lala

Category

Other

Company

Family with teenager

Urejen kamp, z veliko sence, vendar je v glavni sezoni težko dobiti prostor. Parcele v kampu so precej velike, na sicer lepi peščeni plaži pa je premalo prostora (dobesedno brisača poleg brisače). Kamp je blizu mesta, na dobri lokaciji, sanitarije so čiste in urejene, čista tudi plaža in voda. Srečali smo Slovence, ki že več let hodijo z avtodomom v ta kamp in so zadovoljni.​​