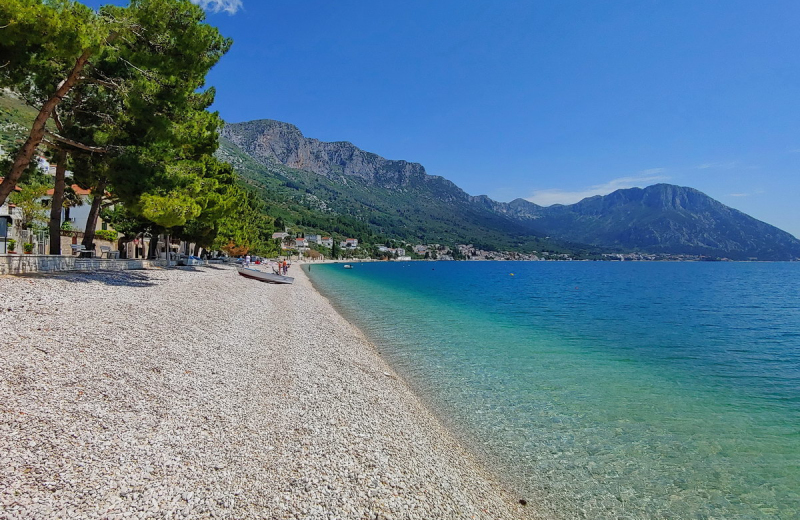 Official category: 3 from 5 stars
Camping Podaca
Address: Ravanje 31a, 21335 Podaca, Hrvaška

Season: -
Compared price: 2 people + pitch with electricity - between 30 - 40 €
Discounts:
Information
Basic information
Camping Podaca is located along the Adriatic old road, around 8km in direction of town Ploce, if you drive from direction of Drvenik. It is a small family campsite, which due to its exceptional order belongs to the group OK Mini Croatian camps. Campsite Podaca has arranged camping pitches and offers some apartments for rental.
Camping Podaca is located around 50m from the sea and nice pebbled beach. Pitches are arranged in terraces and have connection to electricity and water. Part of the campsite is reserved for guests with tents. Pitches are shaded by 300 years old olive trees.

Within the campsite you can rent a holiday house for 4 persons and apartments for 4,5 and 6 persons, which are located in the immediate vicinity of the beautiful pebbled beach.

Sanitary facilities are nice and tidy, guests have also a grill and children's playground at their hand. Larger shop is 500m away, while close by you will find a restaurant.
Features and equipment
Type of the campsite
Pitch features
Non-parcelled camping plots

Pitches with electricity and water

Pitches with electricity, water and waste water connections
Location
Equipment
Chemical toilet discharge

Children sanitary facilities

Heated sanitary facilities
Offer
Sport
Swimming pool/wellness
Swimming pool with heated water
Dogs
Rental option
Contact
GPS: 43.122441,17.305757
Address: Ravanje 31a, 21335 Podaca, Hrvaška
Reception:

+385 99 600 2577
Rating and reviews
Reviews:
Published on day from anonymous

Category

Tent

Company

In couple

Odličen kamp, dovolj sence, blizu zelo lepe prodnate plaže, lastniki zelo ustrežljivi, prijazni. Imajo zelo dobro domače olivno olje. Sprehajalne poti v neskončnost.​​

Published on day from anonymous

Category

Other

Company

In couple

Najboljši kamp in osebje ​​

Published on day from anonymous

Category

Other

Company

Other

Nov kamp(posluje od začetka junija 2015), manjši, privat, zelo lepo urejen, sanitarije vedno čiste, manjka le topla voda pri umivalnikih za posodo. Za goste z šotori na razpolago hladilnik z zamrzovalnikom - samopostrežno in brezplačno. Pri sanitarijah je v dveh terasicah urejen nekakšen družaben prostor z mizicami in stoli, ki ga uporabljajo predvsem obiskovalci z šotori.
Wi-fi deluje odlično po celem kampu.Zelo prijazno in ustrežljivo osebje, predvsem lastnik Marko. Kamp je v treh terasah, kakšnih 60 metrov od morja, s krasnim razgledom na Pelješac in na cel zaliv, ker je cca 10 metrov nad morjem, dostop do plaže je po stopnicah.
Plaža je krasna, naravni pesek(makarska rivijera), z senco starih borov. Pod kampom na plaži je pcerija in restavracija, do solidno založene trgovine Plodine je cca 300metrov. Večje nakupe pa lahko opraviš v 3,5 km oddaljenem Gradac-u do koder je ob obali speljana betonirana sprehajalna pot, ponoči osvetljena v celi dolžini.
Priporočam predsem tistim, ki si želijo oddiha v mirnem okolju. Osebje zelo skrbi tudi za varnost v kampu, prijazno ogovorijo vsakega, ki ni gost v v kampu, tako, da ve, da je bil in opusti misel na kakšne nečednosti.
PRIPOROČAM​​

Published on day from anonymous

Category

Other

Company

Family with small children

super odličen kam,z čudovito plažo. na žalost pa je na prcelah premalo sence​​

Published on day from anonymous

Category

Other

Company

In couple

Odličen kamp,urejen,vsi priključki,čiste sanitarije,prijazno osebje,skratka vse kar si v kampu želiš​​