add to favorite Look map of the campsite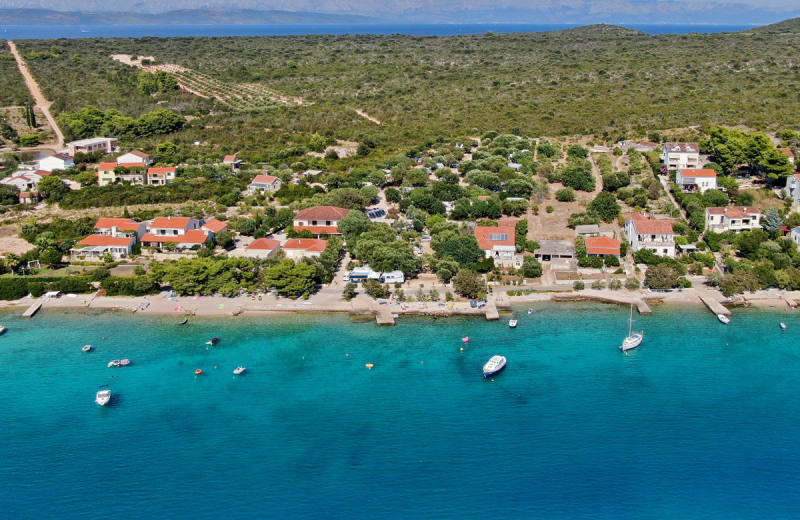 Best camp Adria 2021

1. place
Information
Basic information
Camping Lupis - Peljesac is located 100m from the city centre of Loviste on the western side of peninsula Peljesac. Campsite has arranged pitches that are shaded by the olive and some other Mediterranean trees. Since 2015 it is opened all year long and is part of the best smaller Croatian campsites. Campers have in selection Naj kamp Adria 2021 chose camping Lupis as best in Dalmatia among smaller campsites.

The campsite accepts the Avtokampi.si Camping Card, which will make the camping more affordable - - only by prior reservation of the pitch. The discount is listed at the price list of the campsite, and you can order free camping card HERE.

Camping Lupis has pitches arranged in olive groves that give a good shade, you will find more of it in the lower part of the camp. From the sea and beautifully arranged beaches the camp separates the local road, which is not very busy. In the campsite Lupis you can also rent air-conditioned room for 2.

The campsite Lupisi has amodern sanitary facility with toilets, showers, private bathrooms. The sanitary facilities are heated and adapted to the handicapped and also for kids. They also have laundry facilities. The Lupis camp also belongs to ecological camps - the water in the sanitary facilities is heated solar, have their own biological treatment plant, and the used water is used for watering the plants.

They arranged a small shop with bread, pastries and drinks within the camp, improved free internet around camp, improved shower cabins in the sanitary facilities. The campsite also has a children's playground, but the town Loviste offers a nice 3 km long promenade along the coast, which is also suitable for family cycling.

For lovers of different sports, Peljesac is the place as it offers interesting cycling trails, hiking trips, and the Pelješac canal is known as the perfect place for surfing and kiting. Boat owners are impressed by the many beautiful beaches that are nearby and which can be reached only by boat. The camp also enables you to rent SUP bikes and kayaks.

Beach with pebbled and partly concrete parts for sun bathing is only 10m away. Close by is also nudist beach (FKK) and beach volleyball playground. There is a place for descending boats in to the sea. It is possible to find some shade under rich pine trees.

Close to the camp you can find shop, post, some bars and restaurants. Loviste is smaller fishing place on the coast of ideal bay and has about 200 inhabitance who are mainly fishermen and winegrowers, but they all share one attribute: hospitality. Here you will not find hotels and massive tourism or packed beaches; many wild beaches can be found in bays that are reachable only on feet.

Information about the Ferry Connections and its Prices to the Peninsula Peljesac and Island Korcula

Features and equipment
Type of the campsite
Pitch features
Non-parcelled camping plots

Pitches with electricity and water

Pitches with electricity, water and waste water connections
Location
Equipment
Chemical toilet discharge

Children sanitary facilities

Heated sanitary facilities
Offer
Sport
Swimming pool/wellness
Swimming pool with heated water
Dogs
Rental option
Camping pricelist (in EUR) for year 2023
Avtokampi camping card
2023 - 23 € for 2 persons + dog on pitch with electricity in the periods between 1.1. - 25.6. & 10.9. - 31.12. Between 25.6. - 10.9. there is a 5% discount on camping, but only for reservations confirmed with advance payment made by 1.5.
Price for
1.7. - 31.8.
1.1. - 30.6.
1.9. - 31.12.
Pitch (2 persons, car, tent/caravan, elect.)
​​39
27
Addit. person
10
​​8
Children 3 - 12 yrs.
8
​​6
Dog
6
​​4
Boat - mooring
​​gratis
​​gratis
Internet access - WIFI
​​gratis
​​gratis
Refrigerator
​​gratis
​​gratis
Washing machine /Dryer
8 /10
8 /10
Tourist tax
​​1,20
​​0,70 - 1,20
Check-in
​​2
​​2
PDF - Pricelist for year 2023 (20KB)
The price of a pitch at Camping Lupis includes 2 people, a vehicle, tent / camper / caravan, electricity and water. Additional persons or children are charged according to the price list per person.

The cost of booking the pitch is 30% of the deposit and will be deducted from the final invoice.

Discount on the Avtocampi Camping Card > price 23 € in the periods until 25.6. and after 10.9. for 2 persons and pitch with electricity, 5% discount in the season 1.7. - 31.8. but only for bookings made until 1.5.

Pricelist for rental of accommodation for year 2021
Price for
1.7. - 31.8.
1.6. - 30.6.
1.9. - 30.9.
1.1. - 31.5.
1.10. - 31.12.
Double room
​​47
​​40
​​33
Tourist tax
​​1
​​1
​​1
Check-in
​​2
​​2
​​2
Minimum stay
​​3 (+30%)
​​3 (+30%)
​​3 (+30%)
PDF - Pricelist for year 2021 (858KB)
All rooms are air conditioned!

Contact
GPS: 43.026931,17.031371
Address: Lovište 68, 20269 Lovište - Pelješac, Hrvaška
Reception:

+385 20 718 063

Reservation:

+385 95 830 2990
Rating and reviews
Best camp Adria
2021: 1. place in category Croatia- Dalmatia - Larger campsites
Reviews:
Published on day from anonymous

Category

Caravan

Company

Family with teenager

Zelo lepo urejen in čist kamp, lastniki zelo prijazni in gostoljubni. ​​

Published on day from anonymous

Category

Caravan

Company

In couple

Published on day from anonymous

Category

Camper

Company

In couple

Ne vem če ste vsi prizadeti ta opevan kamp ni vreden nič nemogoč dostop z7,5m kamperjem brez da ga popraskaš od vej !​​

Published on day from Nejka22

Category

Caravan

Company

Family with small children

O kampu vse o preseznikih. Lastnika nenormalno prijazna, zelo komunikativna, vedno pripravljena pomagat. Cistejsih sanitarij se nisem videla. Cistilka skoz okoli, za vsakim vse razkuzi, res super. Plaza pred kampom, za trgovino si lahko v kampu sposodis kolo. Se ena plaza z manjsimi kamencki 300 m stran. Res vredno obiska, priporocam rezervacijo parcele. ​​

Published on day from anonymous

Category

Tent

Company

Family with small children

Published on day from Sancy119

Category

Camper

Company

Family with small children

Odličen manjši kamp na mirni lokaciji, kamor se bomo sigurno še vrnili. Lastniki in osebje izredno prijazni in pripravljeni pomagati. Ob prihodu dobiš zemljevid okolice z vso infrastrukturo (trgovina, pošta, restavracije, plaže...). Kamp je zelo urejen, tako parcele kot tudi preostala okolica. Ene parcele so manj senčne, druge bolj, priključki za elektriko in voda so skupni za več parcel. Manjšo težavo smo imeli z elektriko - večkrat nam jo je vrglo ven, kljub temu, da smo imeli priklopljen le hladilnik. Odtoka za odpadno vodo v kampu ni. Sanitarije so zelo čiste, jih konstantno čistijo, na voljo tudi otroška kopalnica. Zaradi korone so angažirali družinske kopalnice tako, da se vsi gostje iz parcele 1x na dan stuširajo v isti kopalnici, takoj za njimi pa osebje počisti in razkuži prostor. Za tuširanje po plaži imajo na voljo zunanje tuše. Tople vode je bilo dovolj. Edina stvar, ki bi me ob polni zasedenosti kampa lahko zmotila je, da sta na voljo le 2 ženska WC-ja. Ker kamp ni bil poln pa to ni bil problem. Letos so zaradi manjšega števila gostov imeli v trgovini le pijačo in sladoled. Ostale stvari si lahko kupil v mestni trgovini - lahko si brezplačno sposodiš kolo za odhod v trgovino, večkrat so lokalni kmetje in ribiči do kampa pripeljali tudi sveže ribe in sadje ter zelenjavo. Dostop do kampa z večjimi avtodomi je lažji iz zgornje strani po makadamski poti. Morje je prekrasno, zjutraj zelo mirno super za supanje, popoldne pa običajno začne malo pihati in je malo bolj razburkano. Na plaži je dovolj sence čez cel dan. ​​