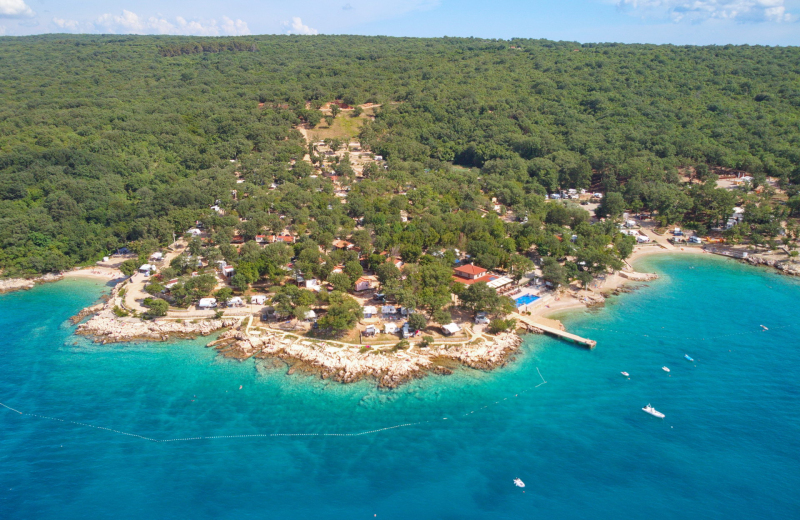 Information
Basic information
Camping Glavotok - island Krk is located on the west coast of the island, 15 km from the town of Krk and only 6 km from the ferry port of Valbiska. The campsite is accessed by a slightly narrower road, which is asphalted in the last few kilometres, but caution is needed.
Campsite accepts the Avtokampi Camping Card, which will make camping holidays more affordable. The discount is listed at the price list of the campsite - order for free and get camping card by email.
NEW - new toilets in the upper part of the campsite, private bathrooms for rent, two mobile homes with jacuzzi, electric vehicle charging point, trampolines for children, improvement of the beach volleyball court and construction of a modern basketball court.
Glavotok is the first campsite in Croatia to be accepted into the Ecocamping group of eco-campsites. The camp is shaded by a hundred-year-old oak forest, surrounded by a 500 m long beach with three pebble coves, and if you walk a bit you will also find secluded parts where you can enjoy the silence of the sea.
There are just over 300 well-equipped camping pitches with electricity, and the Zona Mare and Vip Sunset pitches by the sea also have water. There is an unpitched area for tent campers in the upper part of the campsite, as well as mobile homes for 2-4 people and bungalows for 4 people.
The pitches are arranged along the coastline, so the sea is always quite close from all of them. Pitches have electricity and some have water. The unpitched area for tents is located in the upper part of the campsite and half of this area has excellent shade.
The sanitary facilities are older and are due for renovation, but they try to keep them clean. New prefabricated toilets are being built in the upper part of the campsite in 2023. There is also a laundry room and a caravan storage area.
The campsite is dog-friendly, with a dog beach and a dog shower.
Camping Glavotok has also a small swimming pool (the water is heated to 22-25 °C) next to the pebbly bays, which is most popular with children, and there are also some water games. If you want more peace and quiet on the beach, you can walk to the more secluded beaches near the campsite.
There is a café right by the pool and a restaurant that was completely renovated a few years ago. There is also an entertainment area next to the restaurant, which is open during the summer months.
There is also a small shop for basic necessities, a fruit and vegetable shop, and a larger shop 3 km away.
There is an excellent diving centre, quad bikes and kayaks for hire, children's trampolines and several games, an outdoor fitness centre, a renovated volleyball court and a brand new basketball court, which is also floodlit.
The location of Camping Glavotok is interesting for cycling and excursions around the island of Krk.
Features and equipment
Type of the campsite
Pitch features
Non-parcelled camping plots

Pitches with electricity and water

Pitches with electricity, water and waste water connections
Location
Equipment
Chemical toilet discharge

Children sanitary facilities

Heated sanitary facilities
Offer
Sport
Swimming pool/wellness
Swimming pool with heated water
Dogs
Rental option
Camping pricelist (in EUR) for year 2023
Avtokampi camping card
2023 - 23 € for 2 persons + dog on the pitch with electricity between 21.4. - 27.5. & 10.6. - 1.7. & 16.9. - 1.10. The special price applies to a limited number of pitches in Zone A ( pitches 1-10, 63-81, 101-110, 119-128, 132-142 and 161-175) and unlimited in zone B.
Price for
22.7. - 19.8.
1.7. - 22.7.
19.8. - 16.9.
10.6. - 1.7.
16.9. - 23.9.
27.5. - 10.6.
13.5. - 27.5.
23.9. - 1.10.
21.4. - 13.5.
Person
16,50
13,50
10,30
11,50
6,90
5
Children 3 - 12 yrs.
5,75
5
4,10
4,75
​​gratis
​​​​gratis
Pitch by the sea (1.row, electricity, water)
65
47,50
33,90
37,80
27,90
18,90
Pitch by the sea (electricity, water)
54
38,70
28,90
31,90
21,90
15,50
Pitch
​​23,90 / 30,80*
​​17,90 / 24,50*
​​12,90 / 14,90*
​​14,90 / 16,90*
10​,90 / 12,90*
​​9 / 11,40*
Tent pitch + car
​​17,30
14,70
9,90
10,90
8,90
6,90
Addit. electricity
6,90
6,10
5,50
5,90
5,50
5,10
Addit. car / motorcycle
5,10
4,60
3,90
4,10
3,50
3,50
Addit. tent
​​7,20
6,40
4,50
5,50
4,10
4,10
Dog
8
7,20
5,90
6,20
5,50
5
Boat + trailer
8,10
7,50
6,60
6,60
6,60
6,60
Refrigerator
6,90
6,90
6,90
6,90
6,90
6,90
Washing machine
7,90
7,10
6,90
6,90
6,90
6,90
Internet access - WIFI / 1 day
​​5,50
​​5,50
​​5,50
​​5,50
​​5,50
Tourist tax
​​1,40
​​1,40
​​1,40
​​1,40
​​1,40
​​​​1,40
PDF - Pricelist for year 2023 (22KB)
* extra charge for electricity on a pitch that is not by the sea, or area for tents. The higher price applies to pitches near the sea.

For an uninterrupted stay in a campsite for more than 14 days, you receive a 20% discount on the price of a person.

Pricelist for yearly rental (in EUR) for year 2023
| Price for | 21.4. - 1.10. |
| --- | --- |
| Yearly pitch rental with electricity | ​​3.600 - 3.900 |
| Addit. person | ​​135 |
| Winter lodging of the caravan | ​​190 |
| Tourist tax | ​​1,40 |
PDF - Pricelist for year 2023 (16KB)
The flat rate includes 6 people. They also provide a cheaper flat rate for fewer people.

Contact
GPS: 45.093970,14.440375
Address: Glavotok 4, 51500 Krk, Hrvaška
Reception:

+385 51 867 880

Reservation:

+385 51 867 883
Mobile Homes
Mobile homes description
Mobile home rental at Camping Glavotok - the campsite offers mobile homes of 24 m2 and 36 m2 for 4 +1 persons, bungalows for 4 +1 persons and mobile homes for 2 persons.
The mobile homes at Camping Glavotok are set near the sea and a well-maintained beach, with a restaurant and a swimming pool nearby.
Mobile homes for 4 persons are equipped with 2 bedrooms, a bathroom (larger chalets have 2 bathrooms), a living room with kitchenette and a terrace. All mobile homes are air-conditioned and equipped with satellite TV.
Two of the Luxury Villa mobile homes have a private jacuzzi on the terrace of the mobile home.
The family-style stone bungalows are also available for rent and are 33 m2 (4 +1 person) and modernly furnished with two bedrooms, two bathrooms, a well-equipped kitchen and a living area. In front of each bungalow there is also a terrace, and for your comfort there is also air conditioning and satellite TV. Dogs are allowed in the mobile homes and bungalows at Camping Glavotok.
For couples, there are mobile homes - rooms for 2 persons (18m2), which include a bedroom, bathroom and a small terrace. As these houses do not have a kitchen, breakfast in the restaurant is included in the rental price.
Mobile homes information
Number of persons in mobile homes
Mobile homes for 2 - 3 persons

Mobile homes for 4 - 6 persons

Mobile homes for 6+ persons
Mobile homes
Dogs allowed in mobile homes

Mobile homes for handicapped

Mobile homes with 3 bedrooms
Pricelist for mobile homes (in EUR) for year 2023
Rating and reviews
Reviews:
Published on day from Loti1982

Category

Caravan

Company

Family with small children

Kamp je dokaj velik. Parcele so kar velike se pa najdejo male. Na vecini parcel je samo elektrika. Sanitarije bi lahko prenovili. O trgovini pa ne bom zgubljala besed. To ni t od trgovine. V njej lahko kupis bolj kot ne samo kruh oz pekovsko pecivo. Kamp ima sicer potencial. Aha, na bazenu je tudi bife, ki pa se zapre ze ob 16 uri. Zakaj? Bazen se zapre ob 19 uri. Bi bil lahko dlje casa odprt. Animatorki govorita samo po nemsko in malo anglesko, nasi otroci jih ne razumejo. ​​

Published on day from mk

Category

Tent

Company

Family with small children

Lep urejen kamp sanitarje čiste ter urejene edino tuše zaklepajo od 12 do 18 ure edino to me je malce motilo lih toliko da spereš sol ko prideš iz plaže. Ma z malce iznajdljivosti se da tudi to rešit. Restavracija ponuja dobro hrano in je možno plačičo kar na parcelo in potem poravnaš ob odjavi. Priporočam in se bomo še kdaj vrnili.​​

Published on day from anonymous

Category

Caravan with yearly rental

Company

With friends

Kamp je BIL čudovit, zdaj je iz leta v leto slabše. Še vedno je kamp lociran v čudovitem okolju, morje kristalno čisto, raznolike plaže. Vse ostalo pa vredno kritike - premalo osebja, kar se pozna na (ne)čistoči v sanitarijah, kampu in doolgem čakanju v restavraciji. Beach bara, ki je na res lepi lokaciji in ima krasen razgled, pa letos sploh odprli niso. Cenik je enak, kot v "pred korona časih", ponudba pa močno okrnjena - zaprte sanitarije, čez dan nimaš kje sladoleda kupit, restavracija se odpre šele ob 17ih, ni animacije za otroke, igrišče za odbojko propada in je nevarno... Tistih nekaj delavcev se trudi, a žal ne zmorejo. Velik problem je vodstvo kampa in je škoda, če se bo tako nadaljevalo, saj si kamp ne zasluži počasnega propadanja. Eden najdražjih kampov na Krku, vendar cene ne upravičijo s ponudbo.​​

Published on day from anonymous

Category

Camper

Company

Family with small children

Prijeten kamp na mirni lokaciji z veliko sence. Parcele bližje morju so manjše, nekaj vrst zadaj pa prav ogromne. Zelo prijazno osebje, sploh gospod pri rampi. Kamp ima tudi lepo urejeno otroško igrišče. Sanitarije 3 so bile zaprte, sanitarije 2 bi bile potrebne obnove. Polovica ženskih tušev se ne zapre, tisti ki se zaprejo pa zelo slabo požirajo vodo. Prav tako imajo odpiralni čas tušev med 10 in 12 ter 17 in 22 (mogoče samo med korono??)... Na koncu smo se raje tuširali kar z mrzlo vodo na oskrbovali postaji za avtodome. Wc-ji so bili zelo čisti. Za pomivanje posode imajo le dve normalni pipi s toplo vodo. Ostale so le z mrzlo vodo na pritisk. Slednje sicer ni bil problem saj kamp ni bli poln in si hitro prišel na vrsto pri normalni pipi. WiFi uradno sicer je v kampu ampak te takoj vrže ven. Plačljive ga nismo sprobali. Prav tako telefonski signal in prenos podatkov v kampu slabo delata. ​​

Published on day from subjectx

Category

Camper

Company

Family with small children

Čist in urejen kamp. Plaže so lepe, nikjer nobenih smeti. Glasni so samo slovenski pavšalisti, ki se obnašajo kot drhal. Parcela je bila na robu pavšal območja in smo imeli hrup tudi po deseti uri (glasno dretje, klicanje, navijanje motorjev ipd.).

Drugace osebje prijazno, se pa kamp hitro napolni, tako da brez rezervacije je tezko dobiti primerno parcelo, nekaj je cisto sončnih.

Trgovina slabse zalozena, mogoce ker je to izven haupt sezone.​​

Published on day from anonymous

Category

Tent

Company

With friends

Kar tako naprej, super ste!!​​

Published on day from anonymous

Category

Other

Company

In couple

Ma neka srednja žalost. Srednje urejen kamp. Definitivno predrag za to kar ponuja. S premium kampi se ne more primerjat. Če imate možnost izberite raje kaj drugega.​​

Published on day from anonymous

Category

Tent

Company

Family with small children

Relativno blizu.
Dokaj drago za ponujeno.
Lokacija (oz. postavitev) bazena pred restavracijo mi ni všeč, ker onemogoča enostaven prehod mimo.​​

Published on day from anonymous

Category

Tent

Company

Family with teenager

Zelo urejen kamp, veliko sence, manjka samo ena majhna trgovina.​​

Published on day from anonymous

Category

Mobile home

Company

Family with small children

Lep kamp.
Za julij/avgust (5 ljudi) potrebna rezervacija.
Visoka cena za ponujeno.​​