add to favorite Look map of the campsite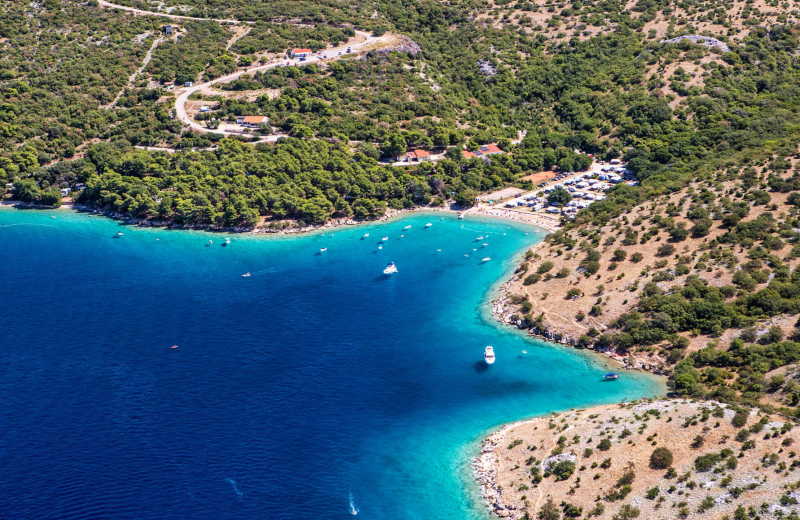 Information
Basic information
Naturist camping Konobe -Punat is located on island Krk, in calm bay, 4 km away from city Punat in direction of Stara Baska. Here you will be really able to relax and rest from city life and noise.
Campsite accepts the Avtokampi Camping Card, which will make camping holidays more affordable. The discount is listed at the price list of the campsite - order for free and get camping card by email.
Pitches in camp are arranged in pitches, in the shade of pine trees and is divided on three parts. One part is dedicated to tents, the other with electricity connections is located above the main beach and the third is reserved mainly for camper and caravan owners.
Rental of caravans in camping Konobe is possible through Gebetsroither.

Camp has well arranged three sanitary block (two larger and one smaller), that are adapted for disabled as well. Additionally, they have place for cleaning the dishes and supply for campers.

Camp has tow restaurants, shop, smaller sports centre (tennis, mini golf, volleyball, wind surfing, etc). In high season they organize animation as well.

Beach in the camp is 1.5km long and has two pebble bays, where they have also arranged showers. In direction of Stara Baska you can walk to many sandy bays that are some of the most beautiful on the island Krk.
Features and equipment
Type of the campsite
Pitch features
Non-parcelled camping plots

Pitches with electricity and water

Pitches with electricity, water and waste water connections
Location
Equipment
Chemical toilet discharge

Children sanitary facilities

Heated sanitary facilities
Offer
Sport
Swimming pool/wellness
Swimming pool with heated water
Dogs
Rental option
Camping pricelist (in EUR) for year 2023
Camping prices are for information only and are subject to change during the season depending on demand.

Avtokampi camping card
2023 - 23 € for 2 persons and a standard pitch with electricity in the period 21.4. - 16.6. & 2.9. - 30.9. On the other pitches there is a 10% discount on the price per person throughout the whole season in case of a minimum of 3 nights - card must be presented at check-in.
Price for
1.7. - 25.8.
17.6. - 30.6.
26.8. - 1.9.
18.5. - 16.6.
2.9. - 22.9.
21.4. - 17.5.
23.9. - 30.9.
Person
​​12
​​9,60
​​7,20
​​6
Children under 7
​​gratis
​​gratis
​​gratis
​​gratis
Children 7 - 12 yrs.
​​7
​​6
​​4,20
​​3
Pitch by the sea (electricity)
​​45,60 / 52,80*
​​37 / 44,50*
​​33,50 / 39,50*
​​19,20 / 25*
Pitch with electricity
​​35
​​26,50
​​21,70
​​15,50
Pitch for tent + electricity
​​24 / 26,50*
​​20,50 / 23*
​​18 / 19,20*
​​14,40 / 15,50*
Non-parceled camping unit + elect.
​​35
​​26,50
​​21,70
​​15,50
Non-parceled camping unit without elect.
​​29
​​21,70
​​17
​​12
Addit. car / tent
​​5,40
​​3,60
​​3
​​2,50
Dog
​​7
​​7
​​5
​​5
Boat trailer
​​6
​​6
​​6
​​6
Motorcycle
​​5,40
​​3,60
​​3
​​2,50
Tourist tax
​​1,33
​​1,33
​​1,33
​​1,33
Check-in
​​1
​​1
​​1
​​1
Mobile home reservation
​​50
​​50
​​50
​​50
PDF - Pricelist for year 2023 (21KB)
* the price depends on the exact location of the pitch
Pricelist for yearly rental (in EUR) for year 2023
| Price for | 1.5. - 30.9. |
| --- | --- |
| Yearly pitch rental with electricity | ​​3.700 - 4.300 |
| Check-in | ​​1 |
| Tourist tax | ​​1,30 |
PDF - Pricelist for year 2023 (15KB)
The package price includes 4 people, car, caravan and electricity.

Contact
GPS: 44.991167,14.630700
Address: Obala 94, 51521 Punat - Krk, Hrvaška
Reception:

+385 51 854 049

Reservation:

+385 51 854 036
Rating and reviews
Reviews:
Published on day from anonymous

Category

Tent

Company

In couple

Zelo lep kamp in mirna lokacija, ​​

Published on day from anonymous

Category

Tent

Company

In couple

Odličen miren kamp. Obiskala ga 3×​​

Published on day from anonymous

Category

Tent

Company

With friends

Že dobrih 20 let kampiramo v tem kampu. Raj na zemlji - za spočit duha in telo. Kamp ohranja prvinskost kampa - brez nepotrebne navlake (bazenov, toboganov, mobilnih hišk,...). Pohvala gre zaposlenim na recepciji.
Je pa politika lastnikov zelo zgrešena - cene samega kampiranja so še znosne, dodatna ponudba pa "rop pri belem dnevu". Beach bar obratuje od 12h do 20h, sama storitev pa pod kritiko. O restavraciji ne bom izgubljala besed - milo rečeno slabše kot v vsaki menzi.
Z nespametnimi odločitvami lastnikov se izgublja "duša kampa".

​​

Published on day from anonymous

Category

Camper

Company

In couple

Sam kamp je OK. Največji problem so pa moška zijala v kopalkah. Ni nobenega nadzora nad tekstilci na plaži.
Razumem ženske, da imajo spodnji del kopalk v tistem obdobju, ampak to obdobje traja le kak teden, ne pa 14 dni. Prav tako ne potrebujejo zgornjega dela. Moški v kopalkah pa na plaži ne počno kaj drugega kot gledajo gole ženske, in to precej očitno. In to je zelo moteče...

Druga težava so plovila, ki se iz Punata ali Krka pripeljejo do obale kampa, se zasidrajo in potem kopalkarji na njih tam preživijo cele dneve. Ne vem, zakaj se ne urigira v tej smeri, ker tovrstni tekstilci so precej moteči.

Prav tako je preveč dnevnih gostov, ki zasedejo celotno plažo, med njimi so tudi kopalkarji. Ko pa kot kampist prideš na plažo, pa ne moreš nikjer niti natikačev pustit, kaj šele brisačo.

Klasični kampisti se še držijo pravil v FKK kampih, še posebej tujci, prava katastrofa so pa pavšalci in njihovi obiskovalci. Cel dan vsak dan v kopalkah, šetajo se po kampu kot pavi, delujejo tako kot da so v tekstilnem kampu.

Skratka, v ta kamp nikoli več. Tudi vsem pravim nudistom priporočam kak drug FKK kamp, ker tale nima noben pravil, nobene kontrole, nobenega opozarjanja... Tista tabla s pravili pri bifeju je tam za brezveze. ​​

Published on day from anonymous

Category

Tent

Company

With friends

Zelo prijazno in ustrežljivo osebje na recepciji, senčne parcele ob morju, kristalno čista voda. Top! Se vračamo vsako leto. ​​

Published on day from anonymous

Category

Tent

Company

Alone

Hodim že več let, vsaj par dni na leto in vsakič upam, da dobim kamp tak kot je že vsa leta, miren, brez nepotrebne navlake. Za si res odpočit dušo. Upam, da se ne preoblikuje v barakarsko naselje, kot se drugi kampi "modernizirajo"... Pohvale tudi ekipi na recepciji!​​

Published on day from anonymous

Category

Tent

Company

In couple

Če želiš miren dopust in totalni odklop, je kamp super. Mal old school, vrneš se nazaj v leto 1980, kamp razen parcel, ene restavracije in trgovine,ne ponuja ničesar. Meni osebno en izmed top kampov. Sploh ko gledam, v kaj se kampi spreminjajo. Neko betonso naselje z mobilnimi hiškami, bazeni in ne vem še čim. Tukaj tega ni in ravno zato, so mi Konobe top. :)​​

Published on day from anonymous

Category

Caravan

Company

In couple

Čudovit kamp če želite kampiranje brez raznoraznih bazenov, mobilnih hišic, animacij.
Mir je v tem kampu prioriteta. ​​

Published on day from anonymous

Category

Tent

Company

In couple

odlično za sproščujoč vikend, za daljše počitnice zna postat malo monotono.​​