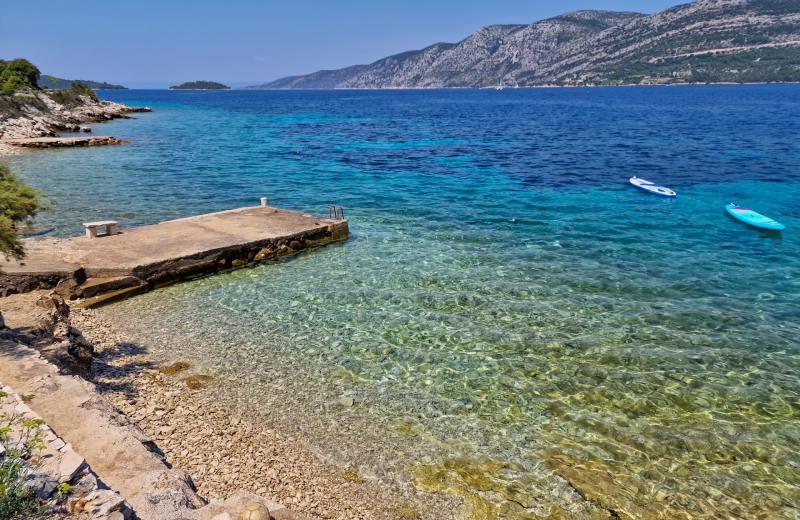 Information
Basic information
Camping Oskorusica is located on the northern side of island Korcula, about 8 km western from city Korcula. To the campsite you have to follow the road on destination Korcula – Zrnovska banja – Racisce. This part of Korcula is very peaceful which is also a reason that many visitors return year by year.

Campsite is smaller and private, where owners will always welcome you with opened hands. Pitches are located on a meadow, under olive trees. Arranged are partly modernized sanitary facilities, laundry, refrigerator is available as well as grills. Connection to the electricity is possible, but you will need a long cable. Guests have free access to the internet.

Camp and beach are separated by local road. Beach is mostly stoned with smaller pebbled bays. Close by are also some piers. Camp allows also to moor smaller boats in the bay. Camping Oskorusica has smaller children's playground with swing and slide.

Closest shop is about 4km away, while restaurant only 2km. Bread and bakery products are brought to the camp on a daily basis, while fresh fruit, vegetable and fish are delivered twice a week.

Information about the Ferry Connections and its Prices to the Peninsula Peljesac and Island Korcula

Features and equipment
Type of the campsite
Pitch features
Non-parcelled camping plots

Pitches with electricity and water

Pitches with electricity, water and waste water connections
Location
Equipment
Chemical toilet discharge

Children sanitary facilities

Heated sanitary facilities
Offer
Sport
Swimming pool/wellness
Swimming pool with heated water
Dogs
Rental option
Camping pricelist (in EUR) for year 2023
Price for
1.6. - 31.8.
1.5. - 31.5.
1.9. - 30.9.
Person
7
6
Children under 12
3,50
3
Tent - small
6
5
Tent - big
7
6
Car
5
4
Motorcycle
3
3
Van
10
8
Camper
12
10
Utility Trailers
5
4
Electricity
4
4
Washing machine
7
7
Refrigerator
2
2
Internet access - WIFI
gratis
gratis
Tourist tax
0
0
PDF - Pricelist for year 2023 (19KB)
In case of sleeping only in a sleeping bag, there is an extra charge of EUR 2,50 per person.

Contact
GPS: 42.968034,17.072465
Address: Oskorušica, 20264 Račišće - Korčula, Hrvaška
Reception:

+385 20 710 897

Reservation:

+385 98 950 30 68
Rating and reviews
Reviews:
Published on day from simonbajuk

Category

Tent

Company

In couple

Odličen kamp z dobro izhodiščno pozicijo za raziskovanje otoka. Predvsem me je prepričala dobrovoljnost in ustrežljivost lastnikov, zato bi se z veseljem ponovno vrnil. ​​​​

Published on day from gregorkos108923

Category

Tent

Company

Family with small children

Odličen miren majhen družinski kamp za miren oddih v prijetni senci. Velik poklon neustavljivi upravnici Fani, ki ves čas vse ureja, da dopust izgleda kot počitek doma. Čiste sanitarije, edine zamera morebiti, da moramo s seboj nositi WC papir, kar je lahko komu moteče, sploh, če moraš na WC direktno s plaže. Z veseljem bi plačal EUR več na dan, da te malenkosti ne bi bilo treba. Parcele res mirne, dovolj zasebnosti in miru - v kampu običajno popolen mir že ob 21.00. Do relativno majhne plažice (cca 30 m) je nekaj korakov iz kampa, kjer je potrebno prečkati neprometno lokalno cesto, kar pomeni, da otroci ne morejo kar tako sami nekontrolirano tavati naokoli, vendar si kaj podobnega tako ali tako starši ne moremo privoščiti. Plaža kamnita, tudi pomol, kjer je možno skakati. Do trgovine s sladoledoma najbližje 3,7 km, z otroci kar zahteven kolesarski podvig, ker se lokalna cestica ves čas dviguje in spušča. Sicer dvakrat tedensko dostava izvsrtnega sadja in zelenjave neposredno v kamp, vsako jutro pa kruh in pekovski izdelki. Za priklop elektrike ne potrebujete trofaznega kabla, v kampu ob doplačilu na voljo tudi souporaba treh hladilnikov z zmrzovalniki. Skratka, kdor išče mir in klasičen naraven občutek kampiranja, ga bo tu vsekakor našel! ​​

Published on day from anonymous

Category

Camper

Company

In couple

Kamp primeren za vse, ki si želijo mirnega dopusta, preživetega v res lepem naravnem okolju. Lastniki kampa izredno prijazni, ter ustrežljivi, obenem pa ne vsiljivi.
Sem se zagotovo še vrneva!​​

Published on day from anonymous

Category

Tent

Company

With friends

Najkraći mogući opis ovog kampa bi bio: mi ovako zamišljamo raj! Kada smo se uputili iz Zagreba nismo bili sigurni gdje ćemo ići. Dolaskom na Korčulu obišli smo sve kampove redom, a ovaj zadnji po redu, ali nikako posljednji po ljepoti nam je odmah prirastao srcu. Parcele su u konstantnom hladu i kamp je odmah na moru. Za svega 30 sekundi dođe se na predivnu plažicu. More je predivno, čisto. U sredini kampa se nalazi i roštilj koji je na upotrebu gostima kao i vanjski tuševi i umivaonici. WC i sanitarije su uvijek čiste. Stvarno sve pohvale za to, jedan od najčišćih i najurednijih kampova u kojima smo ikad bili! Kruh i peciva pristižu svakog jutra, a voće i poveće kao i riba dva puta tjedno. Trgovine su udaljene svega par minuta vožnje tako da nam je i to bilo odlično. Vlasnici su jako ljubazni, uvijek spremni pomoći, uvijek sa savjetima i idejama i općenita atmosfera u kampu je prijateljska. Osjećate se poput male obitelji tokom boravka. Plan je bio obići i ostale otoke, ali mi se od Korčule i naše Oskorušice nismo odvajali. Šteta bi bilo napustiti takvo mjesto. I naravno dolazimo i sljedeće godine.
Ukratko, svakako preporučujemo posjet jer ovo je oaza mira i ljepote. Samo nismo sigurni kako ćete podnijeti povratak kući jednom kad odmor prođe. I da, ukoliko dolazite u 8. mjesec možda se vratite i koji kilogram teži jer možete jesti smokve kojih u kampu dosta ima. ​​

Published on day from klop66

Category

Tent

Company

Family with teenager

Bili smo prvič in v primeru povratka na Korčulo gremo zagotovo spet v ta kamp. Čisto prvi vtis ob prihodu ni bil vrhunski, a smo bili iz ure v uro in iz dneva v dan bolj zadovoljni. Parcele odlične, senca večji del dneva, tudi jutranje sonce ni prezgodnje. Plažica z nekaj sence na drugi strani neprometne ceste, kar je rahla pomanjkljivost za starše z manjšimi otroki. Ampak če ne spadate med tiste, ki bi ure ležali na plaži, to ni noben problem. Voda krasna, pomol za skok, kamenčki za čofotanje, nato pa nazaj k šotoru k knjigam, visečim mrežam ipd. Je pa že v bližini nekaj lepih plaž(ic), pa tudi v radiusu 20 minut do 1h se najde nekaj res lepih plaž.
Sanitarije čiste, nekoliko nenavadno je le, da vsak nosi svoj toaletni papir, saj skupnega ni (morda eden od Covid19 ukrepov). Sanitarni vozlišči sta dve, a WC je le na enem od njiju, na obeh pa so tuši in korita za posodo ali perilo.
Elektrika je lepo razpeljana, kak daljši podaljšek utegne priti prav. Možnost souporabe hladilnika in pralnega stroja.
V kamp vsako jutro pripeljejo kruh in pecivo, enkrat na teden zelenjavo in enkrat ribe. Zelenjavo, olje, žganje in še kaj se da dobiti tudi pri gonilni sili kampa, to je prijazna ga. Fani, ki tudi poskrbi, da niso šotori kar eden čez drugega. Radi vidijo, da se gostje najavijo v naprej, tako tudi lažje prisluhne morebitnim individualnim željam.
Čeprav ni športnih objektov je možno od tod kreniti na kolesarske vožnje, izlete ali treninge, tudi več sto metrskih vzpetin ne manjka. Prav tako se da pognati na lahkotne ali manj lahkotne jogginge.
Ponoči je mir in prijetne temperature.
Kamp je oddaljen slaba dva km od kraja Kneže, prvi trgovini sta oddaljeni cca. 4km. Ena je v zelo lepi obmorski vasici Račišče, druga pa v Žrnovski banji. Do mesta Korčula je cca. 15 minut vožnje, do Vele luke pa 45minut.
To je v bistvu vse, priporočam.
​​

Published on day from anonymous

Category

Tent

Company

Family with teenager

Zelo domače in sproščeno.​​

Published on day from anonymous

Category

Other

Company

In couple

Tudi septembra je prijeten dopust v tem kampu ... še prideva!​​

Published on day from anonymous

Category

Other

Company

In couple

It was fantastic,everything that you need in a camping site you can find in this place.Good area,friendly family welcome,they are always there to help you no matter how late it is.The price charged is pretty good for all the facilities and and structure they offer in Camp Oskorusica.Highly recommend and when I get back to Korcula,this place will be my home again.Thank you for the hospitality.Make our trip fantastic.​​

Published on day from anonymous

Category

Tent

Company

Family with small children

Družinski kamp, v katerem je dovolj sence, urejene sanitarije, dvakrat tedensko pripeljejo sadje in zelenjavo, prav tako ribe, vsak dan pa svež kruh in druge pekovske izdelke. Plaža je zelo blizu, v kolikor imate možnost in veselje spoznavati otok priporočamo obisk različnih plaž. Prijazna gospa Fani vam bo o tem dala tudi kakšen nasvet. Kamp priporočamo tako parom, kot družinam. Kamp je prijeten, čist, miren - vsekakor priporočamo. ​​