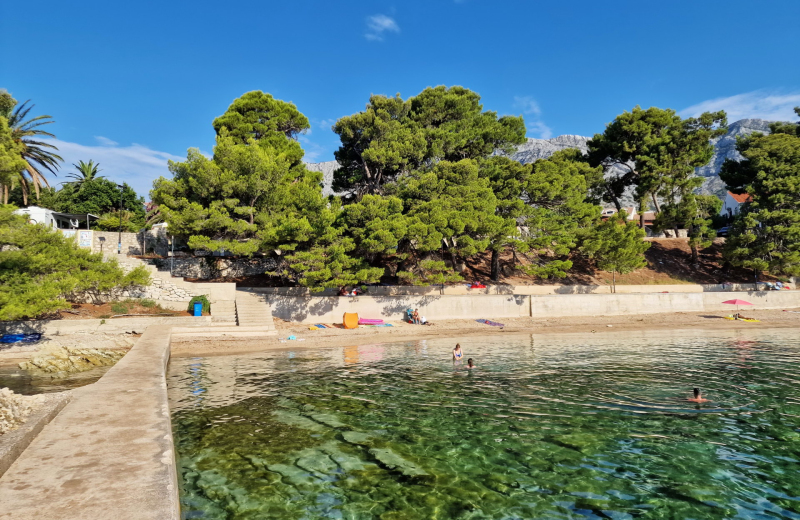 Official category: 4 from 5 stars
Camping Glavna plaza
Address: Kneza Domagoja 49, 20250 Orebić - Pelješac, Hrvaška

Season: -
Compared price: 2 people + pitch with electricity - between 40 - 50 €
Discounts:
By the sea
Well shaded
By the city
Free wifi
Information
Basic information
Camping Glavna plaza (Main beach) can be found at the entrance to the city Orebic, just next to the beach Trstenica. It is partly covered by the palm trees, almond trees and bay-trees.

Campsite Glavna plaza offers all needed infrastructure, including laundry, usage of the kitchen and refrigerators. In the complex of the camp you can rent an apartment in so called sailor's house. Close by the camp you can visit shops, bakery, restaurant and pizza place.

Peljesac canal is very well known for its often maestral wind and therefore especially popular among the wind surfers. You can from here as well pretty easily visit islands Korčula and Mljet.
Information about the Ferry Connections and its Prices to the Peninsula Peljesac and Island Korcula

Features and equipment
Type of the campsite
Pitch features
Non-parcelled camping plots

Pitches with electricity and water

Pitches with electricity, water and waste water connections
Location
Equipment
Chemical toilet discharge

Children sanitary facilities

Heated sanitary facilities
Offer
Sport
Swimming pool/wellness
Swimming pool with heated water
Dogs
Rental option
Contact
GPS: 42.976454,17.189535
Address: Kneza Domagoja 49, 20250 Orebić - Pelješac, Hrvaška
Reception:

+385 20 713 399
Rating and reviews
Reviews:
Published on day from romana.sarecrojc178

Category

Camper

Company

Family with small children

Prijeten majhen družinski kamp. Lastnica izredno prijazna, povedala nam je vse pomembne informacije (izbira restavracije, prevoza na Korčulo ...). Sanitarije zelo lepo urejene in zelo čiste (voda vedno topla, WC papir, tekoče milo ...). Imajo majhno kuhinjo (tudi štedilnik), pralnico perila z likalnikom. Zelo miren kamp. Tudi ugoden.​​​​

Published on day from anonymous

Category

Caravan

Company

In couple

Odličen kamp na TOP lokaciji. Lepe palme po celotnem kampu, lepo urejene sanitarije in vedno čisto (vedno topla voda). Lastnika sta prijazna in prijetna. Kamp priporočava in upava, da se kmalu vrneva.​​

Published on day from Karnak

Category

Camper

Company

In couple

Kamp sva izbrala na podlagi slik, ki so na razpolago, ki so me v štartu zavedle. Kamp je mičken. Imela sva srečo, saj sva brez rezervacije dobila prosto parcelo. Priporočam rezervacijo. Bila presenečena nad prijaznostjo lastnikov. Kamp vodita brat in sestra. Zelo lepo poskrbita za svoje goste. V kampu je mir in tišina. Sanitarije so čiste, prostorne, vedno wc papir, tekoče milo, topla voda. V pomovalnici posode imaš na voljo tudi štedilnik, kjer si lahko kaj skuhaš.
Kamp je tik nad plažo Trstenica. Plaža je lepa, mivka in droben pesek. Vmes je lokalna cesta, ki pa ni zelo prometna. Do trgovine je cca. 1km. 20m stran pa le lokal nad plažo in tudi neka pizzerija.
​​

Published on day from anonymous

Category

Other

Company

In couple

Tokrat sem po dolgi poti in naključnem iskanju izbral kamp Glavna plaža in mi ni žal. Strošek minimalno višji kot sem računal prej, ko sem na tej spletni strani iskal kamp, vendar so bili vsi kampi v ožjem izboru (Divna, Orebič, .....) izven naselja s trgovino in restavracijo, kar bi za naju, ki sva prišla z motornim kolesom pomenilo vsaj dve do tri vožnje na dan.
Sicer je bil kamp kar precej zaseden in tako nisva dobila parcele, z celodnevno senco, sva pa bila res blizu morja (preko neprometne ceste), cca 250-300m do trgovine, restavracije, pekarne..
Zelo prijazna in zgovorna lastnica, nama je posodila stole, čiste in lepe sanitarije, kot sem že omenil zelo dobra lokacija, možna uporaba kuhinje, presenečen, ker so ločevali odpadke....
Lastnica je imela tudi brošure z voznimi redi trajektov, znamenitostmi Pelješca in naju je tudi sama napotila na določene posebnosti oz. znamenitosti Pelješca, ki si jih drugače ne bi nikoli ogledala. Čeprav nisva zakupila elektrike, nama je omogočila, da sva si polnila telefone in baterije za fotoaparat. Edina škoda je, da je ta kamp tako daleč od najinega doma. Se bova poskusila še kdaj vrniti.​​