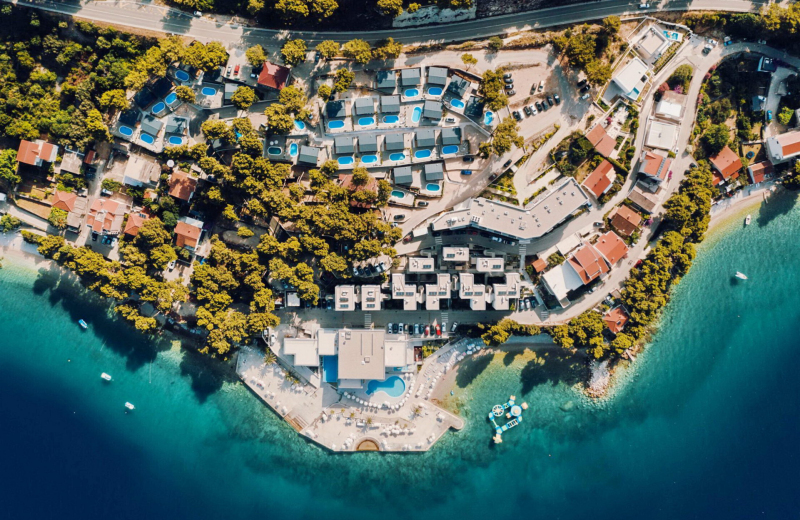 Information
Basic information
Camping Morenia Beach Resort (ex campsite Uvala Borova) was renovated in 2022. In the upper part of the campsite, modern Adria mobile homes with a swimming pool were built, while the lower part by the sea is still arranged in plots, there is also some unplotted part.
The location of the Morenia Beach resort campsite is at the beginning of Podaca, only 1 km from the larger town of Zaostrog. A well-maintained promenade by the sea leads there.
The resort also has a hotel with a swimming pool and a rich offer of entertainment and a well-kept beach. It is concreted below the hotel, and there are two pebble beaches to the left and right.
Most of the pitches have excellent shade from pine trees, but there is less shade in the upper part of the camp. Electricity is available to guests on the pitches, and there is one sanitary facility that was renovated a few years ago.
Dogs are welcome in the campsite, and they are also allowed in the mobile homes. Free wifi is available.

Features and equipment
Type of the campsite
Pitch features
Non-parcelled camping plots

Pitches with electricity and water

Pitches with electricity, water and waste water connections
Location
Equipment
Chemical toilet discharge

Children sanitary facilities

Heated sanitary facilities
Offer
Sport
Swimming pool/wellness
Swimming pool with heated water
Dogs
Rental option
Camping pricelist (in EUR) for year 2022
Price for
17.7. - 20.8.
26.6. - 16.7.
21.8. - 3.9.
29.5. - 25.6.
4.9. - 24.9.
10.4. - 28.5.
25.9. - 31.10.
Person
​​10
​​8
​​7,30
​​5,30
Children 3 - 12 yrs.
​​6
​​5,30
​​3,70
​​2,70
Pitch Comfort (elect. 90 - 120 m2)
​​35
​​25,30
​​20
​​13,30
Pitch Standard (elect., 60 - 90 m2)
​​35
​​20
​​16
​​10,70
Non-pitched camping unit + elect.
​​10
​​8
​​6,70
​​4
Dog
​​6
​​6
​​6
​​6
Washing machine
​​6
​​6
​​6
​​6
Boat trailer
​​4
​​4
​​4
​​4
Reservation of the pitch
​​30
​​30
​​30
​​30
Tourist tax
​​1,10
​​1,10
​​1,10
​​1,10
Contact
GPS: 43.131238,17.287507
Address: Lučica 23, 21355 Podaca, Hrvaška
Reception:

+385 21 399 909

Reservation:

+385 21 399 913
Mobile Homes
Mobile homes description
Mobile homes Morenia Park Villas are the newest models of Adria houses for 4+2 people. The houses are built in terraces next to the hotel and the camp and are equipped with spacious terraces.
The mobile homes have an area of 32 m2 and have two bedrooms - one with a double bed and the other with two separate beds, two bathrooms, a living room where extra beds can be arranged and a fully equipped kitchen. all the houses are air-conditioned.
Each mobile homes also has its own pool in front of the terrace or jacuzzi (2.5 x 2.5m).

Dogs are also allowed in mobile homes.
Mobile homes information
Number of persons in mobile homes
Mobile homes for 4 - 6 persons

Mobile homes for 2 - 3 persons

Mobile homes for 6+ persons
Mobile homes
Dogs allowed in mobile homes

Mobile homes for handicapped

Mobile homes with 3 bedrooms
Rating and reviews
Reviews:
Published on day from ziga.bauer326

Category

Tent

Company

Family with small children

Prišli smo bolj po naključju, brez rezervacije ampak je bil kamp v top sezoni bolj kot ne prazen, tako da ni bilo težko dobiti parcele. Kamp sam po sebi je sicer ok, sence je kar nekaj, sanitarije so ok (stare, ampak čiste). V letošnjem letu je menda kamp prevzel nov lastnik, ki ima v lasti tudi hotel, ki je na robu kampa in delno zakriva pogled na morje. Plaža je lepa, po njej se spustiš po stopnicah, ni pa ne vem kako dolga, tako da se hitro naredi guzva zaradi hotelskih gostov in okoliških apartmajev. Senca je dopoldan, kasneje je ni več. Najbližja trgovina je v Zaostrogu, kar se tiče barov in restavracij, nekaj jih je ob kampu, več v Zaostrogu, do kamor vodi cestica ob obali, ki pa je bila ves čas zelo prometna.
Žal pa že na recepciji spoznaš, da kamp ni prioriteta lastnikov, vse je nedorečeno in nekako v zraku, tako kar se cene tiče ipd. Plača se v naprej?! , bivanje lahko podaljšaš, v kolikor ga skrajšaš ne vračajo denarja. Za 3 nočitve smo plačali 180€, na računu je pisalo "soba comfort"... Hotelsko parkirišče je po delu kampa, tako da te mimogrede kdo zaparkira in ne moreš niti iz parcele. Da so nam uredili dovoz in izvoz iz parcele je trajalo 2 dni... Tako da na koncu so občutki precej mešani, kar je škoda ker kamp sam po sebi je precej ok. ​​

Published on day from lassa1

Category

Camper

Company

In couple

V kampu smo se ustavili za en dan i lepo nam je bilo. Sicer, asfaltirane parcele so neprimerne za kamp. Sanitarije so starejše, ampak čiste i urejene, osebje je prijazno , in skratka nekih večjih pripomb ni, ampak neke velike želje po ponovni vrnitvi ni. ​​

Published on day from SicilyS

Category

Camper

Company

Family with small children

Zelo lep kamp, miren in z obilo sence starih borov.
Do Zaostroga vodi lokalna cesta,ki je popolnoma neprometna. Plaza je cudovita in nenatrpana,v sklopu kampa super restavracija,manjsa trgovina in stojnica s sadjem. V Zaostrogu smo pogresali lekarno,ki jo navajajo pri kampu Viter, v kampu pa otrosko igrisce.
Na splosno odlicen kamp za miren dopust.​​

Published on day from cwetto

Category

Caravan

Company

Family with small children

V kamp smo šli po naključju, nekaj dni pred prihodom smo iskali kamp v tistem okolišu, zaradi povratka iz potovanja.
Po e-mailu so potrdili, da imajo še proste parcele, in tako smo za nekaj dni šli v ta kamp.
Vse parcele v senci velikih borovcev, nekaj parcel je tudi pri morju. Čeprav so tiste popolnoma asvaltirane, in nam niso bile všeč.

V kampu je bilo še nekaj parcel praznih, tako da ni bilo velike gneče in to sredi julija. Sanitarij, tušev, pomivalnih korit je več kot dovolj.

Topla voda za tuširanje je bila nekje do osmih zvečer, potem pa je očitno bojler omagal od preveč navala.

Senca na plaži do 16. ure popoldne.

Osebje zelo prijazno, oskrbnik je ves čas čistil celoten kamp, čistilka za sanitarni blok pa je ves čas čistila čistilka.

Res odlična lokacija kampa, predvsem zaradi miru in sence.
​​

Published on day from anonymous

Category

Other

Company

Family with small children

Z neugodnimi vtisi iz kampa Baško polje in kar malce s strahom smo prišli v kamp , kjer pa sem že na recepciji ugotovila , da stvarem strežejo resno in odgovorno, ter da je njihov interes računati usluge , a na drugi strani tudi zagotavljati in vzdrževati kamp na nekem nivoju.Hvala uvala Borova rešila si nam dopust.Sanitarije zelo čiste , urejene , prostorne predvsem pa zadovoljujejo kapacitetam v kampu.Kamp leži sicer v hribu vendar do plaže , ki je čudovita in čista primerna tudi za majhne otroke, od najbolj oddaljenega dela ni več kot dve minuti.Vse parcele so v borovi senci mir v kampu zagotovljen.pod kampom sta pizzerija , trgovina, vsako jutro se prodaja sadje...Še enkrat za nas prečudovito.​​

Published on day from anonymous

Category

Caravan

Company

Family with teenager

Kamp na zelo lepi lokaciji,urejen v terasah.Do zelo čistega morja le par korakov.Senca je po celemu kampu.Sanitarije starejše a vedno čiste.​​

Published on day from LILKA77

Category

Tent

Company

Family with small children

Majhen, miren, čist kamp, terasasto postavljen. Do plaže je par korakov, sicer čez lokalno cesto, ki pa ni prometna. Parcele so različno velike in zelo senčne. Sanitarni blok je sicer skromen, ampak zelo čist, čistilki sta pridni in prijazni. na plaži ste lahko v senci skozi ves dan, ali pa ne. Del kjer so zabetonirali je tudi tuš, drugače pa so na plaži kamni in tudi droben pesek, dostop v vodo je dober tudi za otroka. Morje je kristalno čisto in nebeško modre barve. V kampu je trgovina odprta ves dan in tudi restavracija s solidno hrano.
Do mesta lahko greste peš, vmes najdete pekarno in tudi restavracije in sladoled, v mestu pa razno zabavo. V kampu je tudi free wifi ampak slabše deluje. V bližini je izvir hladne dobre pitne vode.​​

Published on day from anonymous

Category

Caravan

Company

In couple

Kamp je odlican,usluga fantasticna, wifi je bio katastrofa ali od 18.07.2016 odlican jer su poradili na tome,osoblje za 10​​

Published on day from anonymous

Category

Caravan

Company

In couple

Kamp je odlican,usluga ok samo znaju rezervaciju koju odradite na svoju ruku promjenit pa Vas onda prebacuju s mjesta na mjesto,wifi KATASTROFA ​​

Published on day from Benjamin Sarajevo

Category

Other

Company

In couple

Najbolji kamp na Makarskoj rivijeri !

Ljubazno osoblje i uređena priroda u kampu je prvo sto ce Vas docekat po samom dolasku u ovaj kamp.Osoblje je jako susretljivo i spremno odgovoriti na sva pitanja i zahtjeve.Parcele za kamp su jako dobro uređene i prostrane.Sanitarni cvorovi su uredni i ciste se po nekoliko puta dnevno.Također želimo preporuciti i restoran koji se nalazi u donjem dijelu kampa, cijene su odlicne a pogled koji se pruža na more je nevjerovatan.

Preporucujemo ovaj kamp i nadamo se što skorijem dolasku ponovo !​​