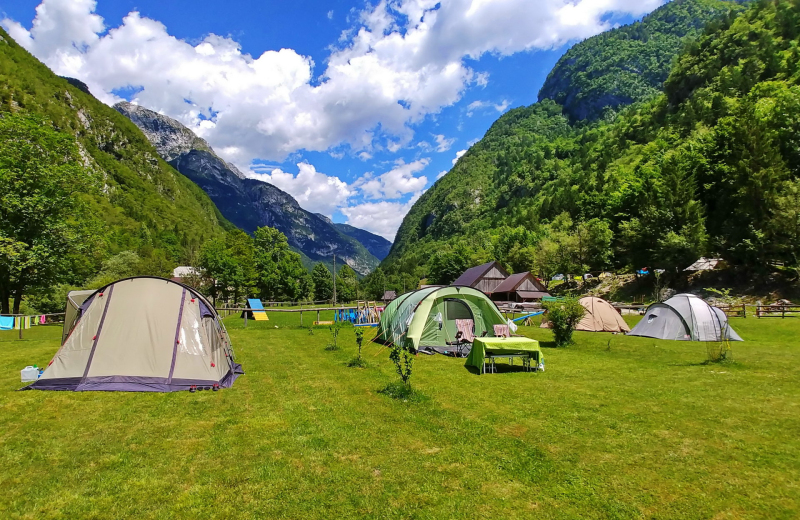 Information
Basic information
Camping Jelinc can be found between Bovec and Trenta in the place called Soca. It is part of a tourist farm Jelincic. Farm is surrounded with nature, where you can relax and find your balance again. Just next to the camp you can enjoy beauty of »Small river beds of river Soca« (»Mala Korita reke Soče«).
Campsite accepts the Avtokampi.si Camping Card, which will make the camping more affordable. The discount is listed at the price list of the campsite, and you can order free camping card HERE.
NEW - renovated toilets in the central part of the campsite.

Camping Jelinc has arranged camping places for tentson a soft meadow, on a newer part additional plateau for campers with tents is arranged. Vehicles need to be parked on arranged parking lots, while some pitches are arranged for campers. There are four arranged fireplaces where campers gather in the evenings.
Campsite Jelinc is very friendly to guests with dogs as they have arranged agility playground, they can bath in river Soca and they even stay for free of charge at the camp.

Campsite has sanitary building, aditional facilities are arranged in the main building, where reception and restaurant are. In the farm you can sleep over also in one of the seven rooms (three for two persons and two for three to four persons) and order breakfast and lunch.

Many animals live on the farm forming small ZOO, which is especially interesting to the youngest visitors to which animals are very friendly; they have cats, dogs, small pigs, sheep and donkey. They have also playground with sandpit.

At the farm you can taste all local specialities, especially home made sheep cheese and fish from Soča.

Of course, you can during the day enjoy Soča with fishing, canyoning, rafting, kayaking. Additionally, you can visit caves, hiking or skydiving.
Features and equipment
Type of the campsite
Pitch features
Non-parcelled camping plots

Pitches with electricity and water

Pitches with electricity, water and waste water connections
Location
Equipment
Children sanitary facilities

Chemical toilet discharge

Heated sanitary facilities
Offer
Sport
Swimming pool/wellness
Swimming pool with heated water
Dogs
Rental option
Camping pricelist (in EUR) for year 2023
Avtokampi camping card
2023 - 10% discount on camping
Price for
1.7. - 31.8
1.6. - 30.6.
1.9. - 30.9.
1.4. - 31.5.
1.10. - 15.10.
Person
14
12
​​9
Children under 6
​​gratis
​​gratis
​​gratis
Children 6 - 13 yrs.
​​7
​​6
​​4
Electricity
5
5
5
Dog
​​gratis
​​gratis
​​gratis
Internet access - WIFI
​​gratis
​​gratis
​​gratis
Tourist tax
​​2
​​2
​​2
Pricelist for rental of accommodation for year 2023
Price for
1.7. - 31.8.
1.6. - 30.6.
1.9. -30.9.
1.4. - 31.5.
1.10. - 15.10.
Person - dorm
22
22
18
Room / Person
​​29
​​29
​​29
Room / Person with breakfast
​​33 / 39*
​​33 / 39*
​​33 / 39*
Room / Person with Half board
52
52
52
Children under 4
​​gratis
​​gratis
​​gratis
Children 4 - 12 yrs.
​​-30%
​​-30%
​​-30%
Apartment for 3 persons
​​60
​​60
​​60
Apartment for 4 persons
80
80
80
Apartment for 4 + 2 persons
100
100
100
Dog
4
4
4
Tourist tax
​​2
​​2
​​2
Minimum stay
​​2 (+20%)
​​2 (+20%)
​​2 (+20%)
PDF - Pricelist for year 2023 (18KB)
* lower price applies to room within the hostel, higher for a double room.

They offer a 10% discount for more than 7 nights.

Contact
GPS: 46.342232,13.685714
Address: Soča 50, 5232 Soča, Slovenija
Reception:

+386 31 75 31 62

Reservation:

+386 5 388 95 10