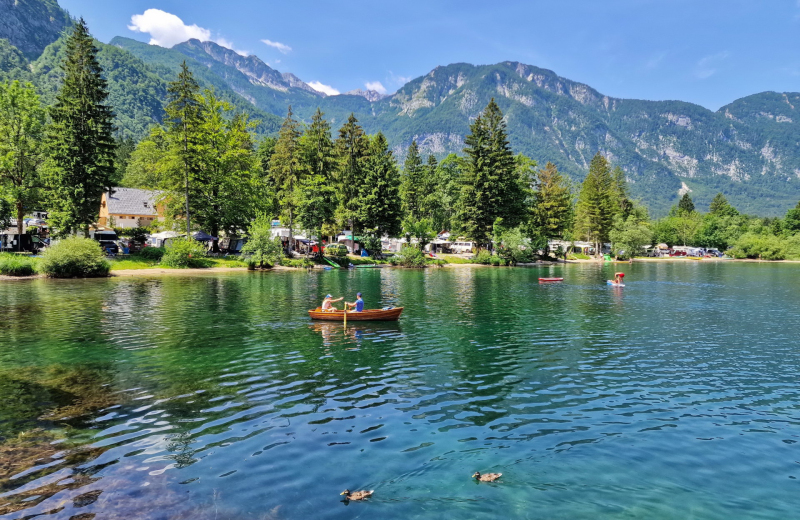 Information
Basic information
Camp Bohinj - ex campsite Zlatorog - is located in Ukanc, on the banks of Bohinj Lake. Campsite is about 4.5 km from Ribcev Laz and only 300m from gondola that takes you to the top of mountain Vogel. It is located in the heart of the Triglav National Park.
NEW - renovated sanitary facilities in the central part of the campsite, including a caravan storage area.

Campsite Bohinj accepts the Avtokampi Camping Card, which will make the camping more affordable. The discount is listed at the price list of the campsite, and you can order free camping card HERE
The campsite does not enables reservation and the camping pitches are not arranged in a classic way due to its location. The location above all offers a wonderful camping and outdoor camping experience. New is interesting children's playground arranged in tree tops.
Camp Bohinj is divided into two zones - zone A is intended for guests camping with campers and a caravan, and zone B is intended for tents (the right side of the camp) and is located in the forest. There are several electrical cabinets in Zone A, but only one in Zone B - a longer extension is recommended. Pets are welcome and are staying free of charge at the campsite.
Campsite Bohinj also offers rental of a tent for 2 or 4 people, which does not include a sleeping bag and a pillow.
The new sanitary facility, opened in June 2022, is very nice and includes some larger family toilets, nice showers, a dishwashing room, a laundry room and a caravan storage area. The old sanitary facility near the tent site was partially renovated a few years ago. Free wifi is available throughout the campsite and there is a playground for children.
Campsite by the Lake Bohinj offers everything you need for a pleasant stay in harmony with nature. Within the campsite there is a restaurant where you can buy bread every morning, a boat house with the possibility of renting canoes, kayaks and SUP boards and the possibility of bicycles rental. The camp also has a well-maintained pebble beach, which is suitable for children, and in the surrounding area there are many more suitable places for swimming. The water in Lake Bohinj heats up to 22 ⁰C in the summer.

Camping Bohinj is an ideal starting point for hiking, visiting the Savica Waterfall, boating, fishing, kayaking, swimming and other sports and non-sport activities. The campsite also has the final stop of a tourist boat that travels around the lake. During the season they organize morning workouts.
A shop and several bistors and bars are located in Ribcev Laz (4.5 km away), while in Bohinjska Bistrica (9 km away) you can also find a modern water park with swimming pools and wellness.

Features and equipment
Type of the campsite
Pitch features
Non-parcelled camping plots

Pitches with electricity and water

Pitches with electricity, water and waste water connections
Location
Equipment
Chemical toilet discharge

Children sanitary facilities

Heated sanitary facilities
Offer
Sport
Swimming pool/wellness
Swimming pool with heated water
Dogs
Rental option
Camping pricelist (in EUR) for year 2023
Avtokampi camping card
2023 - 10% discount on camping in case of min. 2 nights
Price for
9.6. - 17.9.
7.4. - 9.6.
17.9. - 5.11.
Person (pitch near lake)
20
15
Person
16,50
13
Children under 7
​​gratis
​​gratis
Children 7 - 14 yrs.
​​12 / 14,50
9,50 / 11
Car on the pitch
​​10
​​5
Electricity
​​4,50
​​4,50
Dog
​​gratis
​​gratis
Internet access - WIFI
​​gratis
​​gratis
Washing machine /Dryer
​​3
​​3
Tent rent for 2 persons
​​10
​​10
Tourist tax
​​1 - 2
​​1 - 2
PDF - Pricelist for year 2023 (20KB)
Reservations are not possible! Arrivals are available throughout the day, departures between 7 - 12. Late check-out is also possible at an additional cost - € 10 in season, € 5 out of season.

The price of a person depends on the location of the pitch, the higher the price for the pitchec near the lake. The price for the car is valid only if the vehicle is parked on the pitch.
Surcharge in case of one person in the trailer is 10 or 15 € in the main season per day, surcharge for empty tent (in case of going to the mountains) in season 10 €

Contact
GPS: 46.279147,13.836237
Address: Ukanc 5, 4265 Bohinjsko jezero, Slovenija
Reception:

+386 5 992 36 48
Rating and reviews
Reviews:
Published on day from anonymous

Category

Tent

Company

Family with small children

Top lokacija ter ponudba. ​​

Published on day from anonymous

Category

Camper

Company

Family with small children

Ne razumem slabe ocene. Verjetno je v sezoni res gneča ampak saj kje pa ni? Cena parkirnine (Občina) pove kako zelo želijo omejiti dostop z avti pa še vseeno ne zaleže niti izven sezone.

Kampiranje v triglavskem narodnem parku tik ob jezeru, z novejšimi igrali za otroke, 300m stran od žičnice za Vogel. Elektrika, pri kateri ne meče ven varovalke z vsaj 20imi priključki na omarico. Prijazno osebje. Sanitarije so bile odprte le unisex kar je mogoče za nekatere minus ampak na splošno kamp urejen, čist. Brez pripomb!​​

Published on day from anonymous

Category

Tent

Company

Family with small children

No pa dajmo.

V tem kampu sem bil nazadnje pred 25 leti.
Letos smo rekli, pejmo pogledat kako je in mogoče bomo drugo leto šli na počitnice v Bohinj.

Sama pot do Bohinja v Avgustu je PEKEL.
Eno uro smo potrebovali, da smo se prebili čez Bled, nato še dodatno uro, da smo se prebili čez Bohinj. Totalni KAOS ... cesta ista že 50 let, važno jim je samo kasiranje parkirnine.

Ko se končno prebijemo do kampa je bilo treba najprej najdit parkirni prostor. Spet KAOS. Divje parkirišče, označeno ničesar ... folk eden čez drugega, redarja nikjer. Ko končno najdemo park plac se odpravim do parkiromata. Ze prej sem pogledal na spletni strani ... piše 1.5 EUR na uro. Ok ni panike ... nisem škrt.
Ja pa ja ... 3 EUR je ura ... s tem, da tudi na parkiromatu piše 1.5 EUR ura. Tujci zbegani .. vsi mečejo not 1.5 EUR in čakajo listek. Tipično Gorenjsko - PODEN.
Redarji pa pijejo pivičko pri neki improvizirani brunarici na parkirišču in vse kar počnejo je pišejo listke.

OK ... pridemo do kampa. Vse isto kot pred 25 leti. Ghetto.
Naredimo krog po kampu ... katastrofa. Pa to je kot kamp za begunce. Naj mi še nekdo reče, da nas Hrvati ropajo ... se spomnite, da je bil Bohinj na monopoliju najbolj prestižna lokacija? Pa to je treba premaknat na drug konc ... tam kjer je bila "Ada Ciganlija" al pa še bol na začetk. Sramota Gorenjci ... res lokacijo mate lepo ampak veste, je treba tudi kaj investirat in ne sam kasirat.
Uredite kamp in plažo ... pol se pa pejte turizem ... golazen.

Mene ne vidte nikoli in nikdar več. Najraj bi vam iz principa dau 1 ... pa vam ne bom, ker lokacija je res ok.​​

Published on day from anonymous

Category

Camper

Company

In couple

Katastrofa totalni kaos en na drugem omarice nedosegljive če nimaš 50m kabla .Za avtodome malo prostora .Ćehi kampirajo zastonj ker sploh ni nadzora prides in greš kadar hočes vse odprto .Ne pridem dokler ne naredijo parcele malo zravnajo in naredijo ograjo okol​​

Published on day from anonymous

Category

Other

Company

In couple

Dober kamp, zelo zadovoljen.​​

Published on day from anonymous

Category

Other

Company

With friends

Glede na to ,da smo bili odrasli v kampu,me je ful zmotil sanitarij,saj ni dovolj cist,posebej zaradi manjsih otrok,vsa vrata wc so cele noci ropotale saj nimajo nicesar ,da bi se lahko pocasi zapirale ali pa kaksno oblogo,da zmanjsa hrup,tako da vse noci nisi mogel zaspati.Tudi trgovine ni,kar ni v redu,saj se mores peljat ven iz kampa.Da ne bom veliko nastevala mislim ,da bi morali kar veliko postoriti,da bi kamp res izgledal kot treba.Lep p.​​

Published on day from anonymous

Category

Other

Company

With friends

Vse kar ta kamp ima je visoka cena in lokacija. Cena kampiranja čez vikend za 4 osebe je primerljiva s ceno najema apartmaja v toplicah s kartami za bazene. Ker smo bili čisto na koncu cone B smo do sanitarij porabili skoraj 5 minut hoje. Le te so bile vedno umazane, papir je bil samo na tleh, na WCjih ga ni bilo. Pivo v restavraciji dražje kot na Voglu. Izposoja športne opreme za na jezero je sicer delovala in gospa je bila prijazna, le vsa oprema je bila vedno "izposojena". Za to ceno in s tako ponudbo nas sigurno ne vidijo več. ​​

Published on day from anonymous

Category

Other

Company

In couple

Kaj naj rečem. Kamp je bil avgusta nabito poln, čeprav je prostora za šotore še bilo. Na recepciji ti povedo lahko samo, da se mogoče jutri najde prostor, ali pa tudi ne, torej čisto nič konkretnega in greš tja v bistvu na blef in upaš da boš ob pravi uri tam. Pravijo da so že presegli kpaciteto ljudi. Kakšna je njihova kapaciteta ne vem, čudi me da prostor je še, not spuščajo pa ne. Torej to kapaciteto določa nekaj drugega in ne sam prostor. Glede na to kako zaželjena lokacija je, verjamem da bi se dalo še marsikaj narediti. Pize v lokalu so pa dobre. ​​

Published on day from anonymous

Category

Other

Company

Other

z možem sva šla jest v gostilno ki je v kampu in moram reč,da je prav prijetno in tudi dobro,pa tudi osebje prijzno in ustrežljivo ni kaj še prideva,​​