add to favorite Look map of the campsite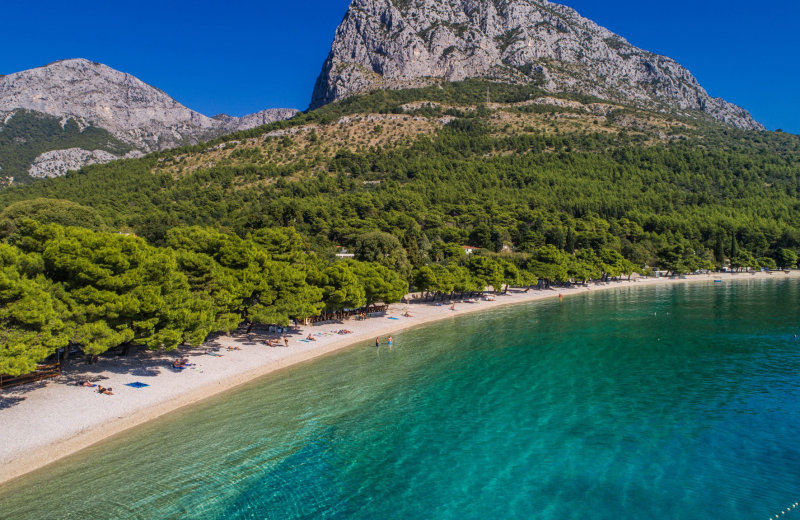 Information
Basic information
Camping Viter is located in town Zaostrog on the southern part of middle Dalmatia. You will find it 4km southern of town Drvenik and 30km southern of town Makarska. Camp is partly grown with olive trees and laurel trees which give also some shadow. Beach and camp are divided only by local road.

Campsite accepts the Avtokampi.si Camping Card, which will make the camping more affordable. The discount is listed at the price list of the campsite, and you can order free camping card HERE
Pitches are arranged on a meadow, shaded by olive trees, offering electricity connection. Wireless internet is free of charge.

Sanitary building is one, but tidy, with chem-toilet and service station for campers.

Sanitary facilities in camping are renovated. There is also laundry with washing and drying machine, chem toilet and camper supply station.

Not far from the camp you will easily find good restaurants, post office, exchange office, pharmacy, medical service as well as smaller port for boats.

Dive centre is working in town Zaostrog, but divers can be picked up in the camp as well.
Features and equipment
Type of the campsite
Pitch features
Non-parcelled camping plots

Pitches with electricity and water

Pitches with electricity, water and waste water connections
Location
Equipment
Chemical toilet discharge

Children sanitary facilities

Heated sanitary facilities
Offer
Sport
Swimming pool/wellness
Swimming pool with heated water
Dogs
Rental option
Camping pricelist (in EUR) for year 2023
Avtokampi camping card
2023 - 15% discount on camping from 1.4. - 1.6. & 21.9. - 31.10. Discount not valid on pitches in the first row!
Price for
10.7. - 1.9.
1.7 - 10.7.
1.6. - 1.7.
1.9. - 21.9.
1.4. - 1.6.
21.9. - 31.10.
Person
​​9
​​8,20
​​7,50
​​5,50
Children 3 - 12 yrs.
​​6,20
​​5,50
​​4,80
​​2,80
Pitch by the sea (electricity)
35,50
32
25,80
19
Pitch with electricity
25
21
17,40
13,80
Pitch (car+tent + electricity)
10,30*
8,30*
6,80*
4,10*
Addit. car
4,70
4
3,30
2,70
Addit. motorcycle
4
3,30
2,70
2
Dog
6,50
5,50
4,50
3,50
Boat trailer
4,10
4,10
4,10
4,10
Internet access - WIFI
​​gratis
​​gratis
​​gratis
​​gratis
Washing machine /Dryer
​​6,20 / 4,10
​​6,20 / 4,10
​​6,20 / 4,10
​​6,20 / 4,10
Check-in
​​1
​​1
​​1
​​1
Tourist tax
​​1,10
​​1,10
​​1,10
​​1,10
Reservation of the pitch
​​30
​​30
​​30
​​30
PDF - Pricelist for year 2023 (20KB)
* applies to a pitch for a smaller tent for 2 people
Pricelist for yearly rental (in EUR) for year 2023
| Price for | 1.5. - 30.9. |
| --- | --- |
| Yearly rental of camping pitch | ​​3.500 |
| Check-in | ​​1,50 |
| Tourist tax | 1,10 |
Contact
GPS: 43.139500,17.280800
Address: A.K. Miošića 1, 21334 Zaostrog - Drvenik, Hrvaška
Reception:

+385 21 629 190

Reservation:

+385 98 704 018
Rating and reviews
Reviews:
Published on day from anonymous

Category

Tent

Company

In couple

Odličen, miren kamp. Prijazno, ustrežljivo osebje. Odlična plaža za majhne otroke.Veliko možnosti za rekreacijo (kolo, tek, pohodništvo, vodne aktivnosto) Avta praktično ne potrebuješ, ker je vse na dosegu roke.​​

Published on day from anonymous

Category

Camper

Company

Family with small children

Kamp s super lego, veliko sence na plaži, malo manj v kampu (oljke ne nudijo ravno dobro senco), ampak se da najti tudi takšno, kjer je kakšno veliko drevo. Na recepciji prijazni. Sanitarije obnovljene, čistoča top. Kamp se nahaja ob ulici, ki se zvečer spremeni v promenado. Restavracije v bližini ponujajo raznovrstno in kakovostno hrano. Nam je bilo zelo všeč in se zagotovo še vrnemo. ​​

Published on day from anonymous

Category

Tent

Company

In couple

Kamp je na lepi lokaciji, ne prevelik, od plaze ga loci lokalna cesta. Sanitarije so ciste, urejene, tople vode ne zmanjka, plaza je lepa, sencnata, edino v glavni sezoni kar guzva na plazi. Je kar miren kamp, v lepem manjsem kraju, kjer pa ne manjka niti lokalov in gostilen z dobro hrano. Iz kampa je super pot ob morju za kolesarit do Gradca in Drvenika. Jamp je tudi dobro izhodisce za obisk Biokovega. ​​

Published on day from gaspervodenik

Category

Camper

Company

Family with small children

Zelo lep, urejen in miren kamp. Sanitarije zelo urejene, letos zaradi korone, razkužilo na vsakem vhodu. Zelo priporočam.​​

Published on day from dejanfabjan72

Category

Caravan

Company

In couple

Lega kampa odlicna za enodnevne izlete.
Zraven kampa je nekaksen hostel kjer so en teden vse dneve kricali otroci na dopustu.Naslednji teden so bili v tem hostlu domacini Slavonci,vsak vecer pijani urlali svoje pijesme.Za namecek pa so en vecer na parkingu zraven hostla postavili se cirkus.
Nobenega miru in se manj prostora na plazi pred kampom.Plaza je dobesedno 100% nabito polna.
Cena kampa za avto in prikolico ter bojo za mali gumenjak 48 eur v drugi vrsti .Na parceli ni vode in odtoka kar bi za taksno ceno pricakoval.

​​​​

Published on day from OBISKOVALEC

Category

Camper

Company

Family with teenager

Prijazni lastniki, fajn kamp za ta del Dalmacije...​​

Published on day from anonymous

Category

Caravan

Company

Family with teenager

Super lega, še vedno natur kamp, manjši, brez mobilnih hišic in bazenov, ki kamp spremenijo v nek "modern" razparceliran kamp. Priporocam, še se vrnemo!​​

Published on day from anonymous

Category

Other

Company

In couple

Vsako leto se vrnem za par dni v ta kamp in upam da sem bil zadnjič. Cene so dvignal v nebo, trgovine so bile za prvomajske praznike zaprte, osebje arogantno razen Čipija ki je vedno nasmejan. Letos Avgusta me tam sigurno ne vidijo..​​

Published on day from anonymous

Category

Camper

Company

In couple

Tu kampiram že tretje leto zapored. Praktično nimam pripomb vendar me moti da se v treh letih ni spremenilo prektično nič. Nekaj so delali okoli parceliranja in letos opazim razliko v wcju kjer se luč prižiga in ugaša sama. Kot zanimivost vi povdaril še to da kljub rezervaciji parcele na začetku leta moram kompletno kampnino za 14 dni plačati prvi dan ko pridem v kamp. Po pogovoru z nemcem ki je prav tako rezerviral prvo vrsto kot jaz mu plačilo ni potrebno. Kljub vsemu se še vedno rad vrnem v kamp ker so po večini gosti isti kot prejšnja leta in se med sabo že poznamo​​

Published on day from toncika

Category

Tent

Company

Family with small children

Kamp je odlično urejen. Najdejo se senčne in sončne parcele. V času našega dopustovanje je bilo veliko avtodomov. Sanitarije so čiste, imajo tudi previjalno mizo za dojenčke. Plaža je primerna za majhne otroke (kamenčki). Dopustovali so 14 dni in kamp se je praznil in polnil. ​​