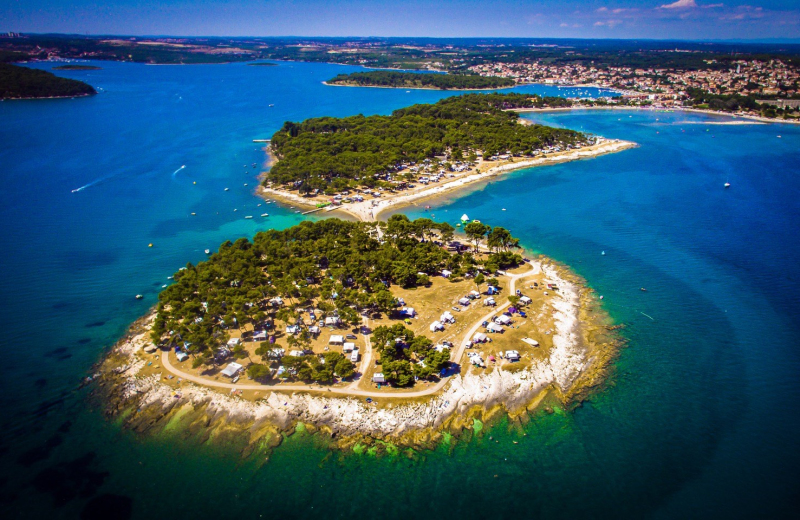 Information
Basic information
Camping Arena Medulin is located on the southern tip of Istrian, on the edge of town with the same name. This is around 10km south from tourist and historical centre Pula. Medulin can host up to 3.300 people at once and offer well shaded pitches, it is bit more sunny on the peninsula at the end of the camp. Beach is diverse, from sandy to pebbled and stoned.
Campsite accepts the Avtokampi Camping Card, which will make camping holidays more affordable. Order for free and get camping card by email.
Camping Arena Medulin offers 950 arranged camping pitches and 120 mobile homes. Pitches have access to electricity, most of them are well shaded. Some pitches are arranged on soft grass and mostly suitable for guests with tents.
Sanitary facilities are well arranged - some sanitary buildings have been recently renovated - and offer chem wc, laundry (washing and drying machine), place for ironing, emptying place for grey waters from campers.
Beaches and showers have been arranged for dogs as well. Access to wireless and free of charge internet is accessible on majority of camp's surface.
Campsite Arena Medulin has shop, some restaurants and bars, volleyball courts, slides for children's and scuba diving centre. Just near by is larger sport centre with tennis, volleyball, basketball and football courts as well as surfing school. Additional meeting place for kids animation was arranged.

Features and equipment
Type of the campsite
Pitch features
Non-parcelled camping plots

Pitches with electricity and water

Pitches with electricity, water and waste water connections
Location
Equipment
Chemical toilet discharge

Children sanitary facilities

Heated sanitary facilities
Offer
Sport
Swimming pool/wellness
Swimming pool with heated water
Dogs
Rental option
Camping pricelist (in EUR) for year 2023
Pricelist for yearly rental (in EUR) for year 2023
| Price for | 6.4. - 8.10. |
| --- | --- |
| Yearly pitch renalt by the sea (electricity) | 5.000 |
| Yearly pitch rental with electricity | ​​3.900 |
| Yearly rental of economic pitch with electricity | 3.000 |
| Boat trailer | ​​200 |
| Dog | 200 |
PDF - Pricelist for year 2023 (17KB)
The flat rate is valid for 5 people.

For cash payments until 31.3. allow 10% discount.

Contact
GPS: 44.814300,13.932200
Address: Osipovica 30, 52203 Medulin, Hrvaška
Reception:

+385 52 572 801
Mobile Homes
Mobile homes description
Rental of mobile homes in Camping Arena Medulin - campsite is offering rental of mobile homes (120 to be precise) that are set in central part of the camp, which is between 50 and 150 meters from the beach.

It is possible to rent mobile homes that are 24m2 large and can host up to 4+1 people. They have two bedrooms - one with king size bed and one with separated single beds. Living rooms with kitchen have additional bed for 1 person, each mobile home has bathroom and terrace. G
uests in mobile homes can enjoy free WiFi, while air-conditioning is available with extra payment. Dogs are allowed with supplement payment.
Mobile homes information
Number of persons in mobile homes
Mobile homes for 4 - 6 persons

Mobile homes for 2 - 3 persons

Mobile homes for 6+ persons
Mobile homes
Dogs allowed in mobile homes

Mobile homes for handicapped

Mobile homes with 3 bedrooms
Pricelist for mobile homes (in EUR) for year 2023
Rating and reviews
Reviews:
Published on day from Jernej.Jezernik544

Category

Caravan

Company

In couple

Odlično izkoriščem dopust. Cene sicer navite (kje pa niso) ????. Kelnarji v restavracijah znotraj kampa zelo prijazni. Moram pa zelo pohvaliti čistočo na wc/tuših. Čistilke so cel dan aktivne in "pucajo" za nami kolikor le lahko. Trgovina v kampu je pa za bogataše ????. ​​

Published on day from Aleksandra@

Category

Tent

Company

Family with small children

Kamp ima lepo in raznovrstno plažo za otroke (mivka, skale, kamenčki..) ter pestro animacijo za otroke pozno popoldne oz. zvečer. Zelo moti pa zelo, zelo glasna glasba iz lokalov zunaj kampa, ker pa so obrnjeni proti kampu, se sliši kot da so v kampu in to do 4 ure zjutraj!!! To ne gre skupaj z oznako da so "družinski kamp"​​

Published on day from anonymous

Category

Tent

Company

Family with small children

Čudovit kamp za kampiranje z majhnimi otroki. ​​

Published on day from anonymous

Category

Camper

Company

In couple

Lep kamp , primeren za družine z majhnimi otroki . ​​

Published on day from anonymous

Category

Tent

Company

Family with teenager

Kamp ki si visoko oceno zasluži predvsem zaradi visokih borovcev, ki dajejo odlično senco tako na parcelah, kot ob obali. Uslužbenci na recepciji so izredno neprijazni (delajo cele dneve), zato ne čudi, če so proti večeru povsem brez energije. Čeprav so čistilke delale vseskozi, je v toaletah redno primanjkovalo papirja (dokler kamp ni bil povsem poln ni bilo težav). V enajstih dveh je bila le ena čistilka stalna, ena je prišla na novo, dve pa sta bili tujki.... ​​

Published on day from anonymous

Category

Camper

Company

In couple

Ta kamp je res pod nivojem. Ne vem, kako je lahko nekdo dal oceno 8.. v bistvu je sramota od kampa. Celi kamp smrdi po pasjem urinu, povsod ležijo smeti in vse je umazano. Tuši so katastrofa, zmanjkuje tople vode... wc smrdi po kanalizaciji. Ogromno je psov, tako da imaš občutek da je bolj kamp za pse kot za ljudi. Psi se lahko svobodno kopajo povsod kjer je plaža. Nikoli se več ne vrnem v kamp, ker sva bila res šokirana.​​

Published on day from anonymous

Category

Caravan

Company

Family with small children

Zelo smo bili razočarani nad kampom. Vsak večer (okrog pol 8) je bila voda za tuširanje ledeno mrzla, otroka, starega dve leti smo zato umivali v posodi zunaj prikolice. Tuši so bili umazani, prav tako wc-ji. Povsod so ležale smeti. Plaža Bjeca umazana, voda je bila zvečer rdeče barve in penila se je. V bistvu ni bilo plaže, kjer bi se lahko kopali. Lepa voda je bila le na otoku, ampak vsak dan nismo mogli hoditi 1,5 km do plaže z majhnima otrokoma. Ta kamp je res katastrofa od kampa. Šokirani smo bili nad umazanijo in neurejenostjo. ​​

Published on day from anonymous

Category

Caravan

Company

In couple

Kamp je lep, velike parcele, sence dovolj, sanitarije urejene. Priporočam... ​​

Published on day from anonymous

Category

Tent

Company

Family with teenager

Kamp je na super lokaciji (narava), ampak dokaj neurejen in brez nadzora. Psi (čeprav nimam nič proti živalim) so vsepovsod in ker ni nadzora lulajo in kakajo, kjer jim paše (tudi na plaži). Tudi pod tušem srečaš psa in lastnika kako se veselo tuširata.
WC ji so zelo neurejeni (plesen in ... na pisoarjih).
Glede na ceno bi pričakoval bistveno višjo raven usluge.​​

Published on day from anonymous

Category

Caravan

Company

Family with teenager

V ta kamp se vračamo že vrsto let, letos pa prijetno presenečeni, saj je bil v kampu in okolici vsak večer po 24.00 uri mir.
Je pa bila za čiščenje sanitarij najbližjih recepciji (kjer je vstop mogoč z zapestnico) zadolžena čistilka, ki je neprestano ogovarjala goste, kar je postalo moteče. Ko si ji prijazno odgovoril oz. jo pozdravil, je odšla za tabo v WC ali tuš, kjer te je čakala pred vrati in se želela pogovarjati tudi ko si opravljal potrebo v sanitarijah. Ko je s tabo navezala kontakt pa je izkazala svoj namen prijaznosti: želela, da bi ji dal 5 ali 10 EUR, lahko tudi 20. Zaradi teh svojih dejavnosti čistilka ni opravljala svojega dela in sanitarije niso bile urejene kot pretekla leta, saj je WCje in tuše samo splahnila s curkom vode iz cevi, za brisanje pa ji je seveda zmanjkalo časa, en dan je tudi zmanjkalo papirja v skoraj vseh WCjih, česar v tem kampu še nismo doživeli - seveda je bila čistilka zatopljena v svoje pogovore z gosti. Težavo smo rešili tako, da smo uporabljali druge sanitarije, ki so bile od naše parcele bolj oddaljene, je pa tam čistilka spoštovala zasebnost.
Na recepciji so povedali, da poznajo problem, zato upamo, da bomo ob naslednjem obisku lahko v miru opravljali potrebe v sanitarijah.
Drugače pa super kot vedno.​​