add to favorite Look map of the campsite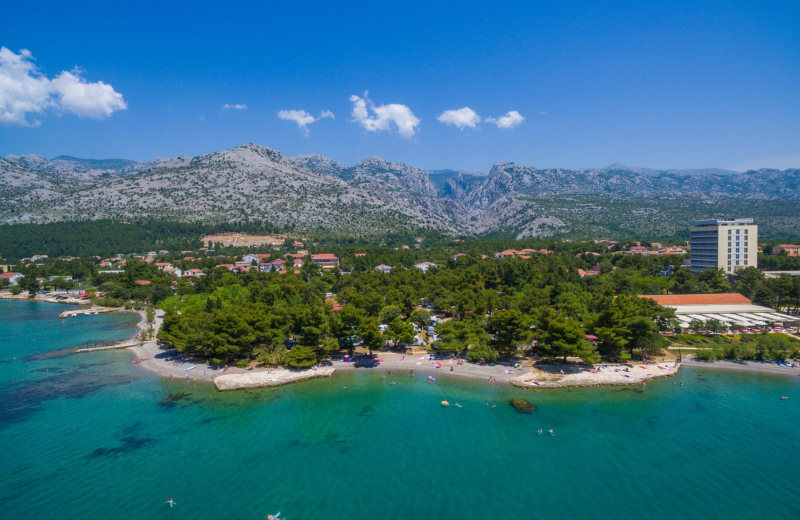 Information
Basic information
Camping Paklenica is situated at the edge of town Starigrad, directly under Velebit and in the immediate vicinity of National Park Paklenica (2 km). It is 10 km from the Zagreb - Zadar motorway and the Maslenica exit.
The location is interesting for active holidays, as you can enjoy the seaside, but at the same time you are close to the mountains, so you can go on hiking trips or climbing. Paklenica is known for its many pure rock climbing walls, and the campsite is right next to the sea and a pebbly beach. The pitches are shaded by pine trees and the centre of Starigrad is a 5-minute walk away.
Camping Paklenica offers 100 pitches with electricity and water, plus 70 pitches on unpaved land, and 70 mobile homes for 4 or 6 people. In total, the campsite can accommodate around 800 guests.
The campsite has two sanitary facilities, a caravan storage area, laundry facilities and a shop nearby. There is also a restaurant, a pizzeria, a café, a newsagent and an electric vehicle charging point.
Guests can enjoy the pebbly beaches or climb the nearby mountain peaks. Dogs are allowed on the campsite's beach, but are not allowed to swim. This is possible at the dog beach 10 minutes' walk from the campsite.
We recommend Camping Paklenica to all lovers of active holidays, as Paklenica offers many activities for its guests (Nordic walking, excursions in the surroundings, cycling, hiking, rafting on the Zrmanja river, etc.). Among the sports facilities, the campsite has a beach volleyball court and a table tennis court.
We also recommend visiting Kulina Beach on the south side of the campsite, which can be reached by bike or on foot. It is a pebble beach with a medieval tower dating from the 16th century.


Features and equipment
Type of the campsite
Pitch features
Non-parcelled camping plots

Pitches with electricity and water

Pitches with electricity, water and waste water connections
Location
Equipment
Chemical toilet discharge

Children sanitary facilities

Heated sanitary facilities
Offer
Sport
Swimming pool/wellness
Swimming pool with heated water
Dogs
Rental option
Contact
GPS: 44.28717,15.44717
Address: Dr. Franje Tuđmana 14, 23244 Starigrad, Hrvaška
Reception:

+385 1 3844 288
Mobile Homes
Mobile homes description
Mobile homes for rent in Paklenica - there are several types of mobile homes for 4 in 6 persons, which allow a comfortable stay within the camp.

The mobile homes are located close to the sea. They all have a bedroom, one or two children's rooms, a living room with kitchen, one or two bathrooms and a terrace.
Mobile homes for 4 + 2 persons (30m2) have two bedrooms and two bathrooms, and some mobile homes are also located in the first row by the sea.

The mobile homes for 6 + 2 persons (30m2) are the largest and have three bedrooms (one with double bed, two with twin beds).
Mobile homes information
Number of persons in mobile homes
Mobile homes for 4 - 6 persons

Mobile homes for 6+ persons

Mobile homes for 2 - 3 persons
Mobile homes
Dogs allowed in mobile homes

Mobile homes with 3 bedrooms

Mobile homes for handicapped
Rating and reviews
Reviews:
Published on day from alešborišek

Category

Caravan

Company

Family with teenager

Kamp si sigurno ne zasluži štirih zvezdic in sicer iz razlogov:
- večina parcel je premajhnih kar se gor stlači glede na to da moraš ob rezervaciji navesti dimenzije prikolice in avta potem ne moreš normalno postaviti prikolice ker je pri naši ruda gledala na sosednjo parcelo, avto pa napol na cesti
-v moških sanitarijah v zgornjem delu je večina pip dotrajanih se snemajo ročke, spuščajo cevi in zamašeni odtoki( slabo požirajo), stalno nedelujoči avtomat za paprinate brisače pri umivalnikih, v ženskem pa sploh ni delal
-premalo košev za odpadke po kampu, za pasje iztrebke jih sploh ni glede na to da so psi dobrodošli, pa še kopanje za njih ni dovoljeno lahko je na plaži
-po slikah ki so tule za predstavitev kampa je dejansko stanje malo drugače ker ima kamp iz obeh strani do morja ograjo in posledično neznosno gužvo na plaži ki je za polno nabiti kamp ni niti 200 metrov
- rastavracija v sklopu kampa pa je pohvale vredna imajo dobro hrano, hitro postrežbo in prijazno osebje
Mi se v ta kamp sigurno ne vrnemo več, obiskali smo že dosti drugih kampov ki so slabše ocenjeni ampak so za nas nepredstavljivo boljši​​

Published on day from Tomaž.Krenčnik428

Category

Camper

Company

Alone

Dober kamp z urejenimi sanitarijami. Plaža: kamenčki, beton. Odlična lega za športne aktivnosti v nacionalnem parku Paklenica.​​

Published on day from Pugled

Category

Camper

Company

Family with small children

Super kamp, ki je boljsi kot je bilo sklepati iz ocen. Prijazni in prilagodljivi na recepciji, bazen za otroke, velike parcele z vso opremo. Trgovina pri kmpu, hipermarket 5min pes, np paklenica 2 km stran, super kolesarski podvig na Veliko Rujni. Zelo ugodna cena v sezoni. Priporocam​​

Published on day from natasawm239

Category

Camper

Company

In couple

Ugodno, blizina NP Paklenica​​

Published on day from anonymous

Category

Other

Company

Family with small children

Fajn kamp. Dobili prvo vrsto ob vodi in hkrati v senci. Izredno prijazno osebje. Sanitarije relativno čiste in dobro ohranjene. Cena sprejemljiva.​​

Published on day from apregel

Category

Tent

Company

Family with teenager

Bili smo v mobilni hišici in nimamo pripomb. Kamp je povsem na novo razparceliran, vsaka parcela z elektriko, vodo in odtokom. Ob hotelu urejajo naselje povsem novih mobilnih hišic. Vsa ponudba je od hotela vključnoi z wifi, ki odlično dela v vseh kotičkih kampa. Plaža izgleda zelo dobro, vprašanje pa je kakšna je poleti kaj gneča. Po ceniku so cene za kampiranje res kar navite. Sosednji kamp (bili smo v hišici ob meji) ne izgled dosti slabše, je pa pol cenejši. ​​