add to favorite Look map of the campsite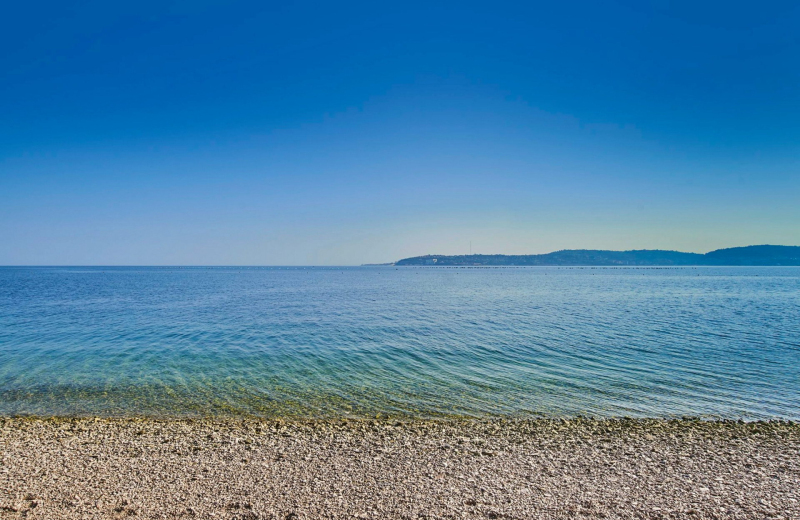 Information
Basic information
Naturist Camping Kanegra - Savudrija is located 10km from Umag in one of the most beautiful bays of the west Istra and has been recently renovated.
Campsite Kanegra is paradise for naturists, as it is dedicated only to them, so it enables the return to the nature and beautiful holidays there. It has all together 193 pitches that are between 60 and 80 m2 large and have connection to electricity, some as well to water. Pitches are pretty sunny and there is not much of the shade on the beach either. Guests can use free WiFi internet in camp.
There are two sanitary facilities that are well arranged and adjusted to kids and disabled. A laundry and shower for dogs are arranged as well.

Beach in Camping Kanegra is mostly pebbled with some stoned parts. Part of the beach is arranged for dogs.

Campsite has rich gastronomic offer with restaurant, pizza place and bars. Sport lovers can enjoy in playing tennis, basketball, mini golf, volleyball just in camp's vicinity or decide to cycle around.

It is as well good taken care for the entertainment: mini club for the youngest in high season (July and August), daily animation, evening programe.
Features and equipment
Type of the campsite
Pitch features
Pitches with electricity and water

Non-parcelled camping plots

Pitches with electricity, water and waste water connections
Location
Equipment
Chemical toilet discharge

Children sanitary facilities

Heated sanitary facilities
Offer
Sport
Swimming pool/wellness
Swimming pool with heated water
Dogs
Rental option
Camping pricelist (in EUR) for year 2023
Pricelist for yearly rental (in EUR) for year 2023
| Price for | 21.4. - 1.10. |
| --- | --- |
| Yearly pitch rental with electricity | 2.950 / 3.550* |
| Dog | 90 |
| Addit. person | 62 |
| Addit. car | 90 |
| Boat trailer | 140 |
PDF - Pricelist for year 2023 (17KB)
*Lump sum price includes 4 people and depends on the location of the pitch. For companies, the flat-rate on a Superior pitch costs 950 € more.
Rating and reviews
Reviews:
Published on day from Gašper

Category

Camper

Company

Family with small children

Prijeten kamp v bližini Slovenije, konec junija že zelo polno. Nova igrala v prvem delu kampa. Restavracija Natura ima po našem mnenju zelo dobro hrano po korektnih cenah. Odlična ribja plošča za 2 osebi, 270 HRK. Prijetno za vikend obisk, je pa generalni problem, ker je potrebno do 12h zapustiti parcelo in če v kamp prideš za vikend, npr. v soboto zjutraj, polovica dneva pomeni 1/4 časa. Tako da smo plačali dve noči in ostali do večera.​​

Published on day from anonymous

Category

Caravan

Company

Family with small children

Vsako leto preživimo z družino glavni dopust v enem od fkk kampov, pa tudi pred in po glavnem dopustu kakšen vikend, takrat se znajde v izboru tudi tekstilni kamp. Tokrat smo zaradi bližine za nekaj dni obiskali najbližji fkk. Kamp je razpotegnjen, del za kampiranje je daleč, čisto na koncu. Sonce dokaj hitro uide za hrib. Plaža, kjer smo bili je nasuta, kot dostop v morje. Nezanimivo. Sanitarije nekaj srednjega, a vse skupaj je zasenčil dogodek, zaradi katerega nas tja več ne bo; ko imajo dame svoje dneve in res ne gre brez spodnjega dela kopalk, takrat na plaži v kampu niso zaželene,.. če se že odločijo, da gredo na plažo se malo pogret na sonce ali pa spremit svojega otroka, pa jih varnostnik , ki se non stop vozi s skuterjem in opreza povsod, prežene. In to kljub temu, da so vsi ostali družinski člani po pravilih fkk-brez kopalk. Niti konkretno pojasnjevanje ne pomaga. Kako se gospa ob tem počuti, ve samo ona, pa tudi otroku ni nič jasno, zakaj mora mami zapustiti plažo. Konkretno je varnostnik gospo napotil iz kampa. Po pojasnjevanju, da pač v tem kampu kampira nekaj dni z družino, je varnostnik zahteval, da se gospa odstrani s plaže in naj čaka tam, kjer kampira. Mislim da opisi občutkov niso potrebni. To pojasni tudi mojo oceno.​​

Published on day from anonymous

Category

Camper

Company

With friends

Super kamp, razen komarjev letos.​​

Published on day from anonymous

Category

Other

Company

Family with small children

Malo otroških igral, vodnih aktivnosti praktično ni, težave z odvajanjem kanalizacije (dnevno pet in več obiskov komunalnega kamijona in črpanje greznic).
Osebje prijazno. Plaža lepa in urejena. Nove zasaditve dreves. Wi-Fi po celotnem kampu.​​

Published on day from anonymous

Category

Caravan

Company

In couple

pasji kamp brez prave kontrole nad psi, ogromno oblečenih ljudi​​

Published on day from anonymous

Category

Other

Company

In couple

Idealen in miren kamp, nobenega drena.​​

Published on day from anonymous

Category

Caravan

Company

Family with teenager

lep kamp. premalo zabave za najstnike , pa tudi za nas ostale​​

Published on day from anonymous

Category

Mobile home

Company

Other

sem zadovoljna v primerjavi z lanskim letom​​

Published on day from anonymous

Category

Other

Company

Other

Za našo družino najboljši kamp.​​

Published on day from anonymous

Category

Caravan

Company

Family with teenager

Lep miren kamp,osebje prijazno sam parcele bi morali malo bolj urediti​​