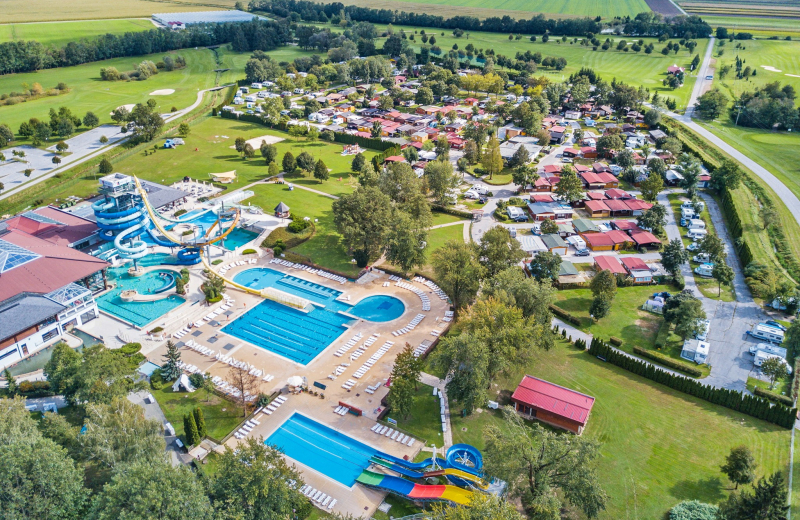 Information
Basic information
Camping Terme 3000 - Moravske Toplice that is operating within complex with oudoor and indoor swimming pools, wellness, hotels and apartment settlement. The campsite has 430 camping places for about 1,200 people.

Campsite accepts the Avtokampi Camping Card, which will make camping holidays more affordable. The discount is listed at the price list of the campsite - order for free and get camping card by email.
Camping Terme 3000 is arranged along the outdoor swimming pool complex with slides. Half of the camp is divided into camping pitches with electricity connection. Some pitches are arranged on grassy, some on concrete grounds. Second half of the camp is occupied by stationary camping guests.
You can choose to camp with or without a swimming, unfortunately the all-inclusive package (camping with half-board and bathing) is no longer available!

Guests of the campsite can use swimming pool and Finnish sauna with jacuzzi in the thermal swimming pool complex Terme 3000. It is composed of 14 indoor and outdoor swimming pools with thermal and regular water, one even has black thermomineral water. Kids will enjoy at jumping tower and adrenaline slides. There ar as well indoor and outdoor pools of hotel Thermal. Entrance to the world of saunas is possible with supplement payment. Thermal swimming pools are opened all year long.
Camping Terme 3000 has two sanitary buildings, places for washing the dishes (with dishwasher) and laundry. Camper supply station is arranged. Closest shop is 400m away, but daily fresh brad is delivered into camp.
Guests can do lost of sports here as well - there are tennis courts (sand and artifical grass), badminton, football, basketball, volleyball, handball and children's playground. Surroundings is great for cycling daily trips as many cycling paths are running close by and are great for family cycling as well. Rental of bikes is possible in hotels. Whole complex of Terms 3000 is encircled with golf court Livada with 18 halls - guests of the camp get special prices for playing.
We advice a visit to workd of saunas and massages or any daily trips that are organized for guests of the complex. Families will have great fun visiting Adventure Park Vulkanija, Bukovnisko lake, tower Viniarium Lendava and centre of town Murska Sobota.

Features and equipment
Type of the campsite
Pitch features
Non-parcelled camping plots

Pitches with electricity and water

Pitches with electricity, water and waste water connections
Location
Equipment
Chemical toilet discharge

Heated sanitary facilities

Children sanitary facilities
Offer
Sport
Swimming pool/wellness
Swimming pool with heated water
Dogs
Rental option
Camping pricelist (in EUR) for year 2023
Avtokampi camping card
2023 - 23 € for 2 persons and max. 3 children incl. 5th year, dog, pitch with elect. during the period: 3.1. - 30.3. & 2.5. - 25.5. & 4.6. - 22.6. & 10.9. – 30.9. & 5.11. - 21.12. Supplement for swimming is 7 € per person / day. Other 10% discount per person.
Price for
31.3. - 4.11.
3.1. - 30.3.
5.11. - 2.1.
Person - without swimming, max. 2 nights
​​16
​​12
Person + bathing ticket
​​23
​​19
Person + bathing ticket - arrival after 6 p.m.
​​18
​​14
Pitch without elect., 2 pers.+ 1child-min.2 nights
​​46**
​​38 **
Pitch with electricity + 2 person, min. 5 days
​​-
​​36 ***
Extended stay+bathing ticket on a day of departure
​​10
​​8
Children 6 - 15 yrs.
​​-30%
​​-30%
Children under 6
​​gratis
​​gratis
Dog
​​3,50
​​3,50
Electricity
​​6
​​6
Tourist tax
​​1
​​1
Check-in
​​1
​​1
PDF - Pricelist for year 2023 (21KB)
* All Inclusive package is no longer available from 19 May 2023
**Family package 2 adults + 1 child up to 12 years old is valid only at certain times and min. stay 2 nights - higher price applies in periods 31.3. - 10.4. & 27.4. - 2.5. & 23.5. - 10.9. & 27.10. - 5.11. and lower price between 3.1. - 8.1. & 28.1. - 26.2.& 22.12. - 2.1. Electricity and additional children are at extra cost.
*** Special offer - 2 adults in low season includes a plot with electricity and bathing cards. Minimum stay is 5 nights, additional discounts are excluded.

The camping price includes:
-space for the installation of a tent or trailer or motorhome and a car park,
- unlimited entry (with a two-hour delay between admissions) to the Hotel Termal outdoor and indoor pools and the Terme 3000 swimming pool complex (14 outdoor and indoor swimming pools).
-bath and bathing on the day of departure until 12 o'clock; in the case of a prolongation of stay on the day of departure, it is paid according to the price list
Discounts:
- Avtokampi camping card 10%,

- stay over 7 days 5%, stay over 14 days 10%

Contact
GPS: 46.678600,16.221764
Address: Kranjčeva 12, 9226 Moravske Toplice, Slovenija
Reception:

+386 2 512 12 00
Glamping
Glamping description
Within Terme 3000 you can sleep in interesting and modernly decorated glamping houses with a straw roof - Prekmurje village Ajda.

These are two types of houses - apartments (4 + 1 person) or depandance (3 + 1 person) with half board in the hotel. In the first there is a fully equipped kitchen, while in others there is only a kitchenette for preparing hot drinks. The houses have wifi, satellite TV, a bathroom, air conditioning and an outdoor terrace. Guests at the cottages are at the thermal baths of Term 3000 and the Termal Hotel also have swimming pools and saunas at the Ajda Hotel.

Information about glamping
Glamping type
Number of persons in glamping
Glamping huts for 4 - 6 persons

Glamping hut for 2 - 3 persons

Glamping huts for 6+ persons

Glamping tents for 2 - 3 persons

Glamping tents for 4 - 6 persons

Glamping tents for 6+ persons
Location and features of glamping
Bathroom in accommodation
Pricelist for glamping (in EUR) for year 2023
The price of renting glamping houses Prekmurska vas Ajda is provided in the reservation system on the Term 3000 website - www.sava-hotels-resorts.com

Rating and reviews
Reviews:
Published on day from anonymous

Category

Caravan

Company

Family with small children

Za ta čas je bilo super in bili tudi prvič v tem kampu.bazeni super za otroke super tudi animacija je bila super razen sanitarje bi bile za obnovitev drugače lepo​​

Published on day from anonymous

Category

Camper

Company

Family with teenager

Published on day from gorazd.mavretic992

Category

Caravan

Company

In couple

Zelo dobra ponudba Allinclusive - kampiranje, kopanje + PP v hotelu.​​

Published on day from anonymous

Category

Camper

Company

Family with teenager

Super kamp.Vedno se vračam.​​

Published on day from matic.leonrs728

Category

Camper

Company

Family with small children

Zelo zadovoljn za otroke super ni jim dolgcas niti na bazenih niti v kampu.
Lepo jim je vzet kolo,skiro,rolerje,rolko po zmoznosti prevoza imajo pa udi najem koles ​​

Published on day from anonymous

Category

Caravan

Company

In couple

Vedno znova in znova razočarana. Kot leta 1974. ​​

Published on day from damo1023

Category

Caravan

Company

Family with teenager

Super kamp, zelo mirno, osebje prijazno, bazeni in sanitarije zelo čisti, vsaj kaka 2 razreda nad npr. Čatežkimi toplicami. Določenim objektom se vidi, da kličejo po prenovi, vendar vse ob svojem času. Zagotovo še pridemo!​​

Published on day from anonymous

Category

Camper

Company

In couple