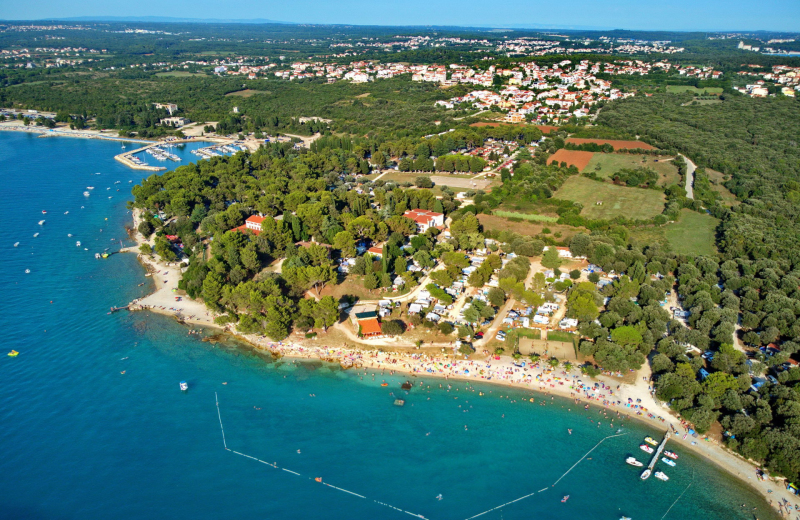 Information
Basic information
Camping Brioni - Puntizela is located between cities Fazana and Pula, approximately 6km before Pula. Campsite is opened from April to the beginning of October.
Campsite accepts the Avtokampi Camping Card, which will make the camping more affordable. The discount is listed at the price list of the campsite - order for free and get camping card by email.

In Camping Brioni it is possible to camp on arranged camping pitches, rent a mobile homes or stay in hostel - all together 1200 guests can stay in Brioni at once.
The whole camp is arranged in pitches, divided in different categories (first row by the sea, pitch with electricity and water, space for tent). Camp is better shaded by the pine trees on pitches close to the sea, while the back part of the campsite is shaded by olive trees.
Camp has three renovated sanitary buildings, out of which one is adjusted to the height of children and disabled guests. One sanitary facilities are heated. Supply station for campers is arranged, chemic toilet as well along with showers for dogs and laundry service.
Beach in the camp is long 1,5km and mostly sandy, some parts are stoned and concrete. Along the beach you can find enough shade also during the day to avoid the sun and at the same time enjoy swimming and have great view across Brioni islands; there are also showers on the beach.
Hostel at camping Brioni has three pavilions with rooms for 2, 3, 6, 8 and 12 people.
In the camp they have all needed facilities: renovated shop, fruit stand, bakery, newspaper stand, restaurant, beach bar and sports centre with possibility of playing volleyball, basketball, football, surf school and dive centre. In camp you can also rent a boat or canoe. Close by the camp you will also find many marked cycling paths that will lead you to the inland of Istria. Many information and maps are available at the reception. Free wireless internet is accessible across the camp as well as common grills.

Features and equipment
Type of the campsite
Pitch features
Non-parcelled camping plots

Pitches with electricity and water

Pitches with electricity, water and waste water connections
Location
Equipment
Chemical toilet discharge

Heated sanitary facilities

Children sanitary facilities
Offer
Sport
Swimming pool/wellness
Swimming pool with heated water
Dogs
Rental option
Camping pricelist (in EUR) for year 2023
Avtokampi camping card
2023 - 7.5% discount for camping on all pitch types in the periods 27.4. - 29.6. & 20.8. - 30.9. and 5% discount in the period 30.6. - 19.8. No discount on unplotted pitches.
Price for
30.6. - 19.8.
16.6. - 29.6.
20.8. - 9.9.
26.5. - 15.6.
10.9. - 16.9.
17.5. - 25.5.
17.9. - 23.9.
5.5. - 16.5.
27.4. - 4.5.
24.9. - 30.9.
Person
​​8,70
8
7,30
6,60
5,40
5,20
5
Children 4 - 12 yrs.
​​3,90
​​3,20
​​gratis
​​gratis
​​gratis
​​​​gratis
​​​​gratis
Pitch by the sea (electricity, water)
39
36
33
29
24
22
20
Pitch (electricity, water)
26 / 31*
24 / 29*
22 / 27*
20 / 23*
17 / 20*
15 / 17*
14 / 16*
Pitch with electricity
20
19
18
16
14
12
10
Non-parceled camping unit without elect.
12
11,50
11
10
9
8
7
Dog
​​3
​​2,50
​​2,20
​​2,20
​​2,20
2,20
2,20
Tourist tax
​​1,30
​​1,30
​​1,30
​​1,30
​​1,30
​​1,30​​
​​​​1,30
PDF - Pricelist for year 2023 (19KB)
* Price depends on location - more expensive are closer to the sea.


Pricelist for yearly rental (in EUR) for year 2023
| Price for | 1.5. - 30.9. |
| --- | --- |
| Yearly pitch rental by the sea (electricity, water) | ​​4.910 |
| Yearly pitch rental with electricity, water | ​​3.460 - 4.055 |
| Yearly pitch rental with electricity | ​​2.855 |
| Dog | ​​270 |
| Boat trailer | ​​270 |
| Tourist tax | ​​1,30 |
PDF - Pricelist for year 2023 (17KB)
The flat rate applies to 4 people (including children over four years of age). In addition, extra persons, a dog, a boat and an extra vehicle are charged.

Contact
GPS: 44.898197,13.808600
Address: Puntižela 155, 52100 Pula, Hrvaška
Reception:

+385 52 517 490
Mobile Homes
Mobile homes description
Rental of mobile homes at camping Brioni - in camping Brioni you can choose between two types of mobile homes.

Mobile homes Superior (they have 50 of them) are 32m2 large and are set close to the sea and pebbled beach. They have two bedrooms, two bathrooms, living room with kitchen and terrace. It can host up t o 4 adults + 2 kids.

A bit smaller ones are mobile homes Comfort (24m2) that are appropriate for 4+1 persons. Besides two bedrooms, they have bathroom, living room with kitchen and terrace. All mobile homes in camping Brioni have air-conditioning and in all dogs are welcome (with supplement payment).

Two mobile homes, located in the back of the campsite are adapted for disabled people. These are mobile homes (32m2) for 2 adults + 2 children. The mobile homes has a customized entrance with a ramp, there is also a kitchen, bathroom and two bedrooms.

Mobile homes information
Number of persons in mobile homes
Mobile homes for 4 - 6 persons

Mobile homes for 2 - 3 persons

Mobile homes for 6+ persons
Mobile homes
Dogs allowed in mobile homes

Mobile homes for handicapped

Mobile homes with 3 bedrooms
Pricelist for mobile homes (in EUR) for year 2023
Rating and reviews
Reviews:
Published on day from Keva4165

Category

Camper

Company

In couple

Je lepo urejen kamp s solidno senco in nočnim mirom. Stranišča so nova in čista, tudi plaža je super, je raznolika. Zmotila me je edino počasnost osebja na recepciji, tako pri checkinu kot checkoutu. Čeprav sma bila druga na vrsti sma čakala več kot pol ure, da so gostje pred nama uredili rezervacijo. Je sicer precej drag.​​ Je tudi precej oddaljen od večjih gostiln, trgovin in mesta.​​

Published on day from anonymous

Category

Mobile home

Company

In couple

Povprečna ocena dokaj visoka, se jo pa lahko še izboljša: internet je nujen (lahko bi bil plačljiv), manj zunanjih gostov na plaži (sicer se je to izboljsalo), prijava preko interneta(to bi pospešilo delo na racepciji),...​​

Published on day from anonymous

Category

Caravan

Company

In couple

Published on day from anonymous

Category

Caravan

Company

Family with small children

Kamp je majhen, voda čista razen enkrat je prineslo svinarijo rjave cvetoče alge, ni guzve...moti me edino oddaljenost iz mesta za prehodit kr precej km pa urejenost kampa bi bila lahko boljša, sanitarije ok...priporocam za miren dopust​​

Published on day from anonymous

Category

Tent

Company

Family with small children

Kamp se nahaja nasproti nacionalnega parka Brioni. Večji del kampa je v senci visokih borovcev, del pa v manj senčnem delu pod oljkami.
Pogrešali smo kakšen sanitarni blok več in koše za smeti.
Najbolj moteče pa je, da se hodijo v kamp kopat okoliški prebivalci in turisti nastanjeni drugje. Vsi ti obiskovalci (katerih je več, kot gostov kampa) vstopajo v kamp mimo recepcije, brez vstopnine oz. česarkoli, se mirno sprehajajo med šotori, do plaže. Priporočam, da stvari, ki jih imate pred šotori, pospravite ali zaklenete v avto.
En del plaže je "istrski", kamni, drug del je lepši, z manjšimi kamenčki, kjer pa je precejšnja gneča.
V kampu ni animacij za otroke in večernih terasa zabav, kar nam je zelo ustrezalo, saj je tako več časa zase in družino.
Na lepši plaži je tudi lokal, kjer se dobi odlične burgerje, kalamare in solate, po presenetljivo ugodni ceni za kampe in Hrvaško nasploh.​​

Published on day from anonymous

Category

Tent

Company

Family with small children

Zelo velik kamp, ampak miren. Ob 23h zvecer je vse mirno do 7h. Ne maramo velikih kampov, vendar nas je ta prepričal, da ima lahko tudi veliki kamp "dušo". Otroci so se vsak dan podili naokoli. Sanitarije čiste, parcele lepo urejene. Edini minus je visoka cena, vendar ponujajo več kot ponavadi mali kampi.
Plaža prodnata in skalnata, z malo sence. Lep kamp primeren za družine.​​