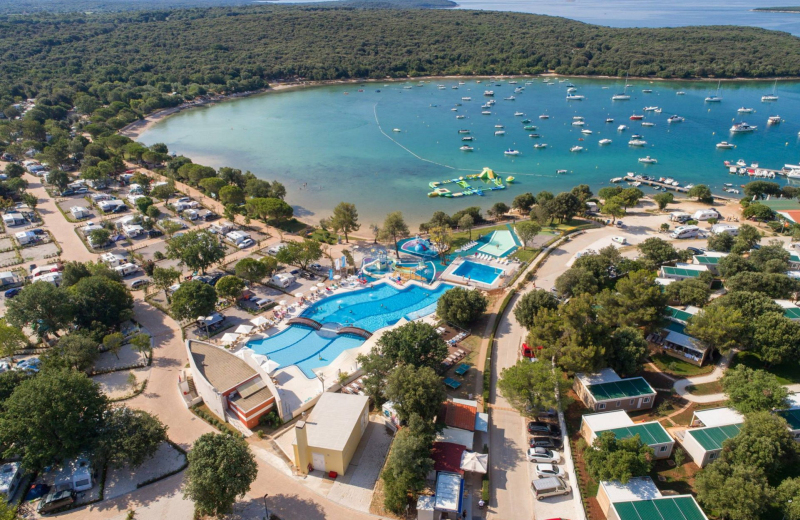 Information
Basic information
Camping Vestar - Rovinj is located 5 km south of Rovinj and is named after the island of the same name across the bay. The campsite was completely renovated in 2017, and in recent years some new features have been added and the toilets have been renovated.
The left part of the campsite Vestar has new camping pitches on sandy ground, equipped with electricity, water and drainage. The right part of the Veštar campsite has three different types of modern mobile homes.
Campsite Vestar accepts the Avtokampi Camping Card, which will make the camping more affordable. The discount is listed at the price list of the campsite - order for free and get camping card by email.
Camping Camping Veštar accepts the Autocamping Card, which will make camping more affordable. The discount is published in the campsite price list, and the camping card can be ordered free of charge and sent to you immediately by mail.
NEW - renovation of sanitary facilities 4 and 5 in 2021, renovation of reception, swimming pool, sanitary facility 6 and construction of a sports centre with mini golf, charging station for electric vehicles, new mobile homes in 2023.
Campsite now has 600 developed pitches, with only a small part of the campsite remaining unplotted. A third of the pitches have a little more shade, especially near the sea and at the start of the campsite. The pitches are separated by hedges. A nicely landscaped and also shaded strip separates the pitches from the beach, where you can enjoy the proximity to the sea.
The sanitary facilities have been renovated in recent years, they are accessible for disabled persons, adapted for children and there are children's playgrounds next to the sanitary facilities. There is also a laundry room and common areas with barbecue facilities. Free internet is well connected throughout the campsite.
Beach in campsite is diverse - left part is sandy (subsequently brought here), right part is stoned. In Vestar guests can enjoy in swimming pool with water park playground and a slide.
Campsite has shop, newspaper stand, bar on the beach, at the reception and by the swimming pool and pizza place. Sports centre is positioned by the beach and you can rent a sunbeds, parasols, bikes, kayaks, peddles and boats there. New is scuba diving centre in camp. Campers can play beach volleyball on one of two arranged courts as well as table tennis.
Children will never be board as they can attend rich animation programme, while adults can do some aerobics, cycle in the surroundings, beach volleyball tournaments and evenings with live music.

Features and equipment
Type of the campsite
Pitch features
Non-parcelled camping plots

Pitches with electricity and water

Pitches with electricity, water and waste water connections
Location
Equipment
Chemical toilet discharge

Children sanitary facilities

Heated sanitary facilities
Offer
Sport
Swimming pool/wellness
Swimming pool with heated water
Dogs
Rental option
Camping pricelist (in EUR) for year 2023
Pricelist for yearly rental (in EUR) for year 2023
| Price for | 21.4. - 8.10. |
| --- | --- |
| Yearly pitch rental by the sea (electricity, water) | ​​6.600 - 7.600 |
| Yearly pitch rental with electricity, water | ​​5.000 - 6.600 |
| Yearly rental of camping pitch with electricity | ​​3.800 |
| Addit. person | ​​150 |
| Dog | ​​200 |
| Addit. car | ​​100 |
| Addit. tent | ​​120 |
| Boat trailer | 250 |
| Tourist tax | ​​0,80 - 1,10 |
| Check-in | ​​1,20 |
PDF - Pricelist for year 2023 (17KB)
The price applies to a family flat rate and includes: 6 persons, a plot of 100m2 with electricity and a car.

Contact
GPS: 45.053837,13.686500
Address: Veštar b.b., 52210 Rovinj, Hrvaška
Reception:

+385 52 803 700

Reservation:

+385 52 800 200
Mobile Homes
Mobile homes description
Mobile homes rent in Vestar camp Rovinj - campsite offers you to rent different types of mobile homes that are located on the right side of the camp. In 2017, additional houses were set and common pools and houses with beautiful sea views around them arranged.

All mobile homes are air-conditioned, equipped with two bathrooms, a large living room with a kitchen and a terrace. Guests have free access to the internet and satellite TV.

Mobile homes Superior and Superior Family are decorated in a fishing style, while Superior View houses have the most beautiful view of the sea. Mobile homes have sizes of up to 32 to 34 m2 and they accept 4 + 2 persons, model Family 6 + 2 persons.

Mobile homes of Oasis Family are large houses of 40 m2 for 6 + 2 persons placed on the new part of the camp, where common pools are arranged among the houses. Mobile homes have three bedrooms - one with a double bed and two with two single beds.

There are also new Forest Escape mobile homes (34m2) for 4 + 2 persons and Forest Escape Family (40 m2) for 6 + 2 people, which impress with spaciousness, comfort and richness. Dogs are allowed at all mobile homes in the camping Vestar at an additional cost.
Mobile homes information
Number of persons in mobile homes
Mobile homes for 4 - 6 persons

Mobile homes for 6+ persons

Mobile homes for 2 - 3 persons
Mobile homes
Dogs allowed in mobile homes

Mobile homes with 3 bedrooms

Mobile homes for handicapped
Pricelist for mobile homes (in EUR) for year 2023
Rating and reviews
Reviews:
Published on day from anonymous

Category

Other

Company

Family with small children

Zelo lep kamp. Motijo samo psi, ki jih je zares preeč. Čeprav se v kampu zelo trudijo, pa žal lastniki psov ne razumejo, da nam ni vsem všeč, da jih zjutraj in zvečer vozijo na sprehod in potrebo kar po kampu ali na plažo. Kužki kakajo in lulajo na plaži, po poteh, kjer hodimo ostali, pridejo kar na parcelo in opravijo. Morda bi bilo smiselno lastnike opozoriti, da kužke vsaj dvakrat dnevno peljejo na spreho v bližnji gozd ali pa znotraj kampa urediti temu namenjen prostor. Vse osatlo je super, to pa je zelo moteče vsaj za nas, ki nimamo svojega psa.​​

Published on day from anonymous

Category

Other

Company

In couple

Odlično urejen kamp, morda bi lahko malce bolj poravnali parcele, saj nekatere prav konkretno visijo ... sanitarije so čiste, trgovinica solidno založena, obala lepo urejena, največja dodana vrednost pa so vsekakor prijazni uslužbenci ... ​​

Published on day from janez09

Category

Tent

Company

Family with small children

Kampirali smo konec junija in kamp je bil presenetljivo prazen (zaseden cca 30%?), kar je bilo super. Najeli smo ze postavljen sotor (easy a tent) in cena je bila enaka kot, ce bi postavljali svojega. Hoje do plaze je bilo cca 5-7min. Na plazi je kar nekaj dreves tako, da se da najti senco (pod drevesi je trava). Dostop v vodo ni najboljsi (kamni), v sredini zaliva pa je celo mivka, ki je verjetno bolj mulj - zato tudi pride do motne vode. Za otroke je plaza ok, ker je dosti sence, ampak sam dostop pa ni najbolj primeren. Kamp ima tudi bazen, ki ni bil nabito poln (verjetno, ker se ni bila sezona) tako, da je bilo cisto prijetno. Sanitarije so bile ok.
Picerija v kampu ima pice (v redu vendar nic posebnega) po 50kn in pivo po 24. Trgovina se je odpirala sele ob 8h in je delala do 15h (predsezona?).
Ne vem, kako je, ko je guzva, ampak tole mi je bilo vsec (razen vode).​​

Published on day from anonymous

Category

Other

Company

Family with small children

Only older pepole or kids​​

Published on day from anonymous

Category

Other

Company

Other

Na počitnice smo se odpravili z psom, plaža za pse je skalnata, neurejena, dolga 50m, ima pa vsaj nekaj sence med plažo in cesto med borovci. Imajo pa zelo lep pasji tuš. V kampu ni bilo tople vode. WC-ji čisti. Kamp ima tudi bazen, kjer se lahko otroci naužijejo skakanja v vodo.

Ko ocenjuješ kamp po plaži za pse ....no comment

Lep urejen majhen kamp, Mali istarski biser​​