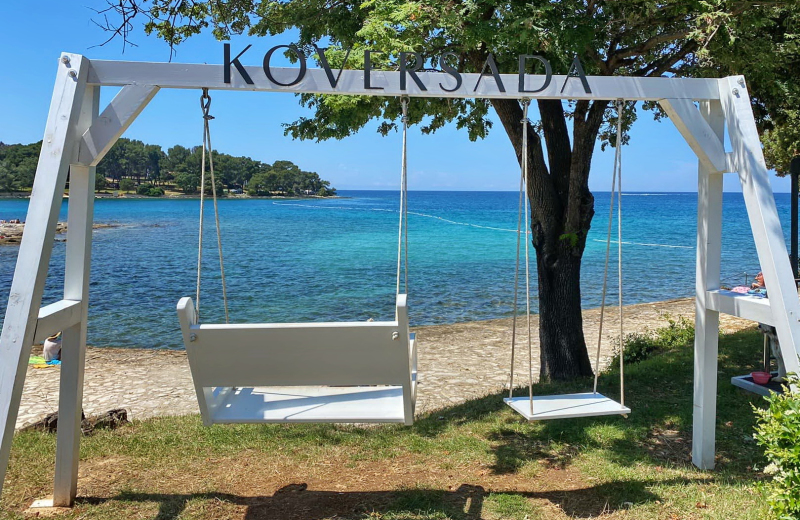 Best camp Adria 2021

1. place
Information
Basic information
Camping Koversada - Vrsar is one of the most famous naturist camps in Europe that has opened its doors back in 1961. It offers not only camping on arranged camping pitches, but as well rental of apartments and mobile homes and caravans that can be rented through various agencies.
NEW - 30 mobile homes - they offer smaller mobile homes for 2 - 3 persons and larger ones for 4 - 6 persons. New toilets no.14 and 17 in season 2021.
Campsite Koversada accepts the Avtokampi Camping Card, which will make the camping more affordable. The discount is listed at the price list of the campsite - order for free and get camping card by email.
Camp Koversada has 5km long stoned beach with concreted parts in-between and main, sandy bay. Most of the campsite is well shaded, while campsite is mostly known by its island that offers tidy pitches (and vehicles cannot reach it) with electricity, some have as well water access.
In recent years new superior pitches with electricity and water have been arranged, pizza place Balun enlarged and part of the roads arranged.
Campers have in selection of Naj kamp Adria 2021 selected camping Koversada as the best naturist campsite in Croatia.
Camp complex offers you everything you need for vacation: two shops, restaurants, gas filling station, bars, ambulant, 16 sanitary buildings out of which 6 are adjusted for disabled persons. Koversada is providing everything that you need for relaxing and comfortable holidays, sport and recreation, combined with rich gastronomic selection. Part of the camp is covered with free wireless internet and has internet corner organized.

Sport centre provide 8 tennis courts, courts for table tennis, mini golf, basketball, football, volleyball, possibility of renting bicycles, boats, surfs and kayaks. A tourist train is connecting camp with town Vrsar.
Features and equipment
Type of the campsite
Pitch features
Non-parcelled camping plots

Pitches with electricity and water

Pitches with electricity, water and waste water connections
Location
Equipment
Chemical toilet discharge

Children sanitary facilities

Heated sanitary facilities
Offer
Sport
Swimming pool/wellness
Swimming pool with heated water
Dogs
Rental option
Camping pricelist (in EUR) for year 2023
Pricelist for yearly rental (in EUR) for year 2023
| Price for | 21.4. - 18.10. |
| --- | --- |
| Yearly pitch rental with electricity | ​​3.900 - 4.300* |
| Non-parceled camping unit + elect. | ​​3.700 |
| Addit. person | ​​150 |
| Dog | 200 |
| Addit. car | ​​100 |
| Boat trailer | ​​250 |
| Check-in | ​​1,20 |
| Tourist tax | ​​0,70 - 1,40 |
PDF - Pricelist for year 2023 (18KB)
* The higher price applies to flat plots in Zone 14

The price applies to a family flat rate and includes: up to 4 persons, 100 m2 space for a caravan and a passenger car and electricity.

Contact
GPS: 45.141628,13.605610
Address: Koversada 1, 52450 Vrsar, Hrvaška
Reception:

+385 52 441 378

Reservation:

+385 52 800 200
Mobile Homes
Mobile homes description
Camping Koversada has 30 new, modern mobile homes. There are 20 small mobile homes for 2 + 1 persons, equipped with one bedroom, bathroom and living room with kitchenette.

Larger mobile homes for 4 + 2 persons are more spacious, equipped with two bedrooms and two bathrooms. This provides more space for a comfortable holiday by the sea.

Gebetsroither agency also offers rent of mobile homes 24m2 for 4 + 2 people. Alternatively, you can choose to rent their caravan for 4 + 1 people.

Mobile homes information
Number of persons in mobile homes
Mobile homes for 2 - 3 persons

Mobile homes for 4 - 6 persons

Mobile homes for 6+ persons
Mobile homes
Dogs allowed in mobile homes

Mobile homes for handicapped

Mobile homes with 3 bedrooms
Pricelist for mobile homes (in EUR) for year 2023
Rental prices for mobile homes in campsite Koversada - Vrsar can be found in the online booking system. Click on RESERVATION.



Rating and reviews
Best camp Adria
2021: 1. place in category Croatia - Naturist campsites
Reviews:
Published on day from enter25

Category

Caravan

Company

In couple

Kamp zelo lep, na lepi legi, v septembru precej poln. Moti edino plaza, kjer je colnarna, ki je dovoljena za pse. Ta plaza je neprimerna za ljudi(ki se tu tudi kopajo), kot za pse. V casu, ko sva midva bila tu, so spravljali colne iz morja, ki jih je bilo zelo velko, jih cistili, praznili in to vse v morje, kjer smo se kopali. Na povrsini je plavalo marsikaj, voda je bila prav mastna, zelena od alg in se marsikaj bi se naslo!
Na tem delu plaze sploh ne bi smelo biti!​​

Published on day from Robertos64

Category

Tent

Company

In couple

Kamp še vedno lep in v upanju ,da dolgo časa še ne bo kakšnih sprememb v smislu parcel z mobilnimi hišami..Sanitarije redno očiščene in predvsem mir..​​

Published on day from ales1969

Category

Caravan

Company

In couple

So stvari, ki te v tem kampu enostavno pritegnejo: čisto morje, večerni ogled delfinov kar z obale, ali s pomočjo kajaka... V ta kamp hodiva z ženo že več let, pa še se bova vrnila, že letos v septembru.
Moram pa napisat, da so določene sanitarije letos bile zelo slabo očiščene, to se je letos zgodilo prvič. Zjutraj se je čistilec prisvalkal okoli pol osme ure, od daleč ošprical sanitarije, pogledal, če je dovolj papirja in njegovo delo se je ob 9ih končalo. Do naslednjega dne nikogar. Prostor za pomivanje posode katastrofalno usran, da o lijakih za osebno nego ne govorimo, saj jih v vseh 17ih dneh mojega bivanja ni očistil nihče. V ogledalo se skoraj nisem več videl. (govorim o sanitarijah št.15)
Za kužka ti zaračunajo 8,5 evra /dan, da lahko koristiš 10 tekočih metrov plaže, kjer pes sploh lahko gre v vodo, a že 2 metra od pasje obale so zasidrani skuterji... temu enostavno ne moreš reči pasja plaža.
Tuš za psičke na že omenjenih sanitarijah nikoli očiščen, na odtoku polno dlak, pa da ne bo pomote, res so tudi lastniki psov nemarni, a vseeno je bil ta tuš od čistilca pozabljen ves čas bivanja v tem kampu.
Pritožbo sem napisal na sedež Maistre, mogoče bodo moje pripombe vzeli kot dobro namerne in bodo omenjene zadeve izboljšali. O tem se bom zagoovo prepričal že v septembru..​​

Published on day from anonymous

Category

Tent

Company

In couple

Se vračava že nekaj časa. ​​

Published on day from anonymous

Category

Caravan

Company

Alone

Published on day from anonymous

Category

Tent

Company

Family with small children

Koversada je v zadnjem casu postala party kamp, vsako noc so po kampu zurke in v dobi zelo glanih prenosnih zvocnikov je nocno spanje iluzija. Dobesedno v roku enega tedna nismo eno noc zaspali pred drugo ali tretjo uro zjutraj. Recepcija je ponoci nedosegljiva na telefon, nocne kontrole pa ocitno ni ali pa se ne odziva na vse mozne partyje in makeshift karaoke z dretjem, lajanjem in tuljenjem v mikrofon. Kamp priporocam zabave zeljnim fkk-jevcem, druzine z majhnimi otroki se mu pa naj raje ognejo. ​​

Published on day from anonymous

Category

Camper

Company

In couple

V Koversado prideva večkrat na leto - na dopust, nekajdnevni oddih ali le za vikend. Tu dobiva, kar iščeva - mir, naravo, sprostitev ... Pogrešava sicer bolj urejene dostope do vode in bolj vzdrževane sanitarije (a so kljub dotrajanosti vedno čiste!), nikakor pa ne bazena, animacije, glasnih zabav ... To je res pravi nudistični kamp z gosti, ki spoštujejo drug drugega in niso hrupni. Upam, da tako še dolgo ostane :)))​​

Published on day from koreninc

Category

Camper

Company

In couple

Po dolgem času obiskala Koversado,včasih vsako poletje kampirali z prikolico.
Po izkušnji v kampu Stoja -Pula,v tem kampu vse lepo,od recepcije,pa do prostora za kampiranje.Zmoti pa me to ,a ta kamp očitno počasi,a vtrajno hira.Trgovine so kakršne so,drevje ni porezano in zato posledično z avtodomom veliko mest,ki so bila pred leti dostopna sedaj niso več,športni objekti,ja so bili,pa precej ,,opazovalcev,, na plažah.Škoda ,ker sem res rad prihajal v ta kamp.​​

Published on day from anonymous

Category

Caravan

Company

In couple