add to favorite Look map of the campsite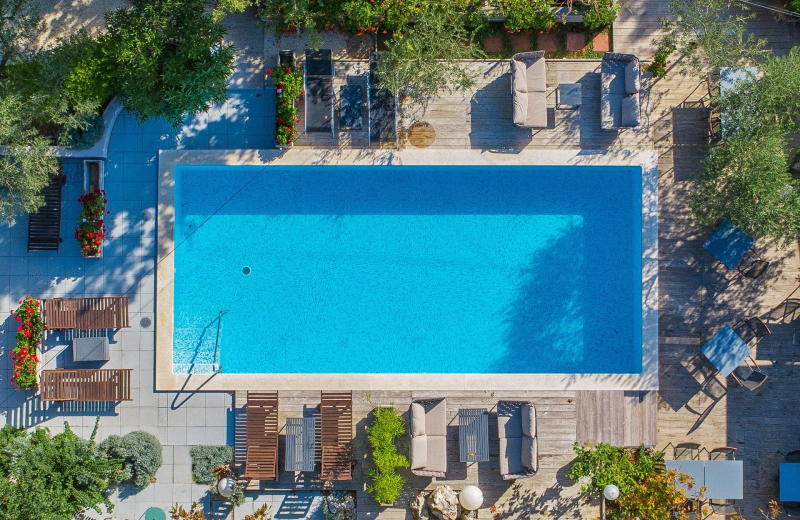 Best camp Adria 2021

2. place
Information
Basic information
Campsite Ulika Rovinj is a small boutique camp on the southern side of Rovinj. It is 3km from the city center and 600m from the nearest beach.
Ulika Rovinj is perfect getaway for primerely adults (children 12+ are also allowed) looking for comfortable and peaceful holidays along with good food and excellent wine. As part of the campsite, there is also a tavern Barba Danilo with an excellent offer of seafood and Istrian dishes.
NEW - renovation of the central terrace by the pool and jacuzzi next to the romantic mobile homes for 2-3 people.

It enables guests to camp on 20 arranged camping pitches, rental of 2 mobile homes for 3 people and 10 mobile homes for 2 people. Within the campsite Ulika Rovinj also has an excellent restaurant and tavern Barba Danilo with a great offer of food and wines.

Camping Ulika Rovinj has the total of 20 pitches that are from 70 to 100 m2 large, well shaded and have access to electricity. Some pitches have as well water connection and sewage. Sanitary facilities are tidy, modern and heated in cooler days.
Guests of the Camping Ulika Rovinj also have an outdoor swimming pool, which is located next to the tapas / wine bar, where wine tasting and olive oil are tasted, and they also offer various tapas.
The nearest store is 500m from the campsite and 200m to the bakery. The campsite also offers bicycle rental and free wifi.
Features and equipment
Type of the campsite
Pitch features
Pitches with electricity and water

Pitches with electricity, water and waste water connections

Non-parcelled camping plots
Location
Equipment
Chemical toilet discharge

Heated sanitary facilities

Children sanitary facilities
Offer
Sport
Swimming pool/wellness
Swimming pool with heated water
Dogs
Rental option
Camping pricelist (in EUR) for year 2022
Price for
9.7. - 20.8.
25.6. - 8.7.
21.8. - 227.8.
28.5. - 24.6.
28.8. - 3.9.
14.5. - 27.5.
4.9. - 1.10.
9.4 - 13.5.
Person
​​12
​​10
​​9
​​8
​​7
​​5
Children 2 - 18 yrs.
​​11,50
​​9,50
​​8,50
​​7,50
​​6,50
​​4,50
Pitch with electricity
​​28
24
18
17
14
11
Addit. tent
​​3
​​3
​​3
​​3
​​3
​​3
Addit. car / motorcycle
​​3
​​3
​​3
​​3
​​3
​​3
Dog
6
6
4
4
4
4
Internet access - WIFI
​​gratis
​​gratis
​​gratis
​​gratis
​​gratis
​​gratis
Tourist tax
​​1,10
​​1,10
​​1,10
​​1,10
​​1,10
​​1,10
Check-in
​​1
​​1
​​1
​​1
​​1
​​1
Mobile Homes
Mobile homes description
Rental of mobile homes in the campsite Ulika Rovinj - There are two classic mobile homes set on the edge of the campsite. They can host up to 4 persons each, having two bedrooms, living room with kitchen, bathroom and terrace.

The novelty at the Campsite Ulika Rovinj are 10 B & B Suites - mobile homes for 2 people, equipped with hotel standards with double bed, private bathroom, mini kitchen, terrace and garden. These accommodations are designed for couples who want to enjoy the comfort and natural environment. In addition, jacuzzis were set up next to these houses.
Breakfast is included in the price of the accommodation. A dog is allowed in two mobile homes.

Mobile homes information
Number of persons in mobile homes
Mobile homes for 2 - 3 persons

Mobile homes for 4 - 6 persons

Mobile homes for 6+ persons
Mobile homes
Dogs allowed in mobile homes

Mobile homes for handicapped

Mobile homes with 3 bedrooms
Pricelist for mobile homes (in EUR) for year 2022
Rating and reviews
Best camp Adria
2021: 2. place in category Croatia - Istria - Smaller campsites
Reviews:
Published on day from RokRoz

Category

Mobile home

Company

In couple

Vse, kar lahko rečem je: ODLIČNO!
8 novih mobilnih hišic, ki v mirnem okolju brez otroških glasov pričara izjemno umirjen oddih, osebje je izjemno prijazno, sicer slovenščine ni zaznati, ampak že ob prihodu poskrbi, da imaš vse potrebne informacije za umirjen dopust (restavracije, plaže...), dobiš tudi zemljevid, geslo za wifi...Osebje 10/10, kapo dol.
Zajtrk dobiš vsako jutro na teraso točno ob dogovorjeni uri, pospravijo umazano posodo in ti prinesejo čisto, zajtrk je vsak dan nekoliko drugačen, vedno odličen in simpatično zapakiran. Lačen ni nihče. Za vse zasvojence s kavo pa vesela novica: KAVOMAT! Tudi kava je vključena v ceno. Kuhinja 10/10.
Kar pa nama je bilo že ob prihodu zelo všeč, pa je čistoča. Zares se ne spomnim, da bi bilo do zadnjega roba brez umazanije kjerkoli. Vključno s teraso in prostorom z ležalniki. Prijetno, čisto, sveže. Čistoča 10/10.
Kamp je zaprt za zunanje obiskovalce in res imaš ves mir, ki ga potrebuješ (dostop imaš s kartico in daljincem). Sploh za prvomajske počitnice, ko morja ne potrebuješ pred vrati, je bila izbira dopusta več kot odlična. Poleti bi si želela biti bliže morju. Če vas ne moti, da nimate do morja 5m ampak imate raje mir, potem ni dileme. Praktično povsod je treba iti z avtom. Razen do trgovine, ki je cca. 500m stran v kampu Polari ali Konzumi v Rovinju. Lokacija 6/10.
Poleg hišice imaš svoj parkirni prostor, zaenkrat so rastline, ki mejijo na sosednje parcele še nizke, vendar bo čez nekaj let tudi to pravi zasebni raj. Vidi se, da ne glede na to, da je kompleks praktično nov, lepo skrbijo zanj in ga vzdržujejo tako, kot je treba. Splošna urejenost 10/10.

Priporočava še celodnevni izlet (peš) v Rovinj. Lahko sicer v kampu najamete kolo, ampak z vmesnimi postanki ste v 2h v Rovinju, pot je ves čas lepo urejena in popolnoma nezahtevna, z nekaj lokali, restavracijami...celo pot pa so tudi lepi razgledi, ki jih boste s kolesom morda spregledali.

Če se boste odločili za to namestitev, morate imeti željo po umirjenem dopustu v paru in boste uživali kot redkokje. Karkoli drugega tukaj ne pride v poštev. Ker imamo mnogi v službi cele dneve galamo, je bil ta mir pravi balzam. Kuhinje ni, kosilo/večerjo jeste pri njih, ali pa v eni izmed milijon restavracij. V kampu so priporočali Konobo Val Carpana, ki je ob poti proti mestu. Če niste zahtevni, je dobra izbira. Cenovno v povprečju, hrana povprečna, postrežba odlična. Načeloma lahko priporočava tudi to restavracijo.

Če končava...z veseljem se bova vrnila in lahko le upava, da bo tudi v prihodnje tako.
Vse pohvale vsem zaposlenim, ki se resnično trudijo, da se imaš udobno in brezskrbno. Hvala za odličen prvomajski oddih (če bi bilo vreme ves čas sončno, bi bil pa že res kič).

Maša&Rok​​

Published on day from anonymous

Category

Other

Company

In couple

Published on day from anonymous

Category

Camper

Company

With friends

Odličen, kamp. Vse je na visokem nivoju. Prijazno osebje, lepe parcele. Sploh ni bilo moteče, da kamp ni ob morju. Priporočam.​​