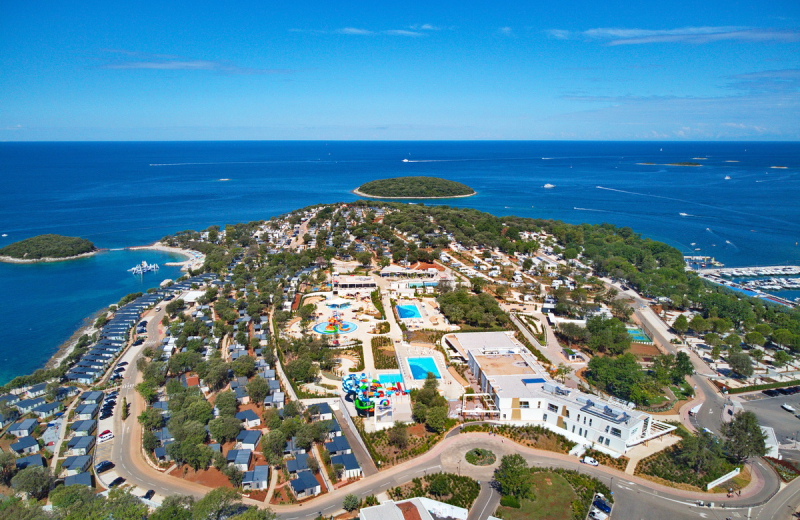 Information
Basic information
Camping Istra Premium Resort - Funtana has been completely renovated in recent years and now operates as a campsite with excellent facilities for families. It is categorised as a 5-star resort and is open from April until the end of October. As well as camping on beautifully landscaped pitches, they also offer modern mobile homes and glamping tents for rent, and heated swimming pools.
Campsite accepts the Avtokampi Camping Card, which will make the camping more affordable. The discount is listed at the price list of the campsite - order for free and get camping card by email.
NEW - Sunset Garden Premium Village mobile homes for 4 persons with private pool and half board included at the Fonte restaurant in reception area, Tuna Bay restaurant with Mediterranean food. In recent years, additional camping pitches have been developed at the marina, Val Maro Family pebble beach and dog beach, Sunset Premium glamping tents, Orlandin Premium Village mobile homes with private pool, the Istrian konoba Bokoon ...
Reception of the campsite Istra Premium is arranged in central building with bar and facilities for children animation. It has more than 500 arranged camping pitches with electricity and water, many pitches have as well sewage. Guests can choose among pitches arranged on grass as well as on sand. Pitches close to the sea have as well barbecue, additional awning and own access to the sea. Some extra large pitches have been added for easier access of larger campers and caravans.

Istra Resort has 5 completely new and modern sanitary buildings that have everything you need for comfortable holidays - children's sanitary facilities, baby changing room, bathrooms for handicapped, dog showers, laundry and camper supply station.
Renovated campsite Istra Premium Resort is providing lots of excitement and fun on new swimming pool complex Aquamar that has swimming pools with slides, among which the longest will be 10m high. Two larger swimming pools are filled with sea water, wgile three smaller pools are meant for the smallers guests - pool with shallow water and playground, pool with slides and pool with larger slides. Water is heated.

Beach in camping Istra Premium Resort is diverse. There are pebble bays ob the left side, stoned beach on the camp, while on the right side beach in combined, stoned and concrete. Access to the sea for handicapped guests is arranged on two places. Dog beach and place for lowering the boats into the sea are arranged.

Animation activities are adjusted to kids between 3 and 12 years and includes playrooms, children's cinema and outdoor playgrounds. For teenagers multimedia room with video games is arranged. Larger theatre is prepared for evening entertainment and movies.

Of course there will be as well animation activities for adults - daily sports program, courts for beach volleyball, basketball, football, table tennis and adventure mini golf. In Istra it is possible to rent a bike, SUP board, kayak and peddaline, close by is as well marina Funtana, where it is possible to moor boats.
Central campsite part is arranged in Mediterranean style with open market, shops, restaurant Grano Duro Pizza & Pasta and bars.
Campsite's location is great for discovering Istria - town and cities Funtana, Vrsar, Porec, LIme bay, visit of water park Aquacolors with numerous swimming pools and slides and funpark Dinopark Funtana. Not far are as well Istria's capital Pula and island Brioni.

Features and equipment
Type of the campsite
Pitch features
Pitches with electricity and water

Pitches with electricity, water and waste water connections

Non-parcelled camping plots
Location
Equipment
Chemical toilet discharge

Children sanitary facilities

Heated sanitary facilities
Offer
Sport
Swimming pool/wellness
Swimming pool with heated water
Dogs
Rental option
Camping pricelist (in EUR) for year 2023
Avtokampi camping card
2023 - 7,5% discount on the price of a person and pitch in the period 1.4. - 29.6. & 20.8. - 6.11. and 5% discount in the period 30.6. - 19.8.
Price for
7.7. - 19.8.
30.6. - 6.7.
16.6. - 29.6.
20.8. - 26.8.
26.5. - 15.6.
27.8. - 2.9.
17.5. - 25.5.
3.9. - 9.9.
5.5. - 16.5.
10.9. - 16.9.
1.4. - 4.5.
17.9. - 6.11.
Person
​​16,80
​​14,50
​​13
​​12
​​10
​​9,50
​​6,30 - 8,20*
Children 5 - 12 yrs.
​​12
​​10,50
​​8,50
​​gratis
​​gratis
​​gratis
​​gratis
Pitch Comfort (elect, water) - Marina zone
​​75 - 99
​​64 - 85
​​55 - 72
​​51 - 66
​​42 - 55
​​35 - 45
​​22 - 35*
Pitch Mega comfot (elect., water) - Marina zone
​​105
​​91
​​77
​​70
​​57
​​47
​​30 - 37*
Pitch (elect, water) - Bella Vista zone
​​112 - 145
​​95 - 124
​​81 - 106
​​73 - 93
​​60 - 77
​​51 - 63
​​33 - 50*
Pitch by the sea (elect, water) - Bella Vista zone
​​200
​​170
​​143
​​126
​​103
​​88
​​55 - 70*
Pitch by the sea (elect, water,sewer, grill) - Bella Vista zone
​​213
​​182
​​155
​​136
​​111
​​94
​​60 - 75*
Dog
​​8
​​7,50
​​7
​​7
​​7
​​6
​​3,50 - 4,50*
Tourist tax
​​1,10
​​1,10
​​1,10
​​1,10
​​1,10
​​1,10
​​1,10
PDF - Pricelist for year 2023 (20KB)
Prices depend on the exact location of the plot.
*the lower price is valid from 1.4. - 13.4.

Pricelist for yearly rental (in EUR) for year 2023
| Price for | 1.5. - 30.9. |
| --- | --- |
| Yearly pitch rental with electricity, water | ​​6.390 |
| Tourist tax | ​​1,10 |
PDF - Pricelist for year 2023 (16KB)
The flat rate is valid for 4 people - children aged 4 years or more are also included. Upon additional payment, additional 4 persons, a dog, an additional vehicle or a boat can be added.

Contact
GPS: 45.174577,13.598700
Address: Grgeti 35, 52452 Funtana, Hrvaška
Reception:

+385 52 445 123

Reservation:

+385 52 465 010
Mobile Homes
Mobile homes description
Rental of mobile homes in Camping Istra Premium Resort, Funtana - it is possible to rent mobile homes for 2 and 4 - 6 persons.
Smaller mobile homes Bella Vista Premium Romantic (16 m2) are meant for couples and have bedroom, bathroom, mini kitchen and terrace.
Larger mobile homes can host 4+2 persons and are offering lots of space for your comfortable stay. Mobile homes Marbello Premium (34 m2 or 39 m2) are set close to the sea and have two bedrooms, living room with kitchen, two bathrooms and spacious terrace with sea view.
The most prestigious are mobile homes Bella Vista that will impress you will 80 m2 large surface, large terrace with barbecue and private pool. Also these mobile homes have two bedrooms, large living room, kitchen and two bathrooms.
Mobile homes Sunset Premium (4+2 persons) additionally have private jacuzzi set on spacious terrace.

Mobile homes Bella Vista Premium Family have three bedrooms and are large enough for 6 persons.
New mobile homes have been added - mobile homes Marina premium and Orlandin premium have two bedrooms and can host 4-6 people.

Mobile homes information
Number of persons in mobile homes
Mobile homes for 2 - 3 persons

Mobile homes for 4 - 6 persons

Mobile homes for 6+ persons
Mobile homes
Dogs allowed in mobile homes

Mobile homes with 3 bedrooms

Mobile homes for handicapped
Pricelist for mobile homes (in EUR) for year 2023
Glamping
Glamping description
Rental of glamping tents at Istra Premium Camping Resort Funtana - at the end of the peninsula, offering breathtaking views of the sunset, you can rent modern furnished large family glamping tents and smaller Bell tents for couples.
The Sunset Premium Glamping Tent (35m2) for 5 + 1 persons is equipped with two bedrooms - one equipped with a double bed, the other with a bunk bed and another bed. The living room with an extra bed and a kitchen opens onto a spacious terrace with a barbecue and a seating area. The tent also has a private bathroom.

The Sunset Premium Glamping Tent (48m2) for 4 + 1 persons is arranged on two floors. On the ground floor there is a bedroom with a double bed, a bathroom, a living room with an extra bed and a kitchen opening onto a spacious terrace with a seating area. Upstairs is another bedroom with a double bed and a smaller terrace.

The smaller Sunset Bell glamping tents (21 m2) are for two people - equipped with a sleeping area and a smaller terrace. There is no kitchen in the tent and there are no toilets available at the campsite.
Dogs are allowed in the glamping tents at an extra cost.

Information about glamping
Glamping type
Number of persons in glamping
Glamping tents for 2 - 3 persons

Glamping tents for 4 - 6 persons

Glamping hut for 2 - 3 persons

Glamping huts for 4 - 6 persons

Glamping huts for 6+ persons

Glamping tents for 6+ persons
Location and features of glamping
Bathroom in accommodation
Pricelist for glamping (in EUR) for year 2023
Rating and reviews
Reviews:
Published on day from anonymous

Category

Camper

Company

In couple

Kamp je lepo urejen in čist. Dobra organizacija pri vhodu v kamp
Slabost je, da v začetku aprila sanitarni objekt ni ogrevan, saj so bila drsna vrata ves čas odprta.
Cena v predsezoni ustrezna.​​

Published on day from anonymous

Category

Camper

Company

Family with teenager

Vse super,le več akcijskih cen bi bilo super,da bi večkrat prišli.Pa kaka ribarnica bi bila super.​​

Published on day from Polona.Vrabič475

Category

Caravan

Company

Family with small children

Resort ni podoben kampu kot si ga predstavljamo. Gre za turistično naselje mobilnih hišic, glamping šotorov in parcel za počitniška vozila (malo manj za šotore - si predstavljam, da povsod klinov ne gre zabiti v debelo nasut pesek). Parcele so lepo urejene, le v predelu Marina Confort manjka utrjena podlaga in je namesto trave gola rdeča prst. Kamp ni namenjen uživanju v naravi in mirnim počitnicam v dvoje. Je pa naravnost čudovit za družine z otroki vseh starosti. Odličen je vodni park z ogrevanimi bazeni, mini golf ter ostala športna ponudba. Zvečer bo mladež uživala v Maro Clubu.
Priložnosti za izboljšanje:
- kljub rednemu čiščenju se v kopalnicah, ki niso ogrevane nabira plesen, kar za 5* ni ravno običaj
- bližnjem objektu, ki je izven kampa je nočni klub iz katerega doni glasba dolgo v noč in je lahko precej moteče za tiste, ki imajo bolj rahel spanec
- dodatna zasaditev parcel s hitro rastočimi drevesi (Bella vista parcele in Marina comfort imajo zelo malo sence, kar je izven sezone lahko tudi prednost)
​​

Published on day from JanLovse

Category

Camper

Company

Family with small children

Izredno lepo urejen kamp, prijazno osebje, WC in tuši prenovljeni, čistoča super.
V sezoni verjetno prevelika gneča za naš okus, prav tako (pre)visoke cene.

Motilo me je nihanje temperature vode pod tušem ter na umivalnikih za pranje posode; iz nevarno vroče na hladno.. Prav tako voda po pritisku gumba teče le nekaj sekund.

​​

Published on day from anonymous

Category

Caravan

Company

Family with teenager

Izjemno prijazno osebje, vrhunska čistoča, mir, veliko dejavnosti. Odlično. Cena v sezoni visoka.​​

Published on day from anonymous

Category

Caravan with yearly rental

Company

In couple

Ni več camp, je bolj naselje ​​

Published on day from anonymous

Category

Camper

Company

Family with small children

V enem stavku: Za 5 zvezdic preveč stvari, ki niso urejene kot je treba. Odlično zasnovan kamp (sanitarije, parcele, zelenje, bazeni, športni objekti....) V sanitarijah so izvajali "prenovo novih sanitarij" v celotnem času bivanja. Voda pod tušem teče 10 sekund, enkrat mrzla, enkrat nevarno vroča. Čistoča sanitarij na meji zadovoljivega. Veliko parcel (predvem tistih na novo urejenih) je premalo utrjenih, po dežju so za prikolicami in avtodomi ostale globoke kolesnice. Kamp je odličen za vse tiste, ki brez svojega psa ne morejo dobesesno nikamor. Kljub temu, da "uradno" dovoljujejo hišne ljubljenčke samo na določenih parcelah jih v praksi dovoljujejo dobesedno povsod (v trgovini, na WC ju, pod tušem, v vrsti na recepciji....). Skratka občutek kot v živalskem vrtu. Daleč od tega, da sem sovražnik živali ampak kar je preveč je pa preveč.​​

Published on day from zvonkopravdic

Category

Caravan

Company

In couple

Kampirala sva v mesecu oktobru, na parceli v prvi vrsti ob morju, ki je nudila veliko udobja (kamin, tuš, pergola, zaseben dostop do plaže...)in lep razgled. Bila je primerno velika, zagotavlja zasebnost (zelenje). V kampu je veliko mediteranskega rastlinja, rož. Dobro izhodišče za sprehode in kolesarjenje. Kakovostna otroška igrala, bazen z ogrevano vodo, topogani, ležalniki, senčniki. Sanitarije so sicer vrhunsko zasnovane z nekaj tehničnimi napakami (odpiranje armatur, neenakomerno topla voda). Nameščena so razkužila, vedno so na razpolago papirnate brisače itd. Zelo šibka točka je čistoča sanitarnega objekta. Sicer je bila prisotna snažilka v dopoldanskem času, počistila ni, čistočo so vzdrževali gostje (koši neizpraznjeni nekaj dni, voda na hodniku pred tuš kabinami ....nisva malenkostna....) ves čas je na ves glas telefonirala, gostje so ji bili v napoto pri NE delu. Škoda za čudovit kamp. Sicer ostalo osebje zelo prijazno, uslužno. V tem času je bila v kampu odprta pekarnica ( prijazna gospa, ki se trudi govoriti slovensko) in trgovina. V bližini sanitarnega objekta manjkajo kesoni za odpadke. Mir in prijetno vzdušje v kampu za družine z otroci in ostale goste.​​