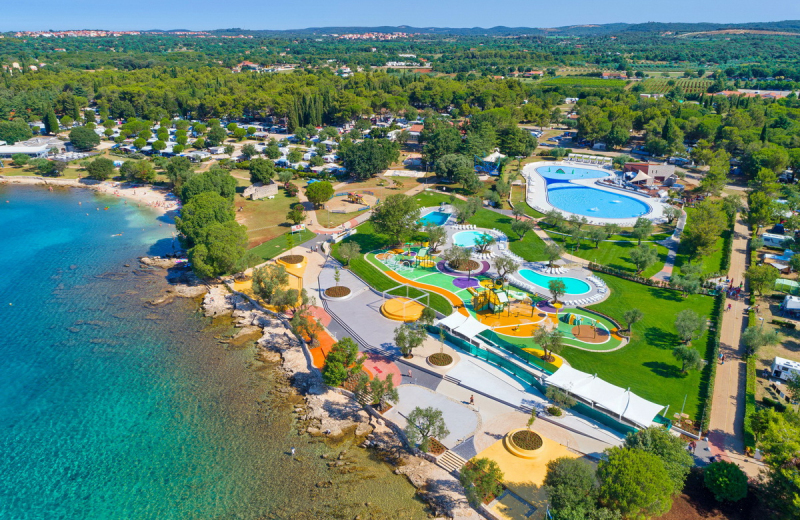 Information
Basic information
Camping Polari - Rovinj is located 3km south from town in beautiful bay with 2km long stoned beach. Guests can refresh themselves in the clear sea or sunbath in the shadow of the Mediterranean trees.
NEW - In the 2023 season, the FKK part Punta Eva will be closed in the Polari campsite. This part of the campsite will be renovated and naturist camping will no longer be possible.

Camping Polari is offering camping on arrange camping pitches, smaller part is reserved for campers with tents as it is not divided into pitches and rental of mobile homes.
Campsite Polari accepts the Avtokampi Camping Card, which will make the camping more affordable. The discount is listed at the price list of the campsite - order for free and get camping card by email.
Majority of the campsite Polari is shaded by Mediterranean trees, while approximately one third of the pitches are set in thick oak trees woods. Additionally, special pitches are prepared for campers. Part of the camp has pitches arranged for campers. Half of the pitches are equipped with electricity, water and sewage.
The sanitary facilities in the campsite Polari are nicely arranged and mostly renovated - in 2019 no. 4, 9 and 7, in 2021 no. 8 and in 2022 no. 2 and 6. In some facilities, they have special toilets for children and the disabled, and there are laundromats. They also have the option of renting family bathrooms.
In last years more than 150 camping pitches have been arranged on the peninsula just next to the naturist part of the camp. Several mobile homes settlements with swimming pools were added as well. In season 2017 new Premium village of mobile homes Adria was set, together with swimming pools, water park with playgrounds, slides and jumping ramp.
Beach in camp is 2km long and is partly sandy, partly stoned. An aquapark is set on the water. Camping Polari has larger outdoor swimming pool with shallow water that is great for kids. Next to the swimming pool is water park and playground with three smaller pools.
Camping Polari has shop, restaurant (fish restaurant and pizza place), brewery and many other bars. From sports you can play tennis, table tennis, jump on the trampoline. Courts of the the Villas Rubin can be used by the camping guests as well.
Campsite is well-known after its animation program, interesting for guests of all ages. Kids will enjoy at many playgrounds, in the outdoor swimming pools that is divided onto two parts – shallow water for children and deeper one for adults. Novelty is free wireless access across the campsite.

Features and equipment
Type of the campsite
Pitch features
Non-parcelled camping plots

Pitches with electricity and water

Pitches with electricity, water and waste water connections
Location
Equipment
Chemical toilet discharge

Children sanitary facilities

Heated sanitary facilities
Offer
Sport
Swimming pool/wellness
Swimming pool with heated water
Dogs
Rental option
Camping pricelist (in EUR) for year 2023
Pricelist for yearly rental (in EUR) for year 2023
| Price for | 7.4. - 8.10. |
| --- | --- |
| Yearly pitch rental by the sea (electricity, water) | 7​.500 |
| Yearly pitch rental with electricity, water | ​​6.100 - 6.800 |
| Yearly pitch rental with electricity | ​​4.300 - 4.500 |
| Yearly rental of camping pitch with electricity | ​​3.600 |
| Addit. person | ​​150 |
| Dog | ​​200 |
| Addit. car | ​​100 |
| Addit. tent | ​​120 |
| Boat trailer | 250 |
| Tourist tax | ​​0,80 - 1,20 |
| Check-in | ​​1,20 |
PDF - Pricelist for year 2023 (18KB)
The price applies to the family flat rate and includes a number of persons according to the contract according to the type of plot, a plot of 100m2 with electricity or water and a vehicle. In the case of a larger plot, 15 euros per m2 are charged.

Contact
GPS: 45.063100,13.675100
Address: Polari 5, 52210 Rovinj, Hrvaška
Reception:

+385 52 801 501

Reservation:

+385 52 800 200
Mobile Homes
Mobile homes description
Rental of mobile homes in the camp Polari Rovinj - in the left part of the camp you can rent different types of air-conditioned mobile homes equipped with two bathrooms, a large living room with a kitchen and a terrace. Guests have free access to the internet and satellite TV.
Premium Family homes are 33m2 large and equipped with three bedrooms - one with a double bed and two with two single beds. They offer plenty of space for 6 adults, while an additional 2 beds are available on extra beds. In the settlement of mobile homes, common swimming pools are arranged.
Deluxe mobile homes are 32m2 large and offer a comfortable stay for 4 + 2 people. These houses also have a private jacuzzi on terrace.
Premium mobile homes are 32m2 large and are located close to the smaller swimming pools and children's playgrounds. In the village there are also several common barbecue facilities where you can prepare a delicious dinner.
Mobile homes Standard are 32m2 large and offer all needed amenities for a nice and comfortable family vacation near the sea.
Dogs are permitted with an additional cost in Premium Family and Standard mobile homes.
You can also hire agency mobile homes and caravans at Gebetsroither

Mobile homes information
Number of persons in mobile homes
Mobile homes for 4 - 6 persons

Mobile homes for 6+ persons

Mobile homes for 2 - 3 persons
Mobile homes
Dogs allowed in mobile homes

Mobile homes with 3 bedrooms

Mobile homes for handicapped
Pricelist for mobile homes (in EUR) for year 2023
Rental prices for mobile homes in campsite Polari - Rovinj can be found in the online booking system. Click on RESERVATION.

Rating and reviews
Reviews:
Published on day from Gabrijela.karlovcec556

Category

Caravan

Company

Family with small children

Zelo urejen kamp, super lokacija, sprehajalne poti, veliko možnosti za družine s kolesiin zelo urejene sanitarije.​​

Published on day from anonymous

Category

Caravan

Company

Family with small children

Published on day from anonymous

Category

Camper

Company

In couple

Cena pa tudi odnos do kapistov oz. radi bi vse v hiške dali in izrinili kampiranje, pavšaliste -internet wf ne dela, še vedno niso vse sanitarije urejene, cene pa vsako leto višje. Pavšal pa glede na pogovor v nebo-tako se je najlažje znebiti pavšalistov in govor je da se ukinja fkk-ker gre obala z hiškami. obala pa neurejena oz.jo ureja morje.​​

Published on day from anonymous

Category

Caravan

Company

In couple

Super kamp, zelo priporočam !​​

Published on day from anonymous

Category

Camper

Company

Family with teenager

Soliden kkamp, zadostuje našim zahtevam.​​

Published on day from natasawm239

Category

Camper

Company

In couple

Prekrasna parcela, dobra plaža​​

Published on day from anonymous

Category

Caravan

Company

Family with small children

Mogoče bo tale ocena malce neprimerljiva, ker je bil v času našega obiska še vedno grožnja Covida-19, in je bil kamp v času največje sezone več kot polovico prazen!

Že kakšen dan prej smo pisali, če lahko pridemo pred 13:00 uro, in so rekli, da lahko pridemo od 8:00 naprej. Tudi če to ne bi bilo možno, je pred kampom res ogromno parkirišče, kjer bi lahko pustili avto in prikolico, in šli na plažo dokler ne bi smeli na parcelo.
Na recepciji so nam dodelili neko parcelo, vendar so dali še list z datumi rezervacij parcel, in povedali da si lahko najdemo drugo, če želimo. Na listu pa je pisalo, do kdaj je katera parcela prosta. Tako da se ne strinjam s komentarjem spodaj, da iščeš parcelo več ur. Lahko če hočeš, vendar cel kamp ni zelo velik, in se ga hitro obhodi, poleg tega že od daleč vidiš, če ti je parcela všeč ali ne (senca dreves, bližina wc-jev, bližina restavracije, bližina bazena...). In tako greš od blizu pogledat samo tiste, ki so ti všeč, pogledaš na list če je prosta do takrat ko hočeš ostati in to je to.

Parcele so OGROMNE! Takih parcel pa res še nisem zasledil nikjer, pa gremo vsako leto v drug kamp.

Na plaži smo bili skoraj sami, ker jo je ogromno, lahko izbiraš kamenčke ali skale... Res je bilo manj gostov zaradi virusa, je pa tudi res, da so bili večinoma v bazenu (sicer tukaj ni neke logike zaradi virusa... v zaprtem bazenu gneča, na odprti plaži v morje pa prazno....).

Trgovina dobro založena, v kampu rent a scooter, rent a bike, pred kampom še eden tak. Poleg trgovine tri pekarije, dva prodajalca sadja....

Zadnji dan lahko zastonj ostaneš do 18:00 ure, če parcela po tvojem odhosu ni zasedena.

Tako da super, res mi je edino žal, da tokrat nismo imeli s seboj koles.​​

Published on day from gagi

Category

Camper

Company

Family with small children

V kampu je precej prometa, kar nam ne ugaja najbolj, je pa neizogiben, saj je kamp zelo velik in ima veliko vsega (dostava blaga, odvoz smeti, itd.) Motila nas je popolnoma odsotna kontrola na bazenih, opozorilne table na vhodu so očitno same sebi namen. Pa še ena črna pika: zaradi velikosti kampa bi se lahko na recepciji vsaj toliko potrudili in določili sami parcelo za nove goste, namesto, da si jo gostje iščejo sami in zgubijo tudi po par ur.​​

Published on day from Sprikoliconalepse

Category

Caravan

Company

Family with teenager

Že več let del letnega dopusta preživimo tudi v tem kampu, ostalo pa iščemo drug boljši kamp...pa ga še nismo odkrili. Peš pot oz. kolesarska steza do Rovinja je 'priceless', bližina teniških in drugih igrišč pravtako. V letošnjem letu so posodobili troje sanitarij v kampu in praktično nikjer več ni starih/neurejenih. Ker imamo najstnika se zdi, da wi-fi dela predobro, vsaj v desnem delu kampa (proti Villas Rubin) je pokritost odlična. Cene pijač (kava, sok,..) v kampu nadpovprečne, vendar je v vsakem naslednjem zalivu ali ob cesti proti Rovinju lokal/restavracija z zmerno ugodno ponudbo. Mi še pridemo.​​