add to favorite Look map of the campsite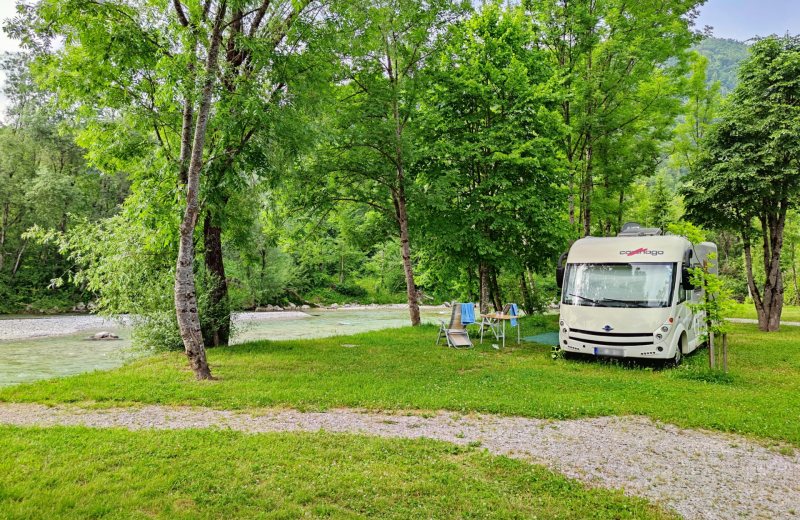 Best camp Adria 2019

2. place
Information
Basic information
Camping Danica - Bohinj is arranged on a pleasant plateau just next to river Sava Bohinjka, close to the centre of town Bohinjska Bistrica. There are roughly 200 camping places arranged on a meadow and well shade, additionally they offer private rooms and apartments. They are arranged in a typical Alpine stayle at the renovated main building.
Campers have in selection Naj kamp 2019 selected camping Danica as second best large campsite in Slovenia.
Campsite accepts the Avtokampi.si Camping Card, which will make the camping more affordable. The discount is listed at the price list of the campsite, and you can order free camping card HERE

NEW - new pitches will be laid out in time for the 2023 season, and a new sanitary building is planned for the 2024 season.

There have been many investments in recent years. As camping is opened all year long, they arranged new camping pitches on the river banks and renovated main sanitary facilities building that now has heating and is adjusted to kids and handicapped guests. Private bathrooms can be rented. Central part of the camp is still not divided into camping pitches, so you can freely choose a more sunny or more shaded camping pitch. New wooden playground was built and new trees planted.
It camping Danica it is possibe to rent apartment wooden house that is named 'stan'. It is set in the central part of the campsite and offer unforgettable experiences. On the ground floor is dining room, smaller kitchen, television and king size bed. Terrace with seating corner and herbal garden is arranged on terrace. Guests use sanitary facilities of the campsite.

Above the renovated restaurant Danica just next to the camp's entrance, modern rooms for 2-3 persons and two apartments for 4-6 persons were arranged.
It is possible to rent tent and electric car in the camp. There is as well charging station for electric cars.
Restaurant Danica offers breakfasts, lunches and dinners that are made of fresh and local ingredients. Shop is around 200m away, while 500m away is larger swimming pool complex with indoor pools, slides, saunas, fitness and all other wellness facilities.
Guests in Bohinj enjoy cycling and hiking the most, swimming in Lake Bohinj is popular in summer, and there are more and more fishermen. From the camp to the Lake Bohinj there is a well-maintained cycle path suitable for children, as it is separated from the busy road. The camp also has tennis, basketball and football courts, bicycle rental and registration for adrenaline sports, e.g. rafting, canyoning, kayaking and canoeing, paragliding, horse riding ...
The camp is surrounded by the Julian Alps and the Triglav National Park. The upper and lower Bohinj valley, hills and the highest peaks offer you plenty of opportunities for nature walks, mountaineering and sport climbing. There are also three stages of the well-known Julijana trail hiking trail in the vicinity of Bohinj.
Relaxation and entertainment in Bohinj is provided by traditional events such as Vasovanje, Kmecka ohcet, Kresna noc and Kravji bal. In the summer season, they are joined by many other, especially music events, such as the Festival kanal, Evenings under the Linden Tree, the Music Summer in Bohinj, the Bohinj Children's Festival Bo Fejst and many others.
Features and equipment
Type of the campsite
Pitch features
Non-parcelled camping plots

Pitches with electricity and water

Pitches with electricity, water and waste water connections
Location
Equipment
Chemical toilet discharge

Children sanitary facilities

Heated sanitary facilities
Offer
Sport
Swimming pool/wellness
Swimming pool with heated water
Dogs
Rental option
Camping pricelist (in EUR) for year 2023
Avtokampi camping card
2023 - 23 € for 2 persons on non-parceled part with electricity in terms of 1.5. - 24.6. & 24.9. - 24.12.
Price for
7.7. - 20.8.
12.6. - 6.7.
21.8. - 24.9.
28.4. - 11.6.
1.1. - 27.4.
25.9. - 31.12.
Person - pitch
​​18 / 21,60*
​​16
​​13,50
​​11,50
Children under 7
​​gratis
​​gratis
​​gratis
​​gratis
Children 7 - 14 yrs.
​​13,50 / 16,20*
​​12,50
​​10,50
​​8,50
Pitch on the river
​​16,50 / 19,80*
​​14,50
​​12
​​10
Pitch
​​12 / 14,40*
​​10
​​8
​​6
Non-parceled camping unit without elect.
​​gratis
​​gratis
​​gratis
​​gratis
Minimum stay
​​2*
​​-
​​-
​​-
Electricity
​​6
​​6
​​6
​​6
Addit. car
​​10
​​10
​​10
​​10
Dog
​​6
​​6
​​6
​​6
Tent rent
​​20
​​20
​​20
​​20
Bed linens
​​2
​​2
​​2
​​2
Private bathroom
​​12,50
​​12,50
​​12,50
​​12,50
Washing machine /Dryer
​​5
​​5
​​5
​​5
Breakfast
​​7 / 13
​​7 / 13
​​7 / 13
​​7 / 13
Internet access - WIFI
​​gratis
​​gratis
​​gratis
​​gratis
Tourist tax
​​2
​​2
​​2
​​2
Check-in
​​1
​​1
​​1
​​1
PDF - Pricelist for year 2023 (21KB)
*In the case of camping on a regulated picth, it is charged at a price, in the case of camping on a non-parceled part, it is already charged in the price of the person. In the high season, 20% extra for the stay for only 1 night.
For stays longer than 7 days or for motorcyclists, cyclists and pedestrians, the discount is 10%.
The rental of the tent also includes sleeping cushions, bedding is charged.

Pricelist for rental of accommodation for year 2023
Price for
7.7. - 20.8.
12.6. - 6.7.
21.8. - 24.9.
28.4. - 11.6.
1.1. - 27.4.
25.9. - 31.12
Apartment for 2 persons
105 / 126*
95
90
85
Apartment for 2 persons + breakfast
125 / 146 *
115
110
105
Tourist tax
​​2
​​2
​​2
​​2
Check-in
​​1
​​1
​​1
​​1
Minimum stay
2*
-
-
-
PDF - Pricelist for year 2023 (16KB)
*minimum stay is 2 nights, otherwise higher rates apply

The apartment in the campsite Danica is a renovated traditional Bohinj house Stan, which is located on the edge of the campsite

Pricelist for yearly rental (in EUR) for year 2023
| Price for | 20.4. - 15.10. | 1.11. - 1.4. |
| --- | --- | --- |
| Yearly pitch rental with electricity | ​​2.420 - 3.300 | ​​- |
| Yearly rental of camping pitch with electricity | 2.200 | - |
| Winter parcel rent with electricity | 60 | 550 |
| Winter lodging of the caravan | 60 | - |
| Tourist tax | ​​2 | ​​2 |
| Check-in | 1 | 1 |
PDF - Pricelist for year 2023 (18KB)
The price depends on the location of the plot. The higher price applies to plots along the Sava Bohinjka river. In the pre- and post-season (except July and August) they also allow a monthly flat-rate on the unplotted part at a price of EUR 500.

The flat-rate price includes max. 5 persons, children under 7 years of age are not included in the quota of persons.

Contact
GPS: 46.274556,13.947768
Address: Triglavska 60, 4264 Bohinjska Bistrica, Slovenija
Reception:

+386 4 572 17 02
Rating and reviews
Best camp Adria
2019: 2. place in category Slovenia - Larger campsites
Reviews:
Published on day from anonymous

Category

Camper

Company

In couple

Zelo zadovoljna z pohodnimi in kolesarskimi potmi v bližini kampa.​​

Published on day from anonymous

Category

Caravan

Company

Family with small children

V kampu smo preživeli podaljšan konec tedna junijskega vročinskega vala. Neparceliran del kampa je bil precej poln, prostih je bilo še nekaj parcel v coni A. Imeli smo se lepo, ima pa kamp kljub trudu še nekaj priložnosti za izboljšanje.
Najprej pozitivni vidik:
- zelo prijazno in profesionalno osebje
- čudovita lega kampa
- lepo otroško igrišče
- pitna voda blizu večine parcel
- kolesarske poti
- informacijske table
- kamp je krasno izhodišče za aktivno preživljanje prostega časa
Priložnosti za izboljšave:
- prenova toaletnih prostorov (razen večjega sanitarnega vozla, so preostali še vedno v kontejnerjih )
- nasutje peska na parcelah (vsaj na tistih, kjer je travna ruša uničena). Ob dežju lahko imaš na parceli pravi blatni dol.
- še vedno ni možno podaljšati bivanja na dan odhoda na prosti parceli za kakšno uro ob plačilu sorazmernega deleža bivanja (razen če plačaš polno dnevno ceno)
- odpiralni čas pekarne oz. mini trgovinice
- predlagam postavitev avtomata (vending machine) s ponudbo mlečnih izdelkov, mesa in najnujnejših živil
- wifi je bolj za okras, sama ga sicer ne potrebujem, mogoče pa kdo vseeno računa, da bo kamp pokrit
​​

Published on day from anonymous

Category

Tent

Company

In couple

Odličen kamp za dobro ceno. ​​

Published on day from anonymous

Category

Camper

Company

Family with teenager

Zelo lepa, mirna lokacija z urejeno infrastrukturo in sanitarijami. Imeli smo slabo vreme, zasedenost je bila tretjinska. Ker za športne aktivnosti ni bilo primerno, smo odšli v bližnji bazenski kompleks (60 eur na družino). Cena kampa pa je vseeno previsoka (70 eur), da bi tu prenočeval 2 tedna.​​

Published on day from zvonkopravdic

Category

Caravan

Company

In couple

Prijaznost in dostopnost lastnikov kampa. Odlično urejen novi sanitarni blok z možnostjo najema zasebne kopalnice. Mir v kampu, bližina Bohinjske Bistrice, veliko lokacij in možnosti za aktivno preživljanje prostega časa. Zvone&Tatjana​​

Published on day from anonymous

Category

Camper

Company

In couple

Urejenost in lokacija kampa sta odlična, primerno okolje za sprostitev in počitek, hiter dostop do narave in z njo povezanih aktivnosti je ogromno. Restavracija odlična, osebje izredno prijazno. Tudi zaposleni v kampu ( MAJA) so razlog za ponoven obisk. Prijazni, ustrežljivi, sploh pa pripravljeni pomagati. VSE POHVALE​​

Published on day from barjanc

Category

Tent

Company

Alone

Lepo urejen kamp, morda pogrešam le nekoliko več lesenih klopi in miz.
Se mi pa zdi zelo problematično to, da v času najvišje zasedenosti, na vrhuncu turistične sezone, dopuščajo parkiranje avtomobilov v kampu. Zaradi avtomobilistov se prostora za šotorjenje ne da optimalno izkoristiti.
Dodaten problem je pomanjkljiv nazdor nad gosti s hišnimi ljubljenčki (psi). Kar nekaj slednjih sem videl, da se sami sprehajajo okrog, puščajo kupčke, nihče pa nič...
Morda še drobna pripomba: sanitarije bi lahko imele boljše prezračevanje, zjutraj ti ob vonjavah postane kar slabo...​​

Published on day from anonymous

Category

Other

Company

Family with teenager

Vse lepo in ok., ampak, ko je kamp polno zaseden je pač zaseden. Tu to ne drži. Pravijo na recepciji, če najdete prostor se prijavite, brez kontrole o zasedenost. Tako pod vevčer dobiš pod tendo mali šotorček pa čeprav za eno noč. Še okoli šotora ali avtodoma ne moreš. Vse zaprkirano z avti, pač veliko prentrpano, če že greš v naravo...In na koncu tudi ni tako zelo ugodno. Moja naslednja izbira pza. In vem, da je višek sezone, razumem, ampak vsaj sprehodite se čez kamp, ko je tako zaseden, ali pa naredite parcele, ampak tu je ekonomika že druga zgodba... ​​