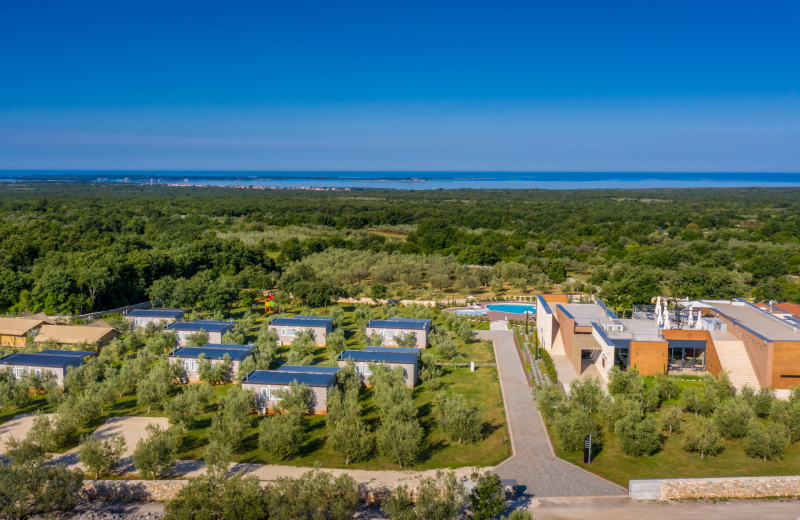 Information
Basic information
Camping Papafigo - Vodnjan is a modern small tourist resort for about 60 people, which allows guests to rent suitable for families mobile homes and glamping tents. Within the settlement you will find a larger building withfour rooms with a shared kitchen, dining room and swimming pool.
Campsite accepts the Avtokampi Camping Card, which will make holidays more affordable. The discount is listed at the price list of the campsite - order for free and get camping card by email.
Campsite is located in an olive grove at the edge of the village Salvela near Vodnjan and 7 km away from the sea, more precisely 12 km from Pula.
It is a quiet location where guests leave their vehicles in a well-kept parking space so that there is no traffic between accommodations. Guests at Camp Papafigo will enjoy an outdoor pool (for adults and children's pool with shallow water) and a wellness area (sauna and jacuzzi).

The campsite Papafigo is open all year round, and in the first season it is expected to open in early April. The location of the camp is interesting for visiting Pula and Brijuni, cycling trips around the area and through many olive groves and vineyards. Guests can also take day trips by boat.
There are 8 nicely arranged pitches for camping, equipped with electricity and water for motorhomes and caravans, next to which there is a modern sanitary facility with a dishwasher, laundry and a chemical toilet.

Within the Papafigo resort is also a modern villa Voliera with four rooms for 8 persons. The total area of ​​the building is more than 200 m2, and each room has a double bed and its own bathroom. The villa also has a spacious shared kitchen and living room with dining area and terrace. Next to villa is an outdoor pool that is intended only for guests in the villa and the outdoor grill.
Guests of the Papafigo Resort have a wellness area at an additional cost, which includes a Finnish and Turkish sauna, a jacuzzi and massages.

The resort also has a restaurant, where guests are offered mainly Istrian dishes and excellent local wines, and from the restaurant on the first floor there is a beautiful view of the sea and Brijuni.
Features and equipment
Type of the campsite
Pitch features
Pitches with electricity and water

Non-parcelled camping plots

Pitches with electricity, water and waste water connections
Location
Equipment
Chemical toilet discharge

Heated sanitary facilities

Children sanitary facilities
Offer
Sport
Swimming pool/wellness
Swimming pool with heated water
Dogs
Rental option
Camping pricelist (in EUR) for year 2021
Pricelist for rental of accommodation for year 2021
Price for
26.6. - 3.9.
22.5. - 25.6.
4.9. - 1.10.
2.4. - 21.5.
2.10. - 31.12.
Villa - 4 rooms + pool
​​643
​​522
​​400
Bed linens and towels
​​gratis
​​gratis
​​gratis
Breakfast
​​gratis
​​gratis
​​gratis
Minimum stay
​​7 (+30%)
​​7 (+30%)
​​3 (+30%)
Tourist tax
​​1,10
​​1,10
​​1,10
PDF - Pricelist for year 2021 (858KB)
The rental price of the villa includes 4 rooms for 8 people.

Contact
GPS: 44.97597,13.83781
Address: Salvela 60, 52215 Vodnjan, Hrvaška
Reception:

+385 91 346 8000
Mobile Homes
Mobile homes description
Rental of mobile homes in campsite Papafigo - Vodnjan
Camping Papafigo offers rental of modern mobile homes - 8 houses (34 m2) for 5 +1 person. All mobile homes are nicely arranged so that they have a suitable distance from each other.
Mobile homes are equipped with two bedrooms, two bathrooms, a modern kitchen and living room and a spacious covered outdoor terrace. The master bedroom has a double bed and the second bedroom has two single beds. An extra bed can be arranged in the living room.

All mobile homes have air-conditioning, satellite TV in the living room, and free wifi.

Mobile homes information
Number of persons in mobile homes
Mobile homes for 4 - 6 persons

Mobile homes for 2 - 3 persons

Mobile homes for 6+ persons
Mobile homes
Dogs allowed in mobile homes

Mobile homes for handicapped

Mobile homes with 3 bedrooms
Pricelist for mobile homes (in EUR) for year 2021
Avtokampi camping card
2021 - 50% discount until 31.7. on camping (persons and pitches), mobile home rental, glamping tent in case of at least 3 nights.
Price for
24.7. - 27.8.
3.7. - 23.7.
28.8. - 10.9.
22.5. - 2.7.
11.9. - 1.10.
2.4. - 21.5.
2.10. - 5.11.
6.11. - 31.12.
Mobile home for 5+1 persons
​​299
​​248
​​198
​​188
​​99**
​​84
Special offer
​​-
​​-
​​-
​​-
​​50*
​​50*
Breakfast
​​gratis
​​gratis
​​gratis
​​gratis
​​gratis*
​​gratis*
Bed linens and towels
​​gratis
​​gratis
​​gratis
​​gratis
​​gratis
​​gratis
Final cleaning
​​35
​​35
​​35
​​35
​​35
​​35
Minimum stay
​​7 (+30%)
​​7 (+30%)
​​7 (+30%)
​​7 (+30%)
​​3 (+30%)
​​3 (+30%)
Tourist tax
​​1,10
​​1,10
​​1,10
​​1,10
​​1,10
​​1,10
Check-in
​​2
​​2
​​2
​​2
​​2
​​2
PDF - Pricelist for year 2021 (859KB)
* special promotion is valid in the period 1.11. - 19.12. 2021 & 3.1. - 1.4. 2022 in case of min 3 nights, surcharge for breakfast is 10 € per person.
** in October there is a 40% discount on mobile home rental prices

Glamping
Glamping description
Rental of glamping thent at Papafigo - Vodnjan
Glamping tents (49 m2) offer a slightly different experience of camping and sleeping under a tent canvas. All tents are very spacious and include 3 bedrooms for six people - one bedroom is equipped with a double bed, the other with two separate beds and the third with a bunk bed.
The glamping tents have as well fully equipped kitchen and bathroom, and the living area is easily connected to the outdoor terrace, so you get one large space for relaxation.
There is also satellite TV in the living room, and free wifi is available.
Information about glamping
Glamping type
Number of persons in glamping
Glamping tents for 4 - 6 persons

Glamping hut for 2 - 3 persons

Glamping huts for 4 - 6 persons

Glamping huts for 6+ persons

Glamping tents for 2 - 3 persons

Glamping tents for 6+ persons
Location and features of glamping
Bathroom in accommodation
Pricelist for glamping (in EUR) for year 2021
Rating and reviews
Reviews:
Published on day from Uroš Križman

Category

Camper

Company

In couple

Pozdravljeni, kamp se nahaja sredi oljčnega nasada od obale odaljen cca 5km . Mogoče edina manjša pomankljivost oddaljenost od obale zato tudi ocena 7. Ima pa tudi bivanje med oljkami svoj čar. Vse ostalo kot mora biti, dostopnost, prijaznost, ustrežljivost osebja, čistoča, ureditev parcele, čudovit panoramski razgled iz vrha glavnega objekta (Brioni, Rovinjski zvonik, Vodnjan)kjer se nahajata čudovita restavracija in recepcija. Obilico možnosti za "gorsko" in cestno kolesarjenje. Zagotovo se še vrneva/mo. Lp Uroš​​