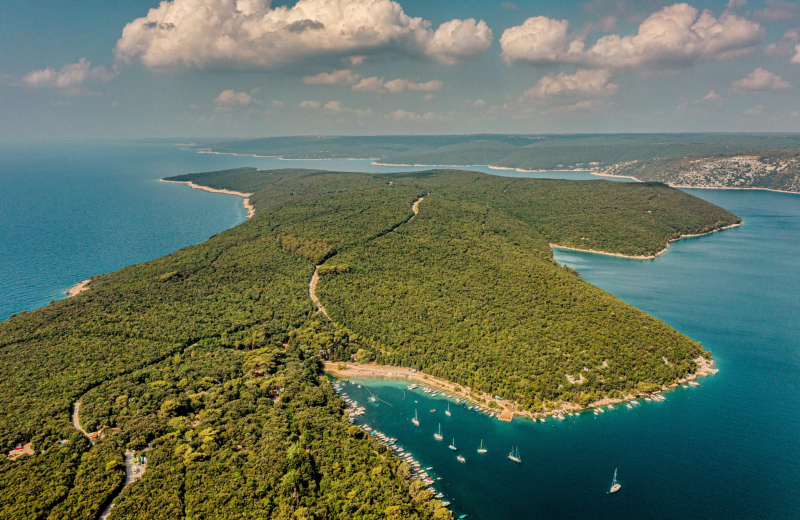 Information
Basic information
Camping Tunarica - Labin is located on the cape Ubac in the bay of Rasa, 17 km from Labin. The characteristic of the green peninsula Ubac is an unspoiled nature with a rich pine forest surrounded by the sea. The camp will convince you with a blessing peace, its great location families with children and for fishermen who have many opportunities for good catch on the peninsula.
Campsite accepts the Avtokampi Camping Card, which will make the camping more affordable. The discount is listed at the price list of the campsite - order for free and get camping card by email.
Pitches in the camp Tunarica really have a good shade and all have access to electricity. A smaller part of the camp is also not divided into the pitches. There are three sanitary facilities available to guests, which have been renovated and partly adapted for handicapped people.

The campsite beach is arranged along a sandy bay and is very suitable for children. On the other side of the campsite (5 minutes walk) is a rocky beach and is also intended for nudists. On the part of the beach bathing is also allowed for dogs. There are also many berths for boats in the bay near the camp, as the bay offers good shelter.

There is no sports facilities, there is a children's playground and the possibility of renting SUP boards, kayaks, pedal boats and boats. The surroundings offer many cycling and hiking trails.

Mini shop is at the campsite, and for larger purchases it is necessary to drive to Labin. The campsite also has a restaurant that offers traditional dishes along the tuna specialities.
Features and equipment
Type of the campsite
Pitch features
Non-parcelled camping plots

Pitches with electricity and water

Pitches with electricity, water and waste water connections
Location
Equipment
Chemical toilet discharge

Children sanitary facilities

Heated sanitary facilities
Offer
Sport
Swimming pool/wellness
Swimming pool with heated water
Dogs
Rental option
Camping pricelist (in EUR) for year 2023
Avtokampi camping card
2023 - 7.5% discount for camping on all pitch types in the periods 27.4. - 29.6. & 20.8. - 30.9. and 5% discount in the period 30.6. - 19.8. No discount on unplotted pitches.
Price for
7.7. - 19.8.
30.6. - 6.7.
16.6. - 29.6.
20.8. - 26.8.
26.5. - 15.6.
27.8. - 2.9.
17.5. - 25.5.
3.9. - 9.9.
5.5. - 16.5.
10.9. - 16.9.
27.4. - 4.5.
17.9. - 30.9.
Person
​​7,80
7,30
7
6,50
6
5,80
5,50
Children 7 - 12 yrs.
​​3,90
​​3,60
​​3,40
​​3,30
​​3,30
​​3,20
​​3
Pitch by the sea (electricity)
22
21,50
21
19,50
19
18
17
Pitch with electricity
18,50
18
17,50
15,50
15
14,50
14
Non-parceled camping unit without elect.
12
11
10
9
8,50
8,30
7,80
Dog
5,50
5,50
5
4,50
4
4
4
Tourist tax
1,10
1,10
1,10
1,10
1,10
1,10
1,10
Pricelist for yearly rental (in EUR) for year 2023
| Price for | 1.5. - 30.9. |
| --- | --- |
| Yearly pitch rental with electricity | ​​2.600 - 2.860 |
| Dog | 245 |
| Addit. car | 245 |
| Tourist tax | 1,10 |
PDF - Pricelist for year 2023 (16KB)
The flat rate of the camping pitch is valid for 4 people.

Contact
GPS: 44.969332,14.099790
Address: Rudarska 1, 52220 Labin Istra, Hrvaška
Reception:

+385 52 465 010
Rating and reviews
Reviews:
Published on day from Anonymous

Category

Camper

Company

Family with small children

Kamp je super v kolikor iščeš mir. Kar se plaže tiče je na soncu, za ljubitelje sence na plaži ni. Za tako velik kamp je nemogoče,da si samo na eno plažo orientiran ker je prevelika gužva, ki predstavlja 100m2. Nujno je iti s čolnom ven. Poleg tega je mene odbilo, da če čolna nimaš ne moreš niti zaplavat v globoko vodo, ker je čolnov preveč parkiranih v tako majhen zaliv in preblizu obale. Žal se mi med vso to nafto ne plava. In tukaj sem doživela veliko razočaranje prav zaradi tega. Drugače pa super kamp in ljubitelje naravnih kampov. ​​

Published on day from anonymous

Category

Tent

Company

Family with small children

Kamp ima prostorne in senčne parcele, kar je velik plus. Super kamp tudi za lastnike čolnov, saj je v bližini ogromno zalivčkov, kjer je voda res kristalno čista. Edina res velika kritika so sanitarije, ki so resnično umazane, dotrajane in potrebne totalne prenove. Restavracija bi lahko imela več ponudbe, trgovina pa bi morala biti odprta že od začetka sezone. Plaža v kampu je majhna, a vseeno dovolj za kopanje, sploh za majhne otroke.​​

Published on day from anonymous

Category

Camper

Company

Family with small children

Hvala za prelepe počitnice,zelo lep in urejen kamp.​​

Published on day from Nejka22

Category

Caravan

Company

Family with small children

Kamp ima super parcele z veliko sence. Problem je, ker jih vecina ni ravnih in zadosti velikih za prikolico ali vecji sotor in da sosedu ne gledas ravno v kroznik. Plaza je povprecna, voda umazana. Super za lastnike colnov. Sanitarije pa so obup. 1 cistilka je definitivno premalo za 3 sanitarne bloke. Razumem, da so ljudje packi, ampak ko vidis pajcevine in zasuseno umazanijo, ves da ze kar nekaj casa ni bilo konkretno spucano. ​​

Published on day from divaseta

Category

Caravan

Company

In couple

Kamp Tunarica nudi točno to,kar midva potrebujeva na počitnicah. Parcelo v globoki senci tik ob morju, dostava hrane iz trgovine ali iz restavracije na parcelo (Valamar fresco),če se ti ne ljubi v Labin ali v gostilno nad parcelo. Sanitarni blok se čisti nenehno, je pa žal res, da ljudje pustijo takšno svinjarijo za seboj, da se ne da opisati. Odlična zadeva je tudi, da je letos občutno manj pavšalistov, ki so prejšnja leta kazili podobo kampa.
Kamp za ljubitelje miru in narave. Brez animacije, mobilnih hišk , igral in promenade.
Krasen kraj za supanje,veslanje in vožnjo s čolni do čudovitih zalivov.
Vse pohvale osebju v recepciji kampa. Uredijo nemogoče.
Stalni gostje in bomo tudi ostali.
​​

Published on day from anonymous

Category

Camper

Company

In couple

Za malo denarja...tudi malo muzike. Trgovine ni. Odprt samo večji sanitarni blok in en s stranišči ob restavravciji. Iz sanitarij smrdi. Plaža majhna..voda motna. Če nimaš čolna si oplel. Razočarana.​​

Published on day from tanja.pre

Category

Tent

Company

Family with small children

Super miren majhen kamp. Brez animacij, bazenov,..kar nam ustreza. Sanitarije lepe, parcele senčne, plaža majhna ampak na njej ni gneče, super za otroke. Če imaš čoln, so v okolici lepi zalivi za raziskovanje. Kuža se je kd plaže malo umaknil, brez problemov kopal. Edino trgovina v kampu je la draaaaga.​​

Published on day from BraKop

Category

Camper

Company

In couple

Moram povdariti, da sva bila pozitivno presenečena nad prijaznostjo osebja, čistočo wc, zanimivo izbiro parcele, v zelo lepem hladu pod hrastovimi krošnjami. Po novem tudi kar dobro založena trgovina deluje do 20 ure. Plaža v objemu množice čolnov, za ne preveč zahtevne je ok. Skratka kamp je glede na ceno super, za tiste, ki niso preveč zahtevni. Zelo miren kamp. ​​

Published on day from anonymous

Category

Other

Company

Family with small children

Slaba plaža - preveč čolnov​​

Published on day from eos76

Category

Tent

Company

Family with small children

Zelo prijeten kamp, dovolj sence, urejene parcele, čisti in urejeni sanitarni bloki, izjemno prijazno osebje na recepciji, umirjeno brez vrveža. Če ste radi v stiku z naravo, potem zelo priporočam.
Plaža jepeščena in primerna za otroke, je pa majhna in naokrog je veliko čolnov. Na drugi strani polotoka (5 minut peš) je zelo skalnata in divja plaža, primerna za FKK, polna mirnih skritih kotičkov. Edini minus je trgovina, ki je založena bolj z osnovnimi stvarmi in odprta samo do 14:00 ure, tako da moraš pač malo načrtovat, kaj boš potreboval.
Skratka, bilo nam je všeč in se še bomo vrnili!​​