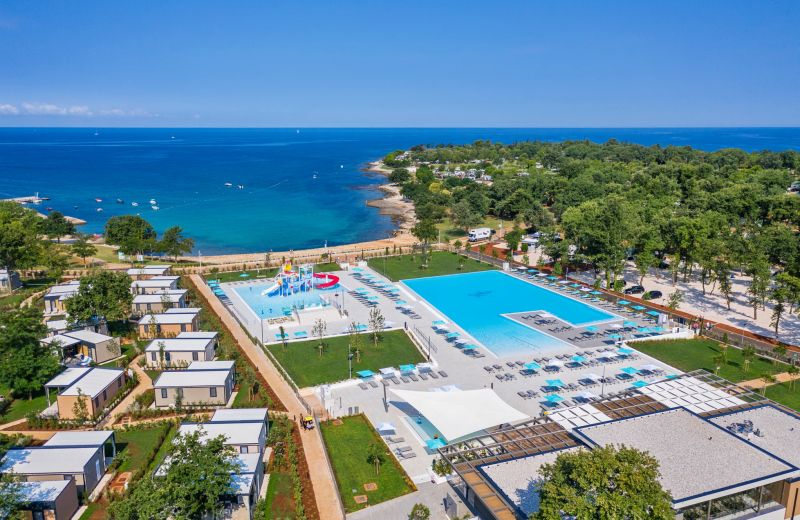 Best camp Adria 2018

3. place
Information
Basic information
Camping Park Umag is located by the sea between towns Umag and Lovrecica, about 9km southern from Umag. Is its one of the Croatian biggest camps as it can host up to 5000 guest at once. campsite offers camping pitches and renting of mobile homes and glamping tents.
Campsite accepts the Avtokampi Camping Card, which will make camping holidays more affordable. The discount is listed at the price list of the campsite - order for free and get camping card by email.
NEW - renovation of Classic camping pitches into Classic Plus with electricity, water and satellite TV connection, renovation of the beach in Canova Bay, a new pool complex with water slides and water playgrounds and a new mobile home village near the new pools.

In season 2018 Slovene campers have selected Camping Park Umag in Naj kamp Adria 2018 as third best campsite with mobile homes offer in Croatia. Due to its tidiness and various services has been Camping Park Umag for season 2017 awarded as Superplatz in opinion of German autoclub ADAC. Dutch autoclub has camping nominated for Best Kids Camping which means that CampingIN Park Umag is one of 10 best European camps with wide range of kids animation.

Campsite has been completely renovated in last years and has more than 2000 arranged pitches, most of them have electricity connection, most as well access to the water, some have also TV connection and grill on their pitch. Most of camping pitches are arranged on soft grass and are less shaded, while smaller part is arranged in woods with thick shade. All guests have free access to wifi.
Most of the sanitary facilities have been renovated. These are modern sanitary buildings, which are also accessible with wheelchairs and prams. Part of facilities are adjusted to the height of children. Some blocks offer dog showers. And there is new supply station for campers.

Beach in campsite is mostly stoned, part is pebbled and have arranged accesses to the sea. In a bay beach is stoned with sun bathing places. Camping pitches are from beach divided with green track which is perfect for sunbathing and playing of various games.

Kids will just love large outdoor swimming pools complex. A diving centre and water sports centre are working in the camp. In camp you can find shop, fish shop, vegetable selling stand, bars and restaurants.

Sport lovers will surely not be bored: you can play tennis, volleyball, football, basketball, bowling. You can try yourself in shooting as well as sweat in fitness. Campsite is also great for bicyclers as you can rent a bike here to discover many arranged paths through Istrian villages. Along the beach a promenade is arranged, which is especially favorite to all lovers of joggers. In the evening everybody will find some fun for himself. In restaurants live music is played, by the sea special stage is set for various events, in picnic places you can make dinner for yourself and friends.
Features and equipment
Type of the campsite
Pitch features
Pitches with electricity and water

Pitches with electricity, water and waste water connections

Non-parcelled camping plots
Location
Equipment
Chemical toilet discharge

Children sanitary facilities

Heated sanitary facilities
Offer
Sport
Swimming pool/wellness
Swimming pool with heated water
Dogs
Rental option
Camping pricelist (in EUR) for year 2023
Pricelist for yearly rental (in EUR) for year 2023
| Price for | 21.4. - 1.10. |
| --- | --- |
| Yearly pitch rental with electricity | 3.350 / 4.020* |
| Yearly rental of economic pitch with electricity | 2.390 |
| Addit. person | 95 |
| Addit. car | 90 |
| Dog | 90 |
| Boat trailer | 140 |
| Winter lodging of the caravan | 200 |
PDF - Pricelist for year 2023 (17KB)
The flat-rate price includes 4 people and depends on the location of the pitch. For companies, the flat-rate on a Classic pitch costs  1.000 € more.
Contact
GPS: 45.367100,13.547300
Address: Ladin gaj 132A, 52470 Umag, Hrvaška
Reception:

+385 52 713 740
Mobile Homes
Mobile homes description
Rent a mobile home in the Camping Park Umag - they offer to rent several types of mobile homes located on the left side of the camp or new Premium houses located in the Canova bay.

Premium mobile homes Canova Bay for 4 - 6 people placed right next to the new pools. All cottages are equipped with two, and some even have three bedrooms, so they offer comfort for the whole family. All cottages have two bathrooms, a fully equipped kitchen and a spacious terrace, and there are several children's playgrounds in the village, so that everything is really taken care of for a comfortable family holiday.

To the left of the reception are the mobile homes Superior (32m2), Family (48m2) and Luxury (48m2), which are modernly equipped with two bedrooms, a large living room with kitchen, two bathrooms and an outdoor terrace. There are also swimming pools next to the mobile homes.

The most affordable are the Classic mobile homes (24m2), which are slightly smaller, but can still sleep 4 adults and two children. Dogs are also allowed in these mobile homes at an additional cost.
Mobile homes information
Number of persons in mobile homes
Mobile homes for 4 - 6 persons

Mobile homes for 6+ persons

Mobile homes for 2 - 3 persons
Mobile homes
Dogs allowed in mobile homes

Mobile homes with 3 bedrooms

Mobile homes for handicapped
Pricelist for mobile homes (in EUR) for year 2023
Glamping
Glamping description
NEW - Camping Park Umag allows you to rent a glamping tent in 5 - 6 people. These are the latest models of glamor tent Adria, which offer a lot of comfort and are equipped with two bedrooms and an extra bed, a fully equipped kitchen, a bathroom and a living room connected with the terrace. All tents are air-conditioned.

Glamping tents are located near the sea in one of the most beautiful locations in the camp. They offer luxurious camping and are the perfect choice for unforgettable summer holidays for the whole family.

Information about glamping
Glamping type
Number of persons in glamping
Glamping tents for 4 - 6 persons

Glamping hut for 2 - 3 persons

Glamping huts for 4 - 6 persons

Glamping huts for 6+ persons

Glamping tents for 2 - 3 persons

Glamping tents for 6+ persons
Location and features of glamping
Bathroom in accommodation
Pricelist for glamping (in EUR) for year 2023
Rating and reviews
Best camp Adria
2018: 3. place in category Slovenia and Croatia - Mobile homes
Reviews:
Published on day from VANJA.MLEKUZ GINOSKI446

Category

Caravan

Company

Family with small children

ODLIČEN KAMP!FALI MOGOČE KAKŠNA PICERIJA IN PA TRGOVINA JE PREDRAGA IN PREMALO ZALOŽENA.​​

Published on day from BARBARAGRAŠIČ

Category

Camper

Company

With friends

PRESENETLJIVO FANTASTIČNO​​

Published on day from anonymous

Category

Caravan

Company

Family with small children

Zelo čisto, urejeno prijazni ljudje ​​

Published on day from Gabrijela.karlovcec556

Category

Caravan

Company

Family with small children

Kljub temu, da običajni izbiramo manjše kampe, smo se tokrat odločili za obisk tega. Bili smo na parceli v bližini sanitarij 06. Mislim da v celi naši karieri kampanja še nismo bili tako razočarani. Parcele sicer dovolj velike, tudi senčne, celo animacijo ob kresu so imeli, sanitarije pa... Izgledalo je, kot da v tem času nimajo čistilk. V mnogih kampih doslej so bile sanitarije starejše, bolj dotrajane, pa vendarle čiste, tukaj pa.. Nekako smo bili srečni, da se naš dopust bliža koncu. ​​

Published on day from anonymous

Category

Caravan with yearly rental

Company

Family with small children

Letošnja sezona kampa je bila KATASTROFALNA!!! Niti en od pavšalistov ni imel pozitivne izkušnje z osebjem... jaz sem celo razmišljal o prijavi nadlegovanja, nekateri so se skoraj stepli. Nočni varnostniki, če nobenega ni pred prikolico so si postregli s hrano in sedeli spredj - vodstvo kampa ni nikoli ukrepalo. Zamenjal so osebje za preverjanje in so samo grozili z prekinjevanjem pogodb. Sistemi jim niso delovali in so se obiskovalci morali premikati iz parcel na parcele. Ko so dobili tretjo premestitev so vse pobrali in odšli v drug kamp. V kampu smo 17 let - zadnji pavšal. Bazenski kompleksi so veliki, niti enkrat v sezoni ni bil bazen ščiščen... ne samo pesek, v bazenih plavajo iztrebki ipd. Sanitariji katastrofa - snežilke so za objekti pile in kadile na stolih. Me zanima če se kdo najde letos z pozitivnim mnenjem.​​

Published on day from anonymous

Category

Caravan with yearly rental

Company

Family with small children

super camp, mesto v malem, senca, sonce, morje, bazeni, rekreacija, zabava, restavracije, bistroji, letos preurejena plaža, čisto morje, ni da ni, enostavna prijava in odjava za paušaliste, prijazno osebje, čiste sanitarije, vedno topla voda... primerno za družine z otroci, za starejše, pa še cena paušala je OK. ​​

Published on day from natasawm239

Category

Camper

Company

In couple

Puno ljudi, smještaj ok, visoke cijene​​

Published on day from chris_95

Category

Caravan

Company

In couple

Lep večji kamp z urejenimi sanitarijami, dobrimi parcelami in sorazmerno malo pavšaliti. Osebje zna kdaj komplicirati predvsem za vrnitev dokumentov, trgovina je malo zanemarjena plaža se zna v popoldanskih urah precej umazati. Na plaži so preoblačilnice, in tuši s sladko vodo. Restavracije imajo dobro in poceni hrano, predvsem pice. ob plaži je tudi barv katerem v večernih urah igra muzika, ki pa se ob 22ih ustavi. ​​

Published on day from zmajčekjaka

Category

Caravan

Company

Family with small children

V kampu smo pristali po nakljucju in sprva se nam je zdela odlicna izbira,dokler nismo prisli na obalo... kamp je super urejen,zaenkrat ni hude guzve,fajn za kolesarit,dobri wcji,lepa,predvsem sencna plaza,dostop v morje pa katastrofa... to je razlog zakaj se v ta kamp zagotovo vec ne bomo vrnili.. pa strizlovk je res povsood????​​