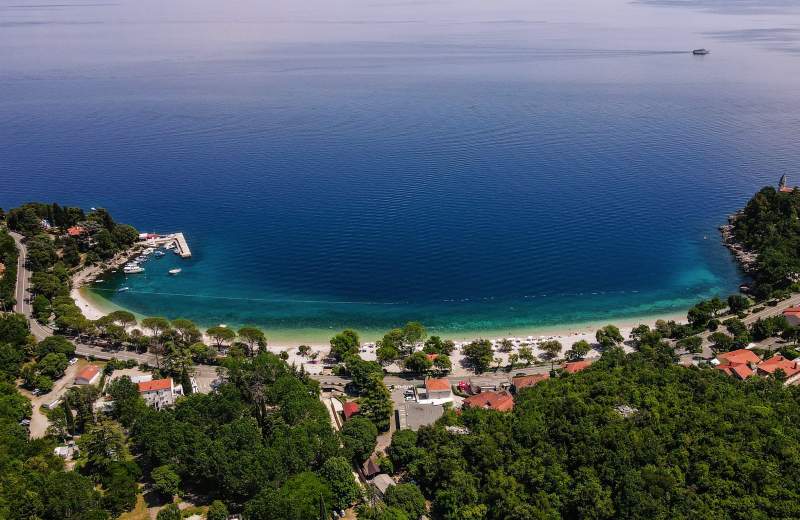 Information
Basic information
Campsite & Holiday Resort Medveja is located on the eastern side of the peninsula Istria, 8 km southern from city Opatija and 3km southern from city Lovaran. Only a street is separating the camp from the beach.
Camping Medveja has arranged 248 pitches and also non-parceled place, you can also rent mobile homes, apartments and rooms.
One half of the campsite is arranged in pitches, while the other half is still available for free camping. Wherever you set your camping home, it is possible to use electricity connection. One third of the pitches have as well access to water connection.
In camp they have 2 larger and one smaller sanitary blocks which were renovated recently. They are adjusted for disabled persons, have arranged showers for dogs, chem wc, camper supply station and laundry with washing and drying machines.

Campsite is divided from a nice pebbled beach only with road. On the beach you will find many bars and optional rental of sunbeds and parasols. There are two children's playgrounds in the campsite and various animation in the high season organized (15.7. - 31.8.) - animation for kids, gym for adults and music in the evening. Camping Mareda is completely covered with free wireless internet, while internet corner is arranged at the reception. It is possible to rent a bike here as well.

As the campsite Medveja is located in the centre of the city you will easily find a near by shop, restaurant, bars, fruit stands, etc.

Features and equipment
Type of the campsite
Pitch features
Non-parcelled camping plots

Pitches with electricity and water

Pitches with electricity, water and waste water connections
Location
Equipment
Chemical toilet discharge

Children sanitary facilities

Heated sanitary facilities
Offer
Sport
Swimming pool/wellness
Swimming pool with heated water
Dogs
Rental option
Camping pricelist (in EUR) for year 2023
Price for
8.6. - 17.8.
12.5. - 7.6.
18.8. - 7.9.
27.4. - 11.5.
8.9. - 24.9.
Person
​​9,60
​​8,50
​​7,25
Children 5 - 12 yrs.
​​6,10
​​5,25
​​4,60
Pitch (electricity, water)
​​28,25
​​24,20
​​20,70
Pitch with electricity
​​25,60
​​21,80
​​17,90
Non-parceled part of the camping:
​​-
​​-
​​-
Tent
​​7,35
​​5,80
​​5,25
Car
​​6,60
​​5,80
​​4,75
Motorcycle
​​6,30
​​5,25
​​4,20
Caravan
​​8,70
​​8,40
​​6,50
Camper
​​11
​​10,40
​​8,70
Utility Trailers
​​6,10
​​5,25
​​5,10
Dog
​​7,30
​​6,35
​​5,50
Refrigerator
​​5,25
​​4,50
​​4,15
Addit. electricity
​​6,30
​​5,25
​​4,80
Check-in
​​1
​​1
​​1
Tourist tax
​​1,10
​​1,10
​​1,10
PDF - Pricelist for year 2023 (21KB)
The price of the plot already includes a vehicle (car + tent, car + caravan, motorhome), electricity or. additional water on individual plots.

On the non-parceled part of the camp, a vehicle + tent or caravan must be paid for separately.

Pricelist for yearly rental (in EUR) for year 2023
| Price for | 27.4. - 24.9. |
| --- | --- |
| Yearly pitch rental with electricity | ​​2.500 |
| Addit. person | ​​130 |
| Dog | ​​70 |
| Tourist tax | ​​1,10 |
| Check-in | ​​1 |
PDF - Pricelist for year 2023 (17KB)
The flat rate at Camping Medveja includes 4 people (adults and children over 5 years old). Each additional person must pay extra for the price list.

Contact
GPS: 45.270870,14.268900
Address: Medveja 4, 51416 Medveja, Hrvaška
Reception:

+385 51 293 766

Reservation:

+385 51 710 444
Mobile Homes
Mobile homes description
Rental of a mobile home in camping Medveja - campsite is offering 50 mobile homes for rental and all can host 4 adults. 40 of them are premium mobile homes, 32 m2 large and have two bedrooms, two bathrooms, kitchen, living room and terrace. Each mobile home has grill as well.

10 mobile homes are a bit smaller 23 m2 - Standard mobile homes - and can host 4 adults. Dogs are allowed in mobile homes.
Mobile homes information
Number of persons in mobile homes
Mobile homes for 4 - 6 persons

Mobile homes for 2 - 3 persons

Mobile homes for 6+ persons
Mobile homes
Dogs allowed in mobile homes

Mobile homes for handicapped

Mobile homes with 3 bedrooms
Pricelist for mobile homes (in EUR) for year 2023
Prices for renting mobile homes in the camping Medveja change during the season - you can get the exact prices in the reservation system on the camp's website - www.liburnia.hr

Rating and reviews
Reviews:
Published on day from olgagaluf434

Category

Caravan

Company

Family with small children

Slabše očiščebih sanitarij še nikol vidla, večkrat zmanjka wc papirja,čistilke so samo zjutraj...zaradi dnevnih gostov ki.lahko.parkirajo v kampu je vsako jutro in zvečer nenormalen promet, plaža lepa samo čist prepolna zraven tudi zelo.prometna cesta....plusi so drugače lepa in čista plaža,bližina 3ure vožnje, super animacija za otroke dopoldan in zvečer , tudi restavracija ki spada pod kamp ni slaba. Moteče je tudi dejstvonker je zaradi lega ze po 17uri večina plaže v senci​​

Published on day from Kamping19

Category

Tent

Company

Family with small children

Ponoči so nam ukradli priključek za elektriko.
Parceliran del je pretežno le na soncu, neparceliran del (možen priklop na elektriko) pa v senci.
Sanitarije so umazane. Brisačke, milo in wc papir so samo zjutraj, potem vsega zmanjka.
Kamp omogoča tudi parking (15€) za celoten dan, zato je plaža polna zunanjih obiskovalcev.
Veliko je najstnikov, ki si čez dan nabijajo muziko in se derejo. Veliko se jih glasno pogovarja do 2h zjutraj, tako da kamp ni ravno miren.
Trgovina v bližini je dobro založena ne glede na uro v dnevu.​​

Published on day from anonymous

Category

Caravan

Company

Family with small children

Eden izmed slabših kampov. Sanitarije zelo umazane (veliko plesni, umazani wc-ji, spolzka, mokra tla,...) Niti enkrat nismo srečali nobene čistilke. Podhod na plažo je v bistvu prazna/presušena struga potoka. Obala je lepa, vendar to ne odtehta, da bi se v kamp še vrnili.​​

Published on day from anonymous

Category

Tent

Company

In couple

Kamp ni vzdrževan, suhih vej po dreveih ogromno. WC-ji umazani, po tleh listja in iglic. Sredi dneva zmanjka papurja in brisačk, školjke umazane. Za vikend je bilo za preživet kaj več pa nikakor.​​

Published on day from DH

Category

Caravan with yearly rental

Company

Family with small children

Glede na to, da smo prekampirali že marsikaj in marsikje, menim da gre za odličen kamp. Sanitarije so potrebne prenove, a so zelo čiste (opazil da čistijo večkrat dnevno, kar ni samoumevno vsepovsod), novi lastniki pa pravijo da se bodo tudi te obnovile. Osebje tudi zelo ustrežljivo in prijazno.

Kamp ima izredno lego, tudi cesti se da izogniti na poti do plaže in sicer je narejen podhod. Morje zelo čisto, v restavraciji na plaži zelo prijazni, cene pa normalne za razliko od marsikje.

Infrastruktura se bo najbrž že nadgradila, a dejstvo da ima kamp tako lego, tu ga marsikateri kamp ne bo mogel ujeti. Cel kamp je poln dreves, listavcev in nudi znosne temperature za kampiranje (tudi s šotorom), ponoči pa se zaradi hribovitega zaledja dol spusti hladen zrak in se spi kot na oblaku.

Odlična pozicija tudi za gorske kolesarje in plezalce. Izpostaviti velja, da so vozila redka in vozijo počasi po kampu, in pa kamp čeprav skrit v hribu, je raven kar je velik plus za otroke.

Zanimivo je brati komentarje, ljudje smo si različni, nekatere privablja "mondenost" in da je vse pri roki, druge pa narava, mir, čist zrak in podobno. In prav je tako.​​

Published on day from Mayaya

Category

Mobile home

Company

With friends

Leto 2019- v kampu nič novega….ocene z 1,0 in 2,0 so še vedno na mestu….katastrofa od kampa. Vse napisano je resnica- brez kančka pretiravanja, samo še dodal bi lahko kaj. Škoda, da prej nisem prebral ocen tega kampa, če se mu sploh lahko tako reče… Vikend smo ,,preživeli'' , kaj več pa definitivno ne bi šlo. ODSVETUJEM!​​

Published on day from anonymous

Category

Other

Company

Family with small children

Glede na to, da smo prvič kampirali s šotorom, smo imeli zelo dobro izkušnjo. Gneče v kampu ni bilo, kamp urejen, razen nekatere parcele malce slabo pokošene. Prišli smo ravno po nalivu (prejšnjo noč verjetno veliko dežja), saj so bile nekatere parcele v blatu in lužah (s šotorom nemogoče za bivanje). Cene kampiranja sicer kar visoke.
Sanitarije pa TOP, čistilke vedno na delu kadarkoli si obiskal bodisi WC ali TUŠ. Res vzdrževano tako kot treba.
Plaža TOP, voda kristalno čista. Še se bomo vrnili. ​​

Published on day from anonymous

Category

Tent

Company

In couple

Solidno opremljene mobilne hiške, dovoljeni so psi. Osebje prijazno, sanitarni objekti čisti in urejeni. Bližina ceste ni preveč moteča. V bližini krajša sprehajalna pot.​​

Published on day from anonymous

Category

Other

Company

Family with small children

Glede na prebrano pričakoval lep, urejen kamp. Realnost je pa drugačna, vsaj letos. Bili smo v mobilnih hiškah za podaljšan vikend. Okolica zelo zanemarjena, povsod občutek, kot da par let ni bilo nič vdrževano. Stopnice do hiške lepo narejene iz kamna, a kaj ko se krušijo oz. razpadajo. Sicer ne kompliciram, ampak če plačam 90 EUR za nočitev v mobilni hiški pred glavno sezono, pač ne pričakujem ob prihodu v mobilno hiško umazanih kozarcev, polnih prstnih odtisov, delno nedelujočega plinskega štedilnika, nevarno okrušenih kamnitih stopnic za na teraso, kot kamen trde pipe v eni od kopalnic, nepokošene trave, ipd... Na sprehodu čez kamp opaziš veliko razpadajočih prikolic. Če kamp v kratkem ne bo saniran, bo postal drugi Černobil. Za to ceno definitivno ne priporočam.​​

Published on day from anonymous

Category

Other

Company

In couple

Prijeten kamp, veliko družin, precej mirno. Ne glede na to da je ob cesti se globlje v kampu prometa ne sliši nič. Lepo razporejen kamp, jasno je kje so parcele, kje je prostor za neparcelirano kampiranje, prijazno osebje na recepciji.
Sanitarije so sicer dobro zastavljene a jih je za to velikost kampa morda premalo, prav tako (brezhibno delujočih) tušev. Sanitarije v zgornjem delu kampa so na videz slabše vzdrževane kot na spodnjem saj je parkrat manjkalo papirja ali pa je bilo videti precej neurejeno/umazano.
Plaža je super, tudi če ne vzameš ležalnika se vedno najde prostor za odložiti brisačo.
Za krajši dopust, zelo priporočam. ​​