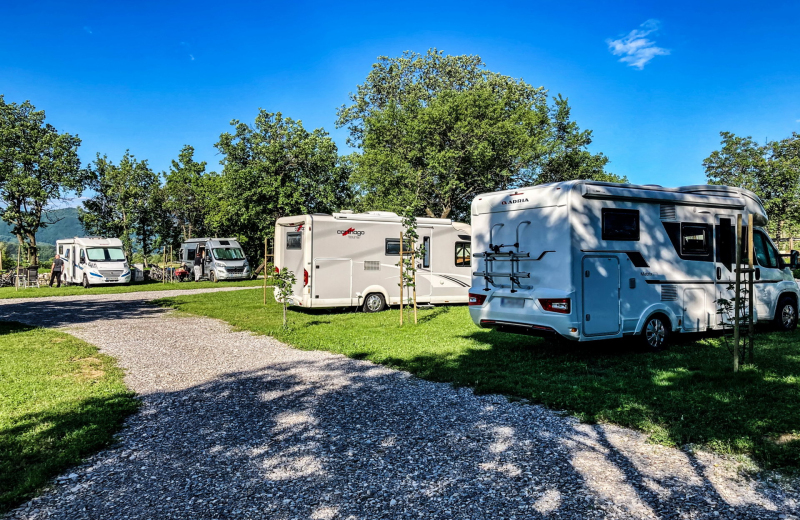 Information
Basic information
Camping David is a new campsite arranged in the center of the Vipava Valley. It lies in a beautiful natural environment right next to the village of Malovse. The campsite is 1 km away from the motorway exit Selon, 10 km from the center of Ajdovscina and 15 km from Nova Gorica.

Camping David is open all year round - from 21.4. to 1.10. as a classic campsite, from 1.10. to April as a camper stop for motorhomes - during this time the toilets are closed and electricity and water supply is possible.
NEW - arrangement of mini shop and bakerie, rent a refrigerator and use the washing machine.

Campsite accepts the Avtokampi.si Camping Card, which will make the camping more affordable. The discount is listed at the price list of the campsite, and you can order free camping card HERE
The camping area at Camp David is well arranged in the shade of old oaks. It is equipped with modern sanitary facilities, which are heated and adapted for disabled people. In addition to the useful information at the reception, you will find there coffee, refreshments and ice cream. Fresh bread and bakery products are delivered to the camp daily.
The owners of the camp are Katja and David, enthusiastic recreational athletes, active researchers of local specialities, in love with a genuine life in touch with nature. As locals they know the most beautiful corners of the Vipava Valley, so they will be happy to advise you on your choice of activities and connect you with the best local guides.
Bicycles are recommended for exploring the surroundings, but you can also go on foot. The campsite offers bicycle rental, SUP surfing or kayaking trips along the Vipava River, and paragliding is available. In the Vipava Valley, it is almost a must stop at one of the local winemakers, where you can taste great Vipava wines and delicious home-made dishes.

Features and equipment
Type of the campsite
Pitch features
Non-parcelled camping plots

Pitches with electricity and water

Pitches with electricity, water and waste water connections
Location
Equipment
Chemical toilet discharge

Heated sanitary facilities

Children sanitary facilities
Offer
Sport
Swimming pool/wellness
Swimming pool with heated water
Dogs
Rental option
Camping pricelist (in EUR) for year 2023
Avtokampi camping card
2023 - 10% discount on camping
Price for
24.7. - 20.8.
1.6. - 23.7.
21.8. - 1.10.
21.4. - 31.5.
Person
12,50
10
8,50
Children under 7
​​gratis
​​​​gratis
​​​​gratis
Children 7 - 14 yrs.
7
6
5,50
Pitch
​​6
5
5
Electricity
4
4
4
Pet
​​2
​​2
2
Internet access - WIFI
​​gratis
​​​​gratis
​​​​gratis
Washing machine
4
4
4
Tourist tax
2
2
2
Contact
GPS: 45.899916,13.789429
Address: Malovše 37, 5262 Črniče, Slovenija
Reception:

+386 51 248 397
Camper stops
Camper stop description
NEW - Camping David offers a motorhome parking place, which is open in spring and autumn (1.10. - 22.4.)

Guests with motorhomes and caravans will have access to electricity, water, gray water outlet and chemical toilet.

Information about camper stop
Camper stop type
Camper stop with supply station
Features of the camper stop
Discharge of faeces / chemical wc

Camper stop with sanitary facilities
Pricelist for camper stop (in EUR) for year 2023
Price for
1.1. - 20.4.
1.10. - 31.12.
Camper stop + electricity + water (24h)
​​15
Rating and reviews
Reviews:
Published on day from anonymous

Category

Camper

Company

In couple

Published on day from anonymous

Category

Tent

Company

In couple

Zelo lep kamp, ki ima odlične senčne parcele za šotore, zelo čiste in urejene kopalnice ter izjemno prijazno osebje. Vsekakor priporočam vsakemu, ki išče miren kamp s super izhodiščem za raznorazne športne aktivnosti in kulinarično raziskovanje Vipavske doline. Na recepciji lahko vsak dan kupiš tudi kavo, hladno pijačo in prigrizke, na voljo je tudi svež kruh in domača jajčka (ob predhodnem naročilu), občasno pa tudi domača zelenjava. Res super kamp, kjer lepo skrbijo za svoje goste :) Priporočam!​​

Published on day from domen.fras

Category

Camper

Company

Alone

Odlična lokacija in super izhodišče za kolesarske izlete.​​

Published on day from anonymous

Category

Camper

Company

In couple

Čudovito opremljen kamp, čudovite sanitarije in prijazno ter ustrežljivo osebje. Ponudba v samem kampu s kavo in pijačo zadostuje, pohvalno je sveži kruh za zajtrk. Se bomo še vrnili.​​

Published on day from anonymous

Category

Caravan

Company

Family with small children

Odlično izhodišče za dnevne izlete po okolici (Posočje, Brda, Kras, Brkini, obala,...), za kolesarjenje in za miren oddih z vrhunsko kulinariko. Kamp zelo lepo urejen in čist, s prijaznimi in ustrežljivimi lastniki, ki z veseljem delijo napotke za dnevne aktivnosti.
Zagotovo se še vrnemo!​​