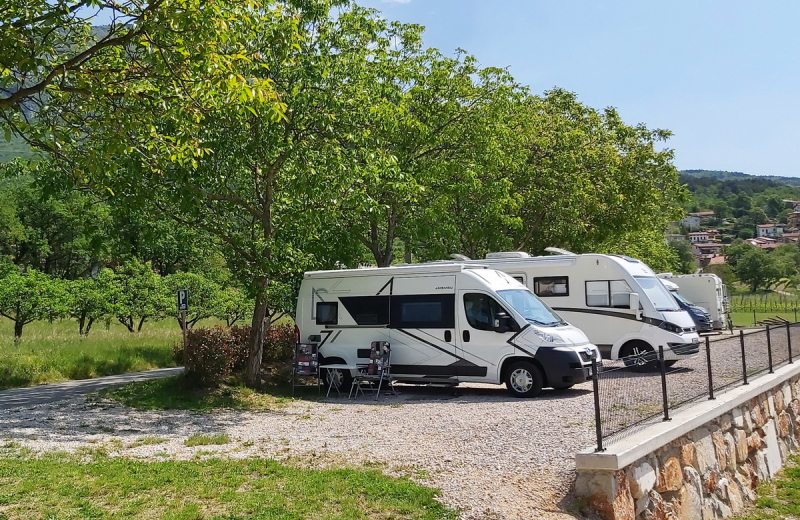 Information
Camper stop description
The beautiful wine cellar Lepa Vida in the village Osek next to city Sempas (Osek pri Sempasu in Slovene) added a camperstop for campers in its offer. The easiest way to get to them is if you leave the road to Nova Gorica at the village of Selo and take the old road towards Sempas. After a 4km drive, you will see a beautifully arranged wine cellar on the left.

Camper stop accepts the Avtokampi.si Camping Card, which will make the camping more affordable. The discount is listed at the price list of the camper stop, and you can order free camping card HERE

PZA Lepa Vida has space for 6 campers which can be connected to electricity, fresh water, waste water and empty as well faeces. The use of a supply station is possible throughout the year.

Guests in the wine cellar can buy premium wines, for example. Gray Pinot, Sauvignon, Malvasia, Rose and a few other wines that are marketed under their own names eg. 'Mi in oOo'. The location between the vineyards also offers nice walks and cycling.
Information about camper stop
Camper stop type
Camper stop with supply station
Features of the camper stop
Discharge of faeces / chemical wc

Camper stop with sanitary facilities
Features and equipment on location
Location
Equipment
Chemical toilet discharge

Children sanitary facilities

Heated sanitary facilities
Offer
Sport
Swimming pool/wellness
Swimming pool with heated water
Dogs
Rental option
Pricelist for camper stop (in EUR) for year 2023
Rating and reviews
Reviews:
Published on day from OBISKOVALEC

Category

Tent

Company

In couple

PZA je na lepi lokaciji, dobra izhodišna točka za aktivnoti na prostem. Priporočam degustacijo vina, prijazni lasniki, dobra vina in domače dobrote za piknit uz vino.
Elektrika, voda, wc-ji...​​

Published on day from anonymous

Category

Other

Company

In couple

Vrhunska vina, lepo parkirišče, prijazni lastniki, odlično posrkblljeno za avtodome ..je več še mogoče?

Priporočam, toplo priporočam! ​​