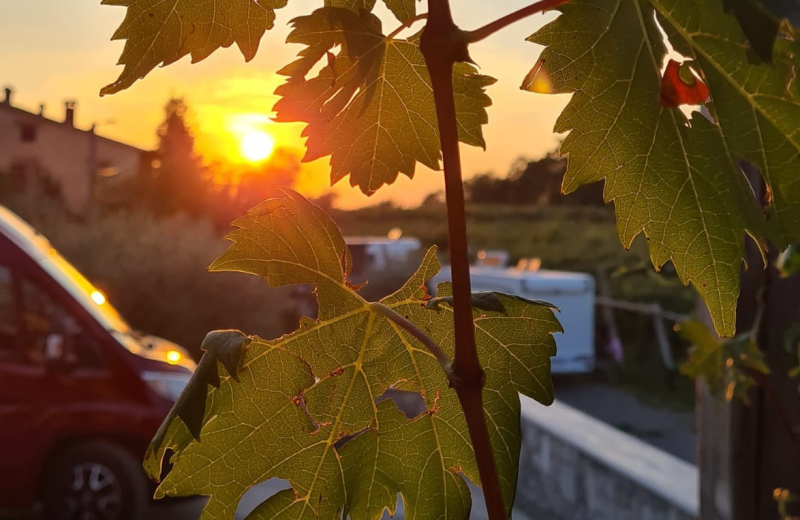 Information
Camper stop description
Sirca – Kodric winery in the Karst enables motorhome owners to park and spend the night in their parking lot next to the wine cellar. There are four motorhome parking places. The location is in the village of Godnje, between Tomaj and Dutovlje, about 500m before Dutovlje.
The location is interesting because of the many wine cellars in the area, good inns and well-kept hiking and biking trails.
Sirca - Kodric winery is known for top quality wine and numerous awards that their wines receive at various evaluations. The red karst soil and the rock base are the main factors that can produce Teran wine from the Refošk vine in the Karst, which is healing due to its mineral iron content, which is not lacking in the red karst soil. It is recommended for people who are anemic and iron deficient. It is a ruby ​​red wine, dry and with intense and lasting aromas of forest fruits. In the Karst, it is always enjoyed in combination with prosciutto and various cured meat products.

Since 1992, they have a new cellar with a capacity of 40,000 liters of wine, and guests can also enjoy a wine tasting room. In the first part of the cellar, they have large wooden oak barrels intended for maturing Teran. The second part of the cellar is mainly intended for stainless steel tanks, where young white wines and barrique barrels in which we age merlot and cabernet sauvignon mature.
The village of Godnje is located in the center of the Karst. It is surrounded by many vineyards, which glow especially in autumn. Legend has it that a wealthy father once lived with three sons and a daughter. Because he died without a will, the children shared the grunt themselves. The second son pointed towards today's Godnje, and said: "Here is a favorable location, this is mine." production of premium Teran wine.
The Sirca farm has been engaged in agriculture for centuries. Their ancestors were considered advanced winegrowers, as they grafted the Refošk - Teranovka vine 100 years ago, and supplied the entire Karst with grafts. Originally, the farm was a mixed viticulture and livestock farm, but later it was transformed into an intensive wine farm. The successes of our ancestors also prove the successes of that time.

Information about camper stop
Camper stop type
Camper stop with supply station
Features of the camper stop
Camper stop with sanitary facilities

Discharge of faeces / chemical wc
Features and equipment on location
Location
Equipment
Chemical toilet discharge

Children sanitary facilities

Heated sanitary facilities
Offer
Sport
Swimming pool/wellness
Swimming pool with heated water
Dogs
Rental option
Pricelist for camper stop (in EUR) for year 2023
Contact
GPS: 45.75240,13.84045
Address: 1 b Dutovlje, 6221 Dutovlje, Slovenija
Reception:

+386 31 808 329

Reservation:

+386 31 372047