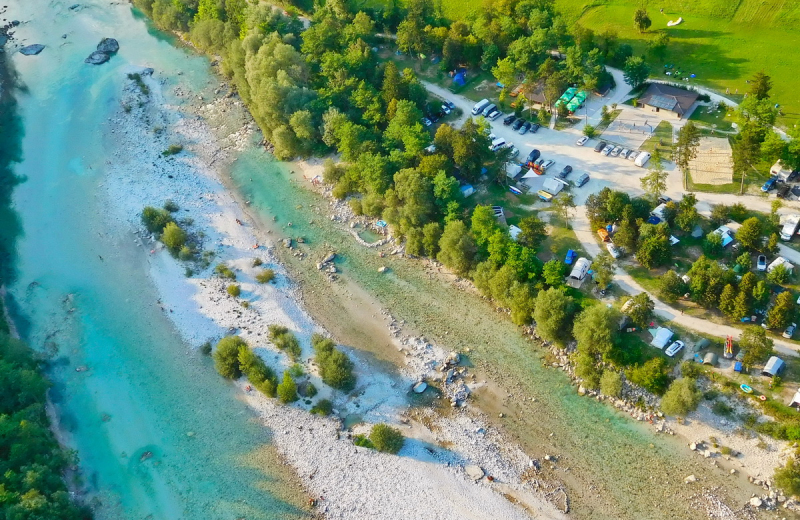 Information
Basic information
Camp Gabrje is newly opened camp close to town Tolmin, which is 4km away. It is located southern from village Gabrje, on the right basin of river Soca (it was camp Johnson before here).

It is on the first place paradise for sport lovers, especially of paragliding and kiting, that have arranged 'runway' in camp. Pitches are arranged on a meadow and have electricity connection. Wireless is available for free.

Sanitary facilities are tidy and offer all you need.
There is also a bar where you can cool off while overlooking the Soca River, a beach volleyball court and bicycle rental.

Features and equipment
Type of the campsite
Pitch features
Non-parcelled camping plots

Pitches with electricity and water

Pitches with electricity, water and waste water connections
Location
Equipment
Chemical toilet discharge

Children sanitary facilities

Heated sanitary facilities
Offer
Sport
Swimming pool/wellness
Swimming pool with heated water
Dogs
Rental option
Camping pricelist (in EUR) for year 2023
Price for
1.7. - 31.8.
19.4. - 30.6.
1.9. - 8.10.
Person
​​15
​​13
Children under 8
​​gratis
​​gratis
Children 8 - 15 yrs.
​​8
​​7
Electricity
​​4
​​4
Dog
​​gratis
​​gratis
Tourist tax
​​1 - 2
​​1 - 2
Rating and reviews
Reviews:
Published on day from simmbo

Category

Tent

Company

Family with teenager

super kamp z fajn izhodiščem za kolesarjenje ali pohode ali vodne športe.

letos edino kar nas je presenetilo je to da so morali odstraniti košarkarski koš...ker so mulci pogrešali, upam da ga nazaj postavijo...

je pa super kamp z super lego​​

Published on day from anonymous

Category

Tent

Company

Family with small children

Čudovit kamp zelo miren,prijazno osebje...idealen dopust za družine z malimi otroci in najstniki...mi smo zelo uživali.velik + za čistočo sanitarij​​

Published on day from anonymous

Category

Other

Company

With friends

Published on day from anonymous

Category

Tent

Company

In couple

Zelo prijeten kamp, kjer lahko daš možgane res "na off". Osebje zelo prijazno, vse ti ustrežejo, če jih lepo prosiš... Cene kampiranja in pijače v baru - TOP! Bivala sva že drugič v šotoru, vedno se najde kakšna posebna lokacija :) Reka zelo blizu... SKRATKA... Priporočam vsem, ki se želite sprostiti v objemu narave... ŠE ENKRAT HVALA OSEBJEM! ostanite še naprej tako pozitivni !​​

Published on day from jama

Category

Camper

Company

In couple

+ odlično izhodišče za rafting in letenje z zmajem
+ ugodna cena
Edini minus je nočni mir v kampu. 90 % ljudi v kampu je bilo adrenalinskih čehov, ki žurajo pozno v noč( do tretje ure zjutraj). Mene ni pretirano motilo, če pa želite mir mogoče to ni kamp za vas.​​

Published on day from anonymous

Category

Other

Company

In couple

Osebje zelo prijazno. Malo premalo električnih priklopov, sicer pa zelo prijeten kamp. Po slabi izkušnji v sosednjem kampu je bila pomembna predvem prijaznost osebja tule.​​

Published on day from paličica

Category

Other

Company

In couple

To je bilo najino prvo kampiranje. Z eno besedo čudovito.. Osebje zelo prijazno, sama sva si lahko izbrala prostor za šotor, nobenega kompliciranja. Je pa res, da ni bilo pretirane gneče. Utaborila sva se na obrežju reke Soče, tako da sva se lahko šla hitro osvežit. Mogoče je slabost ta, da še ni bilo primerne sence, saj so drevesa majhna in mlada. Za ogled naravnih znamenitosti v okolici potrebujete kar precej časa. Zato ni slabo ostati malo več časa, če le imate možnost. Kamp je med cenejšimi v tej regiji, a kljub temu nudi kakovostno bivanje.​​

Published on day from anonymous

Category

Other

Company

In couple

S fantom sva prvič kampirala in bila zelo zadovoljna, saj je kamp zelo blizu reke Soče, minutka hoje do plaže, reka je vredna ogleda, kopanja ali samo sproščanja na brižini. Kamp je urejen, kljub temu, da je bolj majhen, je prijetno, sproščeno in tamkajšnji bar popestri dopustovanje v kampu s prijetno glasbo, druženjem, tudi športni objekti so na voljo, prav tako brezplačen wifi, ki odlično deluje. Osebje prijazno, cena je zelo ugodna. Priporočam.​​

Published on day from Matjaž

Category

Tent

Company

In couple

Dobila vse kar potrebujeva: urejene sanitarije, toplo vodo, čista korita za pomivanje posode, raven teren za postavitev šotora, dostop do Soče, senco in sonce, pa še prosto mizo in dve klopi ob šotoru...
Kar je še najbolje je osebje kampa, ki so zelo prijazni in ustrežljivi. Toplo priporočava :)​​