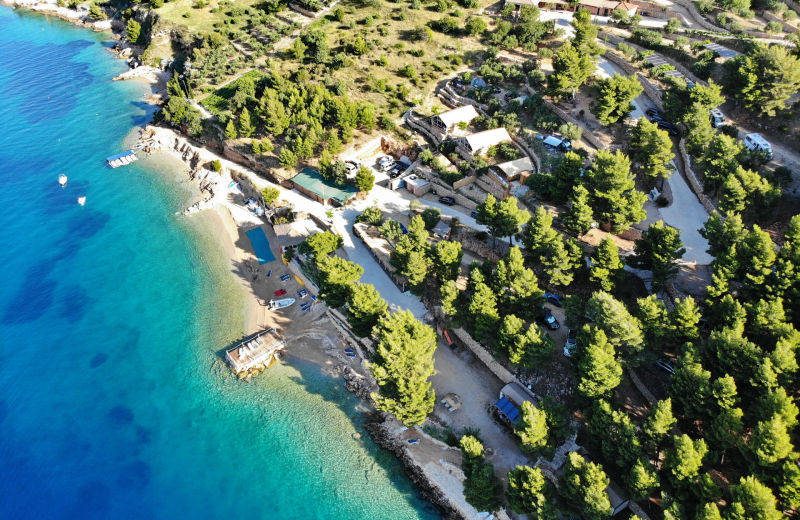 Official category: 3 from 5 stars
Camping Aloa
Address: Marka Marulića 3, 21420 Bol - Brač, Hrvaška

Season: -
Compared price: 2 people + pitch with electricity - between 30 - 40 €
Discounts:
Discount Avtokampi.si Camping Card
By the sea
For cyclists
Mobile homes for 2 - 3 persons
Mobile homes for 4 - 6 persons
Information
Basic information
Camping Aloa is located 3,5 km west from the city of Bola on island Brac and 2,5km from the well known beach Zlatni Rat in direction of the city Murvice. It is the only camp in this part of the Island. New asphalt road to the camping is arranged.

Campsite Aloa allows camping on pitches and rental of mobile homes located near the sea. The novelty is also the possibility of renting glamping tents for 4 people.
Campsite accepts the Avtokampi.si Camping Card, which will make the camping more affordable. The discount is listed at the price list of the campsite, and you can order free camping card HERE

Pitches in the camp are arranged in terraces and offer nice view on clear blue sea. Most of the pitches are shaded by pine woods, while all of them have electricity connection.
New is camping place for tents that is well shaded by olive trees, smaller children's playground was arranged. Camp has three smaller sanitary facilities with places for washing the dishes. By the reception a common place for socializing with TV, smaller bar and barbecue place was arranged. At reception fresh bread and croissants can be ordered for next day, as closest shop is in Bol. Shared refrigerators can be used as well.

Beach in camp is pebbled, stoned and concrete. About 10m from the beach a large wooden raft is set on the water for even more fun. On the beach it is possible to rent a sun bed and have a drink at beach bar. Beach has natural shade, some additional straw umbrellas are set as well.

It is possible to rent mountain bikes, kayaks or boat which will enable better exploration of the neighboring pebbled bays in direction of Zlatni rat or Murvica. Daily trips with water scooters are roganized.

Due to its location, camping is poplar among guests that love wind related sports, such as surfing and kiting; they help you store the equipment. It is possible to play a table tennis and bowling in the camp Aloa, as well as rent mountain and electric bikes.


Information about the Ferry Connections and its Prices to the Island Brac

Features and equipment
Type of the campsite
Pitch features
Non-parcelled camping plots

Pitches with electricity and water

Pitches with electricity, water and waste water connections
Location
Equipment
Chemical toilet discharge

Children sanitary facilities

Heated sanitary facilities
Offer
Sport
Swimming pool/wellness
Swimming pool with heated water
Dogs
Rental option
Camping pricelist (in EUR) for year 2023
Contact
GPS: 43.262897,16.610308
Address: Marka Marulića 3, 21420 Bol - Brač, Hrvaška
Reception:

+385 98 177 64 84
Mobile Homes
Mobile homes description
Rent a mobile home in the camping Aloa Brac - in the campsite you can rent mobile homes for 4 + 1 persons in two rows right by the sea (24 m2). One larger mobile home for 4 + 1 persons (32m2) is available.

All mobile homes have their own bathroom, kitchen, two bedrooms and a terrace.
Dogs are not allowed in dogs.
Mobile homes information
Number of persons in mobile homes
Mobile homes for 2 - 3 persons

Mobile homes for 4 - 6 persons

Mobile homes for 6+ persons
Mobile homes
Dogs allowed in mobile homes

Mobile homes for handicapped

Mobile homes with 3 bedrooms
Pricelist for mobile homes (in EUR) for year 2023
Price for
6.7. - 28.8.
28.6. - 5.7.
29.8. - 10.9.
11.9. - 30.9.
1.6. - 27.6.
1.5. - 31.5.
1.10. - 31.10.
Mobile home for 5 persons (32m2)
159
139
120
110
95
95
Mobile home for 2 persons
​​-
​​-
90
85
80
80
Mobile home for 4 + 1 persons (24m2)
149
133
103
103
89
89
Mobile home for 2 persons
​​-
​​-
86
86
79
80
Final cleaning
​​30
​​30
​​30
​​30
​​30
​​30
Air conditioner
​​5
​​5
​​5
​​5
​​5
​​5
Bed linens
​​gratis
​​gratis
​​gratis
​​gratis
​​gratis
​​gratis
Tourist tax
​​gratis
​​gratis
​​gratis
​​gratis
​​gratis
​​gratis
PDF - Pricelist for year 2023 (20KB)
Dogs in mobile homes are not allowed. In the periods before and after the season, they also offer a cheaper rental of a mobile home for only 2 people.

Mobile homes at the Campsite Aloa Brac are equipped with a bedroom with a double bed, a three-bed room, a bathroom and a separate toilet, a kitchen and a terrace. Bed linen is included in the rental price, towels are paid extra.

Glamping
Glamping description
Rent of glamping tents in the campsite Aloa Brac - they have some glamping tents, located between olive trees only 50 m from the beach, from where there is a beautiful view of the sea and the island Hvar. There are three types of glamping tents - the smaller (20m2) are Lux and Country (35m2), and the larger Glam (45m2 + terrace).

Three Lux glamping tents are designed for 4 people and are equipped with two separate bedrooms and a seating area. There is electricity in the tent, mini fridge, water heater and bed linen, while the toilets are shared and are close to the tents.
Country glamping tent for 5 persons has two bedrooms - one with a double bed and the other with three separate beds. The tent also has a kitchen with a living room, a seating area, deck chairs and a private bathroom. The tent is placed near the sea..

Glam tent is for 5 persons and is the largest tent also with 18m2 large outdoor terrace. It is equipped with two bedrooms (one with double bed, the other with two separate beds - the price of the rental includes bedding), a living room with a fully equipped kitchen, a bathroom, a covered terrace and a seating area.
Information about glamping
Glamping type
Number of persons in glamping
Glamping tents for 4 - 6 persons

Glamping hut for 2 - 3 persons

Glamping huts for 4 - 6 persons

Glamping huts for 6+ persons

Glamping tents for 2 - 3 persons

Glamping tents for 6+ persons
Location and features of glamping
Bathroom in accommodation
Pricelist for glamping (in EUR) for year 2023
Avtokampi camping card
2023 - 5% discount on camping and renting glamping tents in case of at least 5 nights,
| Price for | 1.7. - 31.8. | 16.6. - 30.6. | 1.9. - 15.9. | 1.6. - 15.6. | 16.9. - 15.10. | 1.5. - 31.5. |
| --- | --- | --- | --- | --- | --- | --- |
| Glamping tent Glam (5 persons) | 189 | 149 | 139 | 129 | 100 | 95 |
| Glamping tent for 5 persons | 159 | 120 | 120 | 98 | 90 | 89 |
| Glamping tent Lux (4 persons) | 159 | 120 | 120 | 98 | 90 | 89 |
| Final cleaning | ​​30 | ​​30 | ​​30 | ​​30 | ​​30 | ​​30 |
| Bed linens | ​​gratis | ​​gratis | ​​gratis | ​​gratis | ​​gratis | ​​gratis |
| Air conditioner | ​​5 | ​​5 | ​​5 | ​​5 | ​​5 | ​​5 |
| Tourist tax | ​​gratis | ​​gratis | ​​gratis | ​​gratis | ​​gratis | ​​gratis |
| Check-in | ​​gratis | ​​gratis | ​​gratis | ​​gratis | ​​gratis | ​​gratis |
Rating and reviews
Reviews:
Published on day from anonymous

Category

Mobile home

Company

Alone

Odlična lega mobilnih hišic. Kamp je z ozirom na lego prav idiličen. Osebje zelo prijazno in ustrežljivo. Lokacija kampa omogoča številne športne aktivnosti od pohodništva do kolesarjenja. V kampu je lociran tudi center Active Bol za učenje surfanja, kajtanja, izposoje supov, kanujev, koles..., ki bi ga z lahkoto ocenila z 10. ​​

Published on day from anonymous

Category

Tent

Company

In couple

Prvič kampirala v kampu ampak zadnjič če se kaj ne popravi žal. Lokacija je odlična ker naprej vodi pot samo do murvice in ni veliko prometa,kamp pa je toliko nizko da skoraj ne slišiš vozil ki se vozijo mimo.
Seveda ima kamp pluse in minuse. Žal ima ta kamp več minusov.
Plusi v kampu:
-dobra hrana v baru
-dokaj čisti wcji (toaletni papir vedno)
-svež kruh vsako jutro

Minusi v kampu:
-premalo osebja (ena oseba streže kruh in dela v recepciji)
-prenatrpanost (šotor postavljen kjer jim je bila volja,gleda se samo zaslužek in ne kakovost bivanja)
-pod tušem nimaš zasebnosti(manjka kakšna polička več)
-igrala neurejena in nevarna
-delavci v baru zadrgnjeni,hladni
-piše da imajo najem hladilnika (midva sva ga uzela in ko sva prisla v kamp je bil izgovor da ne dela, in da ga nima kdo popravit sedaj in da kupit ga tudi nimaš kje...bila je toliko fer da je odstopila poličko v svojem hladilniku:) ) očitno imajo en hladilnik za izposojo
-ko prideš v kamp ti razložijo kam pa kako potem se pa znajdi kakor veš in znaš
-neurejene poti(če imaš nizek avto boš težko prišel do nekaterih parcel..imej lopatko s sabo da poravnaš ker njih to očitno ne briga)
-plaža lepa s kamenčki ampak jo 3/4 zavzamejo surferji in kajtarji (ostane ti manjši del s kamenčki in grde skale ki so nedostopne za v vodo
-poti na plažo in po kampu bi lahko bile volj urejene(kakšne stopničke,ograja)
-nekajkrat počasna postrežba v baru,hladna (en dan sva sedela na spodnji terasi,do nas prišla kelnarca,ki sva ji naročila če nam prinese menu...žal pozabila na naju..po pol ure sva se presedla..ampak sploh ni vedela da je pozabila na nas:(:()

​​

Published on day from anonymous

Category

Tent

Company

Family with small children

Kanp je namenjen surferjem. Ni toliko za družine, sprejem hladen, neprijazen. Plaža majhna.​​

Published on day from PSC

Category

Mobile home

Company

Family with small children

Raj za ljubitelje windsurfinga, kajtanja in podobnih športov. Imajo izredno dobro organizirano šolo windsurfinga (za učenje kajtanja je zaradi več prostora na suhem najbrž bolj primerna lokacija bližnji Zlati rt), tudi za majhne otroke, možnost rentanja opreme, idealni vetrovni pogoji... Je pa treba dodati, da to ni poceni hec (cene lahko preverite na spletni strani Active Bol), še posebej, če bi se tega šla cela družina.
Je pa to mogoče manj primeren kamp za tiste, ki se radi zgolj namakajo v vodi, plavajo in Supajo... (zaradi vetra so skoraj vedno tudi valovi). Predvsem mladim je lahko zanimiva tudi bližina slovitega Zlatega rta, od koder se ponoči v primeru južnega vetra sliši glasba, sicer pa je kamp izredno miren (sem ljudje pridejo očitno res predvsem športat)

Sicer smo se po mnogih letih šotorjenja v drugih kampih, tu izjemoma odločili za mobilno hišico (predvsem zaradi izjemne lokacije direkt nad morjem in izjemnega pogleda). Ampak je kamp primeren tudi za šotoriste, lepe senčne parcele na terasah, omenjeni veter prav paše v vročih dneh... Tako da smo si zadnji dan že malo nagledali parcele :)

Kampu nasplošno damo visoko oceno, sicer nismo haklik in kakšnih dalmatinskih for (odpiranje bara včasih šele po 10. uri na primer) tudi ne zamerimo, ampak so nam prav simpatične :) ​​

Published on day from jan.bremc901

Category

Tent

Company

In couple

Glede na ceno, odlicen kamp na lepi lokaciji.​​

Published on day from Panda1

Category

Tent

Company

In couple

Kamp Aloa ima zelo odlično lego. Dostop do kampa je sicer zelo strm, ampak brez večje panike. Všeč nama je bilo, da je bil ravno prav odmaknjen od vrveža na Bolu. V kampu je zelo veliko sence (zato lahko zjutraj malo dlje poležiš, ne da ti je vroče v šotoru). Tla so sicer zelo kamnita, tako da navadni klini ne pridejo v poštev. sanitarije so zelo urejene in vedno je čisto, razen v jutranjem času, priporočam, da s seboj na WC za vsak slučaj vzamete rolico papirja :D Ostale aktivnosti v kampu so kul. Imajo celo šolo za windsurf. Slovenski receptor (Jan) je samo dodaten plus tega kampa. sicer so vsi zaposleni zelo prijazni.
Kruh lahko dobiš vsak dan svež, samo treba ga je naročiti en dan prej (pozitivno)!
Midva sva bila zelo navdiušena nad kampom, tako da ga priporočava vsem, ki so bolj odprte narave. ​​

Published on day from anonymous

Category

Other

Company

Other

Kamp je v redu, we–ce bi lahko bolje očistili, sem pa navdušen glede športnih aktivnosti!​​

Published on day from anonymous

Category

Mobile home

Company

Family with small children