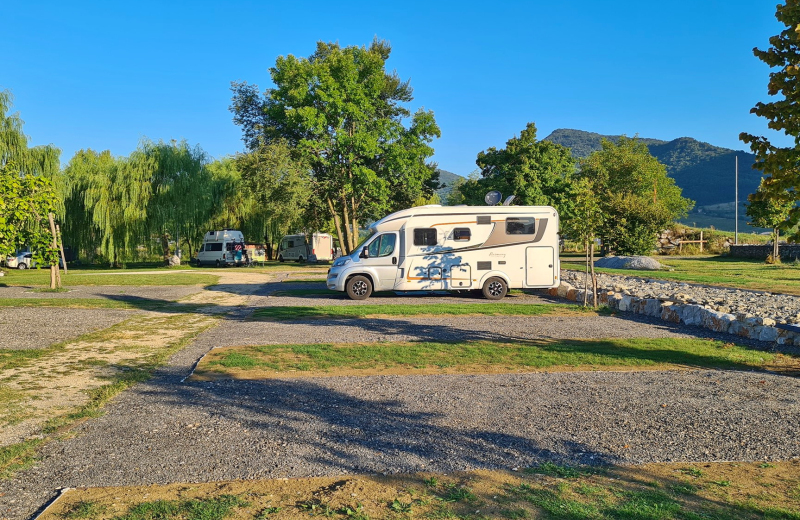 Official category: 3 from 5 stars
Camping Lijak
Address: Ozeljan 6, 5261 Šempas, Slovenija

Season: -
Compared price: 2 people + pitch with electricity - between 30 - 40 €
Discounts:
Discount Avtokampi.si Camping Card
Open year round
For cyclists
Mobile homes for 2 - 3 persons
Mobile homes for 4 - 6 persons
Information
Basic information
The camp Lijak lies on the regional road Nova Gorica - Ajdovščina in the village of Ozeljan, under the edge of the Trnovo-Banjska plateau. The area of ​​the campsite extends to the Mladovan homestead, where guests can cam on arrange camping pitches, rent a mobile home or interesting wooden room.

Campsite accepts the Avtokampi.si Camping Card, which will make the camping more affordable. The discount is listed at the price list of the campsite, and you can order free camping card HERE
NEW in Camping Lijak - the largest competitive ground pumptrack in Slovenia opened 2022.

The surface of the Lijak campsite stretches between fields and vineyards below the edge of the Trnovo plateau. The camp has 60 arranged camping areas with electricity divided into space for tents and areas for motorhomes and caravans. It is possible to rent mobile homes in the camp. For motorhomes, there is a space for vehicle care. Beautifully decorated and large toilets are a reflection of hospitality, because next to the arranged space for washing dishes with a dishwasher, there is a laundry room with a washing machine and dryer.

If you do not have your own barbecue, there are two common areas with a barbecue in the camp, where you can sit with friends or other visitors. A cold drink is also provided, as you can rent your own fridge. The camp is visited by a mobile shop, where you can serve fresh bread and desserts, for a larger purchase is only 1 km away from the camp.

The camp has an excellent Termika restaurant with a summer garden, and the pavilion architecture with a wooden facade arouses the curiosity of passers-by. When the lights come on, it is even more attractive. The interior continues in this direction as it is modern but homey. Termika offers several-course tasting menus recommended by top wines from local winemakers from the Vipava Valley, Goriska Brda and the Karst.

For children, there is a small playground in the camp, wifi and bicycle rental are available. You will definitely not be bored at the Lijak camp. They have a wide selection of activities and excursions for you: cycling in the Vipava and Trnovo-Banjska plateaus, Goriska brda, Soca valley, a very good starting point for hiking to the natural window Skozno - a window into the panorama of the Vipava valley, paraglider take-offs Lijak, the church of Sv. Marija on Vitovski hill, you can continue the path to Kopitnik or return to the path from Lijak to Sekulak.

Undoubtedly wet water kayaking on the river Vipava or Soca is the right choice for both families and individuals. Likaj, however, is undoubtedly known as a paradise for flying, so a tandem flight is not to be missed.

Features and equipment
Type of the campsite
Pitch features
Non-parcelled camping plots

Pitches with electricity and water

Pitches with electricity, water and waste water connections
Location
Equipment
Chemical toilet discharge

Children sanitary facilities

Heated sanitary facilities
Offer
Sport
Swimming pool/wellness
Swimming pool with heated water
Dogs
Rental option
Camping pricelist (in EUR) for year 2023
Contact
GPS: 45.941686,13.718000
Address: Ozeljan 6, 5261 Šempas, Slovenija
Reception:

+386 5 30 88 557

Reservation:

+386 31 894 694
Mobile Homes
Mobile homes description
In the camp Lijak they offer three mobile homes for 4 to 6 people, which are equipped with air conditioning, a kitchen, a bathroom and two bedrooms.

You can also choose to sleep in wooden "sleeping bags" - rooms for 1 person. They are intended for guests who come to the camp without camping equipment.
Mobile homes information
Number of persons in mobile homes
Mobile homes for 2 - 3 persons

Mobile homes for 4 - 6 persons

Mobile homes for 6+ persons
Mobile homes
Dogs allowed in mobile homes

Mobile homes for handicapped

Mobile homes with 3 bedrooms
Pricelist for mobile homes (in EUR) for year 2023
| Price for | 1.1. - 31.12. |
| --- | --- |
| Mobile home for 4 + 2 persons | ​​120 |
| Mobile home for 4 persons | 100 |
| Mobile home for 2 persons | 80 |
| Minimum stay | ​​2 (+10%) |
| Final cleaning | 50 |
| Bed linens | ​​gratis |
| Dog | ​​15 |
| Eco tax | 1,80 |
| Check-in | ​​1,50 |
| Tourist tax | 1,25 |
Camper stops
Camper stop description
Camping Lijak offers also 6 camper stop pitches, which are available to owners of motorhomes and caravans throughout the year.
The price of using the camper stop includes parking the vehicle, it is also possible to supply fresh water, discharge wastewater and a chemical toilet.

Information about camper stop
Camper stop type
Camper stop with supply station
Features of the camper stop
Discharge of faeces / chemical wc

Camper stop with sanitary facilities
Pricelist for camper stop (in EUR) for year 2023
Rating and reviews
Reviews:
Published on day from anonymous

Category

Camper

Company

Family with small children

Kamp nic posebnega,restavracija ok. Vecerja primerna visoki ceni. Zvecer tusiranje z mlacno vodo v ne prav toplih prostorih,cistoca srednja. Za male otroke prehladno za tusiranje jeseni. Zajtrk glede na ceno preskromen v smislu razlicnosti. Pri nocitvi ti poleg eko takse,turisticne takse, racunajo tudi wifi na osebo brez da ga bi sploh uporabljal. Nocitev 2 odraslih in 2 otrok pod 5 let, 3 zajtrki so bili 73 evrov. Definitivno precenjeno. Odsvetujem obisk.​​

Published on day from anonymous

Category

Mobile home

Company

Family with teenager

Majhen kamp ob glavni cesti z lepo urejeno restavracijo in sanitarijami. Sama infrastruktura kampa potrebna obnove. Kamp je večinoma namenjen jadralnim padalcem. ​​

Published on day from anonymous

Category

Tent

Company

In couple

Visoka cena hrane v restavraciji.​​

Published on day from anonymous

Category

Other

Company

Family with teenager

Published on day from bizmbazm

Category

Caravan

Company

Other

Kampiral pred leti, ko sem še tekmoval z jadralnim padalom. Takrat je bil kamp še v začetku razvoja, WC- ji pri svinjah. Si za hrbtom slišal svijne, med opravljanjem potrebe. Sedaj pa vidim velik napredek, zato pohvalno. Pridem še sigurno, ko bom letel na lijaku. Ocena zato mogoče za sedanje razmere niso relevantne!​​