add to favorite Look map of the campsite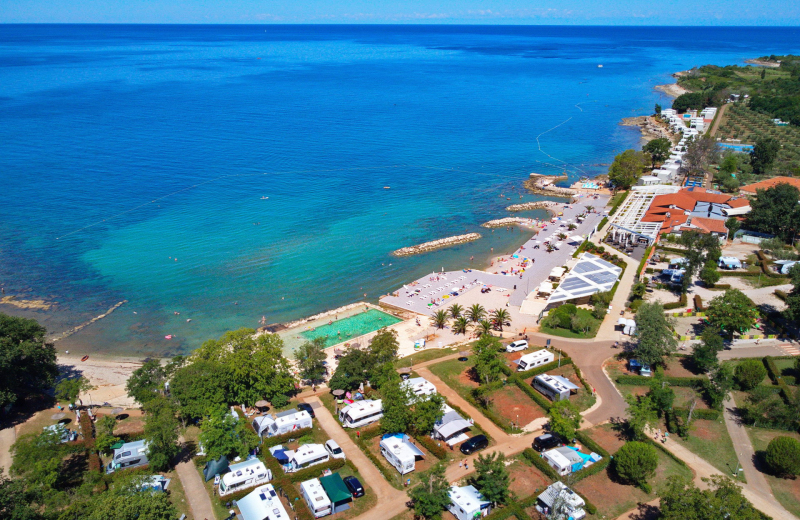 Best camp Adria 2021

1. place
Information
Basic information
Aminess Maravea Camping Resort - Novigrad is located 4km northern from city, along a kilometer long stoned beach, which has also some concrete parts for sunbathing. Half of the camp has arranged camping pitches, while the other half are mobile homes.
Campsite accepts the Avtokampi Camping Card, which will make the camping more affordable. The discount is listed at the price list of the campsite - order for free and get camping card by email.
Many investments have been implemented in last years. Camp has new reception, newly arranged camping pitches nearby reception, additionally equipped camping pitches in first row by the sea, sanitary facilities renovated, new mobile homes settlement by the sea added, restaurant and bar renovated and shop built.
Campsite Aminess Maravea Camping Resort is one of best Croatian campsites. In selection of Naj kamp Adria 2020 have campers awarded it as third best Croatian campsite with settlement of mobile homes. It has as well won title Eco camping and award for innovative children's animation with Mirami project.
Campsite has more than 1000 arranged camping places, 800 of that are arranged pitches. Majority of newly arranged pitches have access to electricity, water and sewage. Central part of the camp is not divided into pitches. Most of the camp is well shaded by oak trees, while grounds are mostly sandy and grassy.
All sanitary buildings in campsite are modern and offer not only all basic facilities but as well family bathrooms, sanitary facilities for kids and disabled, laundry and even showers for dogs. Supply campers station in camp is arranged.
Beach in campsite has been completely renovated in last years. Main part is arranged as a large sunbathing terrace with smaller pebbled bays. On the left part of the beach you will find swimming pool with sea water and pebbled beach. Beach for dogs is arranged. New is swimming pool along the restaurant in the central part of the camp, part of the swimming pools is prepared for the youngests guests. Each settlement of mobile homes have additional swimming pools. Dog beach is arranged on the campsite's edge.

Campsite has several sport courts, along with multifunctional court (foootball, basketball), beack volleyball, tennis courts and mini golf. It is possible to rent a bike, peddaline, SUP boards and water scooters. Aerobic at the beach is organized.
Right next to the camp is shop and newspaper stand, bakery is in the camp, while bar and restaurant are at the beach. A tourist train is organized to Novigrad, there is cycling and jogging trail to Novigrad. There are daily animation sessions for children during the summer months, an indoor games room, and various types of exercise for adults.

Features and equipment
Type of the campsite
Pitch features
Non-parcelled camping plots

Pitches with electricity and water

Pitches with electricity, water and waste water connections
Location
Equipment
Chemical toilet discharge

Children sanitary facilities

Heated sanitary facilities
Offer
Sport
Swimming pool/wellness
Swimming pool with heated water
Dogs
Rental option
Camping pricelist (in EUR) for year 2023
Pricelist for yearly rental (in EUR) for year 2023
| Price for | 21.4. - 30.9. |
| --- | --- |
| Yearly pitch rental with electricity | 3.650 - 4.000 |
| Tourist tax | 1,15 |
PDF - Pricelist for year 2023 (16KB)
The price of the annual rent of a pitch depends on the location and includes: caravan, 5 persons, children up to 10 years old are not counted, 1 car, electricity connection.

Contact
GPS: 45.343251,13.548600
Address: Mareda bb, 52466 Novigrad, Hrvaška
Reception:

+385 52 858 690
Mobile Homes
Mobile homes description
Rental of mobile homes in Aminess Maravea Camping Resort offers various types of mobile homes for 4+2 persons and larger family mobile homes for 6+1 person that have three bedrooms. There are all together 250 mobile homes in campsite.
In season 2018 new modern Amber Sea Luxury Village mobile homes were set just by the beach and cab host up 4+2 people.
Aminess Maravea Camping Resort received an innovation award in toursim for mobile homes settlement Mirami Family Village that includes exclusive animation - edutainment (education + entertainment) for kids between 4 and 14 years. Mirami Family Village has two swimming pool complexes, one with children's slides.
In the second part of the mobile homes complex that includes large swimming pool, offers mobile homes Relax, Istrian and Mediterranean. They are all between 32 - 34 m2 large and have two bedrooms and two bathrooms. All mobile homes have air-conditioning, while dogs are allowed in Mirami Family and Istrian.
Types of mobile homes in Aminess Maravea Camping resort Novigrad:

Mobile homes Classic - 24m², two bedrooms - one with double bed, living room with kitchen, bathroom, terrace, Sat TV, air conditioning, wifi
Mobile homes Premium - 32m2, two bedrooms - one with double bed, living room with kitchen, two bathrooms, terrace, air conditioning, Sat TV, wifi, microwave, swimming pools near by

Mobile homes Family - take 6 adults + one extra and are equipped with three bedrooms
Mobile homes Mirami - right side of the campsite - Prestige and Premium with two bedrooms - one with double bed, two bathrooms, living room with kitchen, terrace, satellite TV, wifi, swimming pool nearby, Prestige model close to the sea, in addition to sun loungers and curtains on the terrace. The Family model is equipped with three bedrooms.
Mobile homes Amber Sea Luxury Village - first row by the sea, 34m2, two bedrooms - one for double bed, two bathrooms, equipped kitchen, microwave, dishwasher, living room, large terrace with sun loungers.
Mobile homes information
Number of persons in mobile homes
Mobile homes for 4 - 6 persons

Mobile homes for 6+ persons

Mobile homes for 2 - 3 persons
Mobile homes
Dogs allowed in mobile homes

Mobile homes with 3 bedrooms

Mobile homes for handicapped
Pricelist for mobile homes (in EUR) for year 2023
Rating and reviews
Best camp Adria
2021: 1. place in category Slovenia and Croatia - Mobile homes
Reviews:
Published on day from anonymous

Category

Tent

Company

Family with small children

Glasen kamp, žurke čez polnoč, premala kapaciteta sanitarij vedno gužva pri tuširanju, mrzla voda,neprijaznost pri recepciji.
​​

Published on day from IGOR1979

Category

Caravan

Company

Family with small children

Glede kampa imam mešane občutke. Je pa zelo velik kamp in ga lahko delimo na 2 dela. En del je zelo hrupen (žal slovenski pavšalisti), kjer ni mira niti v nočnih urah. Drugi del (IT, AT, SK, DE obiskovalci) pa je miren in primeren počitku. Sicer pa so parcele dokaj ne-ravne in manj primerne za prikolice. Manjši del kampa je v senci, ostalo na soncu oz. delni senci. Lahko bi bil kamp bolj urejen. Sanitarije so bile sicer na zadovoljivem nivoju. Wi-fi skoraj da ga ni. Plaža lepa, urejena in primerna za vse starosti. Sicer pa premajhna, saj prihajajo tudi zunanji obiskovalci in se hitro napolne. Trgovina srednje založena, kar visoke cene. Osebje prijazno. Priporočam kamp za krajši obisk, ne pa za daljše počitnice. Sicer pa smo imeli srečo, dobili smo lepo parcelo v senci in z avtokampi.si preživeli lep podaljšan vikend​​

Published on day from andrazmuljavec

Category

Apartma/bungalow

Company

With friends

Navdusen sem nad resortom, kot paraplegik sem imel dostop do bazena, plaze, restavracije, bara in se posebej sem navdusen nad sanitarijami. Proporocam​​

Published on day from anonymous

Category

Caravan

Company

In couple

Zelo lepo urejena infrastruktura, vse ostalo pa:
- zelo drago
- neprijazni in nesposobni na recepciji, šefi pa so celo nesramni in ignorantski
- nobenih slovenskih napisov, ne v kampu, ne na jedilniku restavracije. Mislim, da nas je več, kot nizozermcev, italjanov, rusov in čehov
- katastrofalen dostop za čoln
- restavracijo na plaži zaprejo sredi poletja če malo škropi, sicer pa so jo letos zaprli 15.9. kljub temu da je kamp odprt do 30.9. Tudi tujci so se zgražali
​​

Published on day from anonymous

Category

Caravan with yearly rental

Company

Family with small children

Urejen ampak cene previsoke! Plaza bi lahko bila bolje urejena(premalo za manjse otroke) ​​

Published on day from zmajčekjaka

Category

Caravan

Company

Family with small children

Razocarani popolnoma.. bilo receno da imajo parcel dovolj,na koncu pa standard parcel sploh ni vec,ker so gor postavli sotore,poleg tega pa vse tko nametano..mi smo dobili obcutek da je vecina samo stalnih gostov,po dolgem iskanju parcele smo se tecni obrnli in odsli iz kampa..​​

Published on day from anonymous

Category

Mobile home

Company

In couple

Krasen novi kamp. Urejen, moderen, romantičen! ​​

Published on day from anonymous

Category

Caravan

Company

Other