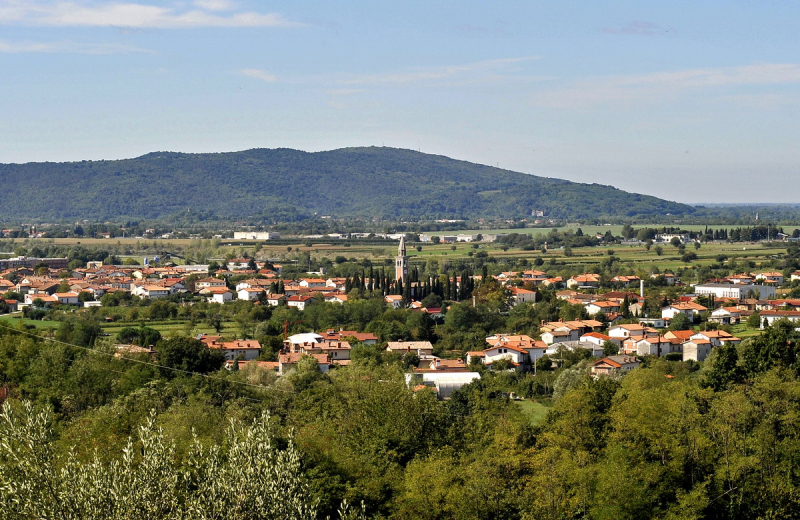 Information
Camper stop description
Camper stop Vrtojba is arranged on the edge of the forest under Sv. Otom in Vrtojba. The camper stop location is only 500m away from the highway, but it is still a quiet location.

Camper stop Vrtojba has 8 parking places equipped with electricity and a fresh water supply pillar. A column for emptying and flushing the toilet cassette was added, as well as a tidy space for draining waste water from the camper. Bench tables and free wifi are available.

More active tourists can also embark on the nearby three-lane course along where 16 training points are arranhed. Not far from the stop is a larger shopping center and a short walk to the center of Vrtojba as well as Sempeter pri Novi Gorici.

From the camper stop a cycle path to Vrtojba and Sempeter pri Gorici is arranged, and from there the cycle paths lead to the Karst and towards the Soca Valley and neighbouring region Friuli.

In the future, the location will be even more interesting, as an investment in the Vrtojba Recreation Center is beginning in the immediate vicinity, where a smaller restaurant is planned.

Location of the camper stop Vrtojba is interesting for sightseeing in the surrounding. We recommend visiting the church of Saint the Heart of Jesus and while you stroll through the city, look at the still well-preserved typical wells that represent a unique cultural attraction. Alongside the former border with Italy, you will find the smallest museum in Slovenia arranged in the former military guard tower with an exhibition about life along the border.

In Sempeter pri Gorici you can see the renovated Ivan Rob Square, where the parish church of Sv. Peter and Coroni's mansion.

In the surroundings, you should visit the Solkan railway bridge, the Franciscan monastery Kostanjevica above Nova Gorica with the tomb of the last representatives of the French royal family from the Bourbon dynasty, where the last French King Charles X rests and the Basilica of the Assumption on Mount Athos, which is a famous pilgrimage center.

Information about camper stop
Camper stop type
Camper stop with supply station
Features of the camper stop
Discharge of faeces / chemical wc

Camper stop with sanitary facilities
Features and equipment on location
Location
Equipment
Chemical toilet discharge

Children sanitary facilities

Heated sanitary facilities
Offer
Sport
Swimming pool/wellness
Swimming pool with heated water
Dogs
Rental option
Pricelist for camper stop (in EUR) for year 2023
| Price for | 1.1. - 31.12. |
| --- | --- |
| Camper stop (24h) + 1 kWh elect. + 100 l water | ​​10 |
| Extra electricity per 1 kWh | ​​0,50 |
| Extra water - 100 l | ​​0,50 |
| Internet access - WIFI | ​​gratis |
Contact
Address: Opekarniška cesta, 5290 Šempeter pri Gorici, Slovenija
Reception: