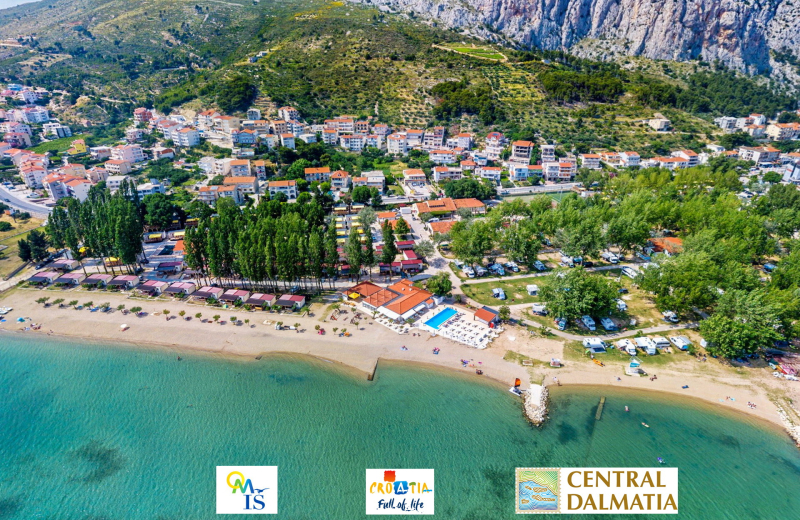 Information
Basic information
Camping Galeb - Omis is located at the beginning of city Omis about a kilometer before the city centre, on very attractive location by the mouth of the river Cetina. It has very good shade and 300m long sandy beach with many sport terrains. City centre is about kilometre away.
Season 2023 - Camping Galeb will be open from April to November this year, but will be closed for the music festival from 5 July to 11 July.The campsite will not be open during the winter, as the first phase of renovation will take place, and then the second phase the following winter, as they want the campsite to be 5-star in 2025.
Campsite accepts the Avtokampi Camping Card, which will make camping holidays more affordable. The discount is listed at the price list of the campsite - order for free and get camping card by email.
In camping Galeb it is possible to camp on arranged camping pitches and rent mobile homes. Galeb is opened all year long and has wonderful sandy beach that has arranged showers, children's playground and newly planted trees that will provide needed shade in summer.
Pitches have electricity connection, some even water and sewage system. They are mostly located on the grass and are well shaded.
In the last seasons, a central sanitary facility were modernized, family bathrooms arranged, outdoor showers and renovated the restaurant. Modern mobile homes have also been added to the rental offer.

Camping Galeb offers restaurant, shop, bakery, market place, bar, close by is also medical service and shopping centre. In camp you can hire refrigerator.

The beach at campsite Galeb is sandy and is a great choice for families with children. There are showers at the beach, as well as children's playground, restaurant and bar. There is also a small swimming pool for children's entertainment.
From sports facilities camping Galeb has two tennis courts, one for volleyball and football on the beach. You can also rent a motorbike, boat or pedalines. Every day you can join organized animation for children and adults. In camp diving centre and surf school are opened. Whole campsite is covered with free wireless internet, these is as well internet corner at reception.

Gusts can decide for various daily trips around Omis, rafting on river Cetina or climbing on natural rocks. For all looking proper night life we recommend centre of Omis or even Split which is only 25km away.
Features and equipment
Type of the campsite
Pitch features
Non-parcelled camping plots

Pitches with electricity and water

Pitches with electricity, water and waste water connections
Location
Equipment
Chemical toilet discharge

Children sanitary facilities

Heated sanitary facilities
Offer
Sport
Swimming pool/wellness
Swimming pool with heated water
Dogs
Rental option
Camping pricelist (in EUR) for year 2023
Mobile Homes
Mobile homes description
Renting mobile homes in the Camping Galbe, Omis - mobile homes are set up in different parts of the campsite and the most popular are large houses for 6 people, which are located right next to the sandy beach and are equipped with a jacuzzi. Also available with cottages for 4 and 5 people.
Mobile homes for 6 +2 persons (40m2) - placed in the first rows by the sandy beach, the houses in the first and second row have a private jacuzzi on the terrace. Spacious houses with three bedrooms for 6 people, the possibility of arranging two extra beds in the living room. Two bathrooms, fully equipped kitchen (stove, refrigerator, dishwasher), large terrace.

Mobile homes for 5 + 1 person (39m2) are located near the beach and a small pool. The cottages are equipped with three bedrooms - one with a double bed, two with twin beds, two bathrooms, kitchen (stove, refrigerator, dishwasher), living room and large terrace.

Mobile homes for 4 + 2 persons (24m2) are slightly smaller and located near the reception. These mobile homes have two bedrooms and one bathroom, a kitchen and a small terrace.
Dogs are allowed in the mobile homes at an additional cost.

Mobile homes information
Number of persons in mobile homes
Mobile homes for 4 - 6 persons

Mobile homes for 6+ persons

Mobile homes for 2 - 3 persons
Mobile homes
Dogs allowed in mobile homes

Mobile homes with 3 bedrooms

Mobile homes for handicapped
Pricelist for mobile homes (in EUR) for year 2023
Rating and reviews
Reviews:
Published on day from anonymous

Category

Tent

Company

In couple

Kot je bilo že omenjeno so parcele dokaj majhne. Že junija vse natlačeno. Bila sva ena redkih s šotorom. No v sezoni 2023 smo tudi to spremenili.
Hrup s ceste ni bil moteč. Ni pa to kamp za počivanje. Zaradi bližine reke Cetine, plezališča, ferate, Biokova, surferskih scen je to kamp za aktivne počitnice.​​

Published on day from anonymous

Category

Caravan with yearly rental

Company

In couple

Published on day from Piltti

Category

Caravan

Company

Family with small children

Lega
Pozicija kamp je dobra. Grad je na pješačkoj udaljenosti 15 minuta. Prolazi se kroz novo sagrađeni kvart i pored crkve, Cetine do Grada. Blizina magistrale utječe na noćne zvukove. Malo je previše osjećaja grada.
Kamp se nalazi na plaži. Nažalost, plaža se ne održava kako bi trebalo. Dosta je trave u moru, ima čikova po plaži… Plaže koje su prema Dućama se bolje održavaju.
Blizina Cetine je super. Nekoliko aktivnosti oko Cetine definitivno podižu dojam.

Sanitarije
Kamp reklamira da imaju dječji wc. To NIJE točno. Jedna kupaonica s WC-om ima natpis "Dječji WC", ali je zaključana. Potrebno je tražiti tetu čistilicu da otvori. Uprava kampa je naredila da taj WC smiju koristiti samo djeca do 3 godine. Smješno. Ja sam bio u kampu sa dvoje djece koji su ove godine završili vrtić i SVI vrtići u Hrvatskoj imaju WC-e prilagođene za djecu. Uglavnom, zamislite da morate svaki put nekoga tražiti da vas pusti u WC. Obzirom da teta čistilica nije stalno u prostorijama sanitarija, djeca nisu mogla koristiti dječji WC.
Čistoća sanitarija bi mogla biti bolja. Teta čistila je zadužena za dva sanitarna čvora, a to nije standard u normalnim kampovima.
Realno, kamp ima jedan sanitarni čvor i za 50% parcela je taj čvor predaleko iz razloga razmještaja parcela i prolaza među njima. Drugi sanitarni čvor je kod recepcije. Vrlo mali broj parcela je usmjeren na njega.

Animacija
Dječja animacija je svaka dva dana. Dječji disko jednom tjedno. Oprema za animaciju na niskoj razini. Ukupno je loše.
Za odrasle, vježbanje u moru je bilo dobro posjećeno.

Internet
Korektno je radio. Bilo je zastajkivanja i nemogućnosti pristupa, ali u granicama očekivanog.

Parcele
Parcele su čudno postavljene. Sliči na parkiralište. Vrlo ne domišljato. Otežan je način postavljanja opreme na samoj parceli. Neke parcele su 10 metara od sanitarca, ali se treba preći 100 metara okolo jer nema prolaza.
Raspored parcela je utjecao da veliki broj kampista koristi svoje kemijske wc-e. Primjetno je stalno navlačenje wc spremnika po kampu.

Sportski objekti
Odbojkaško igralište na plaži je na šljunku. Osobno ne igram odbojku, ali vjerujem kako to nije adekvatna podloga.
Dio plaže za surfere je odvojen. To je super. Nažalost količina trave na tom dijelu plaže je grozna.
Na nogometnom terenu treniraju kolani klinci i treba s njima prilagoditi.
Ukupno loš dojam

Restoran
Vrlo slabo je bio posjećen tako da nismo ni mi puno koristili te usluge. Sladoled, pivo, sok i to je to. Bilo bi bolje da je terasa više okrenuta prema moru. Radije sam otišao do Grada

Cjelokupni dojam
Cjelokupni dojam je loš. Djelatnici su većinom ljubazni, ali se čuju svakakvi komentari. Da ne razumijem hrvatski, dojam bi bio bolji. Vremena kada se gost morao prilagođavati pružatelju usluge su prošla. Komentari "Pa što oni očekuju? Neka pričekaju na plaži" ili "Znate kako se gosti loše ponašaju" postoje. Kamp još živi u Jugo vremenu. Nevjerojatno, za izlazak iz kampa sam čekao 20 minuta. Platio sam par dana ranije, ali su mi zadržali legitimaciju (valjda da ne bi uzeo karticu kampa sa sobom). Za samo predavanje kartice je čekalo više ljudi i bili su nezadovoljni jer takvo što nisu nigdje doživjeli.
Odgovorni u kampu bi mogli posjetiti neki drugi kamp na Jadranu, naravno bolje ocjenjeni kamp. To bi pomoglo usmjeriti uslugu u pravom smjeru.
Cijena, je vrlo slična kampovima koji pružaju bolju uslugu. Blizina starog dijela Omiša i Cetina podižu dojam. Bez toga ne bi preporučio niti jedan dan u ovom kampu, ovako mislim da je 3-5 dana adekvatno. Mi smo bili 10 dana. Predugo. Obzirom da sam bio sam s malim klincima nije mi se dalo prebacivati negdje drugdje. Možda je bolje otići u neki drugi kamp, pa doći do Grada ili Cetine autom.

Isprika što je komentar na hrvatskom. Slovenski jezik razumijem, ali ne mogu pisati na njemu.

Lp
​​

Published on day from anonymous

Category

Camper

Company

Family with small children

Vse ok, samo lahko bi kamp tudi kaj pokosili. ​​

Published on day from monaco

Category

Camper

Company

Family with small children

Kamp je ob izlivu reke Cetine zato je dno mivkasto muljasto s precej trave. Voda je daleč zelo plitva. Otrokom je to všeč, marsikomu pa ne.
Ima surf zone, obilo plezališč v okolici, zipline, raftingi...

Super kamp za aktivne počitnice, za pocivanje pa raje izberite kaj z lepsim morjem - v Dalmaciji je tega dovolj! ​​

Published on day from anonymous

Category

Camper

Company

In couple

Kamp je ok.Plaza mivka,kar ni za nas.
Kar me je pa najbolj zmotilo je pa nizka voda in to zelenje po morskem dnu.
Ne vem kako to ne počistijo.​​

Published on day from anonymous

Category

Tent

Company

Family with small children

Senčne parcele, lepa peščena plaža, dostop do starega dela peš, idealno za družine z otroki.​​

Published on day from anonymous

Category

Tent

Company

In couple

Ne predstavljam si kampiranja v Galebu v visoki sezoni, ker so parcele majhne in postavljene kot parkirišče. Ampak v septembru, ko kamp ni nabito poln je tudi to sprejemljivo. To pa je tudi vse, kar nas je malenkost zmotilo. Vse ostalo je brez pripomb: lega kampa, plaža, vse na dosegu peš ali s kolesom, ogromno možnosti aktivno preživetega dopusta, urejen kamp, čiste sanitarije, in najpomembneje prijazno osebje. Priporočam ( predvsem avtodomarjem).​​

Published on day from anonymous

Category

Tent

Company

Family with small children

Super kamp, prijazno osebje... ​​

Published on day from tonetrob

Category

Camper

Company

Family with teenager

Kamp je bil nabito poln prav tako plaža. Preveč mobilnih hišic. Sanitarije čiste. Osebje prijazno. Primerno za tistega ki ima rad gužvo in malo bolj hrupne sosede v večernih urah. Kdor pa ima rad bolj mir pa ne priporočam. Nas kljub vsej reklami in hvali ni prepričal.​​