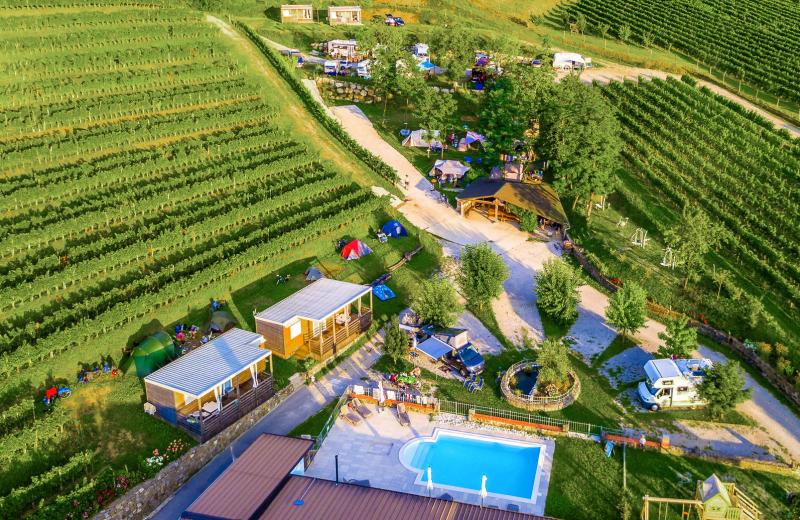 Information
Basic information
Campsite Saksida is located in the village of Zalosce in the middle of the Vipava valley and operates within the tourist farm. The camp is 15 km away from Nova Gorica and 13 km from Ajdovscina. From Ljubljana and Italy, leave the motorway at the village Selo and just follow the direction of Dornberk.
Campsite accepts the Avtokampi.si Camping Card, which will make the camping more affordable. The discount is listed at the rice list of the campsite, and you can order free camping card HERE
Camping Saksida is a smaller campsirte with pitches for tents, motorhomes and caravans arranged in terraces near the vineyard. 6 mobile homes are also available for rent. Smaller tents can also be set up in the vineyard itself.
It has well arranged two small sanitary facilities and a common space with grill, a mini kitchen and a refrigerator, and tables and benches are also available. Wi-Fi is also active in the campsite. Shop is 1 km from the campsite.
The campsite also has a smaller outdoor swimming pool, a children's playground and an outdoor fitness. Within the camp there is also a restaurant where they prepare multi-course dinners - pre-booking required!
You will be able to spend your free time at the pool or more actively on walks, cycling between vineyards, water sports on the Vipava River or the Soča River. The campsite is an excellent starting point for excursions to nearby Adriatic coast, Venice, Trieste, Ljubljana or karst caves. You can also visit nearby wine cellars and try local wines.

The surrounding area offers you many excursions and tours, for example. village Tabor above Dornberk with interesting architectural heritage, Trstelj hill, Braniski castle and Stanjel castle, Kostanjevica monastery over Nova Gorica, Solkan bridge with the largest stone arch in the world, museum Kromberk Castle, basilica and museum on Sveti Gori, Vipava Cross, Roman fortress Castra in Ajdovscina, the Spring of the river Hubelj, the Zemono mansion ...
Features and equipment
Type of the campsite
Pitch features
Non-parcelled camping plots

Pitches with electricity and water

Pitches with electricity, water and waste water connections
Location
Equipment
Chemical toilet discharge

Children sanitary facilities

Heated sanitary facilities
Offer
Sport
Swimming pool/wellness
Swimming pool with heated water
Dogs
Rental option
Camping pricelist (in EUR) for year 2022
Avtokampi camping card
2022 - 20 € for 2 persons and dog on a pitch with electricity in the period 1.1. - 15.5. & 15.10. - 31.12.
Price for
1.7. - 31.8.
16.5. - 30.6.
1.9. - 14.10.
1.1. - 15.5.
15.10. - 31.12.
Person
​​14
​​12,50
​​10
Children 4 - 12 yrs.
​​9
​​7,50
​​6
Pitch
5
5
5
Dog
​​3,50
​​3,50
​​3,50
Electricity
4,50
4,50
4,50
Internet access - WIFI
gratis
gratis
gratis
Tourist tax
1,25
1,25
1,25
Check-in
1
1
1
Reservation of the pitch
3
3
3
Contact
GPS: 45.889811,13.747236
Address: Zalošče 12a, 5294 Dornberk, Slovenija
Reception:

+386 41 208 345

Reservation:

+386 51 444 850
Mobile Homes
Mobile homes description
Mobile homes for rent in the campsite Saksida - there is one larger mobile home for 4 + 2 people (34m2), three medium-sized homes for 4 + 1 people (24 m2) and two smaller homes for 2 + 2 people (18 m2) .
All mobile homes are air conditioned, equipped with kitchen, bathroom - a larger home even has two bathrooms, two bedrooms or. in the case of smaller mobile homes, there is only one bedroom with extra beds in the living room.
Next to the house is a terrace with table and chairs. Guests have free wifi,
Dogs are also allowed in mobile homes.
Mobile homes information
Number of persons in mobile homes
Mobile homes for 2 - 3 persons

Mobile homes for 4 - 6 persons

Mobile homes for 6+ persons
Mobile homes
Dogs allowed in mobile homes

Mobile homes for handicapped

Mobile homes with 3 bedrooms
Pricelist for mobile homes (in EUR) for year 2022
Price for
10.7. - 29.8.
23.6. - 9.7.
30.8. - 12.9.
24.12. - 1.1.
19.5. - 22.6.
2.1. - 18.5.
27.9. - 23.12.
Mobile home for 2 + 2 persons
​​130 / 140*
​​105 / 118 *
​​95 / 105*
​​83 / 93*
Mobile home for 4 + 1 persons (24m2)
​​155 / 165*
​​135 / 148*
​​113 / 122*
​​103 / 110*
Mobile home for 4 + 2 persons (35m2)
​​180 / 195*
​​160 / 180*
​​132 / 143*
​​115 / 130*
Minimum stay
​​3 ( +15%)
​​3 ( +15%)
​​3 ( +15%)
​​3 ( +15%)
Dog
​​8
​​8
​​8
​​8
Final cleaning
​​32
​​32
​​32
​​32
PDF - Pricelist for year 2022 (18KB)
* higher price applies to weekend days

Rating and reviews
Reviews:
Published on day from anonymous

Category

Camper

Company

Family with small children

Obupno majhne parcele, restavracija ob nedeljah ne dela. Majhen bazen z veliko osami.​​

Published on day from anonymous

Category

Caravan

Company

In couple

Super kamp v sklopu odlične restavracije in vinarije !​​

Published on day from dusan2

Category

Other

Company

In couple

Urejen, čisti kamp na mirni lokaciji, lep ambient, odlične parcele, bazen, fitnes naprave na prostem, otroška igrala na prostem, kolesarjenje, vinogradništvo... pokrit prostor za piknike, domača kulinarika in domača vina, ter možnosti obilice ogledov v bližnji in daljni okolici. ​​

Published on day from vandrovec

Category

Other

Company

Family with small children

Kamp leži na obronku vasi, med trtami in griči. Poleg manjšega bazena okolica nudi obliko poti za dolge sprehode in urejene kolesarske steze. Kamp je primeren tudi za piknike, saj imajo pokrito kurišče in velike "gasilske" mize, v hiši Saksida pa si lahko privoščite tudi vrhunsko "slow food" kulinariko ter domačo vinsko karto.

Prav gotovo eden boljših privat mini-kampov v Sloveniji.​​