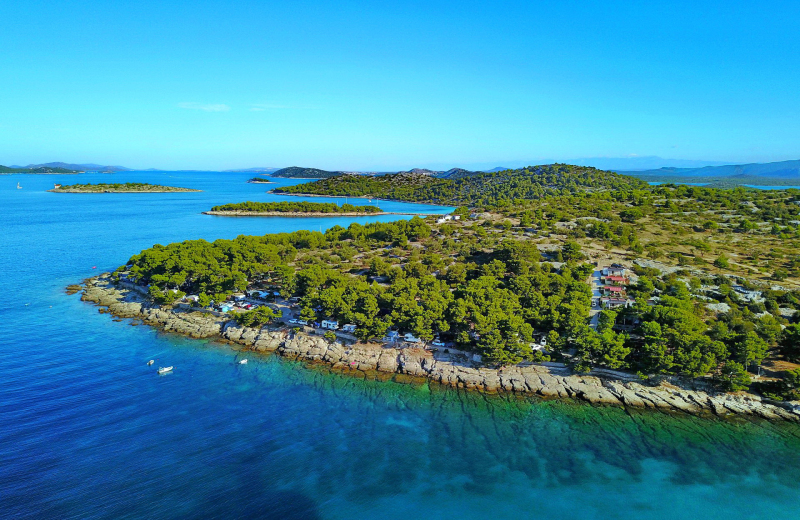 Best camp Adria 2020

2. place
Information
Basic information
Camping Slanica - Murter is located 2km western from city Murter, directly by diverse beach. Part of the beach is pebbled, part is stoned. Campsite offers great view of islands Kornati. It is possible to camp on arranged camping pitches, rent a mobile home or apartment.
Campsite Slanica accepts the Avtokampi Camping Card, which will make camping holidays more affordable. The discount is listed at the price list of the campsite - order for free and get camping card by email.
Campers have in recent years rewarded camping Slanica with second place in Naj Kamp Adria 2020 selection as the second best smaller campsite in Croatian Dalmatia.
Campsite Slanica offers arranged camping pitches on terraces, rental of mobile homes and apartments. Around 200 camping pitches are well shaded by pine trees. In last seasons camp has undergone through complete renovation. 40 pitches has besides electricity also water connection, some of them also sewage system. Sanitary facilities have been renovated and modernized, in one you will find also bathroom for kids and changing room for babies. Additionally, chemical toilet and dog shower are available.
Camping slanica has rocky beach, but nearby are two sandy beaches, Slanica and Podvrske, which are very popular among families with children. This part of Murter is well-known by its clear blue waters, its location is also great starting point for daily boat trips.

Campsite offers refrigerators for rental, has gas filling station, mooring for boats, tennis courts close-by and organize scuba diving trips. New is also laundry and wireless internet access.
Campsite Slanica has beach bar, closest shop is 300 meters away. More shops, pharmacy, bank and ambulant are located in town Murter.
Features and equipment
Type of the campsite
Pitch features
Pitches with electricity and water

Pitches with electricity, water and waste water connections

Non-parcelled camping plots
Location
Equipment
Chemical toilet discharge

Children sanitary facilities

Heated sanitary facilities
Offer
Sport
Swimming pool/wellness
Swimming pool with heated water
Dogs
Rental option
Camping pricelist (in EUR) for year 2023
Avtokampi camping card
2023 - 5% discount on the camping price of a person
Price for
1.7. - 31.8.
1.6. - 30.6.
1.9. - 30.9.
15.4. - 31.5.
1.10. - 1.11.
Person
​​9​,10
​​6,90
​​5,80
Children 5 - 12 yrs.
​​4,90
​​4,30
​​3,90
Pitch (electricity, water)
​​21,40 - 22,90*
​​18,30 - 19,80*
​​14,60 - 16,90*
Non-parceled part of the camping:
​​-
​​-
​​-
Tent
​​7,90
​​6,10
​​5,20
Car
​​5,30
​​4,90
​​4,60
Motorcycle
​​4,80
​​4,40
​​3,90
Caravan
​​9,10
​​6,90
​​6
Camper
​​11,70
​​9,50
​​7,20
Dog
​​5,50
​​4,30
​​3,80
Refrigerator
​​3,80
​​3,80
​​3,80
Electricity
​​5,20
​​5,20
​​5,20
Boat trailer
​​6,10
​​4,60
​​3,80
Internet access - WIFI
​​gratis
​​gratis
​​gratis
Check-in
​​1,10
​​1,10
​​1,10
Tourist tax
​​1,10
​​1,10
​​1,10
Reservation of the pitch
30 / 50**
30 / 50**
30 / 50**
PDF - Pricelist for year 2023 (21KB)
* in camping Slanica you can also place a motorhome or trailer on an arranged pitch equipped with electricity and water - the lower price applies to the motorhome on the plot, and higher for the trailer and the vehicle on the plot
** The lower price is valid for bookings in 2023 and the higher price for 2024.Reservations for next year's pitches are accepted from 15 May onwards by e-mail.

Pricelist for yearly rental (in EUR) for year 2023
| Price for | 15.4. - 1.11. |
| --- | --- |
| Yearly pitch rental with electricity | ​​3.000 |
Contact
GPS: 43.816886,15.576760
Address: Podvrške 8, 22243 Murter, Hrvaška
Reception:

+385 98 336 636

Reservation:

+385 22 434 205
Mobile Homes
Mobile homes description
Rental of a mobile home in Camping Slanica, Murter - campsite offers mobile homes Adria and Nord for 4 adults + one or two children that can sleep on extra beds. All mobile homes are air-conditioned and equipped with two bedrooms, a living room with a kitchen and a private bathroom.

In season 2018, additional large mobile homes 40m2 for 4 + 2 persons were added, which are very modernly decorated with two bedrooms and two bathrooms. All mobile homes have terrace.

You can rent mobile homes in campsite Slanica all year round.
Mobile homes information
Number of persons in mobile homes
Mobile homes for 4 - 6 persons

Mobile homes for 2 - 3 persons

Mobile homes for 6+ persons
Mobile homes
Dogs allowed in mobile homes

Mobile homes for handicapped

Mobile homes with 3 bedrooms
Pricelist for mobile homes (in EUR) for year 2023
Price for
1.7. - 31.8.
10.6. - 30.6.
1.9. - 14.9.
15.5. - 9.6.
15.9. - 4.10.
1.1. - 14.5.
5.10. - 31.12.
Mobile home for 4 + 1 persons (24m2)
135
100
80
55
Mobile home for 4 + 2 persons (35m2)
165
125
100
70
Mobile home for 4 + 2 persons (40m2)
210
155
110
80
Bed linens and towels
​​gratis
​​gratis
​​gratis
​​gratis
Internet access - WIFI
​​gratis
​​gratis
​​gratis
​​gratis
Final cleaning
30
30
30
30
Minimum stay
​​3 (+30%)
​​3 (+30%)
​​3 (+30%)
​​3 (+30%)
Deposit
​​100
​​100
​​100
​​100
Mobile home reservation
​​30%
​​30%
​​30%
​​30%
Tourist tax
​​1,10
​​1,10
​​1,10
​​1,10
Check-in
​​1,10
​​1,10
​​1,10
​​1,10
PDF - Pricelist for year 2023 (20KB)
Mobile homes in the Camping Slanica are open all year round.
Rating and reviews
Best camp Adria
2020: 2. place in category Croatia- Dalmatia - Smaller campsites
Reviews:
Published on day from lucija.bonisegna416

Category

Tent

Company

In couple

Odličen kamp! Ogromno sence, izredno čiste sanitarije, urejene parcele in prijazno osebje.
Parcele so sicer manjše in večinoma na terasah s čimer najbolj primerne za šotore do cca 5 oseb. Senca je cel dan.
Plaža je skalnata in nima sence, voda je takoj globoka. Za majhne otroke sta levo in desno od kampa popolni peščeni plaži. Bar je odličen, cene zmerne, trgovina ok za osnovne potrebe. Poleg je se tobogan. Priveze za čolne nisem zasledila.
Midva sva se resnično odpočila in toplo priporočam.
Cena konec avgusta 2023: dve osebi, sotor, avto in elektrika 33 eur dnevno. Vredno tega.​​

Published on day from anonymous

Category

Tent

Company

Family with small children

V Slanico redno prihajamo že cca 10 let. V zadnjih 3 letih je pod vsak nivo padla čistoča v umivalnicah. Čistilke so katastrofa! Delajo vse drugo, samo svojega dela ne.
Letos pridemo najprej za podaljšan vikend, če se ne bo nič spremenilo, se ne vračamo več.​​

Published on day from anonymous

Category

Tent

Company

Family with small children

V kamp Slanica prihajamo že cca 10 let. Privlači nas to, da je vsaka parcela zelo blizu morja. Za male otroke je lepša in bolj primerna plaža na koncu kampa.
V zadnjih treh sezonah je izjemno padel nivo cistoče v umivalnicah. Čistilka se bolj naslanja na stene in tapka po telefonu, kot pa upravlja svoje delo. Poleg tega, takrat ko se le malo spravi k delu, je to v času največjega navala zjutraj.
Včasih je bilo samoumevno, da smo se vsako leto vračali v Slanico, sedaj pa se je slabih stvari nabralo preveč, tako da nismo prepričani če še pridemo.​​

Published on day from anonymous

Category

Tent

Company

In couple

Bala sem se ker je vse gorelo okol :o​​

Published on day from anonymous

Category

Tent

Company

Family with teenager

IZREDNO UMAZANE, SMRDEČE SANITARIJE!!!! Bljah! Če samo pomislim na ta kamp, me vse mine! Ne grem nikoli več tja! Gnusno ob vseh urah, razen dopoldne takoj po čiščenju (čistili so enkrat dnevno ravno v času, ko je jutranja gužva v sanitarijah; gospod, ki je čistil, je svoje delo dobro opravil, a čez čas bi bilo zaradi veliko ljudi potrebno sprotno čiščenje).
Sicer sta bila tam kao zaposlena dva mlada tujca, ki pa sta le hodila od enih sanitarij do drugih (sem se prepričala na lastne oči večkrat) in bila večino časa na telefonu- ko ju je ena od gostij opozorila na umazanijo, sem se ji pridružila. Drugi dan sem umazanijo v sanitarijah fotografirala in informirala zaposleno v recepciji, a žal do sprememb ni prišlo. Tudi starejši gospe, ki je dopoldne čistila, sem povedala, da me moti umazanija.

Večina parcel je IZREDNO MAJHNIH - najprej so nam dali rezervirano parcelo, na katero zaradi premalo prostora nismo mogli postaviti šotora (470 x320), na srečo smo dobili večjo, a smo imeli vse (mizo, stole, kuhalnik) stisnjeno. Meni je bilo preveč UTESNJENO - vse okrog 1 meter stran že sosedje (saj vem, da je tako nekako v kempu, a vsaj malo osebnostne razdalje...)

Za AVTO NI PROSTORA zraven šotora, pustiti ga moraš (če imaš srečo in dobiš parking) kje blizu in potem ne greš ven z njim do konca dopusta, saj te skrbi ali boš še imel parkirišče.

PLAŽA SLANICA je čudovita do 8.30 zjutraj, potem se nanjo USUJE FOLKA in ne veš, kam dati brisačo (na drugo oddaljeno plažo pa raje ne greš zaradi pomanjkanja parkirišč). Drugače to edina plaža s fajn dostopom, tekom kempa potem skale (ponekod možno po stopnicah).

Na srečo smo imeli s sabo kolesa in smo šli malo naokrog.
Sem ne bom več prišla.​​

Published on day from boboluz

Category

Tent

Company

Family with small children

Kamp raztegnjen ob morju tako, da so vse parcele blizu morja. Razlicne plaze (mivka, kamen, prod) vse v blizini kampa. Sanitariji zelo lepo urejeni in dostopno z zapestnico, kar se mi zdi ok. Lep pogled na morje proti kornatom. V kampu tudi otrosko igrisce z umetno travo. Nimam kaj grajati - top. ​​​​

Published on day from anonymous

Category

Tent

Company

Family with small children

Odlican i miran kamp, ljubazno osoblje​​

Published on day from mitke19

Category

Tent

Company

In couple

Kamp ima lepo lego tik nad kamnito plazo, na kateri se vedno najde prostor zase, dobrodosli so tudi psi. Parcele so v vecini primernejse za sotore, terastate in sencne, precej ravne.
Cistoca sanitarnih blokov bi lahko bila vcasih malo boljsa (odvisno od cistilke).
Motilo naju je, ker je prehod skozi kamp omogocen vsakomur z razlicnimi prevoznimi sredstvi-mogoce bi bilo smiselno razmisljati o rampi in omejenem dostopu samo za goste kampa.
​​

Published on day from anonymous

Category

Other

Company

Family with small children

kampiram ze dobri dve desetletji in trudim se vsako leto obiskati vsaj en nov kamp (poleg nekaj periodičnih).
Odlocitev za kamp je padla na podlagi visoke ocene in ikonice za prijaznost malim otrokom.
Kot je ze nekdo spodaj napisal - po nasem mnenju kamp za druzine z malimi otroci ni najbolj primeren.
Najprej plusi: kamp je dejansko miren, tako, da je primeren za pocitek. Drugi plus je voda, ki je res kristalno cista. Tretji je veliko sence (borovci). Senco smo na parceli imeli cel dan. Cetrti plus je pa cistoca sanitarij.
Zdaj pa minusi, pri cemer je treba upostevati, da smo bili tam v visoki sezoni. Posledice so: kamp je prenatrpan, natlacen. Cistoca sanitarij po nekajkratnem cakanju v vrsti na prost WC ali tus nekako izgubi pomembnost.
Avto je bilo potrebno pustiti kar precej stran od parcele. Zaradi prenatrpanosti je bila povsod bitka za parkirne prostore. Zato - avto parkiraj in ga do konca ne uporabljaj vec :)
Druga stvar je plaza: strma, skalnata, globoke razpoke, ostri robovi. Otroci so se kar malo bali iti do vode, ki je tudi precej polna jezkov. Na skalah v vodi tudi drsi, zato so otroci kljub cevljem pobirali bodice iz koze. Sta pa levo (200 m od vhoda) in desno od kampa (10 min hoje) lepi pesceni plazi z mivko v morju. Za otroke idealno, vendar brisaca pri brisaci.
Se en vecji minus je cesta med 'plazo' in kampom. Po njej se dejansko vozijo turisti in domacini s skuterji, kolesi in avtomobili, kar je razumljivo. Ampak pogosto malce prehitro. Tudi škarpe med parcelami, ki so razporejene v precej strmih terasah, predstavljajo nevarnost za otroke (okoliska mularija je imela plezanje in skakanje po njih za vecerni sport vsak dan. Pa tudi precej joka je bilo slisati na ta racun od njih).
Zaradi plaze, kakrsna pac je, in te ceste je moje osebno mnenje, da kamp ni ravno primeren za majhne otroke, sploh tiste, ki se lahko brez nenehnega nadzora potikajo naokrog. Je precej kampov (tudi na Murterju in okoliskih otokih), ki si ta naslov precej bolj zasluzijo, ampak po nekem nakljucju sem ikonico opazil samo pri kampu Slanica.
Trgovine: najblizja omembe vredna je 15 min hoje strani . Priporocam kolo. Se nekaj splosnih, ce komu prav pride: WiFi je placljiv (cca 3 eur/dan), tople vode cez dan ne pricakujte, osvetlitev kampa je v vecernih urah minimalna in kamp je vecinoma potihnil ze okoli 22h. Izven sezone je verjetno dobra izbira.
Na splosno pa: kamp kot kamp, ki v nobenem pogledu ni ravno presezek, ampak dopust je bil kljub vsemu prijeten. Toda ce bi se sedaj odlocal, bi se odlocil za kaksnega drugega.​​