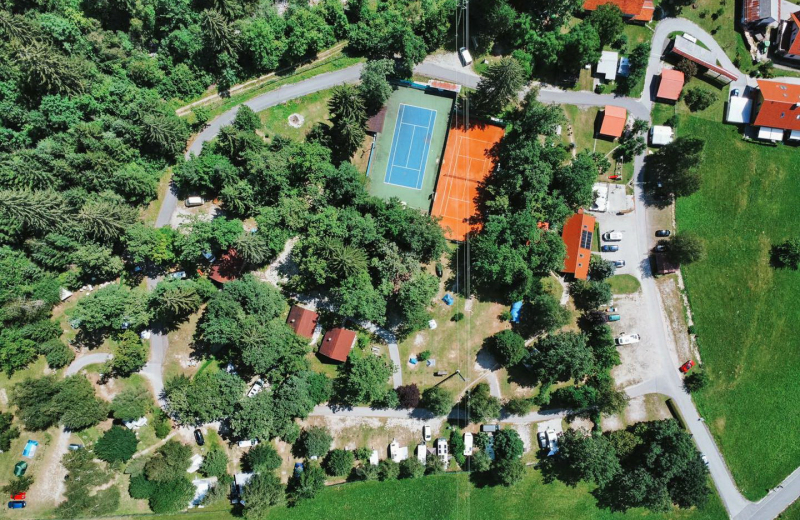 Information
Basic information
In Gornjesavska valley, just nearby the village Dovje and city Mojstrana, camping Kamne found its place. The campsite is located on the right side of the main road Jesenice - Kranjska Gora. The campsi is open from the end of April to the end of October.They offer camping places, two nice glamping houses, apartments and bungalows.

Campsite accepts the Avtokampi.si Camping Card, which will make the camping more affordable. The discount is listed at the price list of the campsite, and you can order free camping card HERE

Smaller, family run camp can host up to 200 guests per night, who can start learning playing tennis with the coach, decide to discover the neighborhood with rented bicycle or buy fishing permit and discover the underwater beauties.

Guest can also stay in a wooden bungalow or in wooden mobile home that can be rented at least for 7 days at once. It is big enough for 4 – 5 persons, each has its own parking and terrace with beautiful sight over the Julian Alps.
Bungalows are more simple, have electricity, but do not have running water. They are specially meant for guests that are spending most of the time outside and need more or less just a place to sleep over and cook something simple. They can be rented in the warmer months, from May 1. till October 31.

Sanitary block is modern and heated. They have modern facilities, including changing room for babies. For having a hot shower, you have to buy a chip. Near the reception you can find the service point for the campers. Shop and restaurant are in the village Dovje, but sometimes they bring fresh bread in the morning to the camp.
Camp is located in the foothills of Karavanks and just nearby the Julian Alps and is therefore ideal starting point for conquering the highest peak of Slovenia – Triglav. At the reception they will be glad to help you with information about the hiking and shorter trips to neighboring alpine valleys.
Features and equipment
Type of the campsite
Pitch features
Non-parcelled camping plots

Pitches with electricity and water

Pitches with electricity, water and waste water connections
Location
Equipment
Chemical toilet discharge

Children sanitary facilities

Heated sanitary facilities
Offer
Sport
Swimming pool/wellness
Swimming pool with heated water
Dogs
Rental option
Camping pricelist (in EUR) for year 2023
Contact
GPS: 46.464424,13.957600
Address: Dovje 9, 4281 Mojstrana, Slovenija
Reception:

+386 4 589 11 05
Glamping
Glamping description
Camping Kamne set up two wooden glamping houses, offering a comfortable shelter for 2 guests.
The houses have Inventory consists of two beds, small fridge, wooden chairs and small table. Guests can use electric power and wifi. No water and no cooking possibility. Sanitary facilities are close by. Bedding is included in the price. Animals are not allowed.

Information about glamping
Glamping type
Number of persons in glamping
Glamping hut for 2 - 3 persons

Glamping huts for 4 - 6 persons

Glamping huts for 6+ persons

Glamping tents for 2 - 3 persons

Glamping tents for 4 - 6 persons

Glamping tents for 6+ persons
Location and features of glamping
Bathroom in accommodation
Pricelist for glamping (in EUR) for year 2023
Price for
1.7. - 31.8.
25.4. - 30.6.
1.9. - 25.10.
Glamping hut for 2 persons
​​50
​​40
Minimum stay
​​2
​​-
Final cleaning
​​10
​​10
Bed linens
gratis
gratis
Tourist tax
​​1
​​1
Deposit
50
50
PDF - Pricelist for year 2023 (17KB)
Discounts are charged only on payment with cash: for stays over 7 days 5%, over 14 days 10%.

Rating and reviews
Reviews:
Published on day from anonymous

Category

Tent

Company

In couple

Dobra lega za raziskovanje okolice, dosti sence. Pokrit zunanji prostor za zajtrk/druženje. Sanitarije so osnovne, števec za toplo vodo v tušu začne teči takoj, ko vstavite kovanec, tudi če še niste odprli vode.​​

Published on day from anonymous

Category

Tent

Company

In couple

Že večkrat sva kampirala v tem kampu in nama je bilo všeč, do danes, ko sca doživela res izredno nesramen odziv osebja. ​​

Published on day from anonymous

Category

Camper

Company

In couple

Zelo prijeten kamp,samo tako naprej:)lp cvetka Murska Sobota​​

Published on day from anonymous

Category

Other

Company

Other

Zelo slabe izkrušnje z lastnikom potuhnjen, zelo neprimeren, kateri je starejše starosti, silno se je razburil in me dobesedno odvleku iz kampa, ko sem umenil, da nekako se nism dobro razumel njegove spletne strani. Da je prijazen je samo njegova maska. Če bi bil kamp brezplačen nebi tam gostoval.​​

Published on day from anonymous

Category

Camper

Company

In couple

Lega kampa odlična, v opisu napisano da so sanitarije ogrevane v resnici niso ogrevane, prepih, ni primeren za otroke ker jih nimaš kje umit, ce ze plačaš toplo vodo v tušu traja dve minuti da priteče tako da še imaš kako minuto,nisem idealist camperi nismo zahtevni ampak nekaj za 22 eur na noč vsaj topla voda , raje priporčam kakšen bencinski servis za prenočevanje, za več dni pa kamp bled​​

Published on day from anonymous

Category

Other

Company

Family with small children

Ravnokar vrnil z prečudovitega dopusta v naših gorah. Nastanjen v kampu Kamne super izbira. Z otroci smo uzivali in se imeli super. Proslavil rojstni dan v kampu s povabljenimi gosti in ga do 23 ure praznovali bi še dlje pa smo morali zjutraj zgodaj na pot. Kar se pa tiče osebja nimam kaj reči, vse ok in še pomagajo ti ,če rabiš pomoč. Nam so ponudili posteljico za najmlajšega katero smo doma pustili. Bil stacijoniran v hiški pri recepciji. Opazoval prigode kot ste nekateri pisali. Ne razumem ljudi ko prideš v kamp se ja najprej ustaviš pri recepciji in dobiš vsa navodila kam in kako, ne pa da dirjaš po kampu in si oglejuješ kam bi se vrgu halo ludi ste ok. In takih je kar nekaj. To je tak kot bi prišel v hotel direkt v sobo in potem če bi se ti dalo šel na recepcijo. Normalno da moraš ljudi prijavit če ti pridejo na obisk ali če celo prespijo.... Pojdite si kamp Šobec pogledat, jaz nisem peš smel noter ne da bi najprej plačal vtopnino kaj šele da bi se pa z avtom not vozu. Spoštujmo pravila pa nam bo vse odprto. Kamp Kamne čestitke za vse in hvala. Še pridemo lp bk​​

Published on day from anonymous

Category

Other

Company

Family with small children

odličen kamp, prijazno osebje​​

Published on day from anonymous

Category

Other

Company

Family with small children

Published on day from anonymous

Category

Other

Company

Other