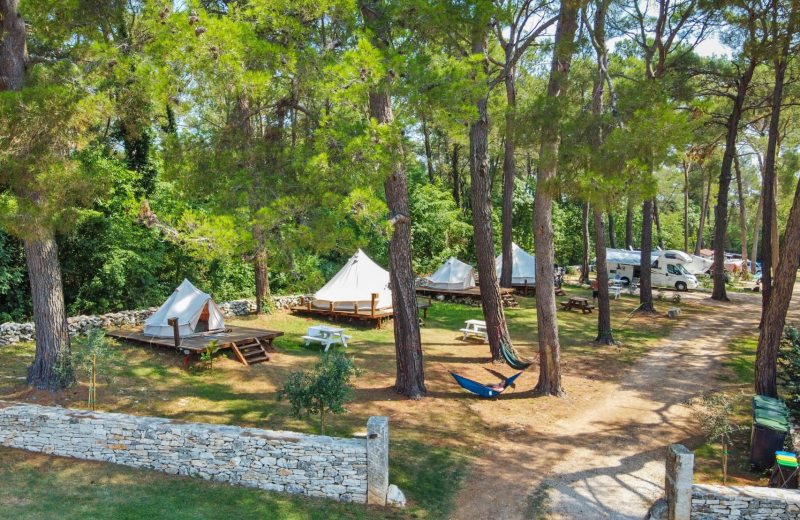 Information
Basic information
Campsite Dvor is a wonderful small camp in Istria, located 8km from town Barban and only 10 minutes drive away from the sea. Guests can find their first refreshment in their swimming pool.
This is camping in the inland of Istria, which operates within the tourist farm and ranch Barba Tone. Close by is adrenaline park Glavani and agency for various adventures, such as driving with quads - Istria Adventure.
Camp Dvor offers camping on arranged camping pitches, rental of mobile homes, sleeping in pre-arranged glamping tents or one apartment.

Campsite accepts the Avtokampi.si Camping Card, which will make the camping more affordable. The discount is listed at the price list of the campsite, and you can order free camping card HERE

NEW - whole camping pitches were in season 2020 relocated to the part under the pine trees, which provide great shade in the summer. Some sunny pitches are there as well. They have set mobile sanitary facilities in this part. Camp can host up to 60 people who can camp on tidy camping pitches that are equipped with electricity and water. For guest coming with campers, there is a waste water discharge and a chemical wc. As camp is well arranged and offers excellent services, it was listed among best smaller campsites in Croatian - Mini OK Campsites.

There is also a modern sanitary facility with laundry available to guests (150m from the camping pitches). There is a free wifi throughout the camp. A common barbecue and a children's playground are also arranged, and food can also be provided in shared fridges.

In the Dvor camp there is also a small pool with sun deck with sun loungers available. Just 10-15 minutes drive to some pretty beaches, for example, to the beaches of Luka Krnica, Kalavojna and Kavran.

Horseback riding at their ranch is something you should not miss while staying at camping Dvor. You can also choose to ride a bike, quad bike or a boat, and children will be impressed by many domestic animals, for example, goats, ducks, rabbits ... In the neighboring village of Glavani there is also an adrenaline park, suitable for all family members as it offers various difficulty levels, some are suitable as well for children.
Features and equipment
Type of the campsite
Pitch features
Pitches with electricity and water

Non-parcelled camping plots

Pitches with electricity, water and waste water connections
Location
Equipment
Chemical toilet discharge

Children sanitary facilities

Heated sanitary facilities
Offer
Sport
Swimming pool/wellness
Swimming pool with heated water
Dogs
Rental option
Camping pricelist (in EUR) for year 2023
Contact
GPS: 45.011767,13.973399
Address: Manjadvorci 60, 52207 Barban, Hrvaška
Reception:

+385 99 876 1931
Mobile Homes
Mobile homes description
Rental of mobile homes and apartment in Dvor Camp - on the edge of the camp you will find two mobile homes (24m2) for 4 people, which are air-conditioned and equipped with a kitchen, two bedrooms, a kitchen and a terrace. Dogs are also allowed in mobile homes.

In the camp you can also stay in the apartment for 4 + 1 person, which is equipped with two bedrooms with double beds and an extra bed. The apartment also has a kitchen, a bathroom and a terrace.

Mobile homes information
Number of persons in mobile homes
Mobile homes for 4 - 6 persons

Mobile homes for 2 - 3 persons

Mobile homes for 6+ persons
Mobile homes
Dogs allowed in mobile homes

Mobile homes for handicapped

Mobile homes with 3 bedrooms
Pricelist for mobile homes (in EUR) for year 2023
Glamping
Glamping description
Rental of glamping tents in the camping Dvor - you can also choose to rent smaller glamping tents for 2 or 4 people, and there is also one larger tent for 4 people, which is also air conditioned and equipped with a kitchen and bathroom.

Smaller "Bell tents" are round in shape and set on a wooden platform. Tents for two people have one double bed, while larger tents have a double bed and two separate beds. There are tables and benches next to the tents, and electricity is also available. Dogs are also allowed in the tents.

The larger glamping tent is for 4 people and has two bedrooms - one with a double bed and a bunk bed (two single beds for one person). This tent also has a kitchen (stove, refrigerator, microwave) and a bathroom. In front of the tent there is also a terrace with a table and benches. The tent is air conditioned.
Information about glamping
Glamping type
Number of persons in glamping
Glamping tents for 2 - 3 persons

Glamping tents for 4 - 6 persons

Glamping hut for 2 - 3 persons

Glamping huts for 4 - 6 persons

Glamping huts for 6+ persons

Glamping tents for 6+ persons
Location and features of glamping
Bathroom in accommodation
Pricelist for glamping (in EUR) for year 2023
Rating and reviews
Reviews:
Published on day from lucija

Category

Tent

Company

In couple

Odličen manjši družinski kamp. Priporočam tistim, ki si želijo miru in športnih aktivnosti (odlična za tek in kolesarjenje)... Odlična izbira tudi za otroke, saj se zraven kampa nahaja družinski ranč s konji in drugimi domačimi živalmi. Imajo tudi veliko igral za otroke. Okolica, sanitarije in bazen so vedno čista. Predvsem bi pa pohvalila Petro, ki sprejema goste. Zeloo prijazna in ustrežljiva. Skratka res priporočam obisk kampa :) ​​​​

Published on day from anonymous

Category

Mobile home

Company

Family with small children

Odličen družinski kamp, kjer je kampiranje še to kar je včasih bilo - skupne aktivnosti, večerno druženje, aktivno preživaljanje prostega časa - konji so neverjetno udomačeni, na sosednjem ranču živalic (psi, mačke, race in koze), ki so bile najbolj zanimive za najmlajšega člana. Sanitarije urejne, pralni stroj in hladilnik na voljo, osebje prijazno in ustrežljivo, tudi pri organiziranju izletov (pustolovski park, vožnja s štirikolesniki, grad, jama, plaža..). Še se vrnemo!​​

Published on day from anonymous

Category

Other

Company

Family with small children

Izjemno sožitje kampa in ranča s konji, kjer se v ježi po neokrnjeni naravi lahko preizkusijo tako popolni začetniki kot tudi izkušeni jezdeci. Edinstvena je izkušnja prostega plavanja s konji, ki mislim, da je unikatna v tem delu Evrope ali pa tudi širše.​​