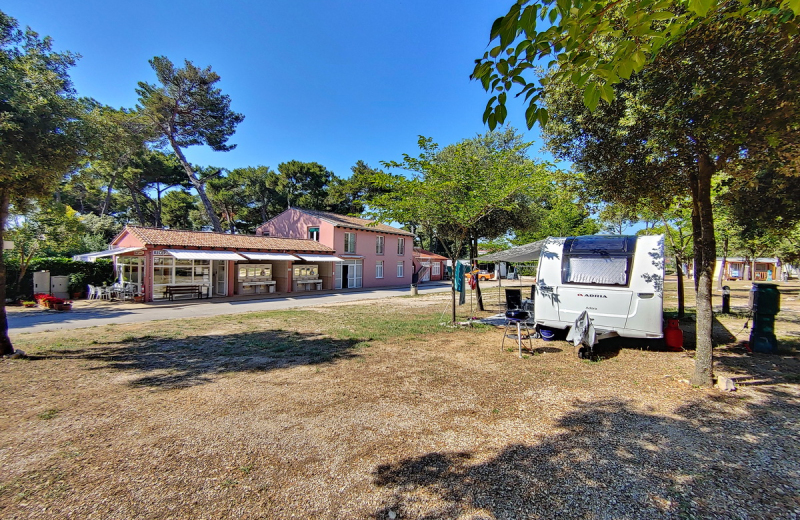 Best camp Adria 2017

2. place
Information
Basic information
Camping Biograd is located on the southern side of the city Beograd, only 5min walk from city centre, in shade of hundreds years old pine trees. Camp is about 250m away from arranged pebbled beach.

Campers have in selection Naj kamp 2017 selection chose camping Biograd as second best campsite in Dalmatia.
Campsite accepts the Avtokampi.si Camping Card, which will make the camping more affordable. The discount is listed at the price list of the campsite, and you can order free camping card HERE

From camp you have an ideal starting point for sightseeing in Biograd, neighborhood of Vransko lake, national park Kornati and falls of river Krka.

Campsite has arranged 40 pitches and 15 of them have electricity and water connection. It has three modern sanitary buildings and camper supply station.

Internet corner is at reception, wifi is accessible across the camp. Shop, restaurant and sports facilities are available close by the camp.
Features and equipment
Type of the campsite
Pitch features
Pitches with electricity and water

Non-parcelled camping plots

Pitches with electricity, water and waste water connections
Location
Equipment
Chemical toilet discharge

Children sanitary facilities

Heated sanitary facilities
Offer
Sport
Swimming pool/wellness
Swimming pool with heated water
Dogs
Rental option
Camping pricelist (in EUR) for year 2023
Avtokampi camping card
2022 - 10% discount on the price of the pitches in the case of payment with cash
Price for
1.7. - 25.8.
3.6. - 30.6.
26.8. - 15.9.
2.5. - 2.6.
16.9. - 30.9.
Person
7
​​5,50
4
Children 3 - 14 yrs.
​​4,50
​​3,50
​​2,50
Pitch (electricity, water)
20
15
11
Pitch without electricity
15
11
9
Addit. car
​​5
4
​​3,50
Addit. motorcycle
4
​​3,50
3
Addit. tent
5
4
​​3,50
Boat trailer
5
4
​​3,50
Dog
4
​​3,50
3
Check-in
​​1
​​1
​​1
Tourist tax
​​1,30
​​1,30
​​1,30
PDF - Pricelist for year 2023 (18KB)
Discount - 5% for stays longer than 14 days when paying in cash

Contact
GPS: 43.933300,15.450300
Address: Put Solina bb, 23210 Biograd na moru, Hrvaška
Reception:

+385 23 385 185
Mobile Homes
Mobile homes description
Renting mobile homes in campsite Biograd - on the edge of the camp, mobile homes were built for 5 - 6 people.

All mobile homes are air-conditioned and have two bedrooms, a living room with a kitchen, a bathroom and a terrace.
Mobile homes information
Number of persons in mobile homes
Mobile homes for 4 - 6 persons

Mobile homes for 2 - 3 persons

Mobile homes for 6+ persons
Mobile homes
Dogs allowed in mobile homes

Mobile homes for handicapped

Mobile homes with 3 bedrooms
Pricelist for mobile homes (in EUR) for year 2023
Price for
29.7. - 18.8.
8.7. - 28.7.
19.8. - 8.9.
17.6. - 7.7.
9.9. - 22.9.
2.5. - 16.6.
23.9. - 30.9.
Mobile home for 4 persons
180 - 190
150 - 160
110 - 120
65 - 70
Mobile home for 5 persons
160
120
90
50
Mobile home for 4 + 1 persons
220
180
140
90
Dog
​​10
10
10
10
Bed linens and towels
​​gratis
​​gratis
​​gratis
​​gratis
Final cleaning
​​gratis
​​gratis
​​gratis
​​gratis
Tourist tax
​​1,30
​​1,30
​​1,30
​​1,30
Check-in
​​1
​​1
​​1
​​1
Rating and reviews
Reviews:
Published on day from anonymous

Category

Other

Company

Family with teenager

Prijeten in miren družinski kamp​​

Published on day from anonymous

Category

Tent

Company

Family with small children

Zelo lepo urejen kamp, prijazno osebje.​​

Published on day from anonymous

Category

Tent

Company

Family with teenager

Super in urejen kamp, prijazno osebje, ki rado priskoči na pomoč, če je pomoč potrebna in ponoči je mir. Kamp je primeren tudi za družine z majhnimi otroci. Je blizu morja in nas je navdušil. Se vrnemo naslednji teden, če bo le vreme lepo.​​

Published on day from anonymous

Category

Other

Company

In couple

Published on day from bridge

Category

Other

Company

In couple

Mislim, da je kamp v prvi vrsti namenjen avtodomom in prikolicam... Kampirala sva v paru, kar potrebujeva na dopustu pa je elektrika za mobi, hiter dostop do vode, mir in senco. :)
Kamp je res blizu mesta in marine, tudi do ponudnikov za raziskovanje sosednjih otokov (Pasman, Kornati) hitro pridete. Kamp je cist in miren, res prevladujejo prikolice, avtodomi in mobilne hiske. Za sotoriste je namenjeno neparcelirano manjse obmocje ob, sicer mirni, cesti. Nama to ni ustrezalo (nekateri smo lahkega spanca), zato sva izbrala parcelo. Vse je ok, samo teren ni klinom prijazen, kamen in cele skale (uspelo nama je kar nekaj klinov unicit in zvit). V casu najinega bivanja sta bila dva psa v kampu. Wifi je po celem kampu, hladilnik je navaden - druzinski, skoraj da malo majhen. Poleg imajo zmrzovalno skrinjo, ki pa takrat ni bila vklopljena. V sklopu imajo tudi mini plasticna igrala za otroke ​​

Published on day from anonymous

Category

Other

Company

In couple

V kempe som bol už 4 krát. Ak mi to dovolí zdravie prídem znova Všetko OK.​​

Published on day from anonymous

Category

Other

Company

Family with teenager

Prijazni,poceni....10 let smo kampirali v tem kampu ​​