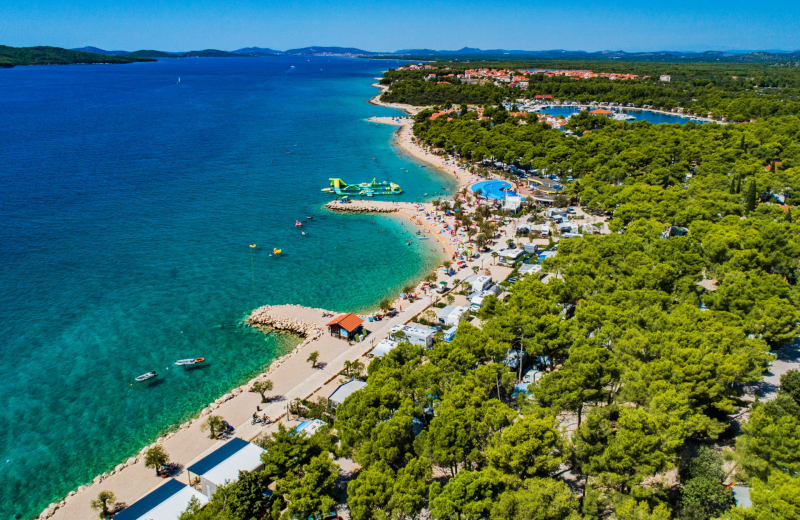 Information
Basic information
Amadria Park Camping Sibenik (ex Camping Solaris) is situated on a peninsula southwest from the city Sibenik, only 6 km from its centre in a beautiful pine forest next to the beach. Camp is part of the hotel complex and marine Solaris and was completely renovated.

In the Amadria Park Camping Sibenik guests can camp on pitches or rent mobile homes and apartments.
Campsite accepts the Avtokampi.si Camping Card, which will make the camping more affordable. The discount is listed at the price list of the campsite, and you can order free camping card HERE
Pitches in Amadria Park Camping Sibenik are located in pine woods with great shade. Pitches by the sea - superior and in zone A are equipped with electricity, water, sewage, SAT TV and payable internet access. Pitches in zone B have only connection to electricity. Smaller part of the camp is not divided into pitches and meant for campers with tents. Whole campsite is covered with payable wireless internet.

Campers in Amadria Park Camping Sibenik have 6 completely renovated sanitary facilities at their disposal. They are modern and adjusted to guests on wheelchairs. A camper supply station is available.
Near campsite is also Solaris Aqua Park offering lots of fun on slides, among waterfalls and in swimming pools.

Campsite has also shops, restaurants, bars on the beach, Specially interesting is as well Dalmatian village where it is possible to see old traditions and some local dishes.

In camp you can play tennis, volleyball, table tennis, bowling, mini golf, you can rent a bike. They have also a swimming pool with salted water which is with new playground mostly dedicated to the kids - they have added pirate ship that is great attraction for kids and have bar for adults. Complete campsite and complex is connected with tourist train. A scuba diving centre is working in camp.
In hotel complex they have 6 additional covered swimming pools with warmed salted water, saunas and fitness centre (additional supplement for camping guests).
Closeness to the National Park Krka and the National Park Kornati, rich Mediterranean vegetation, sports and entertainment facilities and a la carte specialty from restaurant Sibinium are going to make your holiday unforgettable!
Features and equipment
Type of the campsite
Pitch features
Non-parcelled camping plots

Pitches with electricity and water

Pitches with electricity, water and waste water connections
Location
Equipment
Chemical toilet discharge

Children sanitary facilities

Heated sanitary facilities
Offer
Sport
Swimming pool/wellness
Swimming pool with heated water
Dogs
Rental option
Camping pricelist (in EUR) for year 2023
Avtokampi camping card
2023 - 5% discount on the price of a person and a pitch throughout the all season
Price for
29.7. - 11.8.
24.6. - 28.7.
12.8. - 18.8.
10.6. - 23.6.
19.8. - 1.9.
20.5. - 9.6.
2.9. - 15.9.
1.4. - 19.5.
16.9. - 31.10.
Person
20
16
11
8
7
Children 3 - 12 yrs.
16
12
10
7
6
Pitch by the sea (1.row, electricity, water, sewer)
57
57
41
33
26
Pitch by the sea (water, sewer)
50
50
37
27
22
Pitch (electricity, water, sewer)
38
38
26
19
13
Pitch with electricity
​​29
29
24
18
13
Pitch (motorcycle+tent + electricity)
​​27
27
23
18
12
Non-parceled camping unit + elect.
25
25
17
13
10
Dog
10
10
9
7
6
Refrigerator
6
6
5
4
3
Addit. car / motorcycle
​​7
7
6
5
4
Addit. tent
​​7
7
6
5
4
Reservation of the pitch
​​35 / 70
​​35 / 70
​​35 / 70
​​35 / 70
​​35 / 70
Special offer
​​21=19
​​21=19
​​21=19
​​21=19
​​21=19
Tourist tax
​​1,60
​​1,60
​​1,60
​​1,60
​​1,60
Check-in
​​1
​​1
​​1
​​1
​​1
PDF - Pricelist for year 2023 (22KB)
Camping pitches are non-refundable and cost EUR 35 and EUR 70 respectively.

In case of a 21-night stay, you will only pay for 19 nights.

Camping discount with the Avtokampi card is 5%.
Contact
GPS: 43.699155,15.879316
Address: Hoteli Solaris 86, 22000 Šibenik, Hrvaška
Reception:

+385 22 364 000

Reservation:

+385 22 361 017
Mobile Homes
Mobile homes description
Mobile home rental in Camping Amadria Park Sibenik: three different types of mobile homes for 4-6 persons are available for rent

In the first row by the sea there are Deluxe mobile homes with 3 bedrooms for 6 + 1 person (40m2).

In the central part of the campsite there are classic mobile homes for 4+2 persons (32 m2)

In the area near the marina, two types of Luxury mobile homes (40 m2) are available for rent - one with two bedrooms for 4 people, the other with three bedrooms for 6 people.
Mobile homes information
Number of persons in mobile homes
Mobile homes for 4 - 6 persons

Mobile homes for 6+ persons

Mobile homes for 2 - 3 persons
Mobile homes
Dogs allowed in mobile homes

Mobile homes with 3 bedrooms

Mobile homes for handicapped
Pricelist for mobile homes (in EUR) for year 2023
Rating and reviews
Reviews:
Published on day from Juredelak1964

Category

Tent

Company

In couple

Prijetno osebje dokaj miren kraj, lepo urejeno, možnost sprehoda okoli polotoka, čisto ,res se trudijo, če bi se obiskovalci tako bi bilo vse super...srečno še naprej​​

Published on day from Kaja.Perkovič964

Category

Camper

Company

In couple

Lep kamp v senci borovcev. Plaža prodnata z nekaj sence. 300m od kampa vozi avtobus. ​​

Published on day from anonymous

Category

Tent

Company

Family with small children

Že leta sva v paru hodila tukaj. Vse tipi topi, čisti wcji, varnost.. Letos.. Razočaranje.. Je korona naredila svoje ali kako, ni mi jasno.. Ponoči od 3h do 4h so nas zbujali, vpili ko... Nikjer varnostnika, prijave so padale, nobenega odziva.. S 3 leta starim otrokom. Katastrofa. Čez dan pijani hodili okrog in se kar pred prikolico od nekoga drugega ki jih ni bilo namesti in je tam spal cel dopoldan, dokler niso prišli drugi po njega.. Sosedje so se razparkirali čez tri parcele katere so hodli drugi še na ogled pa so imeli vedno zaparkirano.. Ahh nas, ne vem, če vidijo še kdaj. Čistilka pa namesto, da bi zjutraj obrisala umivalnike, kateri so bili polni mrtvih komarjev, je šla raje pometati iglice pred vhodom. Vrhetno je to bolj pomembno.. Na moški wc je pa kot je kazalo pozabila da je potrebno tudi kdaj spucti. Bili smo en teden, smo imeli namen biti dlje, pa ne hvala. ​​

Published on day from Sprikoliconalepse

Category

Caravan

Company

Family with teenager

Kdor pričakuje kamp vzdušje istrskih ali ob mestnih dalmatinskih kampov bo razočaran. Solaris je del večjega Amadria resorta, kjer je ponudba prilagojena tipu hotelskih gostov; skratka vse je sterilno, uniformirano, cene hrane in pijače v resortu pa visoke. Na plaži ni tušev, kar mene precej moti, voda pa sicer kristalno čista in posledično ježkov polna. S kolesom praktično ne moreš nikamor-cesta do Šibenika je precej prometna in ozka na nekaterih delih, peš poti okoli resorta pa tudi ni.​​

Published on day from anonymous

Category

Camper

Company

Family with small children

Totalno razočaranje nad kampom, res da je velika sezona, ampak recepcija katastrofa(arogantni,pošiljajo te na ogled parcel katere so bile že odane, sploh ne vedo drug za drugega, označba parcel v A coni je katastrofa ,če hočeš kaj najti, cena visoka za to kar ti nudijo.
Ne vem kje so dobili tako visoko oceno , glede na druge kampe .

​​

Published on day from anonymous

Category

Tent

Company

With friends

že vrsto let kampiramo s šotorom , vedno brez predčasne rezervacije parcele..kar se je letos prvič izkazalo, da je to pač nujno potrebno..v Solaris smo prišli, ker v kampu Primošten ni bilo nobene proste parcele..smo pa imeli Solaris (glede na pohvale na Avtokampu.si) med opcijskimi kampi.. izredno prijazno osebje nam je uspelo najdti parcelo, ki je bila po srečnem naključju prosta..za toliko časa kot smo planirali (18.julij-5.avgust 2018).. na veliko srečo, je bila ta parcela celotna v senci, v 3.vrsti, s pogledom na morje..tega si v sanjah nismo predstavljali..je pa celoten kamp (razen 1.vrste) kar dobro skrit v senci.
Kamp izredno čist in urejen, vsaka druga parcela ima koš za smeti (tako da ni potrebno pešačiti da jih odneseš na zbirno mesto..nam je bilo to izredno fascinantno)..koši so bili vsak dan zamenjani, vsak dan pomedeno po kampu, celo borove iglice grabijo po parcelah..
Parcele so izredno velike..(šotor-6 oseb, 2 avta, paviljon, in z lahkoto bi postavili še en manjši šotor nanj).
Toaletni prostori- izredno lepi, urejeni, čisti, novi..čistilke za vsakim gostom posebaj očisti vse..te nikoli ne gleda grdo, ko razmočiš tla po tuširanju..še čisti tuš ti ponudi..Korita za pomivanje posode, so bili ves čas tako čisti da ni bilo niti kapljic vode na njih...vedno na voljo topla voda, toaletni papir..
za varnost poskrbljeno..čez celi dan obhodi policije po kampu, kar ti daje izredno varen občutek.. je pa celoten resort zaprt, tako da nekdo izven kampa težko pride notri..
Sanitarnih objektov je toliko, da tudi v top sezoni (tako kot smo bili mi: julij-avgust) ni čakalnih vrst..
Nimamo še otrok, vendar vseeno ne moraš zgrešiti, kako dobro je poskrbljeno za najmlajše..igrala ob recepciji, igrala na plaži, na plaži brezplačen bazen s čisto nizko vodo, animacije za otroke..
ob odjavi na recepciji, izredno prijazno osebje, ki jim veliko pomeni mnenje gosta..in se trudijo da bi morda še kaj izboljšali, čeprav je to zame popoln kamp..
edina slabost, ki je na tej lokaciji, (ki nimam nobene veze s kampom) je morje, ki je na tem predelu izredno hladno (posledično pa izredno kristalno čisto)..
Morda v kampu manjka le samostojna pekarna-tista prava pekarna, z ogromno ponudbo sladkih dobrot, raznih žemljic..itd.nekaj tega dobiš sicer v trgovini v kampu, ki sicer ima vedno svežo in toplo ponudbo..vendar ni enako kot pekarna..prav tako je tudi cena temu primerna..
Nasplošna lega kampa pa idealna za tiste, ki bi si ogledali Dalmacijo.. mi smo se odpravili vse do Makarske in uživali v lepoti narave..(Primošten, otok Čiovo, Trogir, Omiš, Makarska)..čisto zraven resorta, pešpot Šetnice sv.Ante, kjer na koncu prideš do čudovitega razgleda na mesto Šibenik)..
Ogledaš si lahko slapove Krke..
PLAŽA je skalnata, v zalivu prodnata, nekje pa betonska..za vsakega nekaj.. gneča razumljivo na plaži je..to nas ne moti, ker poležavamo pred šotorom in ne na plaži..voda izredno čista in precej hladna.
Cena je višja vendar primerna nivoju, ki ti ga kamp ponuja..je zasluženo nagrajen za najboljši kamp v Dalmaciji..(na lastne oči smo se prepričali o ostalih kampih v Dalmaciji)
Mene je navdušil.. ocena 10/10..​​

Published on day from anonymous

Category

Mobile home

Company

Family with small children

Zelo smo bili zadovoljni z vsem v kampu. ​​

Published on day from anonymous

Category

Caravan

Company

In couple

Parcele zelo v redu osebje tudi a plaža katastrofa.​​

Published on day from anonymous

Category

Camper

Company

In couple

celoten resorts zelo lepo urejen, kamp ob prihodu zaseden do zadnje parcele, kljub temu smo bili začasno nameščeni med hišicami kar je pohvalno. Ampak kaj je za pohvaliti lastnika oziroma vodstvo da je vsem Slovencem čestitalo zmago naših košarkarjev za osvojeno prvo mesto in podarilo skromno darilo (buteljka vina in bonbonjera), To se pravi prava poslovnost. Čestitam! Se še vidimo!​​

Published on day from anonymous

Category

Camper

Company

Family with small children

Zelo urejen celoten resort kjer je kamp, a cena malo visoka.. ​​